Find out what spring rolls are, what they're made of, and if their wrappers and fillings are safe for a gluten-free diet.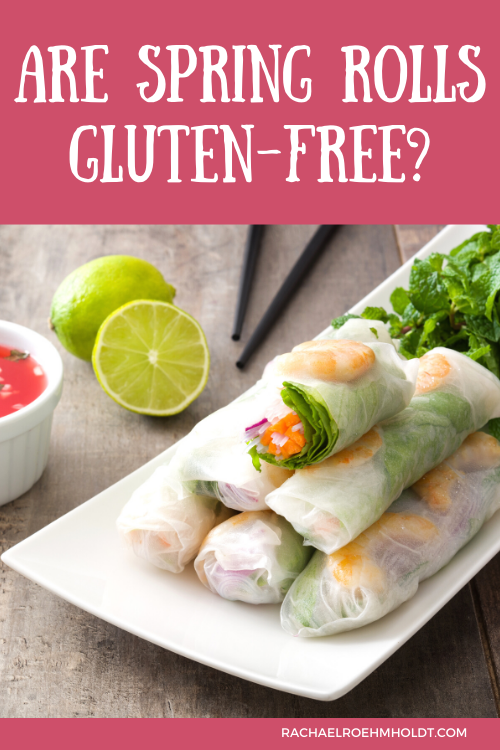 Note: I am a proud Amazon, Chomps, MunkPack, and Thrive Market affiliate and am happy to recommend their service and products to you. Please know that as an affiliate, I may receive a small commission on the products you purchase after clicking through my links. For more info, please see my disclosure policy here.
If you have found yourself at a Chinese restaurant lately and were perusing the menu wondering what items contained gluten and which didn't, you're not alone.
I can't tell you how many times I've poured over menus trying to understand what ingredients contain gluten and which don't. It's hard to know when looking at menus.
But when it comes to certain foods, the answer can be pretty straightforward. With spring rolls, that's just not the case.
In this post, we're going to dig into the topic of spring rolls and find out what they are, what the different types are they're likely to encounter at restaurants (or can make yourself at home), and what the ingredients are. We're going to answer the question "are spring rolls gluten-free?" and wrap up the post with a few ideas for how to make your own gluten-free spring rolls at home.
If you love spring rolls, this post will help you understand your options for enjoying these tasty rolls on a gluten-free diet.
What are spring rolls?
Spring rolls are a type of Chinese appetizer roll. They're also well known in other cuisines like Vietnamese, and it seems that almost every region has their own take on what a spring roll is. In this post, we're mostly going to talk about Chinese spring rolls and Taiwanese fresh spring rolls.
Spring rolls are a wrapped roll with a filling of vegetables, rice, and a protein like chicken, pork, or shrimp. You may see spring rolls on menus at restaurants with any different kind of protein and vegetable combinations.
Spring rolls are often served at restaurants as an appetizer with a dipping sauce. You can also make spring rolls at home with just a few ingredients.
Read on: Gluten-free Chinese food
Read on: Are egg rolls gluten-free?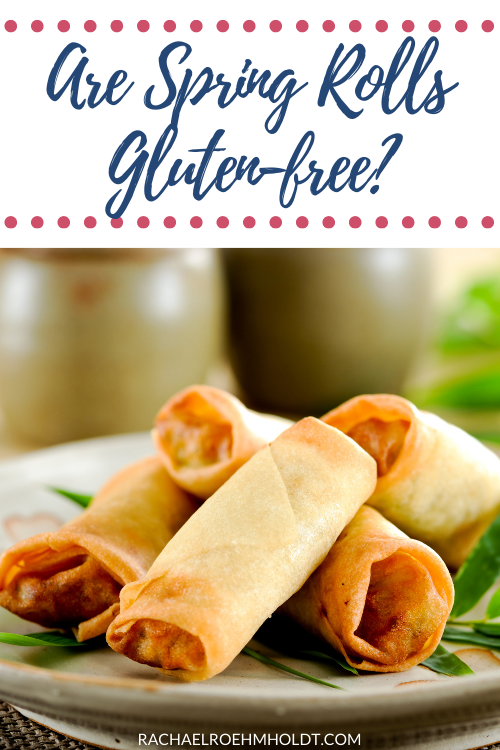 What are spring rolls made of?
Spring rolls are made with a thin flour or rice paper wrapper, then filled with fresh vegetables, rice, glass noodles, and sometimes shrimp or other cooked meat.
Spring rolls can be enjoyed fresh or fried, depending on the way you're looking to enjoy them or the way a restaurant serves them.
Fresh spring rolls are beautiful to look at, as you can often see the ingredients inside of them, like bright green basil or lettuce, avocado, bell peppers, carrots, or purple cabbage. The best part of homemade spring rolls is that you can make them with ingredients that you love.
Fried spring rolls are made with similar ingredients, but are fried in oil and usually have a flour wrapper.
Read on: Is rice gluten-free?
Read on: Are glass noodles gluten-free?
What are spring roll fillings made of?
Spring rolls are usually filled with any combination of vegetables, rice, and meat. Depending on the recipe, spring rolls can be completely unique to your favorite flavors and tastes.
Some popular spring roll fillings include cabbage, carrots, bell peppers, rice, basil, and pork, chicken or shrimp as a protein.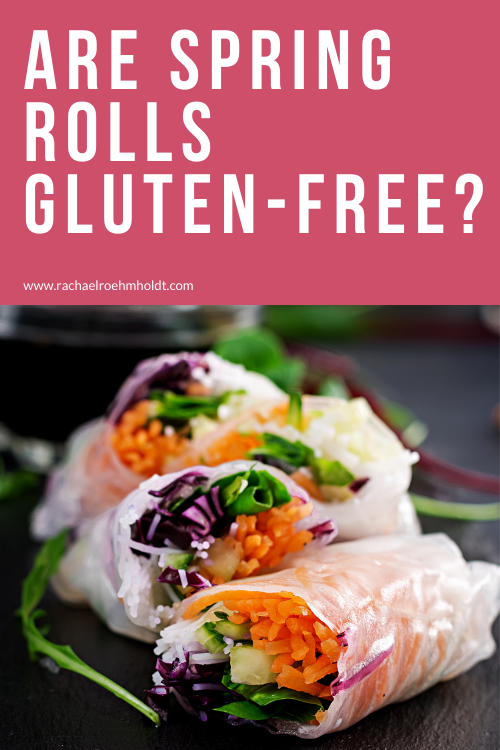 What are spring roll wrappers made from?
Spring roll wrappers come in two varieties: rice and flour.
Rice flour wrappers are made from rice, and are white and become pliable after being soaked in water. These usually look translucent with ingredients inside, making bright rolls of beautiful colors.
These rice paper sheets like these from Chosen Foods are what you'd find in fresh Vietnamese style spring rolls.
Flour wrappers are made using flour. This type of wrappers are mostly used for fried spring rolls. The filling is added, the wrapper rolled around it, then the rolls are deep fried in oil to create a crispy roll.
Read on: Is rice flour gluten-free?
Read on: Gluten-free egg roll wrappers
What is gluten?
Gluten is a protein found in most wheat products, and acts as the "glue" that helps to hold wheat, barley, kamut, spelt, farro, durum, bulgur, rye, and semolina together to maintain their shape.
You can find gluten in whole grains, but also in many processed foods as well. If you purchase wheat bread, there will be gluten in it, because wheat by nature has gluten.
Many processed foods have hidden gluten in them in the form of gluten or wheat derivatives. These are also in the form of flavorings, binders to keep ingredients together, or other additives.
Are spring roll wrappers gluten-free?
Since there are two types of spring roll wrappers, let's talk about these different types separately.
Rice flour wrappers that are used for fresh spring rolls are almost always gluten-free, as long as they contain only one ingredient: rice flour. If the spring roll wrappers that are rice-based that you are looking at contain more ingredients than that, you'll want to review the ingredients lists to be sure there are no hidden names of gluten.
Flour wrappers used for fried spring rolls almost always contain gluten, because they are made using wheat flour.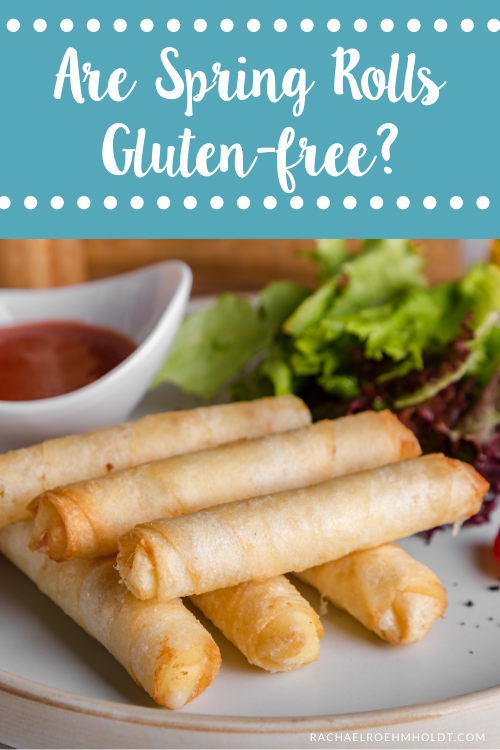 Are spring rolls gluten-free?
Depending on the type of spring roll you're looking at and the details of the ingredients in that spring roll, they may or may not be gluten-free. I realize this isn't a very straightforward answer, but that's the reality of a dish that uses a lot of different ingredients.
Fresh spring rolls with a translucent wrapper are more likely to be gluten-free, but they aren't always. Their wrappers may be gluten-free, the vegetables and rice in the filling may be gluten-free, but there are other ingredients to be aware of that may contain gluten.
For example, if there's a sauce in the spring roll, you'll want to know what ingredients are in that and if there are any hidden gluten ingredients included. Soy sauce or other sauce with the ingredients of wheat, wheat flour, or flour will give this away.
Meat that's used as a spring roll filling needs to be made without any gluten ingredients as well, including marinades or other ingredients. It's always important to review ingredients lists for hidden gluten at every level of a dish.
One of my little secrets is that I carry around a copy of my GFDF Take Along Cards so that I always have a point of reference when I can sneak a peek at the ingredient list of a food.
>> Get your copy of the GFDF Take-Along Cards to make this easy on you.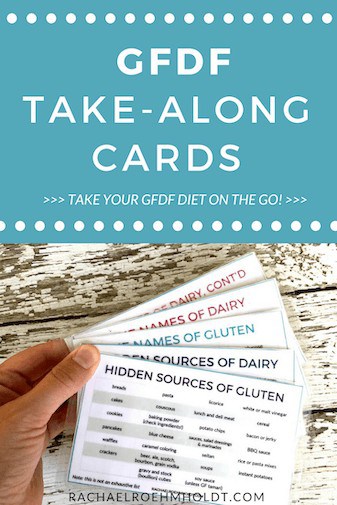 Fried spring rolls that have a light brown and crispy texture on the outside of the roll are almost always not a good choice for a gluten-free diet. With the flour wrapper, this food contains gluten despite what the filling is.
Again, it's important to know if sauces or meat included in the filling also contain gluten before making a choice to eat this if you suspect the wrapper may be gluten-free.
Can I make my own gluten-free spring rolls?
Absolutely! If you enjoy fresh spring rolls, it's easy to make these at home. Gather up some of your favorite veggies, some cooked rice, and your protein of choice. Grab a package of rice paper wrappers at the grocery store (check for a gluten-free label of course!). And get rolling!
Any sauces you use need to be gluten-free as well, like a homemade peanut sauce or if there is soy sauce in your rolls or sauce, be sure it's gluten-free tamari.
Read on: Is tamari gluten-free?
You can definitely fry up spring rolls with rice paper wrappers, but you'll want to eat these as soon as possible as they will get mushy pretty quickly.
Here are a few other ways to make your own gluten-free spring rolls at home:
If you've been wondering if spring rolls are a good option for you on your gluten-free diet, I hope this information has helped you find what you've been looking for.
Some spring rolls are gluten-free, like fresh Vietnamese rolls, while others are likely not safe to enjoy, like fried Chinese spring rolls. Always be aware of ingredients, as well as sauces before buying spring rolls at restaurants.
Read on: 25 gluten-free dairy-free summer recipes
f you loved this post, I hope that you'll share it with your friends on Facebook and pin it for future reference on Pinterest.
Love this post? You might also want to check out these!
Find out if your favorite foods and ingredients contain gluten with these posts!