Find out what chow mein is, what it's made of, and if this popular Chinese stir-fried noodle dish is safe for a gluten-free diet.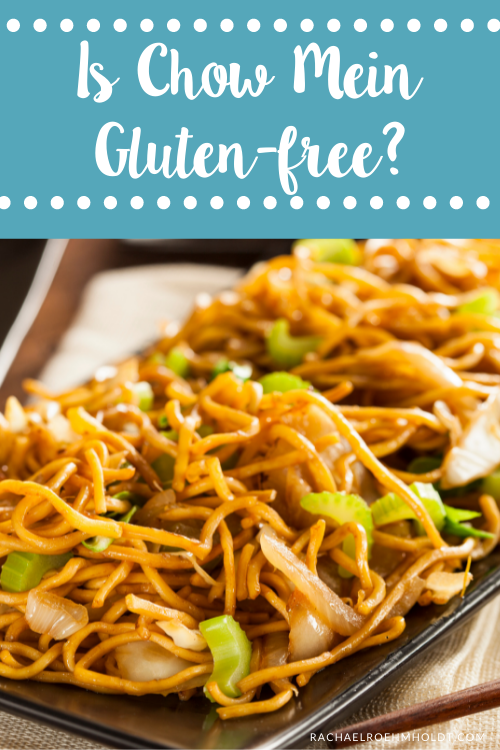 Note: I am a proud Amazon, Chomps, MunkPack, and Thrive Market affiliate and am happy to recommend their service and products to you. Please know that as an affiliate, I may receive a small commission on the products you purchase after clicking through my links. For more info, please see my disclosure policy here.
If you love Chinese takeout or going to Chinese restaurants, you may have wondered what items on the menu are safe for a gluten-free diet. Especially if you're just getting started with taking gluten out of your diet, it can be overwhelming to know what foods are safe and which you'll want to avoid.
In many cases, we have to guess what's in the popular foods on menus and hope for the best. But if you're starting to understand a gluten-free diet, you'll know that gluten can hide just about anywhere – from the main ingredients down to the tiniest amount that's added to a sauce or flavoring.
That's why in this post we're going to attempt to take some of the mystery out of this popular noodle dish you'll find at most Chinese restaurants and even at some grocery store hot food deli areas.
Find out in this post what chow mein is and what each of these words mean to understand this dish a little better. Plus we'll talk about the individual components of chow mein and what they're made of to give you a full picture of this dish and it's ingredients. Finally, we'll answer the question "Is chow mein gluten-free?"
And because I never like to leave anyone feeling like they can't enjoy their favorite foods, I've rounded up some resources for you to make some swaps for gluten-free ingredients if you choose to make your own chow mein at home.
Let's dig into chow mein!
What is chow mein?
Chow mein is a type of stir-fried noodle dish that has vegetables, sometimes meat or tofu, and a chow mein sauce. The term chow mein simply means that the noodles used in this dish are stir-fried. Chow means stir-fried, while mein means noodles.
Chow mein is a Chinese food dish that has become popular in the United States at restaurants and for take out. You can even find it in hot bars at delis (I'm thinking specifically of Safeway stores) and as a frozen food option in the freezer area of grocery stores.
If you've ever cracked open a Chinese food menu, you're likely familiar with this vegetable and noodle dish.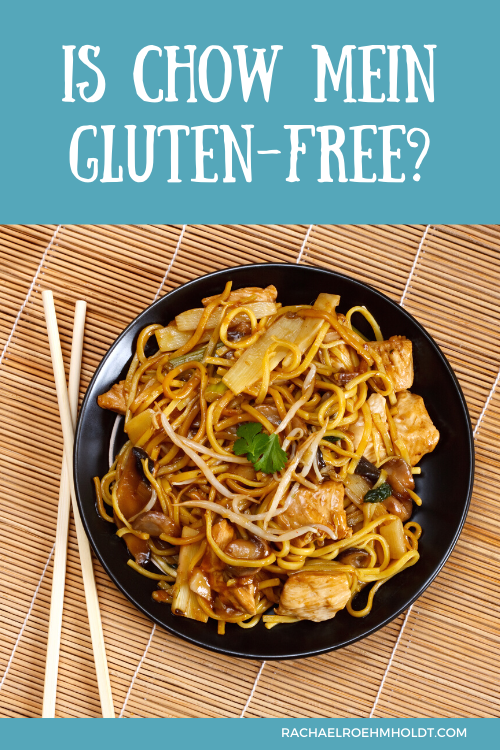 What are chow mein noodles made of?
Chow mein noodles are thin and yellow and can be found at both Asian markets and grocery stores. This type of noodle is made with wheat flour, egg, salt, and sometimes has yellow coloring.
Different types of noodles can be used in chow mein dishes, but most are Chinese egg noodles or specifically chow mein noodles. Other noodles, like ramen noodles, can also be used.
Read on: Are egg noodles gluten-free?
What is in chow mein sauce?
Chow mein sauce is usually homemade or housemade at a restaurant, and is a combination of soy sauce, oyster sauce, sesame oil, sugar, and cornstarch. Other ingredients may include chicken broth and mirin.
Read on: Is soy sauce gluten-free?
Read on: Is sesame oil gluten-free?
Read on: Is cornstarch gluten-free?
Read on: Is mirin gluten-free?
What is gluten?
Gluten is a protein found in most wheat products, and acts as the "glue" that helps to hold wheat, barley, kamut, spelt, farro, durum, bulgur, rye, and semolina together to maintain their shape.
You can find gluten in whole grains, but also in many processed foods as well. If you purchase wheat bread, there will be gluten in it, because wheat by nature has gluten.
Many processed foods have hidden gluten in them in the form of gluten or wheat derivatives. These are also in the form of flavorings, binders to keep ingredients together, or other additives.
Is chow mein gluten-free?
Chow mein you buy at a restaurant is not gluten-free, because almost all noodles used for chow mein contain wheat and therefore gluten. In addition to the noodles, chow mein dishes call for a sauce that includes soy sauce as an ingredient.
Traditional Chinese soy sauce and oyster sauce contains wheat, and in turn gluten, making both the noodles and the sauce from chow mein not safe for a gluten-free diet.
Read on: Gluten-free Chinese food
Read on: Is lo mein gluten-free?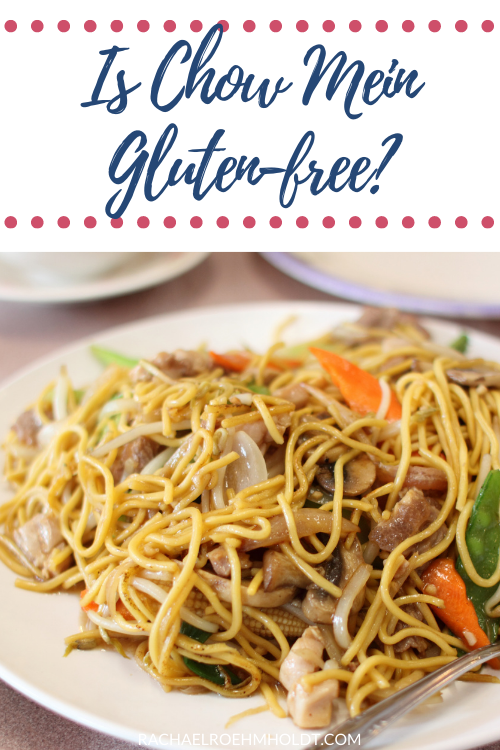 Are chow mein noodles gluten-free?
Chow mein noodles are generally not gluten-free and should be avoided on a gluten-free diet. That said, you can find other noodles that work well in chow mein dishes even if they are not traditional chow mein noodles.
Gluten-free chow mein alternatives
If you absolutely love chow mein and can't dream of living without it, there is hope! You can make your own chow mein at home with the right ingredients.
Choose a rice-based noodle, like rice ramen or rice pasta, to make your own chow mein noodle dish. You can combine your favorite gluten-free tamari soy sauce and gluten-free oyster sauce with the other naturally gluten-free ingredients (sugar, sesame oil, cornstarch) to make a delicious gluten-free chow mein sauce.
Try one of these types of gluten-free rice noodles to create your own chow mein:
Rice vermicelli
Pho
Kway teow
Rice sticks
Chow fun & mi xian
Chee cheong fun
Silver needle
Lai fan
Pad see ew
Rice ramen
Read on: Are rice noodles gluten-free?
Read on: Gluten-free ramen noodles: brands and alternatives
Choose a gluten-free oyster sauce like one of these for your gluten-free chow mein:
Read on: Gluten-free oyster sauce
Try a gluten-free tamari soy sauce brand to mix up a delicious gluten-free chow mein noodle dish:
Read on: Top 5 gluten-free soy sauce brands
If you've been wondering if your favorite stir-fried noodle dish of chow mein is gluten-free and safe for you to continue enjoying on your gluten-free diet, I hope this post has helped you get clear on what your options are.
For the most part, it's your best option to make your own gluten-free chow mein at home using ingredients you can verify are gluten-free.
If you loved this post, I hope that you'll share it with your friends on Facebook and pin it for future reference on Pinterest.
Love this post? You might also want to check out these!
Find out if your favorite foods and ingredients contain gluten with these posts!