Find out if egg rolls are gluten-free and if you can find gluten-free egg rolls at your grocery store or make them at home.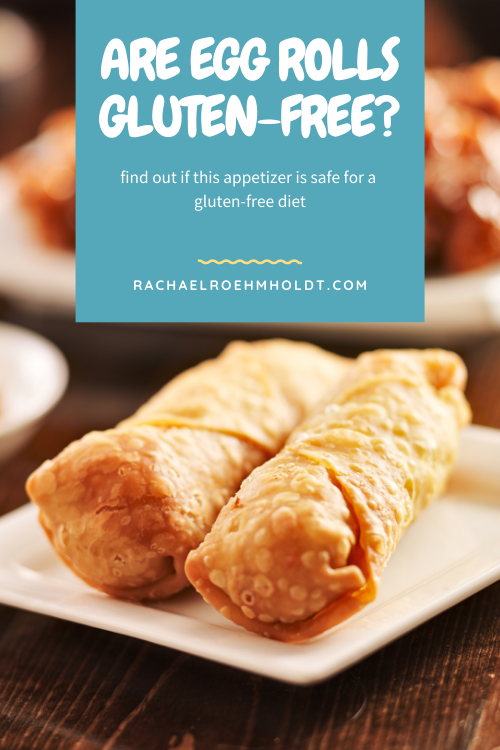 Note: I am a proud Amazon, Chomps, and Thrive Market affiliate and am happy to recommend their service and products to you. Please know that as an affiliate, I may receive a small commission on the products you purchase after clicking through my links. For more info, please see my disclosure policy here.
Do you love crispy egg rolls and also follow a gluten-free diet? If you love going to Chinese restaurants or ordering takeout and have been wondering if egg rolls will fit into your gluten-free diet, I have some hope for you today.
We're talking about the ever-popular egg rolls in this post, what they're made of, what the ingredients are in the fillings and wrappers, and what your options are on a gluten-free diet.
When you avoid gluten, you know that you sometimes have to take the long cut (as opposed to the shortcut) to enjoy some of the foods that you once had in your diet regularly. So let's talk about what the long cut and shortcut versions of gluten-free egg rolls look like.
What are egg rolls?
Egg rolls are a wrapped and fried appetizer that can be found in Chinese restaurants and even the freezer section of your grocery store.
Egg rolls can also be made at home using fresh ingredients and store bought egg roll wrappers.
What are egg rolls made of?
Egg rolls are made with egg roll wrappers and a filling of meat, vegetables, or both. Many egg roll recipes include cabbage, carrots, green onions, fresh garlic, ginger, and beef, chicken, shrimp, or pork.
The filling ingredients can change based on the recipe used or restaurant you visit.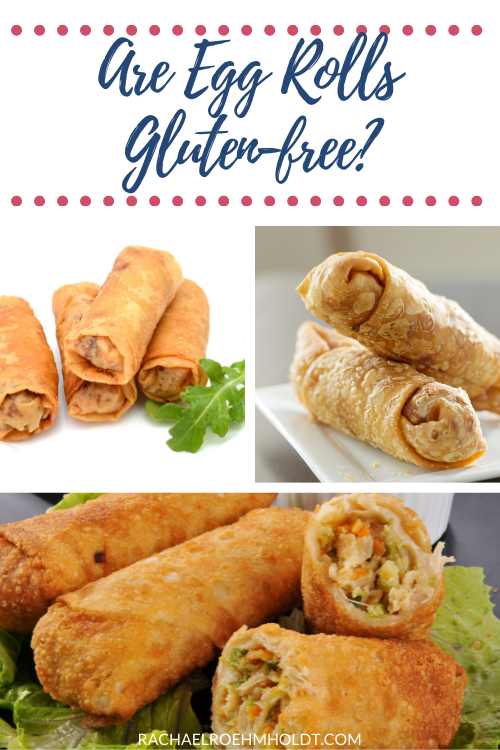 What are egg roll fillings made of?
The fillings in egg rolls are usually vegetables and meat or seafood. You can also make or buy egg rolls that are made with vegetables only.
The meat used in egg rolls is usually beef, chicken, shrimp, or pork.
What are egg roll wrappers made from?
Egg roll wrappers are made with wheat flour, water, salt, egg yolks, and preservatives. The wrappers are dusted with cornstarch, though other starches can be used, to keep the wrappers from sticking together in the packaging.
Read on: Gluten-free egg roll wrappers
What is gluten?
Gluten is a protein found in most wheat products, and acts as the "glue" that helps to hold wheat, barley, kamut, spelt, farro, durum, bulgur, rye, and semolina together to maintain their shape.
You can find gluten in whole grains, but also in many processed foods as well. If you purchase wheat bread, there will be gluten in it, because wheat by nature has gluten.
Many processed foods have hidden gluten in them in the form of gluten or wheat derivatives. These are also in the form of flavorings, binders to keep ingredients together, or other additives.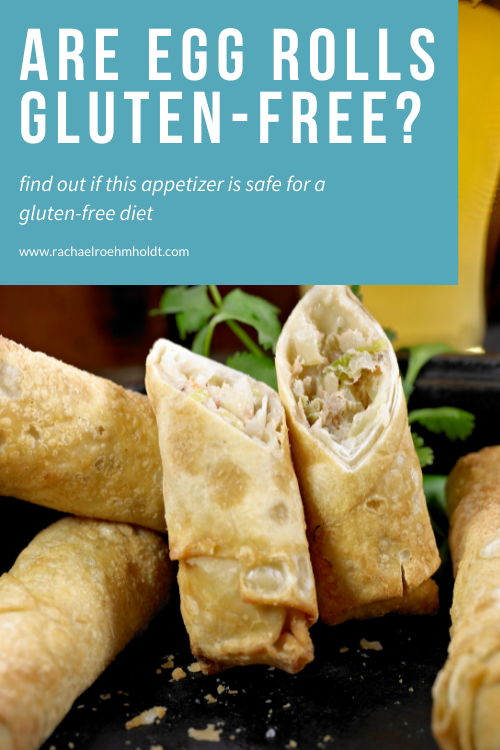 Are egg roll wrappers gluten-free?
Egg roll wrappers almost always contain gluten. This is from the wheat flour used in the dough.
You can buy gluten-free egg roll wrappers if you choose to make your own version of this yummy appetizer at home. You can also buy a gluten-free egg roll wrap mix to create your own wrappers too.
Are egg rolls gluten-free?
Most egg rolls you find at restaurants are not gluten-free as they use traditional egg roll wrappers that contain wheat flour.
Store bought egg rolls you'd find in the freezer section at the grocery store are also likely to contain gluten in the egg roll wrappers.
Aside from the egg roll wrappers, you'll also want to be aware that there's often gluten in the sauces used to make egg rolls. Traditional Chinese soy sauce is made with wheat.
For a gluten-free soy sauce alternative, you can use tamari soy sauce which tastes the same as traditional Chinese soy sauce but without the wheat ingredients.
Read on: Gluten-free Chinese food
Read on: Is tamari gluten-free?
Can I make my own gluten-free egg rolls?
Of course! If you love egg rolls, you can definitely make your own version of this yummy appetizer at home using gluten-free ingredients.
A few things to keep in mind as you make gluten-free egg rolls:
Use gluten-free egg roll wrappers (either store bought or homemade)
Use gluten-free sauces
Be aware of cross contact in your own kitchen
Try one of these recipes for gluten-free egg rolls if you want to make them at home: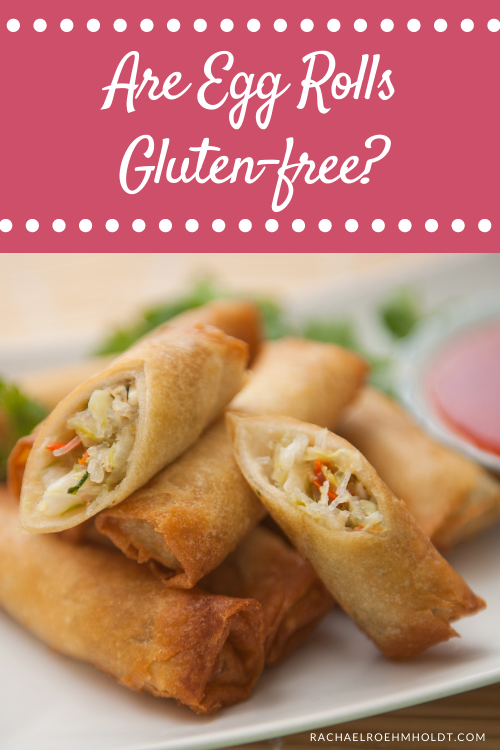 Can I buy gluten-free egg rolls?
There are a few freezer-friendly gluten-free egg roll options on the market, but I can't tell you for sure how far reaching they are and if you will be able to find them locally where you live.
If you love egg rolls, I hope that this post has helped you get the information you're looking for in order to still enjoy your favorite appetizer. Whether you make your own at home from scratch or buy one of the store bought gluten-free versions, you have options on a gluten-free diet!
If you loved this post, I hope that you'll share it with your friends on Facebook and pin it for future reference on Pinterest.
Love this post? You might also want to check out these!
Find out if your favorite foods and ingredients contain gluten with these posts!