Get 55 gluten-free Christmas dessert recipes that are perfect for your holiday gatherings this season. Plus many are dairy-free and vegan too!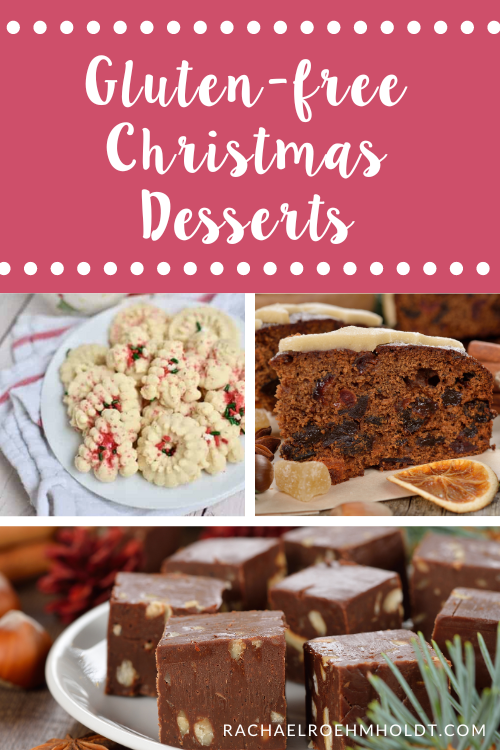 Note: I am a proud Amazon, Chomps, MunkPack, and Thrive Market affiliate and am happy to recommend their service and products to you. Please know that as an affiliate, I may receive a small commission on the products you purchase after clicking through my links. For more info, please see my disclosure policy here.
Christmas is right around the corner and with that, you're probably planning and prepping all your big events.
One thing that feels like one of the most important parts of this holiday season is desserts. There's always a need for a good Christmas dessert recipe, and this year is no exception.
I'm rounding up 55 gluten-free Christmas dessert recipes that are perfect for celebrating, hosting, and maybe even gifting.
Whether you plan to spend time with your small immediate family, friends, or a larger social gathering, you'll love this recipe roundup of gluten-free desserts for this Christmas season.
In this roundup, you'll find gluten-free Christmas dessert recipes that a number of different categories, like easy recipes, cakes, cookies, pies, puddings, candy, dessert board ideas, no bake recipes, peppermint recipes, Christmas dessert dips, and some special Christmas dessert recipes for kids.
I hope if you're looking for a sweet treat to share with your family and friends this Christmas, that this list of gluten-free desserts inspires you to get in the kitchen and make something delicious!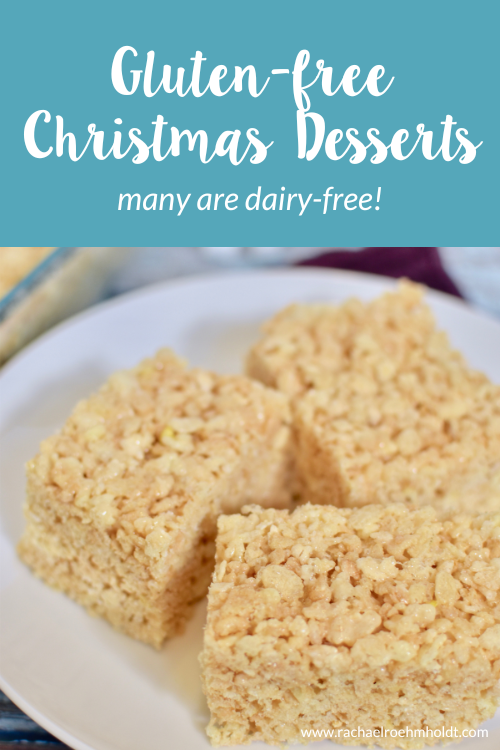 Gluten-free Easy Christmas Dessert Recipes
Christmas dessert doesn't have to be fancy or complicated. If you prefer to enjoy an easy recipe for this holiday, find an easy twist to make it more festive like I share in these recipes.
Enjoy an easy Christmas dessert by making some gluten-free Rice Krispie treats. You can make them festive by adding some red and green sprinkles into the mix or by dipping them in red or green colored chocolate.
I've even seen some folks make them into cute little reindeer!
Brownies are such an easy dessert to make, even for Christmas! Turn your standard brownies into something more Christmas worthy by cutting the brownies into triangles, then frosting them with green frosting and decorating like a Christmas tree!
These delicious chocolate chip cookies are a great recipe to add to your recipe list, because they're gluten-free, dairy-free, completely vegan, and aren't full of refined sugar.
They're made with almond flour, coconut oil or vegan butter, maple syrup, sea salt, baking soda, vanilla, and dairy-free chocolate chips. They couldn't be easier to make and barely last an afternoon in my house!
I like to make them more festive by adding in some red and green sprinkles to the batter before baking.
These gluten-free sugar cookies are soft, sweet and full of vanilla flavor. This is my own recipe and go-to for a simple but delicious sugar cookie.
These are made with almond flour, and are dairy-free, egg-free, and vegan too! Make them festive by rolling them in red or green colored sugar for Christmas!
Cupcakes are another super easy dessert to make and can be made into a Christmas theme with just the toppings.
Use one of these gluten free cake mixes for the cupcakes, then get creative with your frosting to make Santa hats, green Grinch cupcakes, snowmen, or reindeer. So many fun ideas with just decorating the top!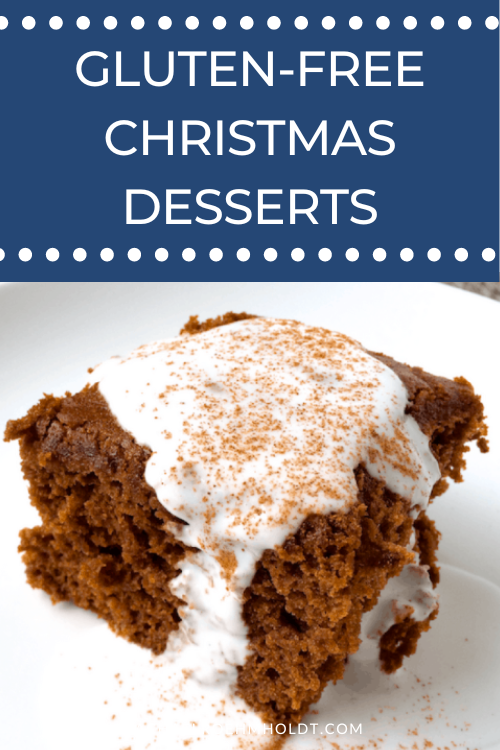 Gluten-free Christmas Cake Recipes
There are a number of great cake recipes you might decide to enjoy this Christmas. From this list, choose from a classic gingerbread cake or Christmas cake, or try an old favorite like red velvet cake or gluten-free cheesecake.
This is one of my favorite Christmas dessert recipes that I try to make every year for our family gathering. It tastes like gingerbread cookies but in cake form. It's a huge hit with my family even though they're all regular gluten and dairy eaters.
I can't think of anything more Christmassy than a red cake! Try this red velvet cake that you can frost with white frosting and some Christmas red and green sprinkles.
Cheesecake is a dessert for any special occasion and my sister's family loves to bring a Costco-sized one to many of our events. To make sure I can still enjoy the same flavors, I like to make this recipe that's very similar in flavor and texture to the real thing.
This popular fruit cake is made with loads of dried fruit, lemons, and brandy. This version uses gluten-free flour and you can even use a dairy alternative to make it dairy-free as well.
If it doesn't feel like Christmas without fruit cake in your house, give this gluten-free version a try! It's made with dried fruit, candied cherries, cherry brandy, nuts, and spices. You'll love this if you're a fruit cake lover!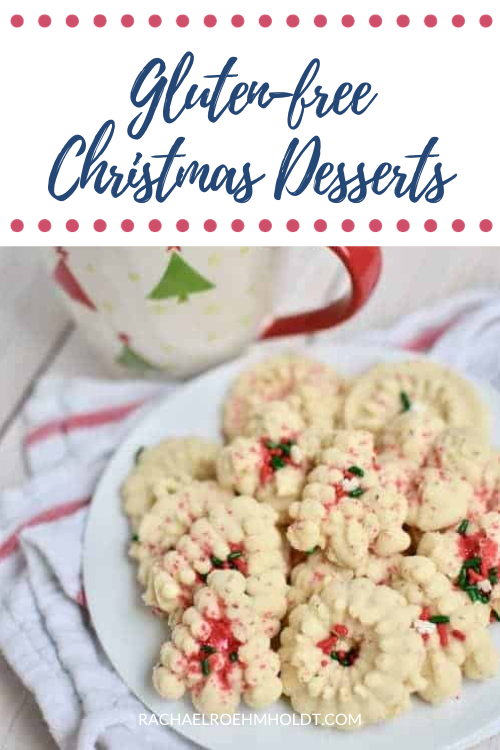 Gluten-free Christmas Cookie Recipes
Cookies are a staple for any Christmas. Try some of these delicious gluten-free Christmas cookie recipes, like spritz, thumbprint, molasses, and snickerdoodle cookies.
Gluten and dairy-free spritz cookies are perfect for the holiday season! Not only do they have no gluten or dairy, but this recipe has an optional egg-free option too, making it completely vegan-friendly.
Perfect for the holiday season, these gluten-free thumbprint cookies are made with my almond flour sugar cookie recipe as a base and a bit of delicious jam right on top. Enjoy these thumbprint cookies on a dairy-free or vegan diet too!
This gluten-free molasses cookie recipe is made with almond flour, molasses, and loads of flavorful spices like cinnamon, ginger, and cloves. You'll love these homemade Christmas-inspired cookies at your next get-together.
I love tons of spice added to all my favorite dishes this time of year. Try these gluten-free snickerdoodle cookies that are simple, quick, and full of cinnamon-sugar flavor! They're dairy-free, egg-free, and vegan too!
If you're looking for a great cut-out cookie recipe to make to gift to friends or neighbors, give this gluten-free and dairy-free recipe a try. They hold their shape well and don't spread while they're baking.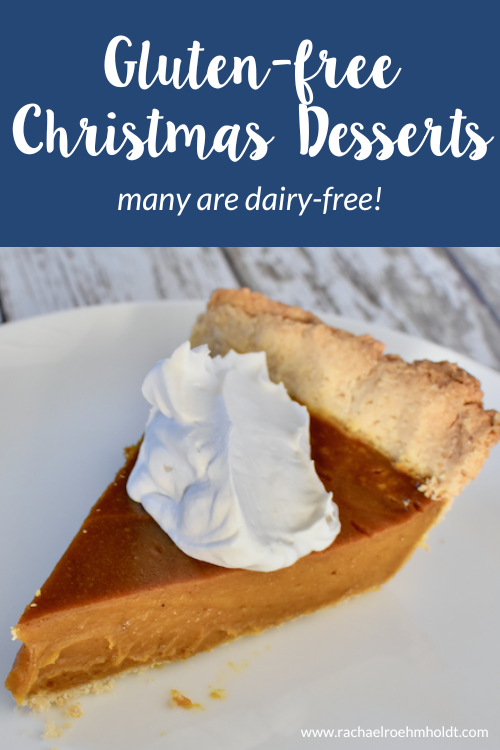 Gluten-free Christmas Pie Recipes
If you can't live without pie for Chrsitams, be sure to try one of these delicious options – they're all gluten-free! Pumpkin, pecan, apple, eggnog, and vegan chocolate pie all look like great choices!
If you're a fan of pies for dessert for Christmas, you might opt for a traditional pumpkin pie like my family always does.
Try out this gluten and dairy-free recipe if you're looking for a healthier version of this holiday favorite.
I only associate pecan pie with Christmas, so it makes sense to include this recipe in the roundup.
This gluten-free pecan pie is made with a homemade gluten-free pie crust and a delicious homemade filling with loads of pecans, brown sugar, and butter.
Apple pie is almost always served at our holiday gatherings because my stepdad loves to make it from scratch every year. I'm going to have to share this recipe with him to make sure it's gluten-free next time!
if you love eggnog, you might want to give this gluten-free eggnog pie a try! It's definitely not dairy-free, so opt out of this one if you avoid those ingredients.
Otherwise, it looks like a tasty option if you're looking for something new and different this Christmas!
I don't think there's ever an occasion where chocolate pie isn't wanted. Christmas can join the club in adding chocolate pies to their dessert lineup too. Enjoy this vegan and gluten-free one that's made with a vegan instant pudding mix.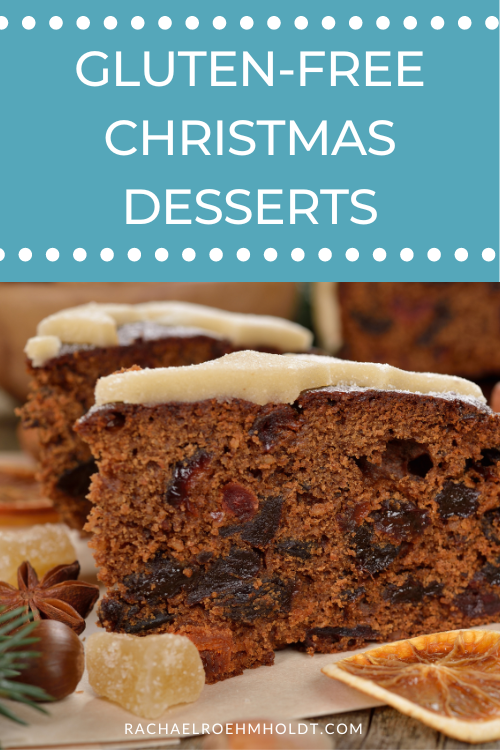 Gluten-free Christmas Pudding Recipes
If you love a traditional Christmas pudding, you'll love these recipes. If you want something a little different, opt for a sticky toffee pudding or make up a festive chia pudding.
If you enjoy Christmas pudding, you'll love this one that's gluten-free and paleo. It's full of delicious flavors from dried fruit and apples. It's made using coconut and almond flours, so you know it's safe for your gluten-free diet.
Another great Christmas pudidng recipe, this one uses raisins, sultanas, cherries, brandy, gluten-free breadcrumbs, and a few other ingredients to come together. Give this one a try for a gluten-free twist on an old favorite.
These sticky toffee puddings are made with a cake base of dates, gluten-free flour, butter, and eggs.
Everything is topped with a delicious, rich toffee sauce made of heavy cream, butter, and brown sugar. This one isn't dairy-free!
If you're looking for a traditional Christmas pudding, give this one a try. The soaked fruit is full of dried fruit, lemon zest and juice, and brandy.
The rest of the pudding has butter, sugar, eggs, gluten-free flour, baking powder, nutmeg, and gluten-free breadcrumbs.
If you want a dessert that's on the healthier side of things this year, opt for this tasty chia pudding! It's loaded with protein, fiber, and heathy fat.
Best of all, you can make it a little more festive by adding some cranberry sauce, or red and green fruit like strawberries and kiwi, or by adding some flavors of gingerbread, like ground ginger, allspice, cloves, and cinnamon.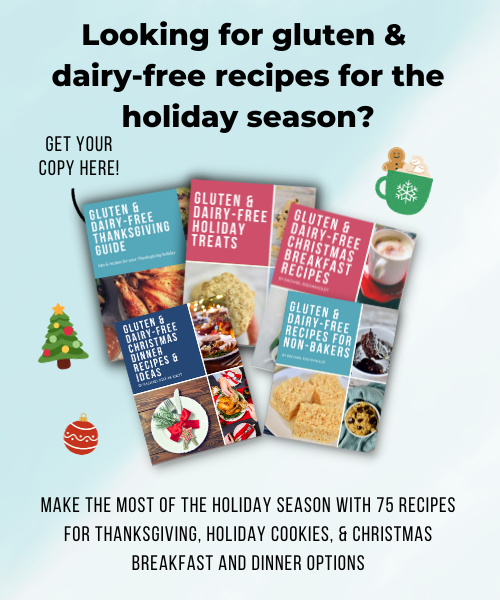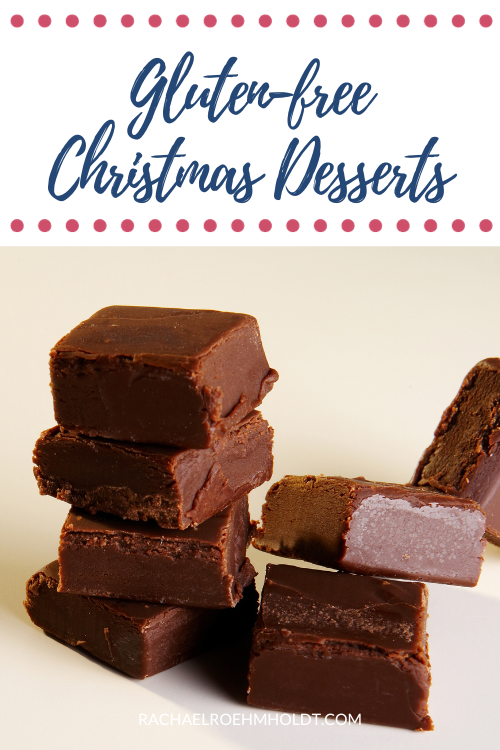 Gluten-free Christmas Candy Recipes
Love making homemade candy? Christmas is a great time to make and share your favorite treats.
You'll love these recipes for fudge, vegan toffee, dark chocolate peppermint bark, chocolate covered pretzels, and peanut brittle.
If you've been looking for a gluten-free and vegan fudge recipe, look no further!
This recipe is made with shredded coconut, nut butter, cocoa butter, cacao powder, maple syrup, sea salt, vanilla extract, and pitted dates. You'll love how this one comes together!
My mom used to love Almond Roca and this gluten-free vegan toffee is a nice option for folks who are avoiding dairy.
This recipe is made without any butter or cream and instead uses vegan butter, white sugar, golden syrup, soy milk, and salt. It's topped with melted chocolate and chopped nuts. Yum!
My son and I make chocolate bark just like this recipe every Christmas. It's made with just melted dairy-free chocolate chips and crushed up candy canes.
It couldn't be an easier gluten-free Christmas candy to make at home!
These are such a fun way to make something so simple a little more of a treat.
Dip gluten-free pretzels in melted dairy-free chocolate, then sprinkle some festive red and green sprinkles over top. Everyone in the family will love them!
Making candy can be no joke, but with the right tools and everything ready to go, you can make it pretty quick.
Just make sure you have your candy thermometer on hand before you get started!
Gluten-free Christmas Dessert Board Recipes
Have you heard of charcuterie? I'm sure you have. What about dessert charcuterie or a dessert board?
This is a fun way to have a variety of desserts and display them all together. Try some of these ideas for gluten-free Christmas dessert boards this holiday season!
If you're hosting a big gathering or two this Christmas, consider trying out a Christmas dessert board.
This post will share with you some great tips for what to include and how to make it look beautiful! Plus how to host a Christmas dessert party and what drinks to serve with it.
This Santa Dessert Board isn't made with gluten-free ingredients, but it is SO cute that I thought it could give you some inspiration for how to make something as simple as a dessert board into something super festive.
Even without a homemade cheesecake dip in the center, you can see how fixing up a bowl of gluten-free fruit dip can be made into a Christmas dessert with the right "accessories."
This post is also a lot of eye candy to inspire you on what types of things you can include in your gluten-free dessert board.
Try gluten-free cookies, candies, dessert dip, fruit, and marshmallows. A lot of the recipes in this post could even be added to your dessert board this Christmas!
This dessert charcuterie board isn't aimed to be just for Christmas, but it does give you ideas for what gluten-free and dairy-free items to include.
Plus with a dairy-free chocolate ganache for dipping, it's like the perfect homemade fondue for a fun Christmas get together.
Your family is full of chocolate lovers? Me too. Try this chocolate dessert board that's completely gluten-free and vegan.
Enjoy adding different brands and flavors of dairy-free chocolate, fruit, nuts, and gluten-free cookies or graham crackers. Mix up the variety of colors and textures to make it super pleasing to the eye too!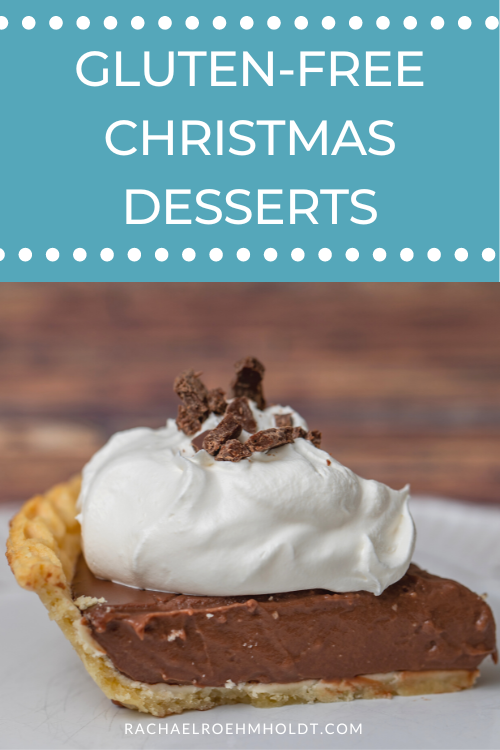 Gluten-free No Bake Christmas Recipes
If you want to serve dessert this Christmas, but can't be bothered to turn the oven on, this group of recipes is for you. With so many other things to cook, take a shortcut with one of these gluten-free no bake Christmas desserts.
It's nice to have on hand a chocolate cream pie recipe, but it doesn't have to hide away for the holidays.
This gluten-free chocolate cream pie recipe uses real dairy ingredients, so keep that in mind if you're following a dairy-free diet too.
If you want a few no bake options this Christmas for serving dessert, these coconut cookies couldn't be easier.
All you need is unsweetened shredded coconut, coconut oil, a sweetener of choice, vanilla, and salt. You can make it a little more special with a dairy-free chocolate drizzle and red and green sugar sprinkled on top.
If you're on the hunt for a Christmas dessert recipe that's full of fiber and you can feel good about enjoying it this Christmas long after, try these chocolate peanut butter oat bars.
They're made with gluten-free oats, coconut oil, coconut sugar, vanilla, cinnamon, sea salt, dark chocolate chips, and peanut butter. They look delicious!
These classic Christmas cookies are one of my all-time favorites that we made growing up.
This gluten-free take on them is super simple, just be sure you use gluten-free oats instead of traditional oats. Best of all, these are dairy-free too!
I've seen folks make these Oreo truffles forever for the holidays and once Oreo put out their gluten-free option, I was so excited I could enjoy these cookies again.
If you love to make Oreo truffles for Christmas, know that they're gluten-free, dairy-free, and vegan when you use the gluten-free Oreos. A perfect Christmas treat!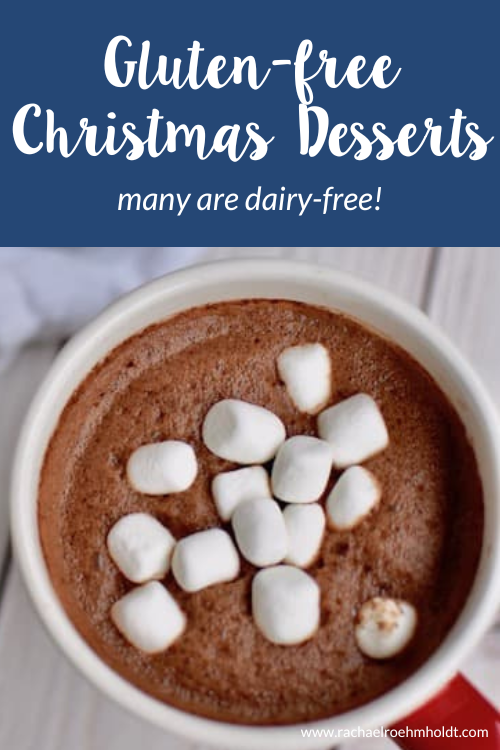 Gluten-free Peppermint Christmas Recipes
What's a holiday season without the flavor of peppermint sprinkled through? Enjoy one of these five recipes that highlights peppermint in cake, hot chocolate, and cookies.
This peppermint flourless chocolate cake looks like a perfect dessert for Christmas! And since it's flourless, you know it's safe for your gluten-free diet.
This recipe uses butter, sugar, semisweet chocolate, salt, vanilla extract, peppermint extract, eggs, and cocoa powder.
It's all topped with a chocolate ganache and crushed candy canes – yum! This one is not dairy-free – so heads up!
If you enjoy cheesecake for Christmas, this holiday-inspired peppermint chocolate flavor will be right up your alley!
Enjoy this cheesecake made with a crust of chocolate sandwich cookie wafers and coconut oil, plus a filling of non-dairy cream cheese, cocoa powder, powdered sugar, vanilla and peppermint extracts, coconut whipped cream, and allergy-friendly white chocolate chips.
Don't forget to top it all off with crushed peppermint candy canes!
Is hot chocolate a dessert? I mean, I think it for sure could be if you make it special enough.
Every time my son orders a hot chocolate from a restaurant, it looks like a dessert in a glass, so I'm going to say that this recipe can be the perfect Christmas dessert if you want it to be!
Top your dairy-free peppermint hot chocolate high with dairy-free whipped cream, red and green sprinkles, and even a candy cane.
Peppermint and chocolate almost always get to have all the fun together in Christmas desserts, but if you're missing out on your favorite white chocolate flavors, you'll enjoy this recipe for white chocolate peppermint cookies.
Best of all, it's gluten-free and dairy-free!
Want peppermint hot chocolate in a cookie form? This recipe is exactly what you're looking for.
Chocolate cookies made with gluten-free flour, almond butter, dairy-free butter, and peppermint extract come together with a topping of dairy-free white chocolate drizzle and crushed candy canes.
These will be a perfect Christmas dessert option for your family and your guests!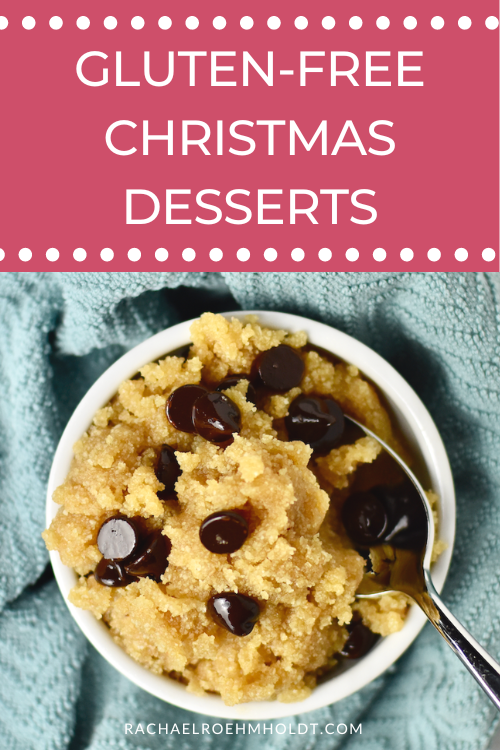 Gluten-free Christmas Dessert Dip Recipes
It can be fun to offer a dessert dip if you're looking for a quick and easy dessert option for your Christmas get-together. Try one of these gluten-free dessert dips with cookies, fruit, or pretzels to dip!
If you've been to a party in the last few years, you're probably well versed in the idea of dessert dips.
This cookie dough dip is perfect for dipping with gluten-free graham crackers or other cookies, or even gluten-free pretzels.
It comes together with dairy-free cream cheese, powdered sugar, vegan butter, brown sugar, vanilla, and dairy-free chocolate chips.
Can't get enough pumpkin pie this holiday season? Make this vegan pumpkin pie dip that you can use to dip all your favorite gluten-free cookies in.
My personal favorites for dipping are gluten-free sugar cookies, gluten-free oatmeal cookies, and gluten-free molasses cookies. So good!
Gluten-free S'mores dip is made with all your favorite ingredients – chocolate, marshmallows, and dipped with gluten-free graham crackers.
If you're wondering how s'mores have to do with the holidays, I'll tell you that in the past few years, we've had a bonfire going at my stepdad's house while people come in and outside from the festivities and it just makes sense to offer these while keeping warm by the fire. Kids will love this too!
If you come from a family of cheesecake lovers, try out this dairy-free cheesecake dip that's also safe for folks on a gluten-free diet.
It's made with dairy-free cream cheese, coconut cream, powdered sugar, lemon juice, vanilla extract, and a pinch of salt. Dip your favorite cookies, graham crackers, pretzels, or fruit in it!
This recipe links off to a gluten-free Oreo mousse recipe which combines a homemade vanilla pudding and a gluten-free Oreo/whipped topping concoction.
As I was reading through the recipe, I thought the combination of dairy-free whipped topping and crushed Oreos sounded like an amazing dessert idea without the mousse!
Use this for a holiday dessert board with your favorite gluten-free cookies, pretzels, or fruit.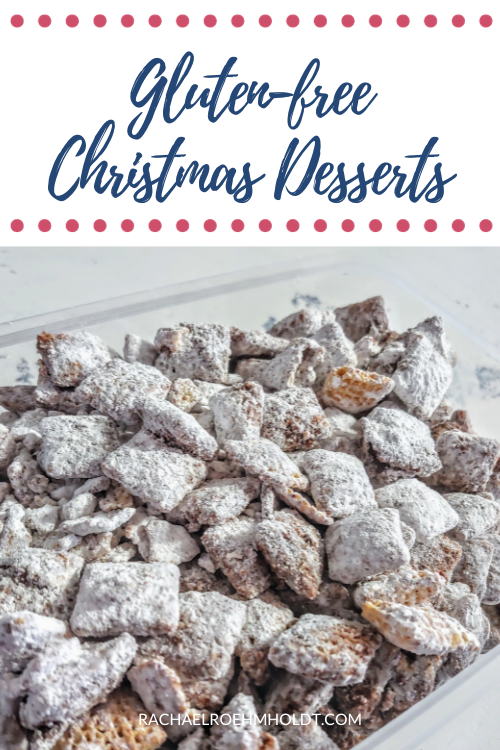 Gluten-free Christmas Dessert Recipes For Kids
If you're enjoying time with kids this Christmas, you might want to make a special kid-friendly dessert just for them. Try one of these tasty recipes that the kids in your life will love!
If you are having a number of kids over for the holidays or have a lot of kiddos in your household, consider something special like a big cookie pizza.
This recipe uses gluten-free flour so it's naturally gluten-free. You can make it even more festive with some red and green sprinkles mixed into the batter or add food coloring to the whipped topping.
Better yet, let the kids decorate the cookie pizza however they want!
This is such a fun idea for kids to get involved in the kitchen. Gather up some gluten-free ingredients including allery-friendly white chocolate, gluten-free pretzels, some red candies (like Red Hots), and cut up halves of Rolos or other chocolate bars.
Melt the white chocolate into "melted puddles" and have kids add the snowman's arms, buttons, nose, and hat. I'm sure there are tons more things to add to really make this idea super fun for the kids in your life!
If your family likes Puppy Chow as a dessert treat, this "reindeer food" is a fun holiday twist on that recipe.
Make sure you use only the gluten-free Chex options (rice and corn), and if you're dairy-free to only add dairy-free candies to the mix as well as dairy-free chocolate for the chocolate coating.
This green Grinch hot chocolate is full of milk and half and half, but if you're dairy-free you can use a mixture of your favorite dairy-free milks.
What makes this festive is the green food coloring, red sprinkles around the rim of the mug, and some whipped cream (or dairy-free whipped cream).
Best of all, it's completely gluten-free and the kiddos will love it!
To keep little hands engaged, you could set up a station to make your own Christmas candy trees with the gluten-free kids in your life.
The candies used in the recipe are Reese's peanut butter cups, but you could easily use a dairy-free brand like Justin's or Unreal to make it dairy-free if that suits your diet.
Most peanut butter cups are gluten-free, so you won't need to worry about that in this recipe.
Love this post? Check out some of my other great Christmas and Holiday posts!
Looking for some Christmas and holiday recipes that are gluten and dairy-free? Check out these great posts!
If you've been looking for recipes for an amazing gluten-free Christmas dessert, I hope that this recipe roundup has inspired you! Find one or two recipes and give them a try this holiday season to help you stick with your gluten-free diet.
If you loved this post, I hope that you'll share it with your friends on Facebook and pin it for future reference on Pinterest.