Do you have a brunch coming up and are looking for some delicious gluten and dairy-free recipes to serve? Check out these 25 brunch recipes, including brunch casseroles, egg dishes, pancakes, waffles, muffins, breads, and side dishes.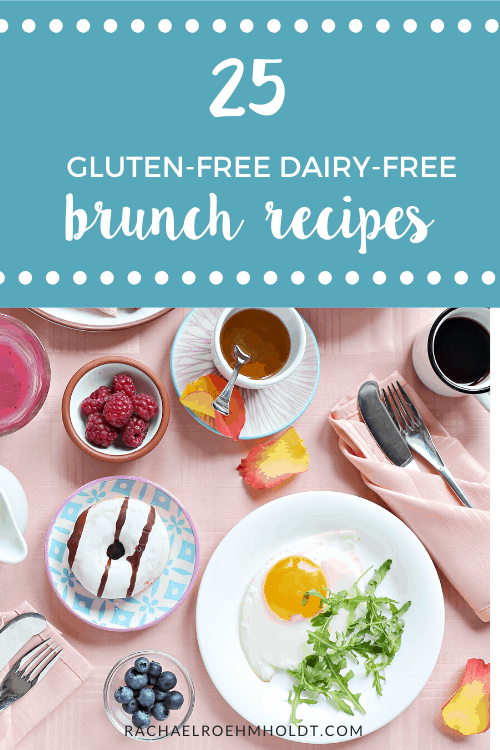 Note: I am a proud Amazon, Chomps, and Thrive Market affiliate and am happy to recommend their service and products to you. Please know that as an affiliate, I may receive a small commission on the products you purchase after clicking through my links. For more info, please see my disclosure policy here.
We aren't big brunch eaters at my house, but do often do brunches when we get together with family. It's fun to get together for some breakfast food that still allows me to take my time getting up and ready for the day.
This post is full of delicious brunch recipes, including brunch casseroles, egg recipes, pancake and waffle recipes, muffin and bread recipes, and brunch side dishes. I hope as you make your way through this post that you find something delicious to try at your next brunch. Mix and match some of these ideas to create your own gluten and dairy-free brunch menu!
Gluten-free Dairy-free Brunch Casserole Recipes
1. Gluten-free Berry French Toast Casserole
This gluten-free berry French toast casserole recipe is perfect for brunch. This recipe is perfect for brunch for your family or entertaining guests. This one only takes 10 minutes of prep and one hour of cooking time.
This make-ahead friendly breakfast casserole is made with bacon, sausage, sweet potato, and kale. It's full of healthy ingredients and easy to put together!
Read on: Is bacon gluten-free?
3. Egg Free Sausage Hash Brown Bake
I have made this egg-free sausage hash brown bake multiple times and I think it's a really great option for anyone who wants a brunch recipe that doesn't have eggs. You can easily make this recipe gluten and dairy-free by swapping out the milk for a dairy-free milk and Daiya cheddar cheese shreds for the cheddar.
4. Slow Cooker Breakfast Casserole
This slow cooker breakfast casserole looks divine and perfect for any brunch that you plan for. The recipe is made with sausage, onion, garlic, sweet potatoes, mushrooms, and bell peppers. No one will even know it's gluten-free and dairy-free friendly.
5. Gluten-free Blueberry Lemon Breakfast Casserole
If you like your breakfast casseroles on the sweeter side, you'll love this blueberry lemon breakfast casserole. This casserole is made like a standard French toast casserole with gluten-free bread and eggs, but with blueberries and loads of lemon flavor from lemon juice and dried lemon peel.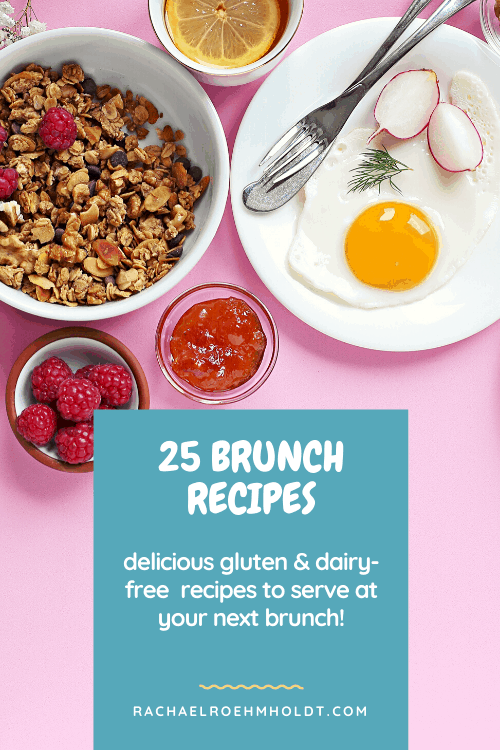 Gluten-free Dairy-free Egg Recipes
Read on: Are eggs gluten-free? Are eggs dairy-free?
Mini egg muffins are a great brunch idea and perfect to be made ahead of time too. All you need is a mini muffin tin, a few whisked eggs with salt and pepper, and even some veggies or bacon.
7. Keto Deviled Eggs
What's a brunch without deviled eggs? This recipe is simple, easy, and perfect for any get together or brunch party you plan to attend.
8. Gluten-free Dairy-free Sausage Egg Casserole
This sausage egg casserole is great for any brunch get together, because it can be made ahead. You can also make this recipe into individual servings, so people can have easily portioned cups to add to their plates.
9.Eggs Benedict Casserole
This casserole has all the delicious flavors of eggs benedict with gluten-free bread, Canadian bacon, eggs, and a homemade Hollandaise sauce which can be made dairy-free.
10. Healthy Baked Egg Cups
These baked egg cups are a healthy option to add to your brunch spread. With spinach, red pepper, and sausage baked with some whisked eggs, this is a super easy recipe that's perfect for entertaining too.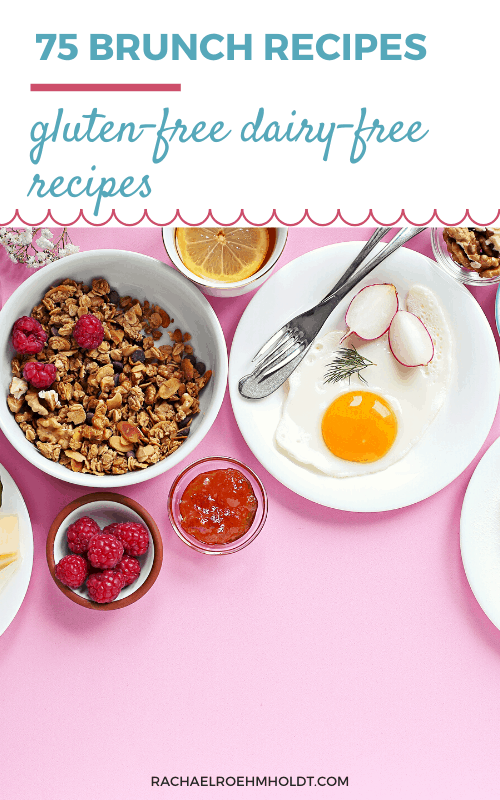 Gluten-free Dairy-free Pancake and Waffle Recipes
These gluten-free pancakes are really easy and made with a homemade gluten-free pancake mix. The best part about these pancakes is that you can make them with eggs and dairy if that's your thing, or you can make substitutes and have them be dairy-free, egg-free, and vegan if you need them to. This is a go-to recipe in my house!
Coconut flour pancakes are light and fluffy and great as a gluten and dairy-free option for breakfast. They're great with vegan butter and syrup or with a spread of other pancake and waffle toppings on your brunch table.
Gluten-free waffles from scratch are simple to come together with almond, tapioca, and coconut flours along with a few other baking essentials. These waffles are a great base for your favorite toppings, like berries, whipped coconut cream, vegan butter and syrup – or anything else you can dream up!
These almond flour waffles are perfect for a brunch, because they're a blank slate for your favorite toppings. These are made with eggs, almond flour, maple syrup, vanilla, arrowroot powder, cinnamon, baking powder, and salt.
15. Flourless Strawberry Pancakes
These strawberry pancakes are flourless and made using rolled oats, bananas, strawberries, and cinnamon (with a few other pantry ingredients). These are a unique flavor from what you might have seen before, and that's exactly why I love this recipe!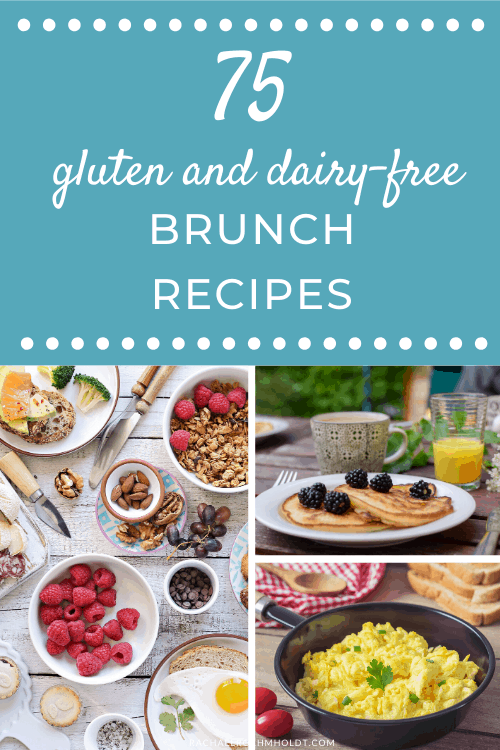 Gluten-free Dairy-free Muffin and Bread Recipes
16. The Best Gluten-free Banana Bread
Banana bread is always a crowd pleaser, especially at a brunch or breakfast gathering. Try this banana bread recipe that's gluten-free, dairy-free, and vegan friendly.
17. Lemon Blueberry Almond Flour Muffins
These lemon blueberry muffins combine two delicious flavors that are light, bright, and perfect for any brunch. You can make these ahead of time and expect to not have a single one left over.
18. Dairy and Gluten-free Zucchini Bread
If you love zucchini bread, this recipe won't disappoint for your next brunch. Enjoy this gluten and dairy-free zucchini bread recipe that's also egg-free. This recipe uses a gluten-free flour blend, shredded zucchini, banana, plus some warm spices like cinnamon and nutmeg. It's SO good!
19. Vanilla Raspberry Muffins
Vanilla rasberry muffins are another great brunch idea. These muffins are easy to create and even though they're labeled as raspberry, I think you could swap out the berries for any type that you like – blueberries and strawberries would be delicious too!
20. Gluten-free Coffee Cake
Enjoy this gluten-free coffee cake that's also dairy-free and egg-free for a sweet bite that's sure to be a crowd-pleaser. With a cinnamon swirl in the middle and a cinnamon walnut crumble on top, it's extremely delicious and even make-ahead friendly!
Gluten-free Dairy-free Brunch Side Dish Recipes
This nutty coconut granola is great with dairy-free yogurt parfaits or with dairy-free milk for your next brunch. This recipe uses healthy ingredients, like coconut oil, maple syrup, rolled oats, unsweetened shredded coconut, walnuts, and almonds.
Fruit is a staple at any brunch, but this rainbow fruit salad is a beautiful addition to your plate too! With strawberries, pineapple, blueberries, grapes, kiwi, mandarin oranges, and bananas, you get all the colors of the rainbow in one big bowl
23. Oven Roasted Breakfast Potatoes
I love breakfast potatoes any time, but for brunch, they're a perfect addition especially if you're hosting others to your house too. This recipe serves 8 and has the perfect amount of potatoes, bell peppers, and onions to add some savory to your brunch spread.
These quinoa fritters are a fun brunch idea. They are full of flavor from quinoa, carrot, onions, chives, and coriander. Serve them plain or with the healthy garlic aioli.
25. Blueberry Bacon Spinach Salad
If you're looking for a green salad to add to your brunch spread, check out this blueberry bacon spinach salad with fresh blueberries, spinach, bacon, and red onion. The homemade blueberry vinaigrette is light and a perfect sweet balance to the salty bacon in this recipe.
I hope that you've been inspired by these 25 delicious gluten-free and dairy-free brunch recipes, and that next time your host or attend a brunch that you have some amazing dish to bring along with you!
If you loved this post, I hope that you'll share it with your friends on Facebook and pin it for future reference on Pinterest.
Love this post? You might also want to check out more of my recipe roundups here!
Find some delicious gluten and dairy-free recipes in these popular recipe roundup posts!
Want more? Check out all my Gluten-free Dairy-free Recipes!