Find out if Truly hard seltzer contains any gluten ingredients and if it's safe for folks on a gluten-free diet.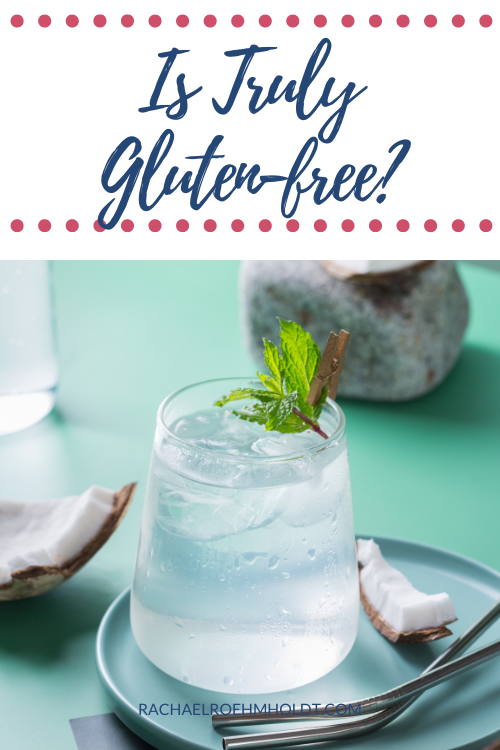 Note: I am a proud Amazon, Chomps, MunkPack, and Thrive Market affiliate and am happy to recommend their service and products to you. Please know that as an affiliate, I may receive a small commission on the products you purchase after clicking through my links. For more info, please see my disclosure policy here.
If you love hard seltzer, you have probably heard of Truly. Between White Claw and Truly, these two brands truly (ha ha) have cornered the hard seltzer market.
If you love to grab a drink on a warm day, but don't want added sugar, these hard seltzers are a great option for you. They're not overly sweet like some drinks and are said to be lower in calories, if that's something you pay attention to.
Of course, while following a gluten-free diet, you know that gluten can show up just about anywhere. That includes alcoholic beverages.
That's why we're dedicating this post to just one brand – Truly – to find out if it's a safe option for you to continue to drink while steering clear of gluten in your diet.
Find out in this post what Truly is, what flavors and varieties it comes in, what the main ingredients are, and if this brand of hard seltzer is gluten-free.
We'll also answer questions about their popular Truly Vodka Seltzers and Truly Margarita Hard seltzers to help you get all the information you need to make an informed decision about this brand.
Let's talk Truly!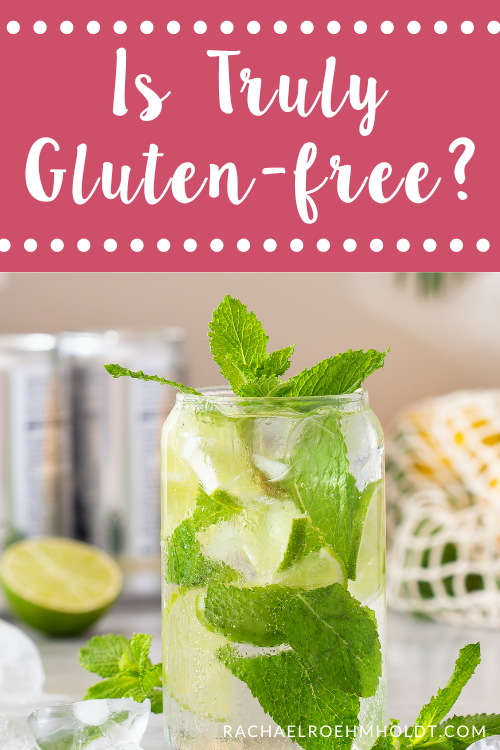 What is Truly?
Truly is a brand name of hard seltzer that comes in fruit flavors. It became popular along with other hard seltzer brands around 2019, though it had already been on the market for three years, according to this article.
Truly is produced by the same manufacturer as Samuel Adams beer, Twisted Tea, and Angry Orchard hard cider.
Truly tastes like sparkling water but with infused fruit flavors. Unlike sparkling waters, this option has alcohol, 5% ABV per serving. Truly has 100 calories per serving and 1 gram of sugar, similar to its other hard seltzer competitors like White Claw and Vizzy.
Truly offers both hard seltzer and vodka seltzers. The difference is the alcohol included. One uses alcohol made from fermented cane sugar, while the other uses vodka.
Read on: Is White Claw gluten-free?
Read on: Is Vizzy gluten-free?
Read on: Is Twisted Tea gluten-free?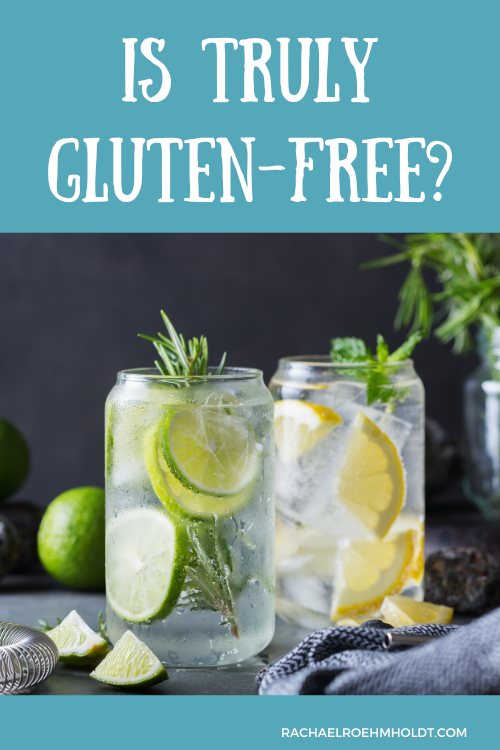 What flavors and varieties do Truly come in?
Truly comes in a variety of flavors and mixed packs that you can find at most grocery stores and liquor stores where alcohol is sold.
These are the most recent flavor options according to the Truly website:
Cherry
Blueberry
Strawberry Lime
Wild Berry
Citrus Squeeze
Lime
Grapefruit
Lemon
Pineapple
Mango
Passion Fruit
Watermelon Breeze
Original Lemonade
Watermelon Lemonade
Pineapple Lemonade
Strawberry Lemonade
Lemon Tea
Peach Tea
Half and Half Tea
Strawberry Tea
Fruit Punch
Berry Punch
Tropical Punch
Citrus Punch
Classic Lime Margarita
Mango Chili Margarita
Strawberry Hibiscus Margarita
Watermelon Cucumber Margarita
Blackberry & Lemon Vodka Seltzer
Cherry & Lime Vodka Seltzer
Peach & Tangerine Vodka Seltzer
Pineapple & Cranberry Vodka Seltzer
Berry Bramble Style
Cran-Orange Sparkler
Holiday Sangria Style
Pear Martini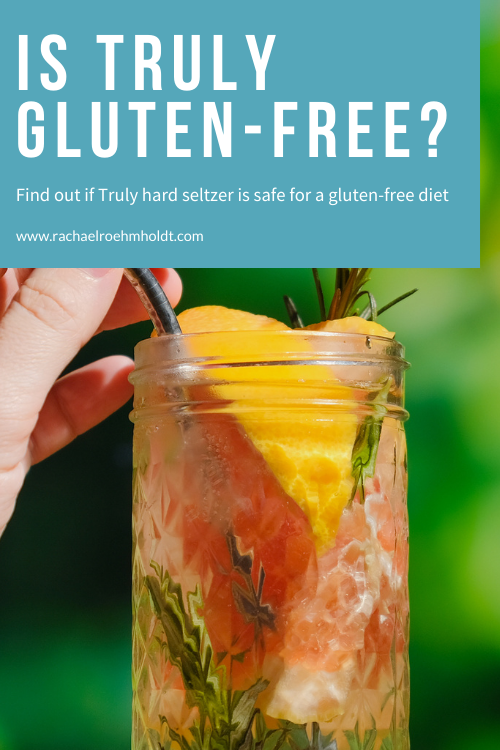 What are the ingredients in Truly hard seltzer?
According to the Truly website, this is what you can expect to find in their hard seltzers:
"hard seltzer with a hint of real fruit juice from concentrate, natural fruit flavors."
While that's not the most specific information about what's in their products, they do make a note that the alcohol used in their drinks is alcohol made from cane sugar.
What is gluten?
Gluten is a protein found in most wheat products, and acts as the "glue" that helps to hold wheat, barley, kamut, spelt, farro, durum, bulgur, rye, and semolina together to maintain their shape. You can create a malt from any of these grains.
Gluten is naturally occurring, and therefore is impossible to strip away from the grain. If a grain naturally has gluten in it, there's no way to make that food gluten-free.
Is hard seltzer gluten-free?
Most hard seltzer is made using cane sugar to create the alcohol in hard seltzers, although none of the sugar is left after the crafting process.
Some hard seltzers are made using gluten-containing grains. Sometimes the gluten is left in the hard seltzer (Henry's Hard Sparkling Water, for instance). With other brands, the gluten will be removed after the fermenting process, otherwise known as "gluten removed."
Gluten removed means during the crafting process, they were able to remove some but not all of the gluten, making it less than 20ppm present in the product. These gluten-removed products wouldn't be considered 100% gluten-free as you'd find in a naturally gluten-free product.
The short answer is: yes, most hard seltzers are gluten-free, but not all.
Read on: Is hard seltzer gluten-free?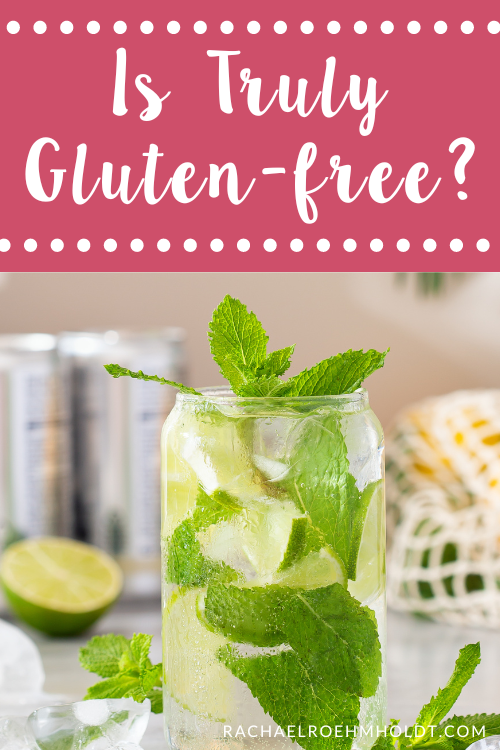 Is Truly gluten-free?
The Truly website makes it clear that their hard seltzers are gluten-free, because they are made with alcohol derived from sugar cane. From their FAQ page, this is what they say:
"Yes! Truly Hard Seltzer® flavors are naturally gluten free."
While many other drinks with alcohol may be made with barley malt, Truly hard seltzer isn't.
If you are trying to stick with a gluten-free diet, this brand of hard seltzers and other beverages is safe for you to enjoy.
Is Truly vodka gluten-free?
Truly Vodka Seltzers come in a few different flavors, like Blackberry & Lemon, Cherry & Lime, Peach & Tangerine, and Pineapple & Cranberry.
Though vodka is generally considered gluten-free among the larger gluten-free community, it's important to check every packaged product you buy.
Thankfully, Truly has indicated on their website that all flavors of Truly Vodka Seltzers are gluten-free and safe to enjoy on a gluten-free diet.
Read on: Gluten-free vodka
Are Truly margaritas gluten-free?
Truly Margarita Hard Seltzers come in four flavors: Classic Lime, Mango Chili, Strawberry Hibiscus, and Watermelon Cucumber.
According to the Truly website, all four flavors are considered gluten-free by the brand and safe to enjoy on a gluten-free diet.
If you love Truly hard seltzers and have been wondering if you can enjoy this drink while sticking with your gluten-free diet, know that this brand is safe for you.
Not only are their hard seltzers gluten-free, but their Vodka Seltzers and Margarita hard seltzers are also a safe option for folks who are avoiding gluten.
If you loved this post, I hope that you'll share it with your friends on Facebook and pin it for future reference on Pinterest.
Love this post? Check out more from the Gluten-free Alcohol Series.
Wondering which alcohol is safe for a gluten-free diet? Find out in the Gluten-free Alcohol series!