Find out if Scotch has gluten, if it's safe for a gluten-free diet, if your favorites are gluten-free, and what brands to look for.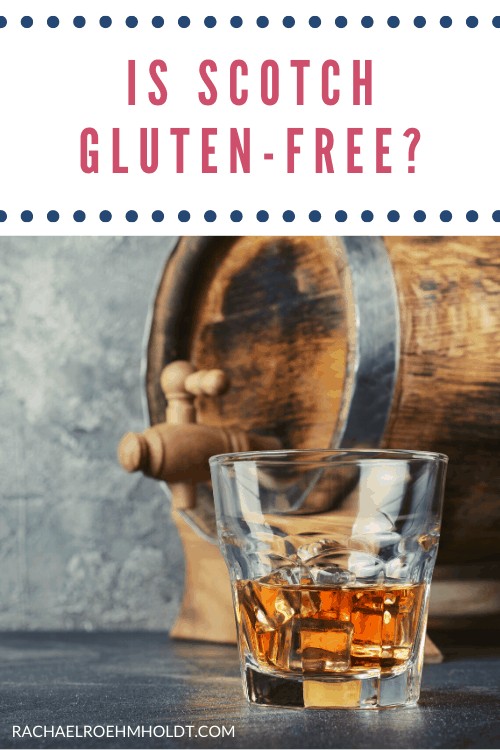 Do you like to kick back with a glass of Scotch after a long day? If you're just starting a gluten-free diet, you may be wondering if you can keep up a ritual like this one.
It's important to know not only what foods are gluten-free, but also what kinds of drinks are safe for this diet as well.
Some alcoholic beverages contain gluten, so it's wise to do your research before purchasing alcohol when you're just getting acquainted with a gluten-free lifestyle.
In this post, we'll talk about Scotch. Specifically, we'll answer the question "Is Scotch gluten-free?"
This post is part of the Gluten-free Alcohol Series, where we're going to discuss different types of alcoholic drinks and how they fit into a gluten-free diet.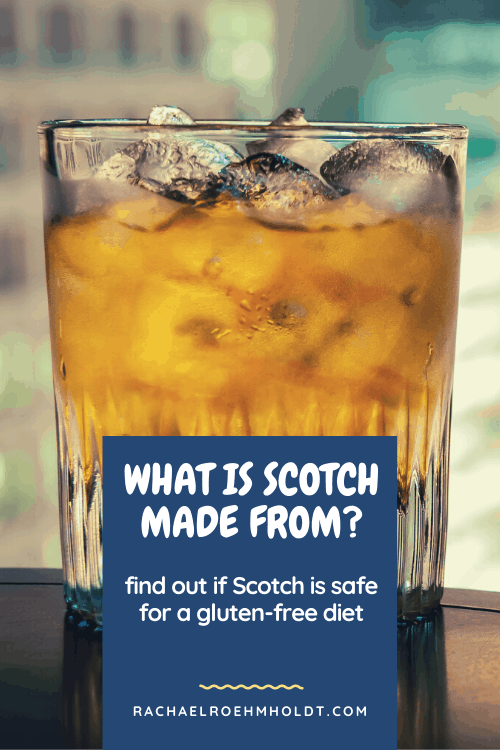 What is Scotch made from?
Scotch is a type of whisky, made from mainly malted barley, but can also include corn and wheat. According to Thrillist, what makes Scotch whisky different from other whiskey is that it has been distilled and matured in Scotland.
It is said to have more of a "bite" than other whiskey types, and some might say it's an acquired taste.
There are different types of Scotch whisky, as well: single malt, single grain, blended malt, blended grain, and blended Scotch.
Read on: Is malt gluten-free?
What is gluten?
Gluten is a protein found in most wheat products, and acts as the "glue" that helps to hold wheat, barley, kamut, spelt, farro, durum, bulgur, rye, and semolina together to maintain their shape.
Gluten is naturally occurring, and therefore is impossible to strip away from the grain. If a grain naturally has gluten in it, there's no way to make that food gluten-free.
Read on: Is barley gluten-free?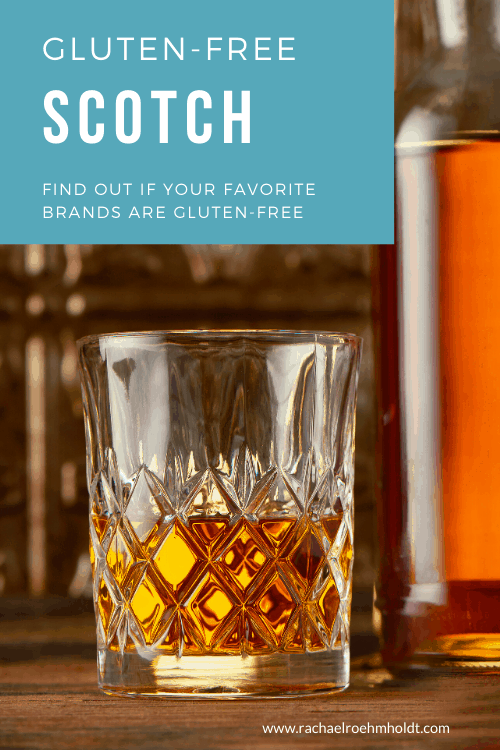 Is Scotch gluten-free?
If Scotch contains barley, it must have gluten, right? Nope! According to Beyond Celiac, pure distilled Scotch is safe for gluten-free diet.
The barley and other wheat that's included in the mash is removed during the distillation process.
All different types of Scotch whiskey are gluten-free, including single or blended malts, single or blended grain, and blended Scotch.
As long as they are enjoyed in their pure distilled form, without any additives or flavorings, this is safe for a gluten-free diet.
Does Scotch have gluten?
According to the site Scotch Whisky, "Distilled spirits do NOT contain gluten. The process of distillation removes the protein from the grain, so all you're left with in your glass is alcohol, water and a few congeners that contribute flavour."
Luckily, Scotch does not contain gluten as long as it is pure and nothing has been added to it, like flavorings or additives.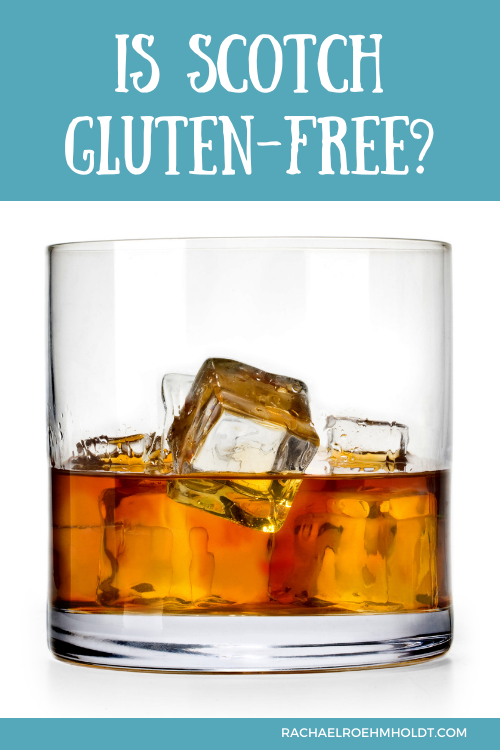 Gluten-free Scotch
Now that we've concluded that Scotch is gluten-free, let's go over some brands and help you determine if your favorites are safe for a gluten-free diet.
Gluten-free Scotch list
Johnnie Walker
Ballantine's
Chivas Regal
J&B
Dewar's
Grant's
Bell's
White Horse
Glenfiddich
Gluten-free Scotch brands and varieties
There are loads of different brands of Scotch whisky that are gluten-free (since they all are). Here are some popular Scotch brands and varieties to be on the lookout for next time you're shopping.
Johnnie Walker Red Label
Johnnie Walker Black Label 12 Years
Johnnie Walker Blue Label
Johnnie Walker High Rye
Johnnie Walker Gold Label Reserve
Johnnie Walker Double Black
Johnnie Walker Green Label 15 Years
Johnnie Walker Aged 18 Years
Johnnie Walker King George V
Johnnie Blonde
Ballantine's Finest
Ballantine's 12 Year Old
Ballantine's 17 Year Old
Chivas Regal 12
Chivas Mizunara
Chivas Regal Extra 13 Sherry Casks
Chivas XV
Chivas 18
Chivas Ultis
Chivas 25
Chivas The Icon
J&B Rare
J&B Jet
J&B Reserve
Dewar's "White Label"
Dewar's Aged 12 Years
Dewar's Aged 15 Years
Dewar's Aged 18 Years
Dewar's Aged 25 Years
Dewar's Aged 21 Year
Dewar's Aged 27 Year
Dewar's Aged 32 Year
Dewar's Caribbean Smooth
Dewar's Illegal Smooth
Dewar's Portuguese Smooth
Dewar's Japanese Smooth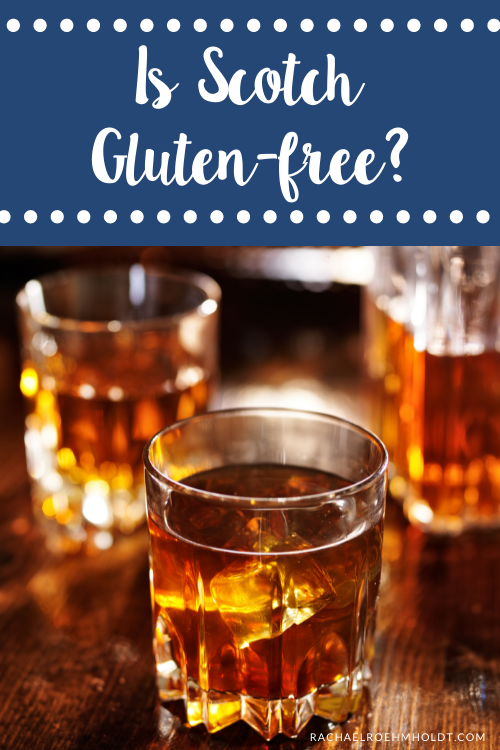 Grant's Triple Wood Whisky
Grant's Triple Wood 12 Whisky
Bell's Blended Scotch Whisky
White Horse Fine Old Blended Scotch Whisky
Glenfiddich 12 Year Old
Glenfiddich Bourbon Barrel Reserve 14 Year Old
Glenfiddich 15 Year Old
Glenfiddich 18 Year Old
Glenfiddich Blockbar
Glenfiddich Project XX
Glenfiddich India Pale Ale Cask
Glenfiddich Winter Storm
Glenfiddich Fire & Cane
Glenfiddich Select Cask
Glenfiddich Reserve Cask
Glenfiddich Grande Couronne
Glenfiddich Grand Cru
Glenfiddich 21 Year Old
Glenfiddich The Original
Glenfiddich Age of Discovery Bourbon Cask
Glenfiddich Age of Discovery Madeira Cask Finish
Glenfiddich Distillery Edition
Glenfiddich Malt Master's Edition
Glenfiddich Excellence 26 Year Old
Glenfiddich 30 Year Old
Glenfiddich 40 Year Old
Glenfiddich 50 Year Old
Glenfiddich Janet Sheed Roberts Reserve
Glenfiddich 1937 Rare
Glenfiddich Vintage Reserve 1974
Glenfiddich Vintage Reserve 1975
Glenfiddich Vintage Reserve 1977
Glenfiddich Vintage Reserve 1978
I hope if you're a Scotch fan, you feel confident and comfortable enjoying this drink occasionally on your gluten-free diet. Remember, as long as your Scotch is in its pure distilled form, it is safe for you to enjoy.
Love this post? Check out more from the Gluten-free Alcohol Series.
Wondering which alcohol is safe for a gluten-free diet? Find out in the Gluten-free Alcohol series!
f you loved this post, I hope that you'll share it with your friends on Facebook and pin it for future reference on Pinterest.