Find out if White Claw hard seltzer has gluten, if it's safe for a gluten-free diet, what it's made from, and what flavors are gluten-free.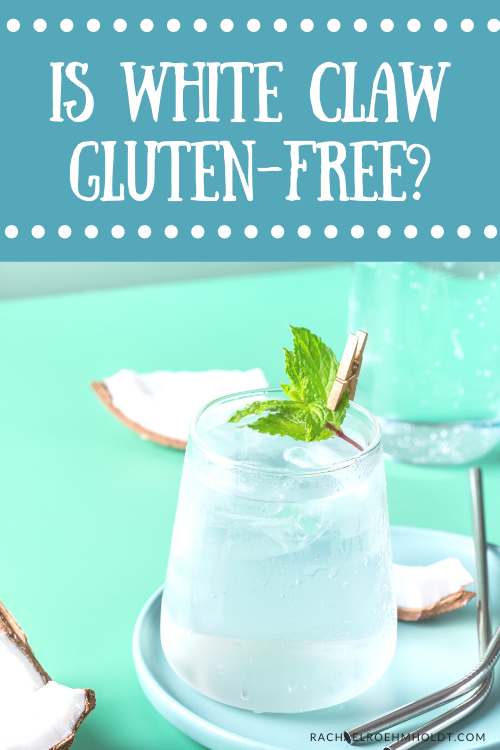 Note: I am a proud Amazon, Chomps, MunkPack, and Thrive Market affiliate and am happy to recommend their service and products to you. Please know that as an affiliate, I may receive a small commission on the products you purchase after clicking through my links. For more info, please see my disclosure policy here.
White Claw hard seltzers have become popular in the past few years, because they're low in sugar, full of flavor, and came in with the seltzer water trend. Folks love them, because they're similar to beer or cider with sugar and carbohydrates similar to light beers.
Alcohol is a part of many of our diets, so knowing which options are safe for those of us on a gluten-free diet is important so we don't get sick every time we're having a drink hanging out with friends.
If you follow a gluten-free diet and want to know how the White Claw brand of hard seltzer can fit into your diet, you're in the right place. In this post, we'll talk about what White Claw is, what hard seltzer is, and find out if they are gluten-free.
Plus, we'll go over the gluten-free White Claw hard seltzer flavors and options so you know which are a good option to pick up next time you're at the store or liquor store.
If you need some reassurance about whether or not to pick this option next time you're in the mood for a drink, keep on reading!
This post is part of the Gluten-free Alcohol series. Read more in this gluten-free alcohol ultimate guide.
What is White Claw?
White Claw is a brand name hard seltzer beverage that has gained popularity in the past few years with the rise of seltzer water as an alternative to drinking soda. Many folks are flocking to low or no sugar beverage options, and this trend followed into the alcoholic beverage market.
White Claw, like many hard seltzers, come in a variety of flavors like mango, watermelon, natural lime, ruby grapefruit, raspberry, lemon, tangerine, strawberry, blackberry, and pineapple. The alcohol percentage of White Claw is 5%.
White Claw Hard Seltzer Iced Tea is a mixture of their hard seltzer with iced tea flavors. It comes in four different flavors: lemon, raspberry, mango, and peach. With just 5% alcohol and 1g of sugar per can.
White Claw also offers their hard seltzer "Surge" line which has larger portions and a higher alcohol content, at 8%. It also has a bit more sugar in each can with 2g of sugar vs the 1g of sugar in the White Claw Classic.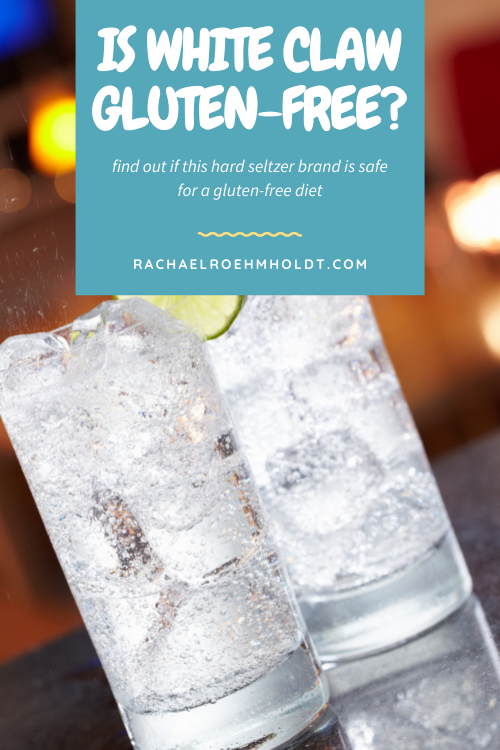 What is hard seltzer?
Hard seltzer is a seltzer water with alcohol in it. Most hard selter beverages are made from alcohol from fermented cane sugar. This alcohol is then mixed with fruit flavors and turned into a sparkling seltzer drink.
What is gluten?
Gluten is a protein found in most wheat products, and acts as the "glue" that helps to hold wheat, barley, kamut, spelt, farro, durum, bulgur, rye, and semolina together to maintain their shape. You can create a malt from any of these grains.
Gluten is naturally occurring, and therefore is impossible to strip away from the grain. If a grain naturally has gluten in it, there's no way to make that food gluten-free.
Is hard seltzer gluten-free?
Since most hard seltzers are made from alcohol with sugar cane as it's source, most are safe for a gluten-free diet. Since the sugar is fermented in the creation of hard seltzer, the resulting beverage actually contains no sugar.
However some hard seltzers, like Henry's Hard Sparkling Water, use gluten grains in the production of their drinks, and then the gluten is "removed" during the crafting process.
"Gluten removed" in beer, malt beverages, and hard seltzers means during the crafting process, they were able to remove some but not all of the gluten, making it less than 20ppm present in the product. These gluten-removed products wouldn't be considered 100% gluten-free as you'd find in a naturally gluten-free product.
While most hard seltzers are gluten-free, some are not. Be sure to review the specific brand before buying.
Read on: Is hard seltzer gluten-free?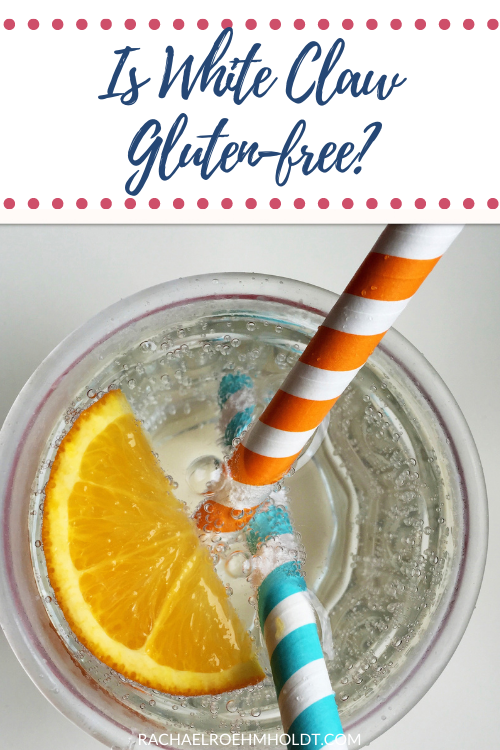 Is White Claw gluten-free?
According to the White Claw website, "White Claw Hard Seltzer is made with naturally gluten-free ingredients." This includes both their Classic and Surge flavors.
White Claw alcohol percentage
You might be wondering how much alcohol is actually in White Claw beverages. According to the label on their hard seltzers, this brand contains 5% alcohol in their canned hard seltzers.
Is White Claw a malt beverage?
White Claw is surprisingly not a malt beverage. While many folks think this is the case, White Claw uses alcohol made from fermented sugar. Since sugar is naturally gluten-free, we know that White Claw is too.
What alcohol is in White Claw?
The alcohol used in White Claw is made from fermented sugar, a naturally gluten-free ingredient. White some people think White Claw is a malt beverage, we know from the White Claw website that they don't use any malt ingredients in their products.
Gluten-free White Claw Flavors
Believe it or not, all White Claw flavors are made with naturally gluten-free ingredients. The base of this alcoholic drink is from sugar cane, making it safe for a gluten-free diet.
Here are the flavors you can find at the grocery store or liquor store next time you're looking for a hard seltzer option from this brand.
White Claw Hard Seltzer Surf Flavors
Citrus Yuzu Smash
Tropical Pomelo Smash
Watermelon Lime Smash
Wildberry Acai Smash
White Claw Hard Seltzer Refreshr Flavors
Limon
Blood Orange
Blackberry
Strawberry
White Claw Hard Seltzer Classic Flavors
Black Cherry
Mango
Watermelon
Natural Lime
Ruby Grapefruit
Raspberry
Lemon
Tangerine
Strawberry
Blackberry
Pineapple
Passionfruit
White Claw Refreshr Hard Seltzer Iced Tea Flavors
Iced Tea Lemon
Iced Tea Strawberry
Iced Tea Mango
Iced Tea Peach
White Claw Hard Seltzer Surge Flavors
Blackberry
Natural Lime
Blood Orange
Cranberry
You can also find White Claw in variety packs and these are all considered safe for a gluten-free diet as well.
If you're a fan of White Claw hard seltzer and have been wondering if this will fit into your gluten-free diet, I hope this post has given you the answers you've been looking for. All White Claw hard seltzer products are naturally gluten-free and can be enjoyed when you're avoiding gluten.
f you loved this post, I hope that you'll share it with your friends on Facebook and pin it for future reference on Pinterest.
Love this post? Check out more from the Gluten-free Alcohol Series.
Wondering which alcohol is safe for a gluten-free diet? Find out in the Gluten-free Alcohol series!