Find out if Better than Bouillon is gluten-free, what it's made from, used for, and what the gluten-free alternatives are. Plus get a list of gluten-free bouillon brands.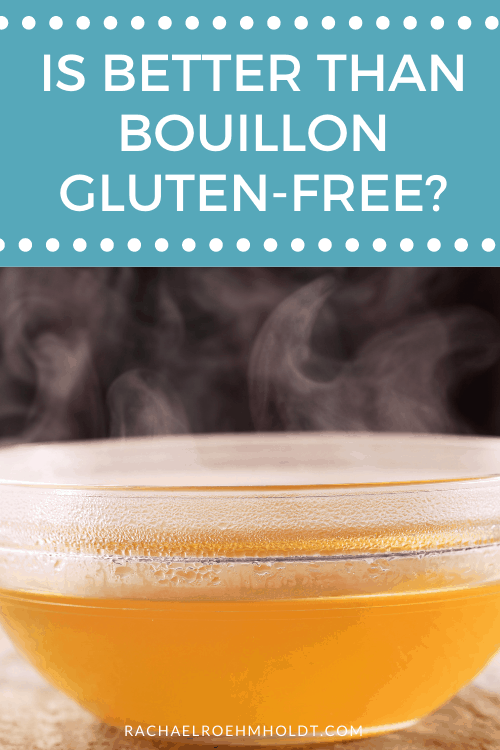 Note: I am a proud Amazon, Chomps, MunkPack, and Thrive Market affiliate and am happy to recommend their service and products to you. Please know that as an affiliate, I may receive a small commission on the products you purchase after clicking through my links. For more info, please see my disclosure policy here.
If you love to add major flavor to your soups, stews, and other dishes, you might be familiar with bouillon cubes and powders. Bouillon is used to add loads of flavor without stuffing your pantry. A tiny little jar can hold a ton of flavor that you can add to your favorite dishes.
Better than Bouillon is a popular brand of bouillon that I get asked about and whether or not it's gluten-free and safe for a gluten-free diet.
If you've been following a gluten-free diet for a while or are just getting started, you know that every food and ingredient that makes its way into your body needs to be looked at with a careful eye.
Avoiding gluten can be a little bit like a detective game, which is why I try to answer some of your questions so you don't have to do as much research to get the answers you need.
In this post, we're talking all about bouillon and answering the question of "is Better than Bouillon gluten-free?"
We're also going to dive into the basics of bouillon itself and find out what it's used for, some gluten-free alternative brands and ingredients to use, and wrap the post up with answering questions about gluten in some other popular bouillon brands.
Let's find out where gluten hides in bouillon and what we can do to avoid it!
What is Better than Bouillon?
Better than Bouillon is a soup base that's used for flavoring soups, stews, or adding to other dishes. It comes in a variety of flavors, such as roasted chicken, roasted beef, roasted garlic, chili, fish, ham, mushroom base, and more.
Bouillon is often used in place of stocks or broths and are generally a good option if you like to keep your pantry well stocked but minimal. Bouillon is a concentrated form of stock or broth that only requires water to turn it into a broth.
Read on: Gluten-free chicken broth
Read on: Is chicken broth gluten-free?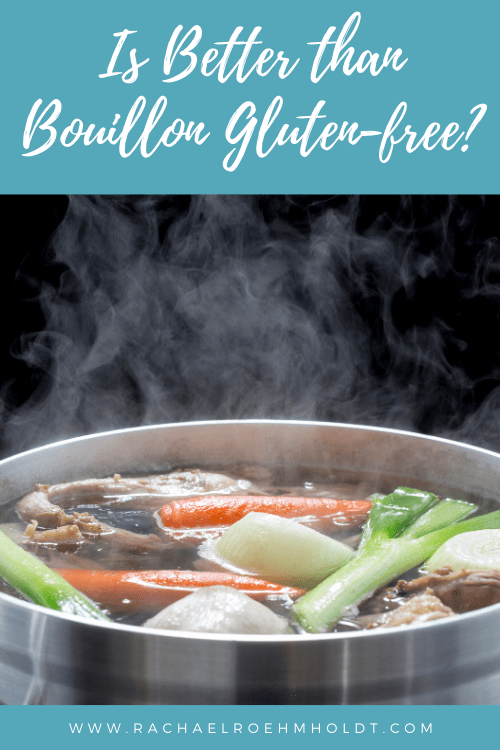 What is Better than Bouillon used for?
Better than Bouillon is used like any other bouillon cube or product would be. You can use it as a base for soups, stews, chili, or roasts. You can also use it to add flavor to other dishes, like casseroles, stir-fries, pasta or rice dishes, and more.
People like using bouillon in place of stock or broth to keep their pantries small while still being able to add big flavor to their dishes.
What is Better than Bouillon made from?
The different products from Better than Bouillon are made with different ingredients, so let's go through some of their most popular products and what they're made with.
Roasted Chicken Base
Roasted chicken, salt, sugar, corn syrup solids, hydrolyzed soy protein, dried whey (milk), flavoring, food starch, disodium inosinate and disodium guanylate, turmeric.
Allergens: milk, soybeans.
Roasted Beef Base
Roasted beef with concentrated beef stock, salt, hydrolyzed soy protein, sugar, corn syrup solids, flavoring, yeast extract, dried whey (milk), potato flour, caramel color, corn oil, xanthan gum.
Contains: milk, soy.
Read on: Is corn syrup gluten-free?
Seasoned Vegetable Base
Vegetables and concentrated vegetable juices (carrot, celery, onion, tomato, onion, potato, garlic), hydrolyzed soy protein, salt, yeast extract, sugar, maltodextrin, soybean oil, spice extractive.
Contains: soy.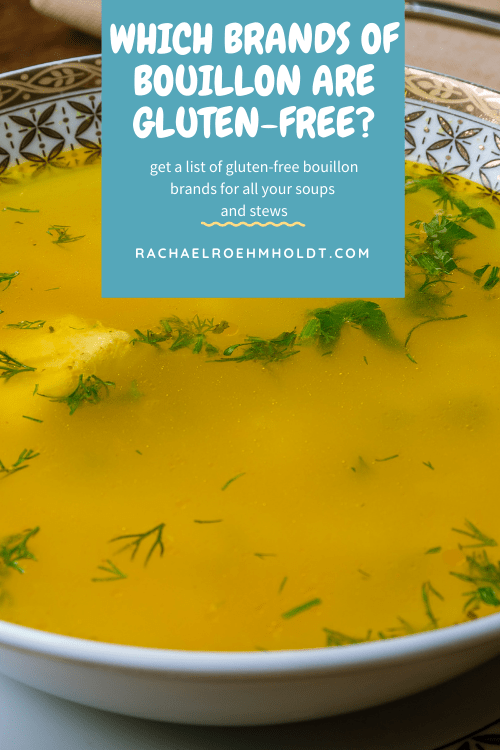 Is Better than Bouillon gluten-free?
According to the Better than Bouillon website, this product does contain gluten.
"Better Than Bouillon is made in a facility where wheat ingredients are housed. We do not test our Better Than Bouillon products or ingredients contained therein for gluten, so we cannot certify that any ingredient is gluten free."
How to know if bouillon contains gluten
If you aren't sure if a bouillon product contains gluten, your best option is to review the ingredients list.
One of my little secrets is that I carry around a copy of my GFDF Take Along Cards so that I always have a point of reference when I can sneak a peek at the ingredient list of a food.
>> Get your copy of the GFDF Take-Along Cards to make this easy on you.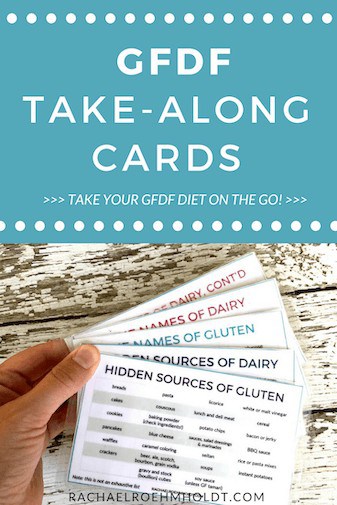 These can come in handy when looking at bouillon brands. You can also look for a gluten-free label, which will show you the company has tested their products and there is less than 20ppm of gluten in that product.
Gluten-free alternatives to Better than Bouillon
There are a few other brands on the market that offer gluten-free bouillon products. Look for one of these brands next time you're at the store.
BOU Bouillon
According to the Bou Bouillon website, all of this brand's bouillon cubes and world flavor cubes are gluten-free. Their gravy cubes contain gluten, so you'll want to steer clear of these.
BOU Chicken Flavored Bouillon Cubes
BOU Vegetable Flavored Bouillon Cubes
BOU Beef Flavored Bouillon Cubes
BOU Roasted Garlic Bouillon Cubes
BOU Cinnamon & Coconut Miso Broth Cubes
BOU Ginger Miso Broth Cubes
BOU Indian Curry Cubes
Herb-Ox
These flavors and varieties of Herb-Ox bouillon are labeled as gluten-free.
Chicken Granulated Bouillon
Beef Granulated Bouillon
Sodium Free Chicken Granulated Bouillon
Sodium Free Beef Granulated Bouillon
Chicken Bouillon Cubes
Beef Bouillon Cubes
Vegetable Bouillon Cubes
Chicken Granulated Bouillon Packets
Beef Granulated Bouillon Packets
Sodium Free Chicken Granulated Bouillon Packets
Sodium Free Beef Granulated Bouillon Packets
Savory Choice
Savory Choice offers a few broth concentrate options that are all labeled gluten-free.
Beef Broth Concentrate
Chicken Broth Concentrate
Vogue Cuisine
The Vogue Cuisine website states that their soup and seasoning bases are great for a gluten-free and low sodium diet, so you can feel good that these are going to be safe if you're trying to avoid gluten.
Vegebase Vegetable Base
Beef Base (Vegetarian Beef)
Vegetarian Chicken Base
Onion Base
Mushroom Base
Onion Base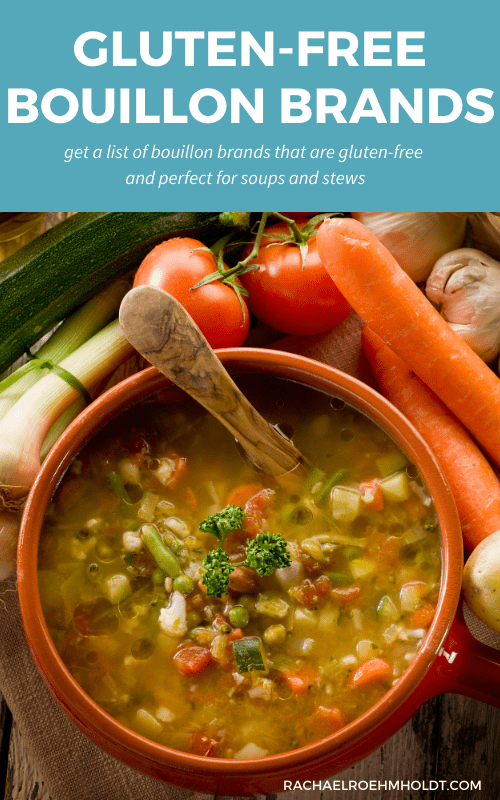 Is Knorr bouillon gluten-free?
According to the Knorr website, they state that if gluten is present in their products, it will be clearly stated under the names of wheat flour, rye, barley, oats, and malt.
They do not publish a list of gluten-free flavors, because they may change their recipes over time.
Looking at their website and the ingredients for their popular chicken bouillon flavor, this flavor contains autolyzed yeast extract (barley).
That "barley" in parentheses means that this ingredient was derived from barley. Barley is a gluten-containing grain, making these not safe for a gluten-free diet.
You'll want to look at every package before buying, but I likely wouldn't trust this brand if it changes recipes too often.
Read on: Is Knorr chicken bouillon gluten-free?
Read on: Is yeast extract gluten-free?
Is Wyler's bouillon gluten-free?
The Wyler's website shows that the beef flavor and reduced sodium chicken flavors of bouillon contain wheat.
Some of their other flavors, like chicken and reduced sodium beef flavors either had no allergen information or did not show a "contains: wheat" label on the product page.
You may find a product on the store shelves that does not contain gluten-containing ingredients, and it will be up to you to choose if you feel okay with the possibility of trace amounts of gluten from cross contact.
Wyler's makes no gluten-free claims, so you'll want to make a decision that feels right for you and your body.
Is Herb Ox bouillon gluten-free?
Herb-Ox brand of bouillon is owned by Hormel, a brand that does a good job of indicating the presence of gluten in their products.
All the flavors of Herb-Ox bouillon on their website are labeled as gluten-free, making this a safe option for anyone on a gluten-free diet. See the flavors and options in the list above.
What can I use in place of bouillon?
If you can't find one of these gluten-free bouillon brands and are looking for a similar boost in flavor, you might opt to use stock or broth instead. You can get the same flavor by reducing down some chicken or beef stock and adding this to soups, stews, and chilis.
Or if you're using bouillon to flavor soups, you could use stock or broth without needing to concentrate the flavor, as you'd be adding water to bouillon anyway.
Make sure you're using a gluten-free stock or broth brand, like Pacific Foods, Imagine, or Kirkland Signature.
Read on: 25 Gluten-free chicken soup recipes
If you've been looking to find out if Better than Bouillon is safe for your gluten-free diet, I hope you got the answer you came for and all the information you need to make an informed decision.
There are other brands and options available when it comes to flavoring your soups and stews with loads of flavor without any of the gluten. Try one of these gluten-free bouillon brands and varieties or choose to use some gluten-free stock or broth in its place in your recipe.
f you loved this post, I hope that you'll share it with your friends on Facebook and pin it for future reference on Pinterest.
Love this post? You might also want to check out these!
Find out if your favorite foods and ingredients contain gluten with these posts!