Find out if Knorr Chicken Bouillon is gluten-free, what it's made from, used for, and what the gluten-free alternatives are.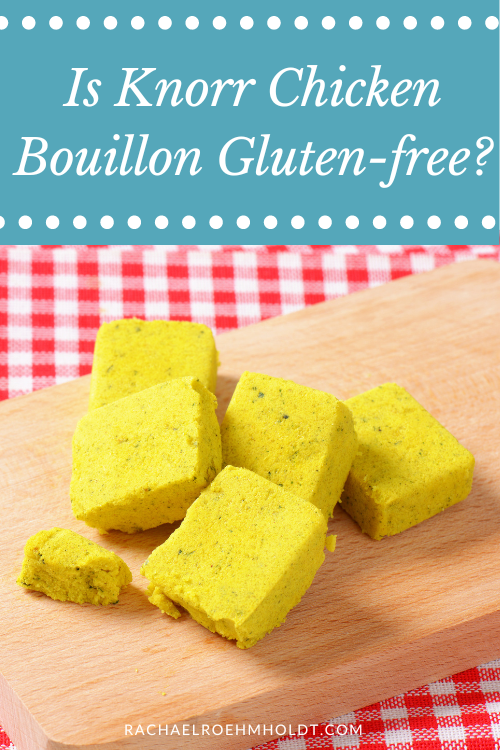 Note: I am a proud Amazon, Chomps, MunkPack, and Thrive Market affiliate and am happy to recommend their service and products to you. Please know that as an affiliate, I may receive a small commission on the products you purchase after clicking through my links. For more info, please see my disclosure policy here.
If you love to add major flavor to your soups, stews, and other dishes, you might be familiar with bouillon cubes and powders.
At almost any grocery store, you'll find the Knorr brand of bouillon in both cubes and powders.
This ingredient can be used to add loads of flavor without filling up your pantry. A small jar or box can hold a ton of flavor to liven up your favorite soups, stews, and sauces.
Knorr Chicken Bouillon is a popular brand of bouillon that I get asked about and whether or not it's gluten-free and safe for a gluten-free diet.
If you've been following a gluten-free diet for a while or are just getting started, you know that every food and ingredient that makes its way into your body needs to be looked at with a careful eye.
Avoiding gluten can be a little bit like a detective game, which is why I try to answer some of your questions so you don't have to do as much research to get the answers you need.
In this post, we're talking all about bouillon and answering the question of "is Knorr Chicken Bouillon gluten-free?"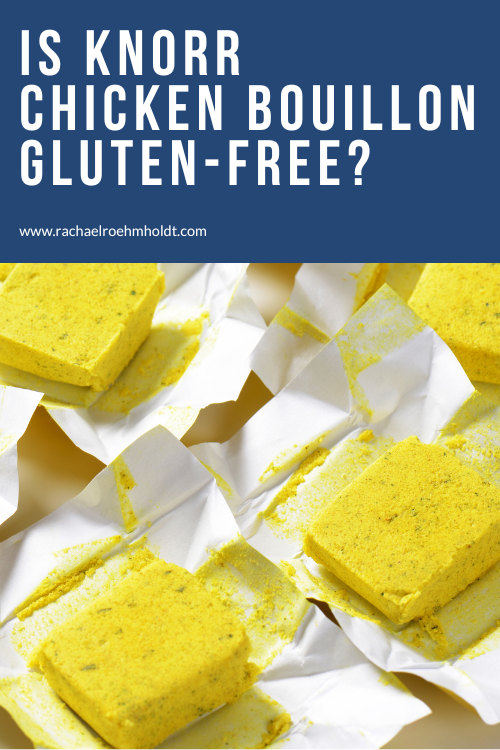 What is Knorr Chicken Bouillon?
Knorr Chicken Bouillon is a brand name of bouillon, which is a powder that gets added to water to create a broth. It's full of flavor that works great in soups, stews, gravies, and sauces.
Chicken bouillon is made with chicken that's been cooked down and turned into a powder to lend this flavor to any recipe it's used in. Chicken fat is also used in this to add flavor to any broth or soup the bouillon is added to.
Knorr Chicken Bouillon is among the most popular bouillon brands you can find at many grocery stores.
It comes in a powder form, as well as in cubes that can be easily added to water to create a delicious base for soup.
Who makes Knorr Bouillon?
Knorr Bouillon is made by the Knorr brand, a popular brand that also makes rice and pasta, dip, gravy, sauce, and seasoning mixes. You can find them in the seasoning aisles at the grocery store or near the prepared soups and stocks.
The Knorr brand specializes in making products that are quick options for folks who want to add lots of flavor to their meals without a lot of extra ingredients.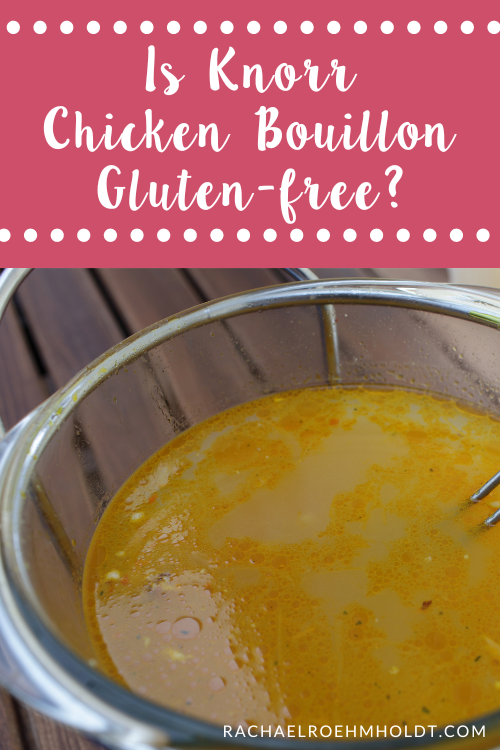 What flavors and varieties does Knorr Bouillon come in?
Knorr Bouillon comes in a variety of flavors. Unfortunately their website is challenging to navigate, so these are the options I was able to find that are currently offered:
Zero Salt Roasted Garlic Bouillon
Zero Salt Chicken Bouillon
Zero Salt Beef Bouillon
Natural Chicken Bouillon
I know there are more, so I'll add more details as I'm able to get them.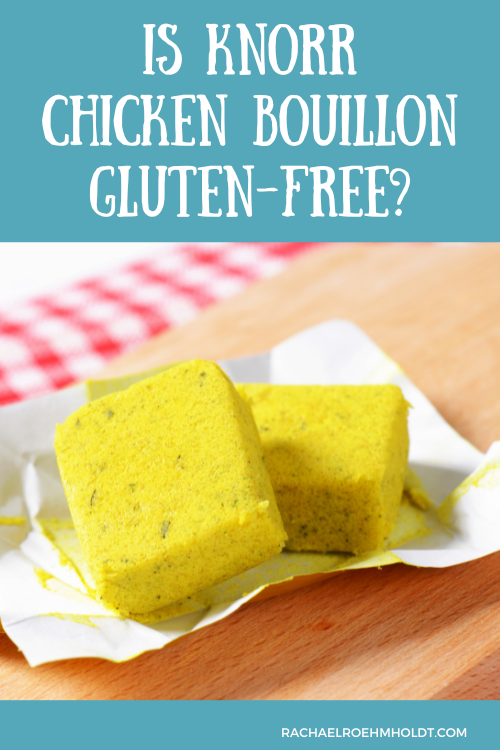 What are the ingredients in Knorr Chicken Bouillon?
Knorr Chicken Bouillon has the following ingredients in their granulated product:
"Salt, monosodium glutamate, corn starch, potassium chloride, powdered cooked chicken, sugar, natural flavor, chicken fat, palm oil, disodium guanylate, disodium inosinate, caramel color (contains sulfites), maltodextrin, dehydrated parsley, citric acid, turmeric (color), paprika oleoresin (color)."
The ingredients of their different bouillon products vary from the granulated to the cube varieties.
They also vary over time, because I have looked for ingredients on these products at different times and found different ingredients lists.
What is gluten?
Gluten is a protein found in most wheat products, and acts as the "glue" that helps to hold wheat, barley, kamut, spelt, farro, durum, bulgur, rye, and semolina together to maintain their shape.
You can find gluten in whole grains, but also in many processed foods as well. If you purchase wheat bread, there will be gluten in it, because wheat by nature has gluten.
Many processed foods have hidden gluten in them in the form of gluten or wheat derivatives. These are used as flavorings, binders to keep ingredients together, or other additives.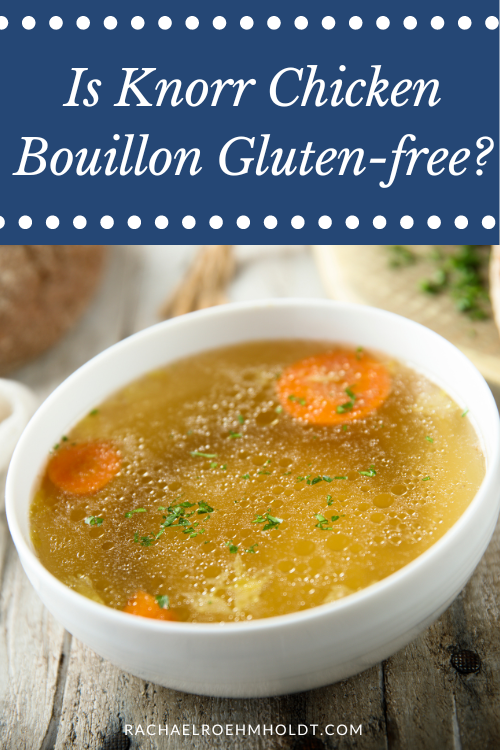 Is bouillon gluten-free?
Some bouillon brands are gluten-free, but not all. Many brands use autolyzed yeast extract in their products, which is a derivative of barley.
There are some brands, like BOU, Herb-Ox, Savory Choice, and Vogue Cuisine that are gluten-free. You can look for these at the store or try to find them online if you can't find them locally.
Read on: Is Better Than Bouillon gluten-free?
Read on: Gluten-free chicken broth
Read on: Is chicken broth gluten-free?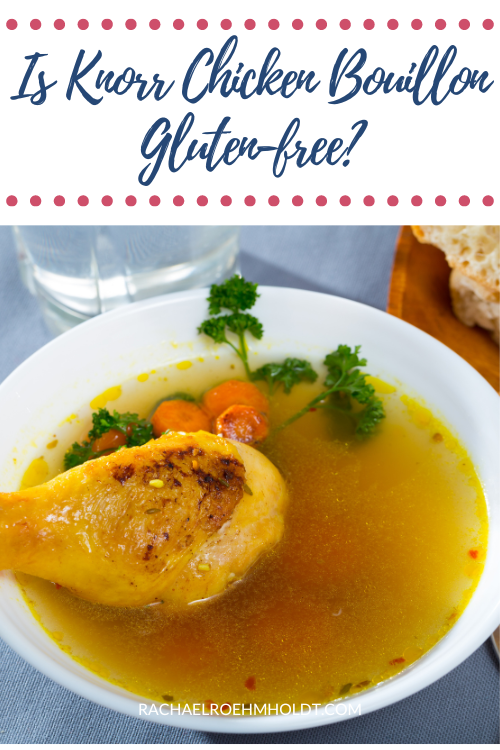 Is Knorr Chicken Bouillon gluten-free?
According to the Knorr website, they state that if gluten is present in their products, it will be clearly stated under the names of wheat flour, rye, barley, oats, and malt.
They do not publish a list of gluten-free flavors, because they may change their recipes over time. I have seen this over time and across different websites as well.
On some sites, I've seen a product that contains autolyzed yeast extract (barley) as an ingredient, whereas in others this ingredient isn't present.
That "barley" in parentheses means that this ingredient was derived from barley.
Barley is a gluten-containing grain, making these not safe for a gluten-free diet. You'll want to look at every package before buying, but I likely wouldn't trust this brand if it changes recipes too often.
If you're wondering if you can use Knorr Chicken Bouillon in your favorite soup and stew recipes, I'd be careful buying this product.
Knorr Chicken Bouillon is not considered gluten-free by the brand, but some products may contain gluten-containing autolyzed yeast extract as an ingredient.
Before buying Knorr bouillons, look at the ingredients list to ensure this ingredient isn't present.
If you're celiac, you'll definitely want to avoid this ingredient and instead opt for a brand that has been tested for gluten, consistently does not include any gluten ingredients, and has a gluten-free label on the packaging.
If you loved this post, I hope that you'll share it with your friends on Facebook and pin it for future reference on Pinterest.
Love this post? You might also want to check out these!
Find out if your favorite foods and ingredients contain gluten with these posts!