Looking for a chicken crockpot recipe for dinner tonight? Check out these 25 gluten and dairy-free crockpot recipes that all feature chicken as it's main protein source!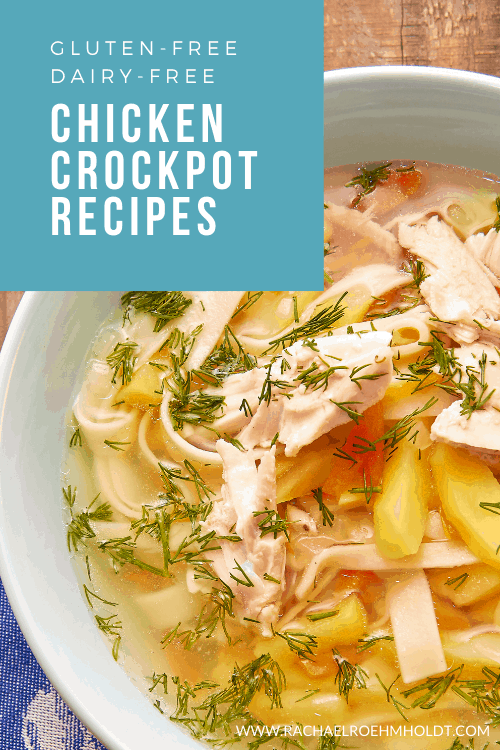 Note: I am a proud Amazon, Chomps, MunkPack, and Thrive Market affiliate and am happy to recommend their service and products to you. Please know that as an affiliate, I may receive a small commission on the products you purchase after clicking through my links. For more info, please see my disclosure policy here.
I love an easy crockpot and slow cooker recipe. There's nothing as wonderful as throwing a few ingredients in the pot, turning it on, and walking away for it to cook while you get along with your day.
I have to tell you, my crockpot doesn't get as much love during the spring and summer months as it does during the fall and winter. When I think about it, it's not that I don't make and eat similar foods, but my cooking methods seem to change with the seasons as well.
We eat chicken year round in my household, so I could be making it in my crockpot year round too, right? As I was thinking about this idea, I started looking around for some chicken recipes I can make it my crockpot that aren't just soups, stews, and chilis, but other entrees as well.
As I went searching, I realized just how many great dishes are out there that I could be making that are outside the realm of warm and cozy fall dishes.
I've rounded up 25 gluten and dairy-free chicken crockpot meals that are perfect for prepping ahead to get dinner to the table when you're ready to eat it!
Inside this roundup, yes, you'll find those chili and soup recipes, but you'll also find a ton of entrees that are good in the fall months just as much as they are in the spring and summer.
As you make your way through this list, I hope you find something that will help you get dinner to the table even easier this week – and allow you to stick with your gluten and dairy-free diet.
Read on: 25 Gluten-free chicken recipes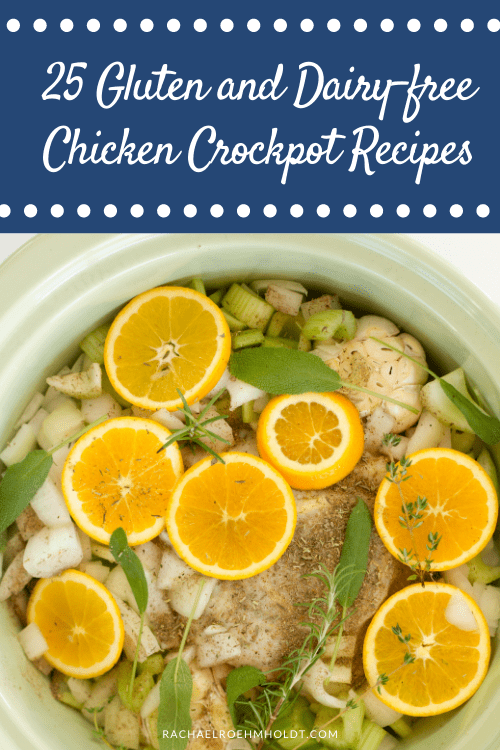 I'm starting my roundup off with this staple recipe, because shredded chicken can be used in SO many different ways. You can use this with gluten-free pasta, in soups, on salads, in chicken salad, on sandwiches, or even in tacos or enchiladas.
This is a perfect recipe for meal prepping for lunches or dinners for the week too!
Read on: Does chicken have gluten?
Gluten and Dairy-free Crockpot Chicken Chili Recipes
This slow cooker buffalo chicken chili is inspired by "game day" food but it's actually good for you! It gets it's spice from hot sauce, chili powder, and smoked paprika.
It's packed with veggies like cauliflower, carrots, celery, and onions, so even if it tastes like you're eating chicken wings, you can still feel super good about it.
This white chicken chili with sweet potatoes is loaded with white or Japanese sweet potatoes, these are the ones with the white insides and purple skin. This recipe is ready in about 4 hours, plus 15 minutes of prep time.
Perfect for make-ahead lunches if you can reheat at your office or wherever you find yourself for lunch!
This clean eating chicken chili recipe has one super secret ingredient: applesauce, which adds a layer of sweetness to the whole dish.
Enjoy ground turkey, beans, corn, and tomatoes in this simple and delicious recipe.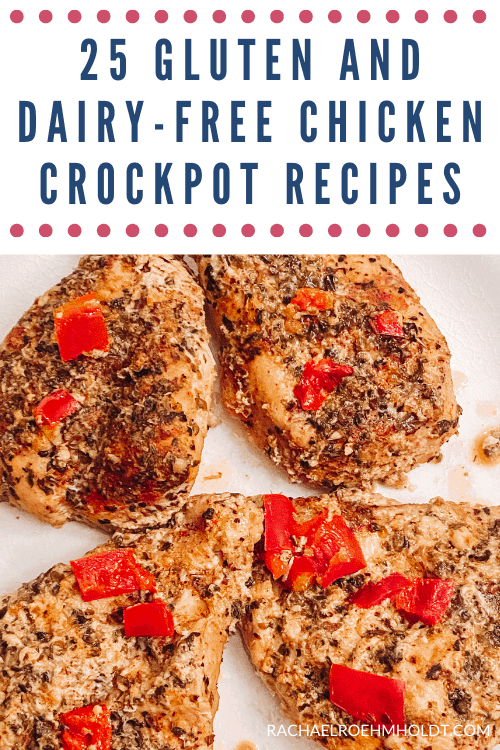 Gluten and Dairy-free Crockpot Chicken Soup & Stew Recipes
Read on: 25 Gluten-free Chicken Soup Recipes
I can appreciate a soup that's full of vegetables and also tastes good. This gluten-free and dairy-free southwest chicken detox soup fits the bill – and looks amazing.
It's spiced up with green chilis and fire-roasted crushed tomatoes. Enjoy this soup with fresh avocado slices on top.
This naturally gluten-free, dairy-free soup is loaded with healthy ingredients like sweet potatoes and kale. What I love about this recipe is that it only needs 6 ingredients and a little bit of time.
There are even kid-friendly adaptations if you want to make a few swaps!
This recipe has been following me around on Pinterest for ages. It's like Pinterest knows I love a good Mexican dish – and saving time. Chicken enchilada soup looks amazing and packed with some major flavor from fire-roasted tomatoes, garlic, cumin, chili powder, and smoked paprika.
You can make this healthy gluten-free dairy-free meal in either your slow cooker or Instant Pot too.
Soup is by far one of the easiest things to make in your crockpot or slow cooker. It's so easy to make soups gluten-free and dairy-free without missing any big ingredients, because the flavors really speak for themselves after cooking low and slow.
This recipe is no exception – and you can certainly feel good about getting your veggies.
This gluten-free dairy-free healthy slow cooker chicken potato soup is a protein packed version of a classic potato soup. I'm really thankful for finding this recipe, because most potato soup recipes are packed with heavy cream or milk.
This one cooks up, then you can puree some of the soup to create a creamy consistency of a classic potato soup.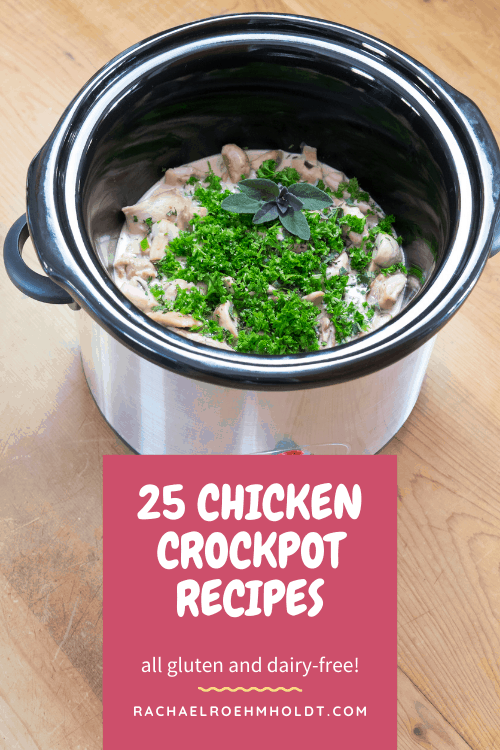 Gluten and Dairy-free Mexican Crockpot Chicken Recipes
What's great about this crockpot chicken fajita recipe is that you get to choose the ingredients AND the cooking time.
If you'll be out of the house all day, low and slow is best. If you only have a short time-frame, you can kick it up to high and it will be ready when you are.
These cilantro lime chicken tacos are super easy to make – just 5 ingredients and you can just throw everything in and set the slow cooker and go. My kind of meal!
The only thing to make sure of is that your taco seasoning is gluten-free or make your own at home.
Get my gluten-free taco seasoning recipe.
Crockpot salsa verde chicken couldn't be easier – if you have these 8 ingredients, you can toss them in, set your crockpot temperature and a timer, and dinner will be ready for you in a few hours.
You can enjoy this in rice bowls, taco bowls, or in tacos or burritos.
Gluten and Dairy-free Crockpot Chicken Entree Recipes
Think you need to order takeout full of sodium and gluten in order to get your teriyaki chicken fix? Think again!
Try this super simple chicken teriyaki that cooks low and slow and will be ready for you when you and your family are hungry. Best of all, you can be assured it's gluten-free with tamari soy sauce.
Read on: Is teriyaki sauce gluten-free?
If you love Buffalo chicken wings, you'll love this slow cooker buffalo chicken. This tasty recipe is awesome stuffed inside sweet potatoes – or russets – and is secretly healthy too.
You can even double this recipe and freeze half for a second meal for a busy night when you don't have time to cook. Genius!
If you're a mushroom fan, this recipe is for you! This chicken and mushrooms dish is gluten-free, dairy-free, and simple with your slow cooker or crockpot. Sear the chicken, prep the veggies, then cook for 4 hours.
Finish this dish up by making a gravy from the extra juices – simple, straightforward, and delicious.
Chicken zucchini meatballs are awesome for dinner any night of the week, or for prepping ahead for lunches and being out and on-the-go. I love that these have zucchini in them for added moisture and nutrition.
These are gluten-free and dairy-free, and can be served over your favorite veggie or gluten-free noodles.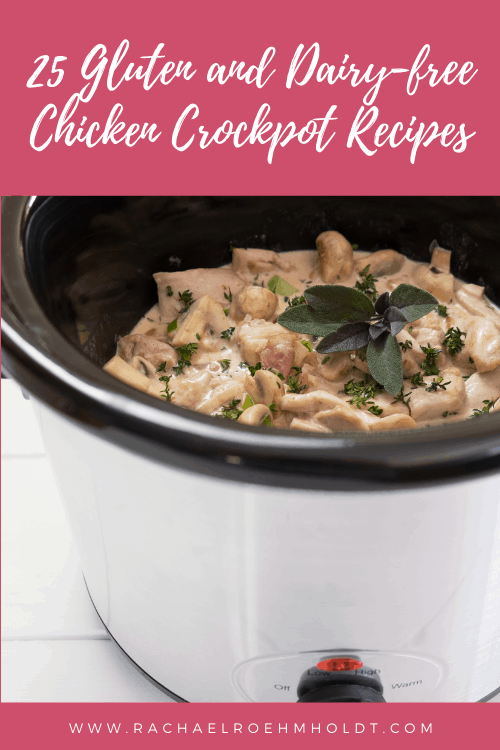 This one-pot dish has all good things going for it: it's gluten-free, dairy-free, full of flavor, and has loads of veggies.
I don't know about you, but when I can prep something in only 10 minutes and have a gorgeous and delicious meal waiting for me when I'm ready for it, I'm sold. Just be usre to use gluten-free tamari soy sauce in this one.
Despite this recipe being called "bourbon chicken," it doesn't have any bourbon in it at all, so you can be 100% confident that it's a family-friendly dish.
This one is made with soy sauce (check yours is gluten-free), honey, ketchup, garlic, onion, and red pepper flakes. Yum!
This slow cooker Italian chicken and potatoes recipe is super easy to make and family friendly.
It's gluten-free, dairy-free, and made with only 7 ingredients: chicken, potatoes, oil, Italian seasoning, garlic powder, salt, and pepper.
Crockpots are made to make the workload of getting dinner to the table easier, and this recipe is no exception.
Enjoy this balsamic chicken that is naturally gluten-free and dairy-free with potatoes, rice, or veggies on the side.
This 5-ingredient ginger peach chicken is super quick to prep and is full of flavor from fresh ginger, garlic, and peach jam.
You can use homemade peach jam or one from the store. This one is gluten-free and dairy-free, so you can feel good about it on your gluten and dairy-free diet.
This slow cooker brown sugar garlic chicken sounds amazing. With only 5 ingredients, you layer in chicken thighs, garlic, salt, and pepper, cook it all up in your slow cooker, then sprinkle brown sugar on at the very end.
This one is gluten-free, dairy-free, and perfect for any night of the week. Serve with rice or a cooked vegetable side.
Orange chicken can seem a little daunting, but with your slow cooker it's super easy to put together. To make the sauce, all you need is BBQ sauce, orange marmalade, and soy sauce.
Be sure that your BBQ sauce and soy sauce are gluten-free (tamari soy sauce or coconut aminos are a good gluten-free bet).
This BBQ chicken is made with chicken, BBQ sauce, and bell peppers. I love when dinner comes together so easily!
This meal is gluten-free, dairy-free – just be sure to check the ingredient lists of your BBQ sauce for any hidden gluten.
Read on: Gluten-free BBQ sauce
This simple chicken and veggie dish is similar to a stew recipe, but with chicken instead of your traditional beef stew.
Be sure to use vegan butter in place of normal butter to make sure it's completely gluten-free and dairy-free.
If you've been looking for some delicious and healthy chicken recipes for your slow cooker, I hope you've found some inspiration in this post! There are so many recipes to try and like me, you can work on making the most of your crockpot year round too!
f you loved this post, I hope that you'll share it with your friends on Facebook and pin it for future reference on Pinterest.
Love this post? You might also want to check out more of my recipe roundups here!
Find some delicious gluten and dairy-free recipes in these popular recipe roundup posts!
Want more? Check out all my Gluten-free Dairy-free Recipes!