Get a list of gluten-free soup options from Progresso for a quick and easy lunch, dinner, or option to stash in your emergency kit.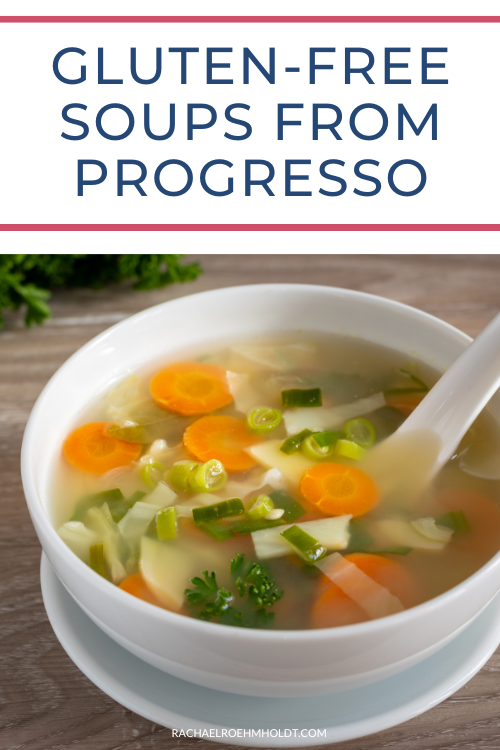 Note: I am a proud Amazon, Chomps, MunkPack, and Thrive Market affiliate and am happy to recommend their service and products to you. Please know that as an affiliate, I may receive a small commission on the products you purchase after clicking through my links. For more info, please see my disclosure policy here.
If you are looking for a quick meal, canned soup often can't be beat. While I don't often eat a ton of canned soups due to the sodium content (heart health and all that), I do acknowledge that there's an opportunity for ease, convenience, and necessity for canned soup sometimes.
Grabbing a quick lunch when life is insanely busy often calls for a can of soup. So do sick days when you feel like you can barely peel yourself off your bed or couch because you feel so terrible. Canned soup is also extremely useful for emergency kits because it lasts a long time unopened.
In my own house, we have canned soup on hand for these specific reasons. Either I forget to buy something for lunch, we need an extremely speedy meal put together fast, someone in the house is super sick, or we all agree that canned soup for dinner is what sounds best that night.
I also have a bin in my garage full of canned foods, including a number of gluten-free soups, canned fruit and vegetables, and other non-perishable options for our emergency kit. 
Living in the Pacific Northwest and more specifically, the Seattle area, I know that an earthquake or other natural event can happen at any time, so I try to keep this canned food rotated out regularly so we're always prepared for anything that might happen.
There are a number of great canned soup brands, but in this post, I thought it would be useful to go through just one brand – Progresso.
This popular soup can be found at most grocery stores, and I've been noticing as I've been making my way through the store lately that there actually are quite a few options that are safe for folks on a gluten-free diet.
Whether you rely on canned soup for meals regularly or are just looking for something safe for you and your family to stock up on for emergencies, let's go through a short list of Progresso gluten-free soups to rely on and feel good about on a gluten-free diet.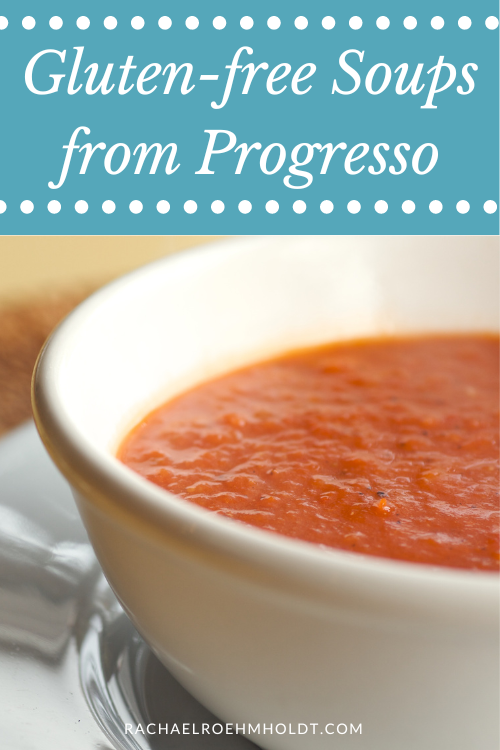 What to know about gluten-free soups from Progresso
The soups I'm listing here are the ones I've found on the Progresso website (and after seeing many of them in person at the store) that are listed as "gluten-free." These are labeled with a gluten-free label on their packaging as well, so you know the brand actually tests for gluten present in their products.
There is a note on their website on the specific soups listed that "Ingredients, nutrition facts, and allergen statements can change. Always refer to the actual package for the most complete and accurate information."
Keep in mind that while these are listed at the time of me publishing this post as gluten-free on the Progresso website, this may change.
It's always a good idea to review ingredients lists and look for a gluten-free label before purchasing any product if you're concerned about gluten in your diet.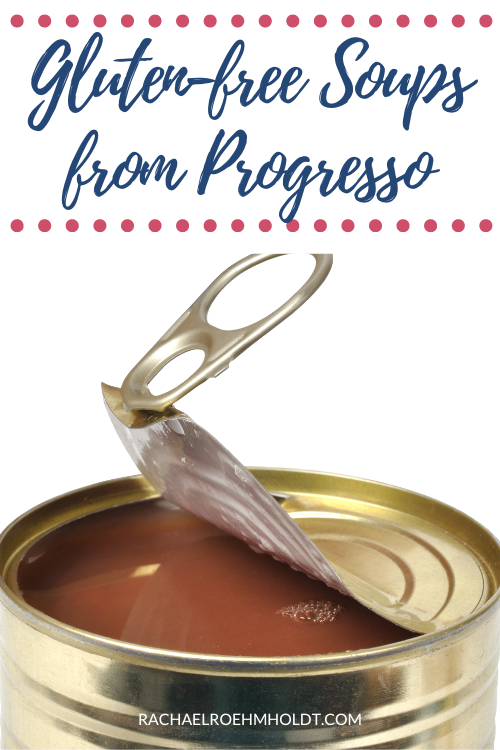 Progresso Gluten-free Soups
Look for one of these gluten-free soups from Progresso next time you're looking for a gluten-free canned soup option.
Since I also follow a dairy-free diet, I'll make notes of the products that contain no milk products with an asterisk(*) as well.
Progresso Traditional New England Clam Chowder
Progresso Vegetable Classics Tomato Basil*
Progresso Traditional Chicken & Wild Rice*
Progresso Rich & Hearty New England Clam Chowder
Progresso Vegetable Classics Lentil*
Progresso Traditional Chicken Rice with Vegetables*
Progresso Rich & Hearty Beef Pot Roast with Country Vegetables*
Progresso Traditional Split Pea with Ham*
Progresso Light New England Clam Chowder
Progresso Light Creamy Potato with Bacon & Cheese
Progresso Rich & Hearty Chicken Corn Chowder Flavored with Pork Shoulder Bacon
Progresso Light Beef Pot Roast*
Progresso Vegetable Classics Garden Vegetable*
Progresso Traditional Manhattan Clam Chowder*
Progresso Rich & Hearty Broccoli Cheese with Bacon
Progresso Vegetable Classics Lentil with Roasted Vegetables*
Progresso Vegetable Classics French Onion
Progresso Vegetable Classics Tomato & Roasted Red Pepper*
Progresso Vegetable Classics Creamy Mushroom
Progresso Reduced Sodium Southwest Style Black Bean & Vegetable*
Progresso Rich & Hearty Slow Cooked Vegetable Beef*
Progresso Rich & Hearty Steak & Vegetables*
Progresso Light Zesty Santa Fe Style Chicken
Progresso Light Broccoli Cheese
Progresso Traditional Chicken Tortilla*
Progresso Traditional Chicken Cheese Enchilada
Progresso Traditional Butternut Squash
Progresso Traditional Broccoli Cheese
Progresso Traditional Beef & Vegetable*
Progresso Traditional Potato, Broccoli & Cheese Chowder
If you've been wondering if you can enjoy any Progresso soups while on your gluten-free diet, I hope that this short list will allow you to feel confident about grabbing a can for your quick meals or emergency supplies next time you're at the store.
For more information on building out a gluten-free emergency kit, be sure to check out this post: Gluten-free Emergency Food!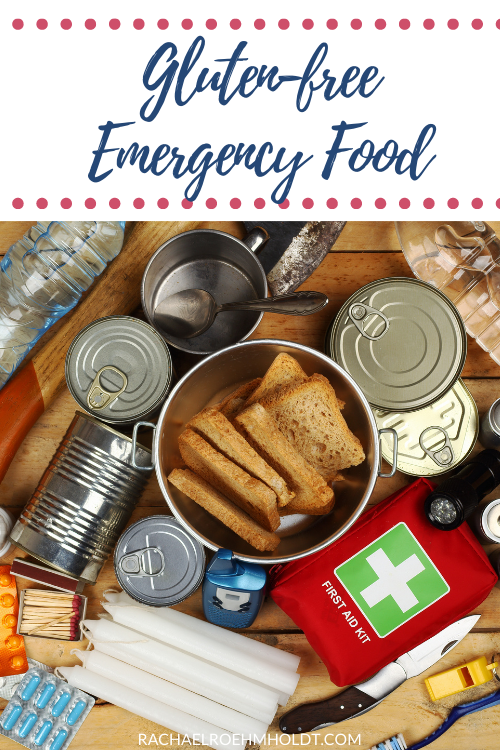 If you're interested in finding some gluten-free soup recipes you can make at home, be sure to check out these posts: 50 Gluten-free dairy-free soups, stews, and chili recipes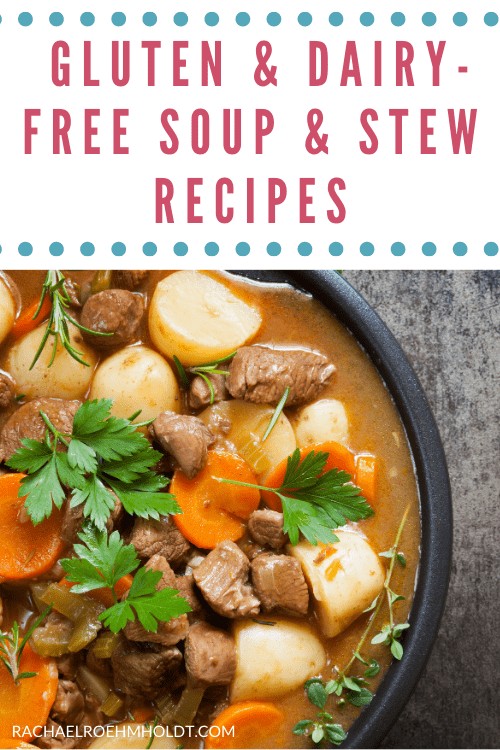 If you loved this post, I hope that you'll share it with your friends on Facebook and pin it for future reference on Pinterest.
Want more product recommendations for gluten and dairy-free foods? Check out these posts!