Find out if marshmallows have dairy, what they're made of, and some dairy-free marshmallow brands to look for next time you're at the store.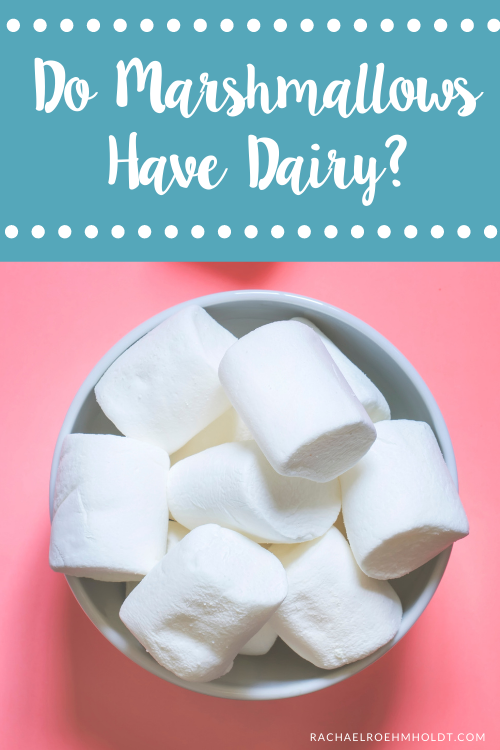 Note: I am a proud Amazon, Chomps, MunkPack, and Thrive Market affiliate and am happy to recommend their service and products to you. Please know that as an affiliate, I may receive a small commission on the products you purchase after clicking through my links. For more info, please see my disclosure policy here.
Whether you're just getting started with a dairy-free diet or have been at it for a while, you may have been looking forward to some favorite drinks, treats, and dishes that contain marshmallows and realized you have no idea whether or not this ingredient contains dairy.
In my house, marshmallows aren't always on hand, but we buy them almost every season for at least one thing or another.
S'mores, hot chocolate, rice krispie treats, and on top of sweet potatoes… There are so many delicious uses for marshmallows.
If you like to have marshmallows on hand for your favorite recipes or just want to make sure your favorite sweet potato casserole tastes the same this year for Thanksgiving, this post will give you all the information you're looking for.
In this post, we'll cover what marshmallows are made of, if they contain dairy, and brands of dairy-free marshmallows to shop for at the store next time you're stocking up for s'mores, hot chocolate, or your other favorite recipes.
Let's talk marshmallows!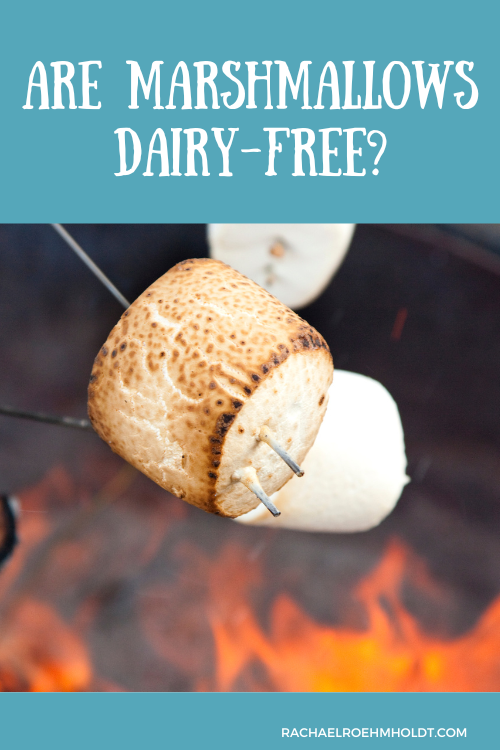 What are marshmallows made of?
Most marshmallows are made from just a few ingredients: corn syrup, cornstarch, gelatin, vanilla extract, and water.
Homemade marshmallows will have these basic ingredients, while store bought marshmallows may have a few others added, like preservatives or other flavorings.
Read on: Is corn syrup gluten-free?
Read on: Are marshmallows gluten-free?
What is dairy?
Dairy is a term used to describe any food that comes from animal milk, such as cream, cheese, yogurt, and butter.
Though dairy is the term for ANY animal milk products, most folks reference dairy in relation to cow's milk products.
Sheep's milk or sheep's milk cheese is a dairy product, but we don't often think of that when discussing dairy in the U.S.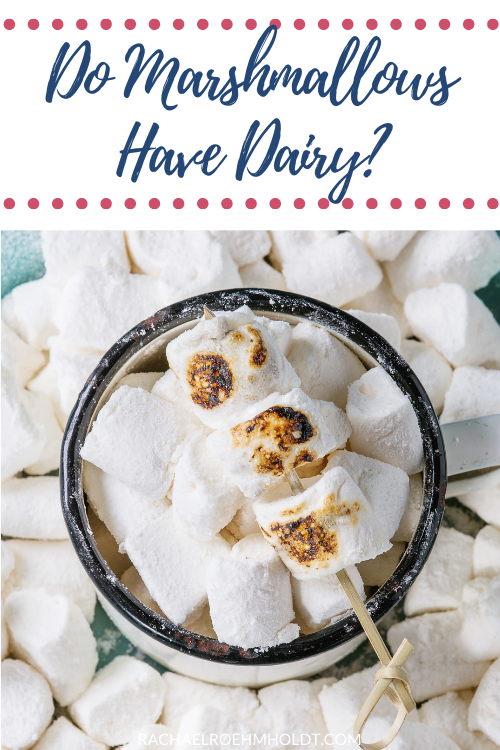 Are marshmallows dairy-free?
Since marshmallows are made with corn syrup, cornstarch, vanilla extract, and water, we can say for sure that most marshmallows are dairy-free and safe for folks who follow a dairy-free diet.
Of course, with everything when you have food intolerances or food allergies, you'll want to read the ingredient lists for any hidden names of the foods you're avoiding
The places you'll want to watch out for dairy in marshmallows are foods that are coated in ingredients with dairy.
For example, marshmallows dipped in chocolate. The chocolate could contain dairy, so this would be a food to avoid.
Be aware of any other ingredients that are used in a dish alongside marshmallows.
While the marshmallows themselves may be dairy-free, you'll want to double check that every other ingredient used to create a dish are also dairy-free.
Brands of dairy-free marshmallows
Since most brands of marshmallows are safe for a dairy-free diet, it's not hard to find them at your local grocery store.
Here are some dairy-free marshmallow brands you might want to look for.
I've also noted those that are gluten-free with an asterisk (*) to help you in case you are also avoiding gluten on your diet.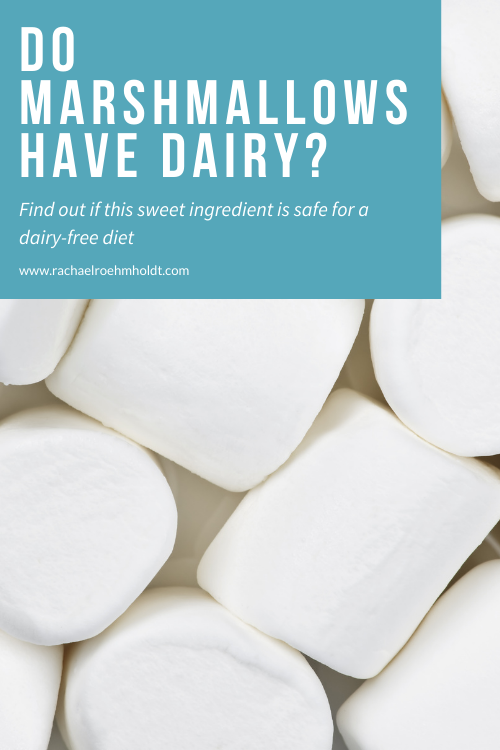 Are marshmallows vegan?
No, most marshmallows are not considered vegan, because they contain gelatin.
Gelatin is an ingredient that is derived from animal products, making this a food you'll want to avoid if you are following a vegan diet.
Some brands of marshmallows are vegan though, so be sure to read ingredient lists for those that don't use gelatin as one of their main ingredients.
Dandies, Trader Joe's Campfire, and Marshmallow Peeps are all good marshmallow brands for vegans to enjoy.
Are Jet Puffed marshmallows dairy-free?
According to the Kraft website, their jet puffed marshmallows contain the following ingredients:
"Corn syrup, sugar, dextrose, modified cornstarch, water, contains less than 2% of gelatin, tetrasodium pyrophosphate (whipping aid), natural and artificial flavor, blue 1."
From that list, we can see that these marshmallows are dairy-free and can be enjoyed by folks on a dairy-free diet.
Read on: Are Jet Puffed Marshmallows gluten-free?
Whether you are a big marshmallow fan and love having them on hand for s'mores in the summer and hot chocolate in the winter or only use them for one Thanksgiving recipe a year, I hope this information is helpful for you.
Most marshmallows are safe for a dairy-free diet, but it doesn't hurt to check ingredients lists before buying just to be aware of what you're purchasing.
If you loved this post, I hope that you'll share it with your friends on Facebook and pin it for future reference on Pinterest.
Love this post? You might want to check these out!
Find out if your favorite foods and ingredients contain dairy with these posts!