Find out if Greek yogurt is dairy-free, what it's made of, and what brands of Greek yogurt can be enjoyed on a dairy-free diet.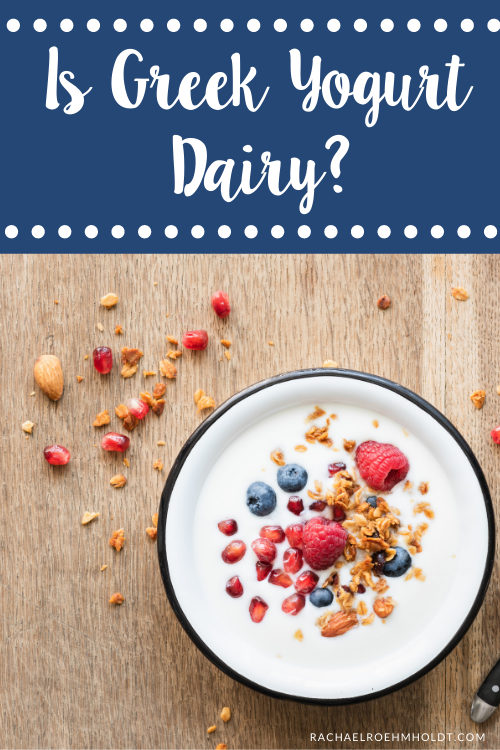 Note: I am a proud Amazon, Chomps, MunkPack, and Thrive Market affiliate and am happy to recommend their service and products to you. Please know that as an affiliate, I may receive a small commission on the products you purchase after clicking through my links. For more info, please see my disclosure policy here.
If you're a fan of Greek yogurt and are just getting started with avoiding dairy for health reasons, you may be wondering if this food is safe to continue enjoying.
Greek yogurt is a popular breakfast option, because it's known to have all the health benefits of regular yogurt, like healthy bacteria, protein, and fat in a more condensed form. You can get more "bang for your buck" health wise by eating less yogurt and getting all the great benefits you'd find in a standard serving.
This type of yogurt can be enjoyed on its own, with granola or fruit, or even used in baking or as a sour cream substitute in many recipes.
If you have been wondering how Greek yogurt fits into your diet if you're going dairy-free, this post is hopefully going to answer some of the questions you have about this food.
Find out what Greek yogurt is, what it's made of, and if it's considered a dairy product. Plus find out if it's vegan, gluten-free, and get a list of brands that are safe to enjoy on a dairy-free diet.
Let's get into it!
What is Greek yogurt?
Greek yogurt is a type of yogurt that has been strained of excess whey, the liquid portion of the yogurt that you'd usually find sitting on top of yogurt in a cup.
Greek yogurt is said to be healthy because of it's high protein content. This type of yogurt is often a much thicker consistency than regular yogurt and has a more tangy flavor.
Greek yogurt is often used in place of sour cream in recipes, and many people enjoy it for breakfast or as a healthy snack.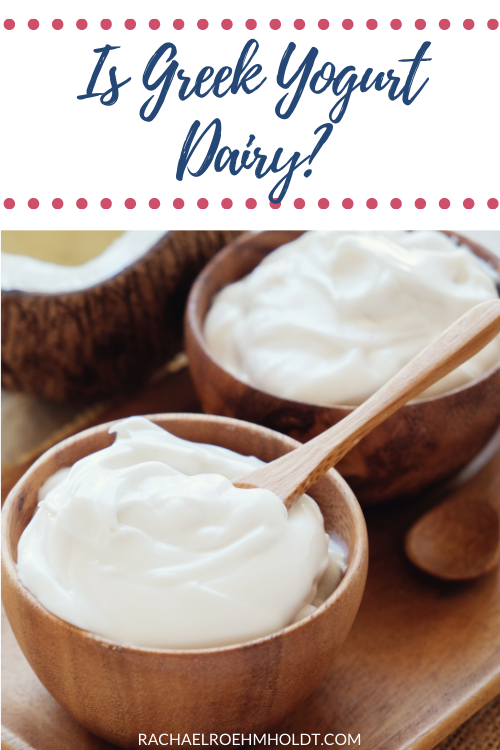 What is Greek yogurt made of?
Greek yogurt is made of traditional yogurt ingredients: cow's milk and active cultures that have been left to sit and ferment. The main difference between yogurt and Greek yogurt is that Greek yogurt has been strained of extra liquid, or whey, to produce a thicker and more tangy yogurt.
What is dairy?
Dairy is a term used to describe any food that comes from animal milk, such as cream, cheese, yogurt, and butter.
Though dairy is the term for ANY animal milk products, most folks reference dairy in relation to cow's milk products. Sheep's milk or sheep's milk cheese is a dairy product, but we don't often think of that when discussing dairy in the U.S.
Is Greek yogurt dairy?
Since Greek yogurt contains milk products, it is considered a dairy product. If you are following a dairy-free diet, you'll want to steer clear of any Greek yogurt you find at the grocery store, unless it specifically states that it is a dairy-free or non-dairy Greek yogurt.
Dairy-free and non-dairy Greek yogurt can be made with any type of dairy-free milk, like cashew milk, soy milk, coconut milk, etc. Look for these options next time you're at the store and wanting an alternative for Greek yogurt that works for your dairy-free diet.
One of my little secrets is that I carry around a copy of my GFDF Take Along Cards so that I always have a point of reference when I can sneak a peek at the ingredient list of a food.
>> Get your copy of the GFDF Take-Along Cards to make this easy on you.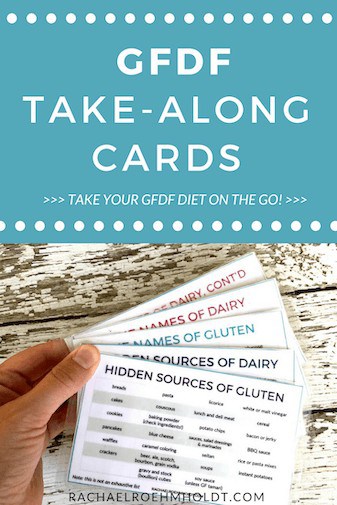 Read on: Dairy-free yogurt: what you need to know
Is Greek yogurt vegan?
Greek yogurt contains milk products, meaning it is not a good option for folks who follow a vegan diet. Since any milk or animal products are not consumed when you are vegan, Greek yogurt is going to be a food you'll want to skip.
That said, if you find a good dairy-free Greek yogurt using plant-based milk as the base, then these options may be good for you. Review the ingredients lists before buying any dairy-free yogurt to be sure there's nothing in that product that you'd like to stay away from.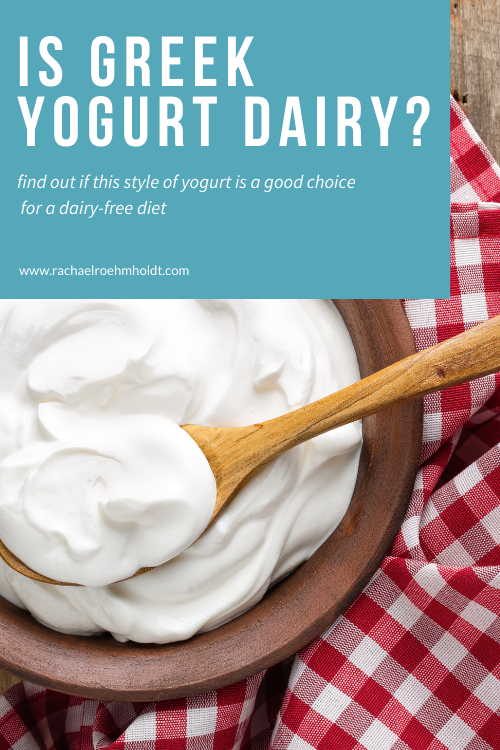 Is Greek yogurt gluten-free?
Greek yogurt is naturally gluten-free as long as no gluten ingredients have been added to the product.
Many popular Greek yogurt brands share a gluten-free statement about their yogurts, so you can feel good about eating this food on a gluten-free diet.
While it's not too common to add gluten directly into the yogurt, some brands offer yogurt and granola combination packages. The granola may contain gluten and by sharing the same facility, there's an increased risk of gluten cross contamination.
It's always a good idea to look for a gluten-free label on the yogurt that you buy to ensure that the option you choose is safe for your diet. If you can't find a label, you can review ingredients lists, but know that there could be a risk of cross contamination.
Read on: Is yogurt gluten-free?
Brands of dairy-free Greek yogurt
There are a few brands that make dairy-free Greek yogurt that you can try if you're looking for a substitute for your favorite breakfast food. Look for one of these options next time you're at the store.
Chobani
Chobani is a well-known brand that makes Greek yogurt using dairy products. They also have a non-dairy line that uses coconut milk as its base.
Blueberry Chobani Coconut
Peach Chobani Coconut
Strawberry Chobani Coconut
Vanilla Chobani Coconut
Kite Hill
This brand of dairy-free Greek yogurt is made with almond milk as a base.
Plain unsweetened Greek yogurt
Vanilla unsweetened Greek yogurt
Read on: Is almond milk dairy-free?
Silk
Silk offers four flavors of Greek style yogurt. This yogurt uses coconut milk as a base for its dairy-free yogurt.
Vanilla Greek style yogurt
Strawberry Greek style yogurt
Lemon Greek style yogurt
Blueberry Greek style yogurt
If you love Greek yogurt and have been looking for answers as to whether you can continue to enjoy this food on a dairy-free diet, I hope this post has provided useful information for you to make a decision that works for you and your body. Most Greek yogurt contains dairy, but there are some plant-based Greek yogurts that are available these days that can work for a dairy-free diet.
If you loved this post, I hope that you'll share it with your friends on Facebook and pin it for future reference on Pinterest.
Love this post? You might want to check these out!
Find out if your favorite foods and ingredients contain dairy with these posts!