Breakfast is probably my favorite meal of the day. I used to devour sweet breakfasts like muffins, pancakes, waffles and donuts. Now that I'm on a quest to treat my body better than I used to and listen to the cries for no more gluten or dairy, I've found myself being drawn to more and more savory breakfast dishes over the past few years.
Last week, I whipped up this awesome sausage, kale and roasted red pepper frittata in the afternoon for a few mornings of done-for-you breakfast goodness.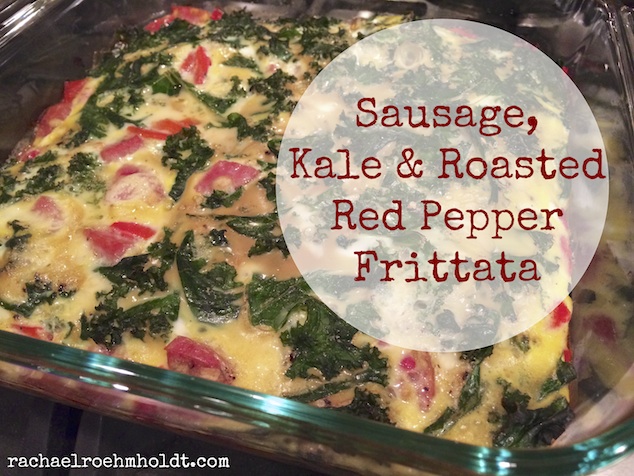 When it comes to making breakfast, I'm not at all a fan. I love to eat – that's undeniable, but I'm pretty much a zombie in the mornings no matter how much or how well I've slept. I'd rather prep some things ahead or have completely no-brainer breakfasts ready to be whipped up quickly. Better yet, my husband can do these things so I can go about my zombie-ness of wandering through the house looking for my slippers, getting my robe and plopping down at the dining room table until things are ready. (Seriously though, I have it good and I know it)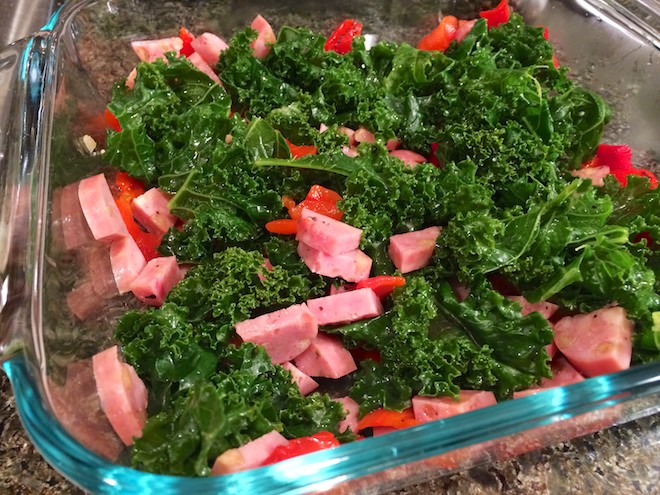 In this recipe, I included some chicken-apple sausage, curly kale and roasted red peppers (the kind you find in a jar at the store). I've been a fan of frittatas for a few years now and love how easy they come together. I also like that I can eat them at any time of day and won't always feel like they're a breakfast food. I've had them for breakfast, lunch and dinner – depending on their heartiness.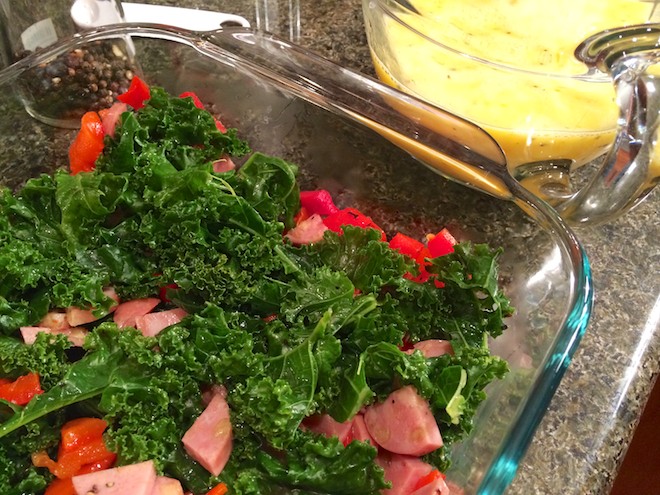 This one came together super quick and easy. I steamed the kale for 7 minutes while I was prepping the other ingredients. I chopped the sausage (it was pre-cooked so I wasn't too concerned about it) and peppers and threw them into a baking dish. Then I prepped the egg mixture – just a few eggs, salt and pepper whisked together. Tossed into the oven at 350 degrees F for 25-30 minutes and breakfast for the next 3 days was done!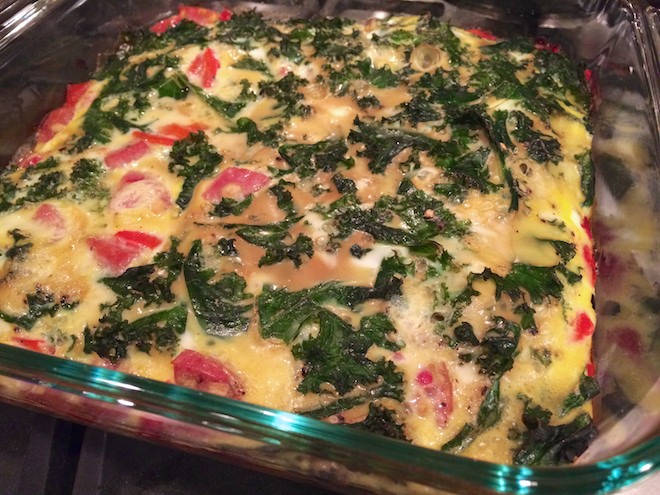 Sausage, Kale & Red Pepper Frittata
Serves 6 (or 2 for 3 mornings)
Ingredients
2-3 kale leaves, removed from stem
3 chicken apple sausages
1 cup chopped roasted red peppers (from a jar)
6 eggs
salt
fresh ground pepper
Directions
Preheat the oven to 375 degrees F.
Fill a deep pot with about 1 inch of water and place over high heat. Roughly chop the kale and place into a steaming tray. Once the water is simmering, reduce the heat to medium, place the steamer in the pot and cover. Set the timer for 7 minutes.
Chop the sausages and red peppers. Place in an even layer in the bottom of an 8″ x 8″ glass baking dish.
Crack 6 eggs into a small dish. Add a pinch of salt and some freshly ground pepper. Whisk to combine.
After the kale is steamed, transfer to the baking dish.
Pour egg mixture over other ingredients. Bake at 375 degrees F for 25 to 30 minutes, until a knife inserted into the center comes out clean – indicating the eggs are cooked.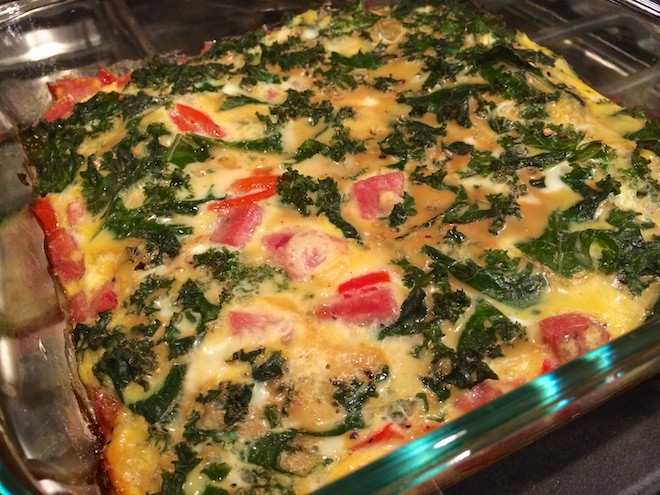 Enjoy!