When it comes to gluten-free meal prep, one thing that often comes to mind is cost. Will it be easier to meal prep for a gluten-free diet while on a budget? Or will it cost a lot more? Save money by learning how to gluten-free meal prep on a budget in this post.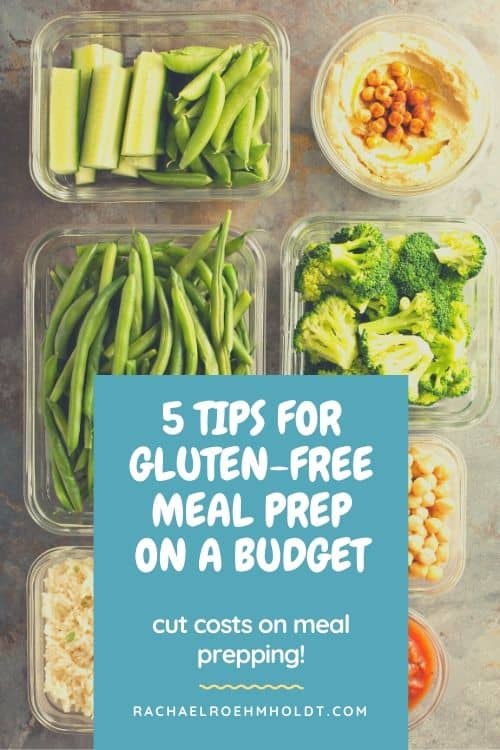 Note: I am a proud Amazon and Thrive Market affiliate and am happy to recommend their services and products to you. Please know that as an affiliate, I may receive a small commission on the products you purchase after clicking through my links. For more info, please see my disclosure policy here.
Many healthy and easy to prep foods have no gluten at all! Some of these foods are meat, eggs, nuts and seeds, gluten-free whole grains, and fruits and vegetables. So many dishes perfect for meal prepping can be made from these ingredients – just get creative!
Instead of making meals that rely on "gluten-free pasta" or other specifically gluten-free alternatives, opt for whole foods and get the most bang for your buck nutritionally.
Center your meals around these foods and save on the overhead of fancy packaging. Think main dishes centered around lean meats, whole grains, and fruits and veggies in the form of salads, soups, and whole grain bowls.
2. Maximize cheap ingredients that are gluten-free
There are a few staples you can stock up on to make your food budget stretch even further – especially if you plan to use them frequently in your meals as a main dish or sides in your meal prep for the week.
Beans, potatoes, and rice are among the cheapest foods you can buy at the grocery store, especially if you buy dried beans and cook them yourself.
Plus there are so many ways to cook and eat them, and since they reheat well – they're perfect for meal prepping. All three of these are super easy to make in your Instant Pot too!
Get creative by mixing these staples with cheaper produce, like lettuce, spinach and in-season produce to help you stretch your food budget a little farther each week.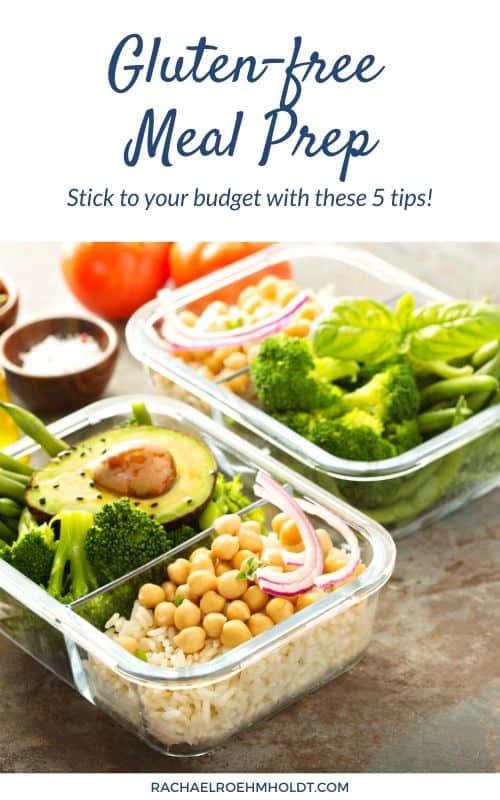 3. Create a set of go-to budget-friendly meal prep recipes to keep on hand
It can be so tempting to try a million gluten-free meal prep recipes that you find on Pinterest or from other sites or gluten-free cookbooks.
You may find yourself buying a lot of ingredients you won't use very often, especially if you try a recipe and don't love it.
You're left with too much of a very expensive ingredient you don't plan to use much of in the future for your meal prepping or other cooking.
Dedicate some time to finding a few recipes that are budget-friendly and reheat or save well in the fridge.
You can find these online and bookmark them or get a book that will help you have some recipes ready whenever you need them, like this one that I love for gluten-free meal prep with my Instant Pot.
Pick five to ten gluten-free meal prep recipes to become your "go-to" meals, print them out and put them somewhere easily accessible so you can return to them over and over again.
The less work, the better when it comes to meal prep to help you stick with it in the long-term.
4. Shop around for the best prices on gluten-free alternatives that you buy regularly for meal prep
Don't you hate when you go to one store and spend $10 on an item, then head to another store a few days later and find the same item at half the price? You feel totally duped and kick yourself for not going to that other store first.
As you do your regular shopping, keep a mental (or physical) note of the prices on the specific gluten-free foods you buy. That way, you don't find yourself overspending on items that you regularly buy and can always be on top of where the best deals are.
Some of my favorite places to check for prices other than my local grocery stores are Costco, Amazon, and the brand's website itself.
You can often find discounts or coupons on buying certain foods in bulk (like gluten-free flours direct from the manufacturer).
Look into the gluten-free alternatives you buy regularly and shop around for the best prices. Check out Costco, Amazon, Thrive Market, and the name brand for comparable prices.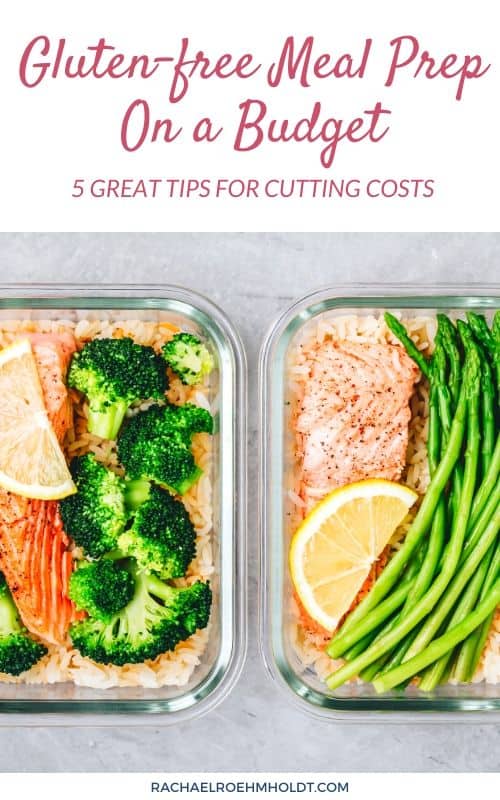 5. Make your own salad dressings and dips
Salad dressing is one of those foods that many people don't realize how easy it is to make at home. Bottled dressings are notorious for containing hidden gluten.
Creating your own dressings at home are not only a great way to save money for your meal prepping, but are an easy way for you to get creative with the ingredients you use.
You can make whatever flavors you want with just a few ingredients from the grocery store.
Many dressings all have the same base recipe: olive oil and various vinegars (white wine, red wine, balsamic, and apple cider vinegars are all gluten-free).
These ingredients are great staples to keep in your pantry for anytime cooking, but are especially handy for throwing together quick dressings for salads or even marinades for chicken or beef.
You can even make your own dairy-free ranch dressing with vegan mayonnaise, canned coconut milk and a few spices and herbs. Toss a few things together in your blender, food processor, or whisk together in a bowl – and you have a dressing made in minutes.
It's so easy to do, so why not set aside 5 minutes to prep your own salad dressings to use on your meal prep salads?
If you are more of a bottled dressing kind of person, check out these 5 dairy-free ranch dressing brands.
Or get a full list of gluten-free salad dressing types and brands here.
As you can see, there are plenty of ways to cut costs and stick to a budget while meal prepping for a gluten-free diet.
The goal is to simplify meals, find ingredients that are both nutritious and gluten-free, and to use what you buy. I hope this list of tips has give you some food for thought on how to reduce your own costs for gluten-free meal prepping.
Let me know in the comments if you have any other great tips for meal prepping on a budget!
If you loved this post, I hope that you'll share it with your friends on Facebook and pin it for future reference on Pinterest.
Want more menu planning and meal prep ideas? Check out these posts!
Find some menu planning and meal prepping tips and recipes in these posts!