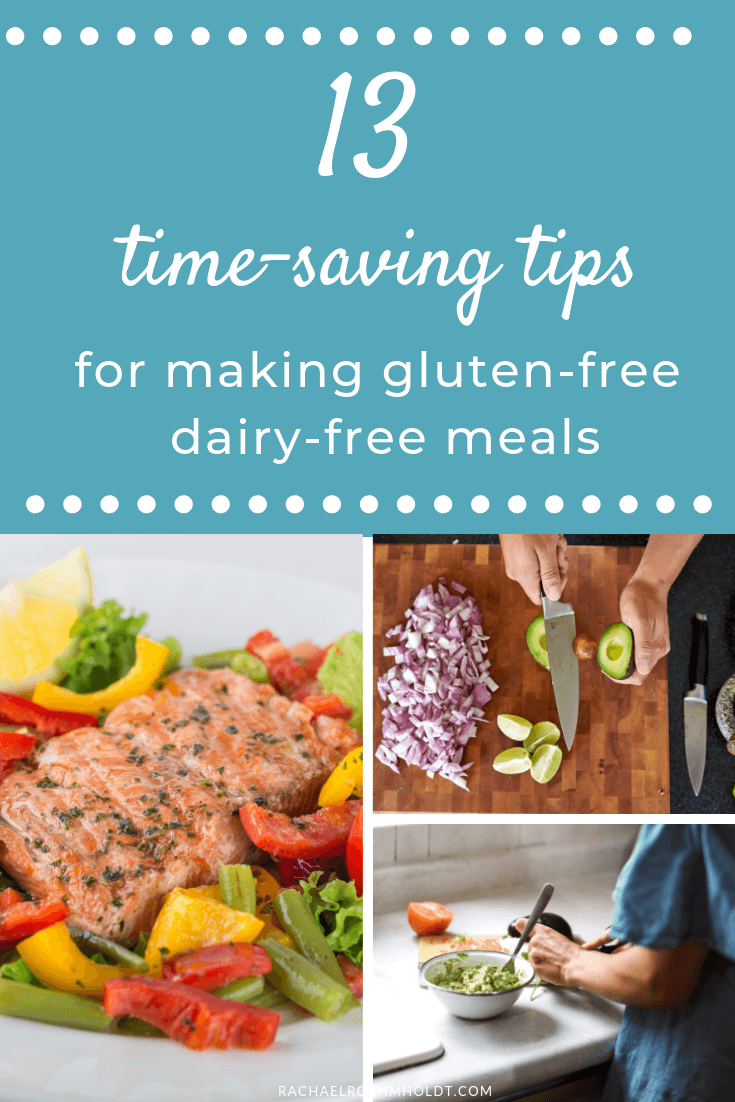 Need some time-saving tips for getting gluten-free dairy-free meals to the table? Check out this post for 13 ideas on saving time in the kitchen!
Note: I am a proud Amazon affiliate and am happy to recommend their service and products to you. Please know that as an affiliate, I may receive a small commission on the products you purchase after clicking through my links. For more info, please see my disclosure policy here.
Would you like some tips to keep meals quick and get dinner to the table a little bit faster tonight and every night for the next month? As I've been creating GFDF Weekly, my gluten and dairy-free recipe and menu planning, for about a year now, I have come up with some really useful time-saving tricks that help me get dinner done quicker than I ever have before.
Truth be told, many of these tips are things that I have been doing for years. But I've also fine-tuned some of these as habits along the way, as I've been making a lot more food at home than I ever have before.
I'm also a lot more mindful of the time I'm in the kitchen since I know so many women in my community need prep time to be short. Finding shortcuts like these have helped me get dinner to the table more quickly, and are helping my community inside GFDF Weekly save time and are able to stick with this diet.
What's great about developing these shortcuts in your cooking and time in the kitchen is that it will help you be more efficient on a gluten and dairy-free diet – or any diet at all, for that matter. Cooking is cooking, no matter what you're eating.
These are my very best tips on getting healthy gluten-free dairy-free meals made quickly, but without going too crazy being excessively organized. Honestly, everything I'm listing here are things that anyone can do, and there's no real reason why you can't get started doing them right away. Alright, I've got 13 tips and shortcuts for you. Ready for them?
1. Have (and keep) a plan.
One of the easiest ways to get quick gluten-free dairy-free meals to the table fast is to make a menu plan. When you spend the small amount of time to plan out your meals, you can save so much time in thinking about what you'll make later.
With the help of GFDF Weekly, I set intentions for what I'm going to make and feed my family each and every week. I write down five recipes that I'm going to cook.
And then I stick to the plan!
That's the really big trick here. If you make a plan, set yourself up to stick to the plan! Make sure you have all the ingredients you need to make the recipes you set intentions of making, and don't allow yourself excuses for not sticking to the plan.
You save so much time spending just a few minutes deciding what to eat that week, so that you're not looking around your fridge or pantry trying to find ingredients for something to make on the fly.
One thing to keep in mind is that you don't need to know what day you're going to eat a certain recipe or meal, you can simply list 5 gluten-free dairy-free meals you'll make that week, then fly by the seat of your pants and choose one from the list as each day comes along. It's a nice way to be prepared and have a little bit of structure, but also some freedom and ability to choose what sounds good to you each night of the week.
Bottom line here: don't overcomplicate it! I actually wrote an entire blog post on how I create my menu plans that you can check out right here or by clicking the image below.
2. Get an Instant Pot.
I have had my Instant Pot for about a year and a half now, and I have to tell you that this small kitchen appliance is hands-down one of my most favorite things I use in my kitchen.
Surprisingly, I don't actually use it the way a lot of people use theirs. For the most part, I don't really use mine to create full meals in my Instant Pot. This isn't because it's not useful in that way, but mainly because I create meals for GFDF Weekly each and every week. I know that many people subscribed to my service might not have an Instant Pot, so I really use it to shortcut on cooking times elsewhere. I use mine to make things like brown rice, quinoa, or batches of cooked chicken.
Even though an Instant Pot isn't "instant," I really love that it helps me cut down on cooking time. It only takes about 20 minutes total to cook chicken breasts, and about 20 to cook rice. It's also pretty great in that it gives me more "hands-off" cooking time to get other ingredients prepared, while one ingredient is cooking in the background.
Another reason I love my Instant Pot is that you can use them for so many things. If you really wanted to, you could probably find recipes to make dinner in your Instant Pot for every night of the week for the next year.
You can even use the "Saute" function to cook meat or onions ahead of a slow cooked meal, and only dirty one dish! It functions like a skillet, then a slow cooker just by changing the settings on the front. They're seriously so versatile.
3. Keep on hand done-for-you products.
When I say "done-for-you" products, I really mean any packaged foods that might take you a while to make from scratch. Things like canned beans, chicken stock, or gluten-free salad dressing.
Even if you can make your own salad dressing or condiments for a fraction of the cost of what you can buy at the store, it all comes at a time cost. I've actually finally created my own gluten-free dairy-free egg-free ranch dressing more recently. But buying it prepared is extremely useful in cutting down on time.
Another thing I like to keep on hand rice pouches, like these ones from Uncle Ben's or Seeds of Change. They're simply just cooked rice that you just reheat in the microwave. What I love is that even if you COULD make these different things at home, it cuts down on cook time on a night when you need dinner done just a little bit faster.
I don't use these rice pouches all the time or every single time I eat rice, but when I need them and when I want things to be quicker, I will rely on ingredients that can shortcut me even 20 minutes or so.
One more ingredient that is a huge time saver that I've been using a lot this past year is coleslaw mix. It's packaged as "coleslaw mix," which you could easily use to create your own coleslaw at home, but it's basically just shredded cabbage and carrots.
I've been loving using this in stir-fries, noodle dishes, and soups. It's time-consuming to shred cabbage and carrots, and what an easy way to get some more veggies into your diet by having some of the work done for you already.
Spending a little bit more money on some of these done-for-you ingredients and foods has definitely helped save some time for me in the kitchen. And yeah, you're definitely trading money for time here. Sometimes it's one or the other.
But if you're looking for some quick-fix meals, you might just want to try a few of these ideas to shortcut your time in the kitchen and help you stick with your gluten and dairy-free diet.
4. Keep your kitchen well-stocked.
I am a huge believer in having things on hand that I know can help me create meals that I plan to make during the week. In the past, I have gone as far as to document all the ingredients I cook with in Excel spreadsheets, and mark off the things when I ran out of them, so that I could pick them up at the store the next time I went.
I haven't actually done that in a few years, but I do my best to keep my kitchen well-stocked with ingredients and foods that help me stick with my gluten and dairy-free diet.
If you'd like to see what I keep in my kitchen, I have two blog posts that outline every single ingredient that I keep in both my fridge and pantry. Honestly, these posts contain literally every single thing that I keep on hand in my kitchen or the things that I buy on rotation. I might not have all of the perishable things in my kitchen at one time or in my fridge at one time, but these are things that I do rotate through a frequently.
The main reason this is such a time saver? You aren't looking at a recipe and realizing you're out of something, then have to hop in your car to go get it at the store at the last minute. Or completely ignore your menu plan and find something else to make. Remember tip #1: make a plan you'll STICK with!
When you're on a gluten free dairy free diet, it's really important that you have the ingredients on hand that you need to stay on track. Ultimately, that is our big goal here is to save time in the kitchen, but also stick with this diet that helps us feel our best.
5. Stick with the basics.
What do I mean by sticking with the basics? Well, simply: don't overcomplicate dinner – or any of your meals for that matter on a gluten-free dairy-free diet. Even though I have a menu planning service, GFDF Weekly, I still only make very similar style meals over and over again.
In the past year, I have made about 260 completely unique recipes for this service (5 new recipes every week for 52 weeks)!! BUT that doesn't mean that I reinvented the wheel for each and every one! I haven't duplicated any recipes, BUT I do make the same style of dinners and make variations of each one.
Here's what I mean: I make meals like stir-fries, soups, burgers, pasta, 5-ingredient meals, chicken dishes, ground beef dishes, one-pan meals, or meals made in my crockpot. Even though I make similar style meals, each one is unique with variations of them.
For example, maybe I'll make a chicken and veggie stir-fry with one sauce in one month, then a few months later change out the chicken for beef, change the veggies, and maybe mix up the sauce for a completely different meal and flavor profile. This is how I've been able to make completely unique recipes for an entire year for my menu planning service with literally not one repeat! To say I'm proud of what I've created is an understatement.
You can do this too. You don't have to eat just bland chicken, rice, and broccoli on repeat on when you're eating gluten-free and dairy-free.Find the basics of what you love to make and find variations on how you can make them different and unique, so that you and your family love them over and over in different ways.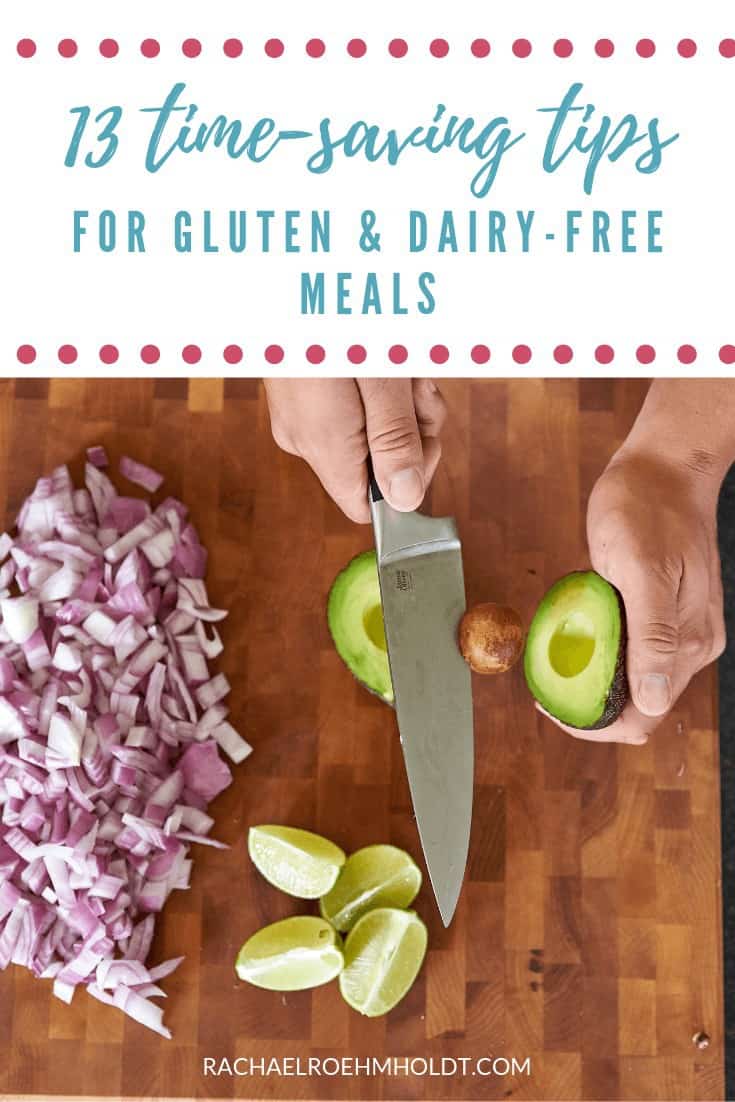 6. Make shopping lists to take to the store once a week.
One of the things that I do after I set the intentions for what meals I'm going to make for the week is that I will go through the ingredient lists for each and every one of those recipes and write down what I need.
I'll go through my pantry, fridge, and freezer and see what I need to buy that week. Sometimes I have a lot of things on hand and don't need to pick up any basics, like spices or pasta, and other times I'm out of a lot of these ingredients have to stock up. Like I said, I do my best to keep my pantry and fridge pretty well-stocked most of the time.
That said, there are a lot of things that I have to get to the store for each and every week, so I try to do one big shop usually on Sunday or Monday. I usually buy anything that I'm out of in my pantry, but also buy all our perishables and produce at this time too.
Going to the store once a week saves me loads of time getting meals to the table, because I'm only going to the store once, not running out of things I need to make a recipe, and allows me to stick to my menu plan.
7. Before preparing or cooking, get all ingredients out first.
This idea isn't something I really started doing until I was creating recipes for GFDF Weekly. Essentially, the idea is that instead of going around my kitchen and picking up ingredients as I need to add them to a bowl or a pot, to simply just get everything out all at once to save on all that back and forth time.
I realized how much time I was wasting going to the pantry 15 times versus just once or twice to get everything I needed to get a recipe prepared. Having a clear space on my kitchen island counter really helps with that too. I suppose that's kind of a bonus tip there – start with a clear space so you have room to move and prep ingredients for creating the recipes you're making.
Go through your kitchen one time, even if it takes a few trips to the pantry, fridge, and freezer to get everything out that you need. Grab all the ingredients, even the seemingly unnecessary ones until the end of the cook time, to get organized before you start getting to work.
8. Prep ingredients and sauces before cooking.
This is similar to tip #7 in that you want to do things in order and batch similar tasks together, but this tip is simply to start working on preparing ingredients and sauces before you ever turn a burner on your stove (but if you need to preheat the oven, go ahead and do that first, since it takes a little while).
I like to batch similar tasks together so I get everything I need to prepare a recipe out all at once, then I get started doing all my chopping at one time, then I'll start on sauces or other preparations that I need to do before any heat gets started.
This saves me so much time, because I'm no longer trying to do two things at once. While I'm a pretty good multitasker, in the kitchen things can go awry real quick. Funny enough, when I have help in the kitchen and my husband is trying to help me go faster getting a meal together is often the times that we burn garlic or leave something going too long.
When I try to rush through by doing more than one thing at once, something always winds up forgotten or burned. I've learned the hard way that doing like tasks together helps me cook even faster.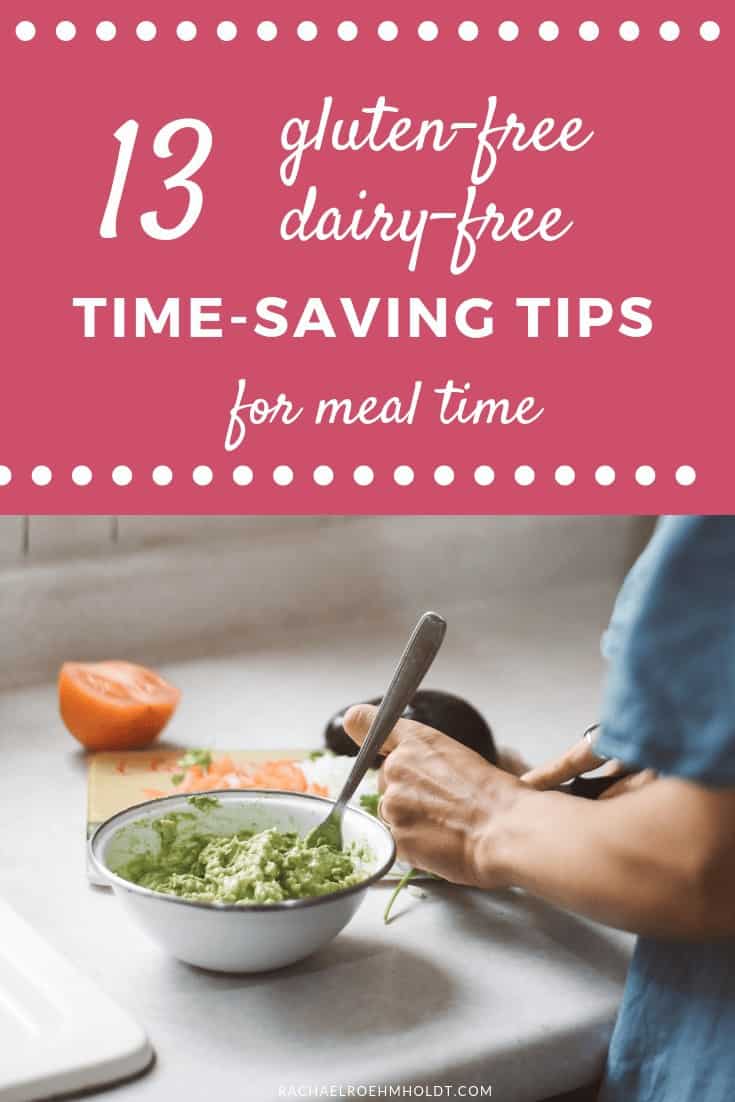 9. Make good use of hands-off cooking time.
Here's a tip that's almost the opposite of what I just said – use the time where food is cooking wisely. The idea here is that if you have something cooking in your Instant Pot, like a pot of rice or quinoa, you can make the most of that time by prepping other ingredients or getting started on anything that needs to be cooked in a skillet.
In this case, it's less daunting to be multitasking, because you're simply just waiting for a timer to go off. There's no real hands-on cooking going on, so less burning or forgetting to add ingredients will happen.
A great way to make use of your hands-off cooking time is to just read a recipe all the way through before getting started on any of it. If you know you need to have a cup of cooked rice or shredded chicken, but you don't have any prepared yet, you know you need to get that part of the prep started earlier than anything else, because it takes the longest.
In addition to setting and letting your Instant Pot do some work for you or cooking on a skillet, you can also use this time to clean up any messes you've made so far. Whenever I have some down time and I'm waiting for flavors to mingle in the pan near the end of my cooking time, or when I pop an entire casserole dish into the oven, I'll spend the next few minutes doing my best to get the dishwasher loaded, and knives and cutting boards cleaned.
This frees up more time after the meal to move on to being with my family and less time hanging out in the kitchen scrubbing pots. Usually all that's needed is to load up plates and silverware into the dishwasher and we're ready to move on to playtime.
This time-saving tip is really just about looking ahead at the recipe and knowing what is expected before you get to the end. It's a simple idea, but easy to forget sometimes.
10. Have multiples of some kitchen tools.
One thing I've discovered that has sped up my time in the kitchen prepping and cooking is to keep a few of the same item on hand. Things like cutting boards, knives, pots, and wooden cooking spoons have been a lifesaver of having more than one.
It's so much easier to grab another cutting board and knife to start prepping veggies after I've just cut meat on a different cutting board, than having to wash and dry both the cutting board and knife.
Again, it's all about batching similar tasks, so I like to save all my washing and drying until I can do all of that at the same time. Funny enough, there's nothing that makes me feel more antsy when I'm cooking than having to pause what I'm doing to clean up a kitchen tool I need.
Luckily, things like plastic cutting boards and wooden cooking spoons are inexpensive and easy to come by. Pick up a few extras and see if this helps you cut down on your time in the kitchen prepping and cooking meals.
11. Preheat the oven before you start preparing any ingredients.
Before you do anything else while getting ready to make a recipe that involves using the oven, preheat the oven! This is a HUGE time-saver, because it often takes a while to get any oven up to 350 or 375 degrees F. If you do this one task first, you'll save yourself quite a bit of time waiting around for it to come up to temp before you can put your food in for cooking.
I know this might seem like an obvious time-saving tip, but I've structured all my recipes for GFDF Weekly to be sure that any time my oven is used that preheating is always the number one task on the directions list. What an annoyance it would be to have all your food prepped, then have to stand around and stare at the temperature gauge come up to where you need it.
12. Cut meat smaller to cook faster.
Here's another obvious but often overlooked time-saving tip for getting meals to the table fast: cut your meat into smaller pieces. If you think about it, it probably makes sense. If you throw a huge slab of chicken on a skillet, it will take probably 15 to 20 minutes for it took through entirely. But if you cut it into 1-inch pieces, you've increased the surface area all around, and it can cook in half the time!
In GFDF Weekly, a lot of my recipes call for chicken, sausage, bacon, or steak to be cut into 1-inch pieces, and this is simply to just get that ingredient cooked faster, so you can get the meal to your table even that much quicker.
Cut your meat up to save time on cooking!
13. Keep easy side dishes on hand in your fridge or pantry.
The final tip for saving time getting gluten-free dairy-free meals to the table fast is to keep easy side dishes on hand in your fridge or pantry. I don't often include recipes for side dishes in my meals for GFDF Weekly, and that's simply because I don't fuss over sides in my house.
We rely on very simple side dishes, like fresh fruit, prepared frozen vegetables, brown or jasmine rice, cooked quinoa, green salads, or gluten-free garlic toast. Seriously, no fancy pants going on around here. I'll tell you what – no one ever complains about fruit, veggies, or simple sides when the main dish tastes good!
Even if you don't want to prep an entire batch of rice for a side dish, remember my tip #3 in keeping done-for-you ingredients and foods on hand. I keep Uncle Ben's or Ancient Harvest rice pouches that can be reheated in the microwave for about 60 or 90 seconds for an almost-instant side dish.
Phew! So that is all I have for you when it comes to my time-saving tips to get meals to the table fast. I hope that all this was useful for you next time you get into your kitchen and start prepping ingredients and creating meals for your gluten-free dairy-free diet.
Before I sign off, I'd love to invite you to join me in my GFDF Weekly recipe and menu planning service to see some of these tips and action. If you want some support staying with your gluten and dairy free diet, I am your person!
Eating this way and helping other women go (and stick with) a gluten-free dairy-free diet is something that I'm extremely passionate about. This is something I've spent years living and cooking for myself and my family. I have some really great recipes to share with you in GFDF Weekly. I really hope to see you inside!
You can go ahead and click the link right here to get more information or click the image below to sign up and get recipes and shopping lists delivered to you immediately.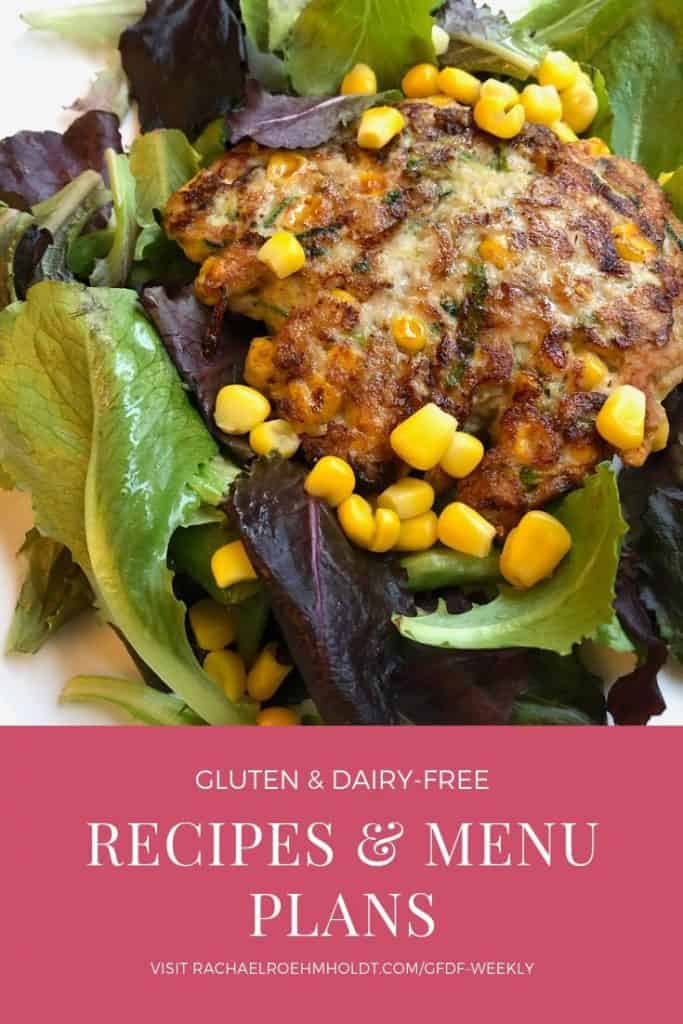 If you love this post, I'd love for you to share with your friends on Facebook or save it for later on Pinterest.
Want more menu planning and meal prep ideas? Check out these posts!
Find some menu planning and meal prepping tips and recipes in these posts!