Find out if peanuts are gluten-free, what they're used for, and when they aren't considered safe for a gluten-free diet.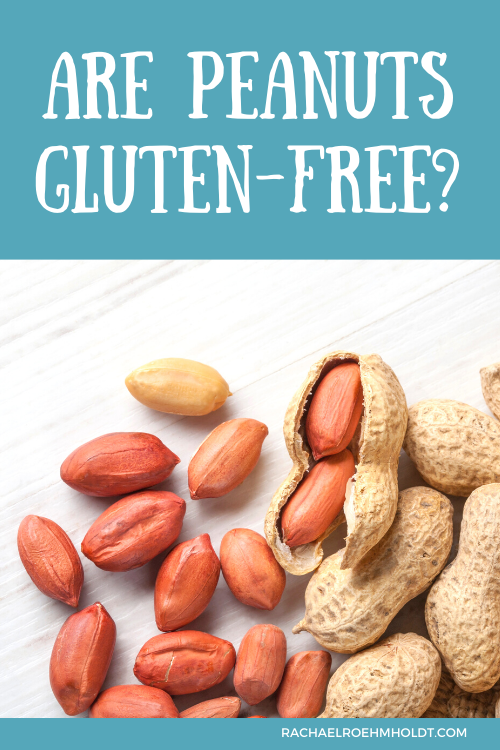 Note: I am a proud Amazon, Chomps, MunkPack, and Thrive Market affiliate and am happy to recommend their service and products to you. Please know that as an affiliate, I may receive a small commission on the products you purchase after clicking through my links. For more info, please see my disclosure policy here.
Do you love peanuts as a snack, in trail mix while out hiking, or in your favorite peanut noodle recipe? If so, you're not alone.
Peanuts are probably one of the most popular nuts in the United States, and they aren't even a nut at all! If you are wondering about how peanuts can fit into your gluten-free diet, I have you covered in this post.
We're going to talk about what peanuts are, what they're used for, how they're grown, and of course answer if they are safe to enjoy on a gluten-free diet. We'll also touch on how to know if the peanuts you're buying are gluten-free and talk a little bit about our favorite condiment – peanut butter.
What are peanuts?
Peanuts are a legume, often mixed up with a nut, that are the basis for many different popular foods and condiments in the United States.
Peanuts are not considered tree nuts, but are actually more similar to beans, lentils, and soybeans. They grow with a hard shell and two seeds (often called nuts) inside.
Peanuts are full of mono- and polyunsaturated fats, which are useful in the production of peanut oil. Peanuts are also high in protein, making them a great snack option. They also have a variety of vitamins and minerals, like biotin, copper, niacin, folate, manganese, vitamin E, thiamine, phosphorus, and magnesium, according to Healthline.
Though many people enjoy peanuts and peanut butter flavored foods, about 3 million Americans, or 1.1% of the general population, have peanut allergies, making peanuts and even the dust from peanuts off-limits to them.
People with peanut allergies range in their severity of reactions, and while some get hives or have small reactions, for others, this allergy can be fatal.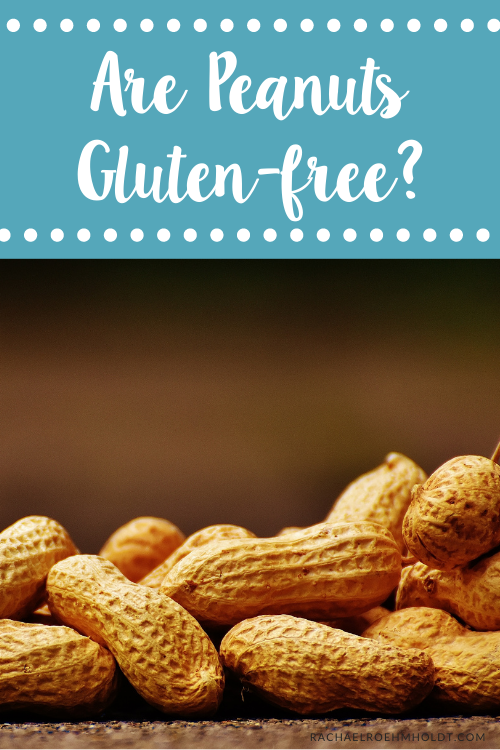 What are peanuts used for?
Peanuts have so many different uses in the American diet, and you're likely to find peanut or some form of peanuts at just about every grocery store you step foot into.
Peanuts can be enjoyed plain as a snack, either raw or roasted. Many companies offer peanuts with flavorings on them, like honey roasted peanuts or spicy flavored peanuts.
Peanuts are commonly used as a nut butter in the form of peanut butter. This spread is used as a condiment for peanut butter and jelly sandwiches, used in homemade peanut sauces, swirled in and on cookies, pies, and ice cream, and of course as a topping for pancakes, waffles, and other breakfast foods.
Peanuts can be cooked, then ground leaving a fine peanut powder. This powder is high in protein and can be added as a peanut butter protein powder for smoothies. A version of this powder is also used to make different snack foods peanut butter flavored, like Trader Joe's Bambas or Pop Chips Nutter Puffs.
You can also find peanuts in popular candies, like Peanut M&M's, Baby Ruth, Snickers, and Butterfingers.
Read on: 20 gluten and dairy-free peanut butter cookie recipes
How are peanuts grown?
According to the National Peanut Board, peanuts are grown from "peanut ovaries" that form as petals fall off peanut plants. These ovaries are called "pegs," which then grow and extend into the soil creating peanut embryos.
Peanut embryos turn horizontal to the soil surface and as they grow, form a peanut. As the plant grows, it will produce 40 or more pods. This process in full takes about five months.
Peanuts are harvested after the peanuts have matured, and are dug up by a large machine digger that pulls the peanut plants and shakes off soil, keeping the peanuts in the machine and dropping the plant back to the ground.
What is gluten?
Gluten is a protein found in most wheat products, and acts as the "glue" that helps to hold wheat, barley, kamut, spelt, farro, durum, bulgur, rye, and semolina together to maintain their shape.
Gluten is naturally occurring, and therefore is impossible to strip away from the grain. If a grain naturally has gluten in it, there's no way to make that food gluten-free.
Are peanuts gluten-free?
Peanuts are considered a naturally gluten-free food, as there is no gluten in peanut plants by nature. For the most part, peanuts are safe to eat on a gluten-free diet IF it is clear that the peanuts you're enjoying have been produced in a facility and on machinery that doesn't also manufacture gluten-containing grains.
Raw and roasted peanuts can be considered gluten-free if they are plain. Like any other foods, once other ingredients are added, you'll need to do your due diligence reviewing ingredients and processes for how that food is handled and if gluten is introduced into the process anywhere along the way.
Are other nuts gluten-free?
Nuts when enjoyed plain or raw are naturally gluten-free. When you eat them plain, you can know for certain that they are gluten-free.
When nuts are flavored, you'll want to look more closely at the ingredients lists before deciding if they're right for your gluten-free diet. Look for hidden sources of gluten before purchasing or eating them.
If a recipe or dish with nuts has gluten ingredients, like a cake made with all purpose flour, the nuts are gluten-free, but the cake is not. You should avoid foods and recipes where the nuts are surrounded by gluten ingredients if you're trying to stick with a gluten-free diet.
Be aware of nuts that are processed in a facility with other gluten containing ingredients if you are extremely sensitive to gluten.
Read on: Are nuts gluten-free?
One of my little secrets is that I carry around a copy of my GFDF Take Along Cards so that I always have a point of reference when I can sneak a peek at the ingredient list of a food.
>> Get your copy of the GFDF Take-Along Cards to make this easy on you.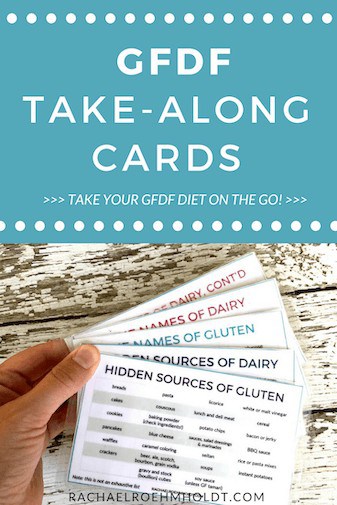 When are peanuts considered not gluten-free?
Peanuts aren't considered to be gluten-free if they are processed on the same equipment as gluten-containing grains, like wheat, barley, rye, spelt, or semolina. You can look for a gluten-free label on packages of peanuts if you buy them plain from the grocery store.
I would encourage you to purchase peanuts and other nuts in packages as opposed to bulk bins at the grocery store, as oftentimes the scoops get mixed up between the bins causing inadvertent cross contamination.
Not only do you need to think about the peanuts themselves as being gluten-free, but also be aware if the food you're looking to buy also contains gluten ingredients.
For example, perhaps you know that peanut butter is gluten-free, so you feel good about buying a peanut butter and jelly sandwich from the deli case at the cafe near your work. Maybe the peanut butter is gluten-free, but is the bread on the sandwich?
Be aware of other places that gluten may be in the foods that have peanuts so you can confidently make choices that work for your gluten-free diet.
How to know if peanuts are gluten-free
The way to know if peanuts are gluten-free is to review packaging before you buy. Most peanuts are considered naturally gluten-free, but if you are celiac or cannot handle trace amounts of gluten due to a gluten sensitivity, you'll want to be careful to only buy products with peanuts that have a gluten-free label.
The best way to know is by seeking out products with gluten-free labels, as this indicates that the manufacturer has confirmed their products contain less than 20ppm of gluten as is required by the FDA to have a gluten-free label.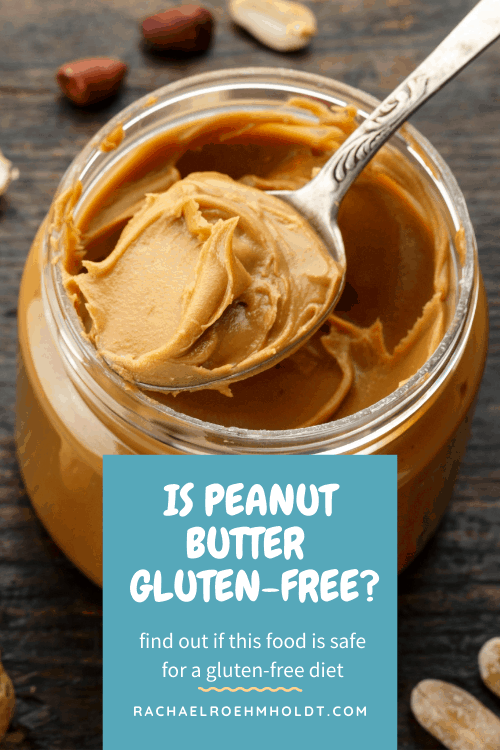 Is peanut butter gluten-free?
Peanut butter in its most natural form is always gluten-free. Most store-bought peanut butter is gluten-free as it contains nothing more than peanuts and oil.
Some brands of peanut butter may contain gluten from cross contamination in a facility where wheat products are also processed. Look for a gluten-free label if you don't feel confident in the brand that you're purchasing.
Read on: Is peanut butter gluten-free?
Read on: Gluten-free peanut butter brands
If you've been wondering if peanuts are safe for your gluten-free diet, I hope this post has helped you get the answers you've been looking for. Most peanuts are naturally gluten-free, but it doesn't hurt to look for gluten-free labels so you know they were processed without the possibility of cross contamination.
If you loved this post, I hope that you'll share it with your friends on Facebook and pin it for future reference on Pinterest.
Love this post? You might also want to check out these!
Find out if your favorite foods and ingredients contain gluten with these posts!