Do you love chocolate candy and follow a gluten-free diet? Find out if Snickers candy bars are gluten-free and what to be aware of.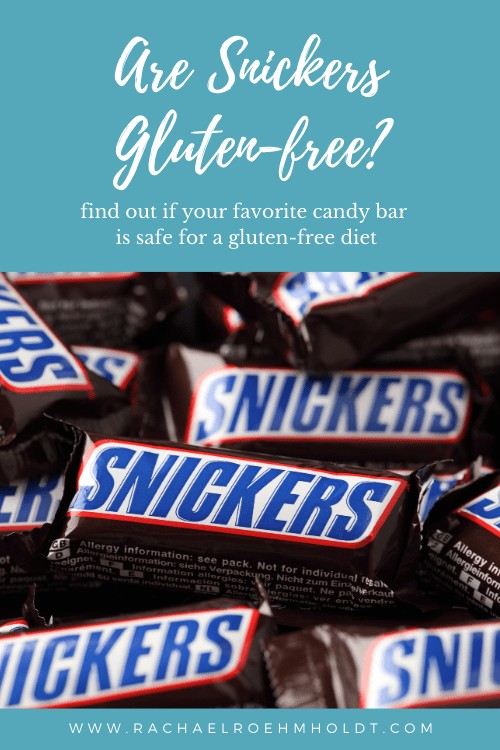 Note: I am a proud Amazon, Chomps, MunkPack, and Thrive Market affiliate and am happy to recommend their service and products to you. Please know that as an affiliate, I may receive a small commission on the products you purchase after clicking through my links. For more info, please see my disclosure policy here.
If you're a candy lover, you are very likely familiar with Snickers. These candy bars are made with chocolate, peanuts, and a caramel all in one super sweet treat. Look at any checkout stand at a grocery store or even a gas station, and you're likely to find Snickers waiting there to be bought.
These candies have long been marketed as a hearty and delicious treat, even going so far as to say they're a decent snack from their "Hungry? Why wait?" slogan they created years ago.
While I don't think I'll be picking up a candy bar for a healthy snack anytime soon, it is good to do our due diligence before indulging in any treat or food on a gluten-free diet. When we have to be careful of what goes into our mouths, every ingredient matters.
So if you're a candy fan and follow a gluten-free diet, we're going to set the record straight as to whether this is a safe treat for you to enjoy. In this post, we'll discuss what Snickers are made of, who makes them, if they are gluten-free, and even if they are dairy-free.
Let's get to the sweet stuff, shall we?
What are Snickers made of?
According to the packaging, Snickers candy bars are made up of:
Milk chocolate (sugar, cocoa butter, chocolate, skim milk, lactose, milkfat, soy lecithin, artificial flavor), peanuts, corn syrup, palm oil, skim milk, lactose, salt, egg whites, artificial flavor.
Read on: Are peanuts gluten-free?
Read on: Is corn syrup gluten-free?
Who makes Snickers candy bars?
Snickers are produced by the Mars Wrigley company. This brand also makes 3 Musketeers, Dove, Milky Way, m&m's, Skittles, Starburst, Twix, and many other gum and candy brands.
What is gluten?
Gluten is a protein found in most wheat products, and acts as the "glue" that helps to hold wheat, barley, kamut, spelt, farro, durum, bulgur, rye, and semolina together to maintain their shape.
You can find gluten in whole grains, but also in many processed foods as well. If you purchase wheat bread, there will be gluten in it, because wheat by nature has gluten.
When you think of squishing a piece of bread in your hands, it will form a ball, then will bounce back. That bouncing back is often indicative of gluten. The gluten is the naturally sticky glue that is part of many whole grains.
Many processed foods have hidden gluten in them in the form or gluten or wheat derivatives. These are also in the form of flavorings, binders to keep ingredients together, or other additives.
Read on: What is gluten? The basics of a gluten-free diet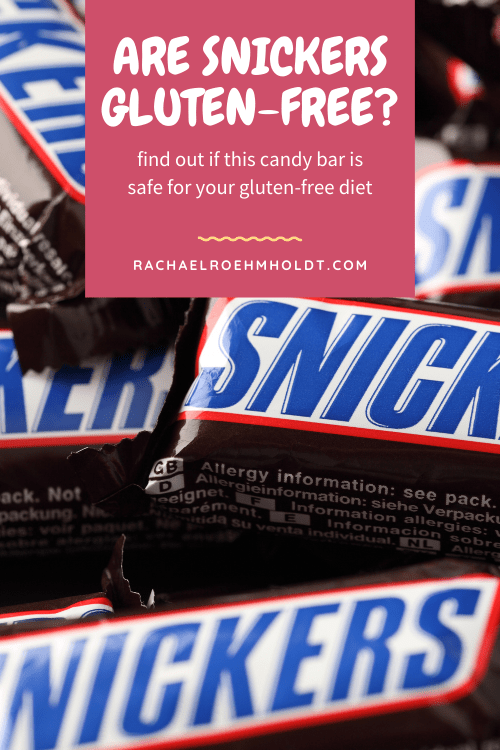 Is chocolate gluten free? Does chocolate have gluten?
Most plain and pure chocolate is gluten-free, as the chocolate itself usually contains dairy, sugar, and milk powder. If you're looking for a dairy-free chocolate option, there are plenty of those too.
Chocolate is gluten-free when it is plain, but when you'll want to start looking out for gluten in flavored chocolate bars or those chocolate candies with mix-ins, like cookies or pretzels.
Many chocolate bars are gluten-free, as well as chocolate chips. If you avoid gluten, be sure to look for a gluten-free label and always check ingredients lists just in case.
Read on: Is chocolate gluten-free?
One of my little secrets is that I carry around a copy of my GFDF Take Along Cards so that I always have a point of reference when I can sneak a peek at the ingredient list of a food.
>> Get your copy of the GFDF Take-Along Cards to make this easy on you.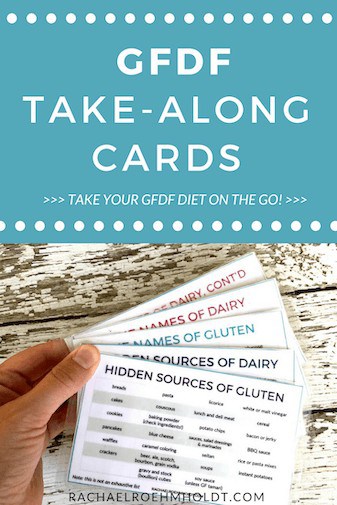 Are Snickers gluten-free?
Based on the ingredients list, it looks that Snickers are in fact gluten-free and safe to enjoy on a gluten-free diet.
The Mars Wrigley brand doesn't have any information on their website or products related to the presence of gluten in their products or in their processing.
It's important to know this information, because even if there are no gluten-containing ingredients in the product, there is still an opportunity and potential for cross contamination between this candy and others that may have been processed on the same lines.
Depending on your comfort level and sensitivity to gluten, you may determine that enjoying Snickers is okay for your body, and you may decide it's not.
Only you know what's right for what you can tolerate and you get to decide what risks you're willing to take for your body.
Read on: Is caramel gluten-free?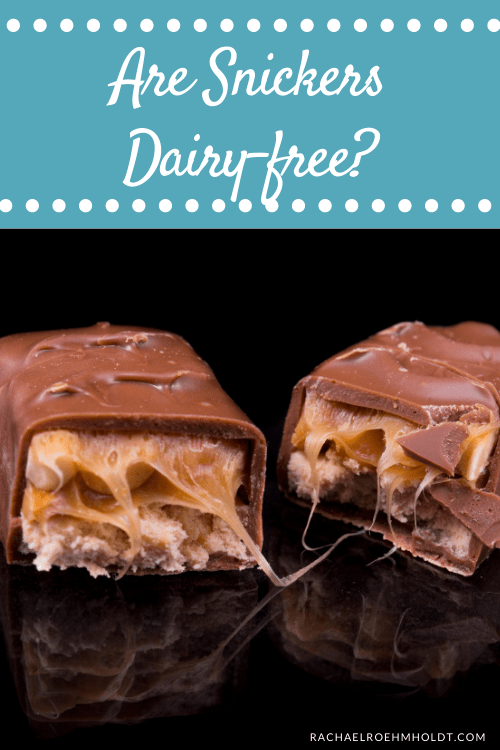 Are Snickers dairy-free?
Snickers contain milk chocolate and skim milk making it not a dairy-free candy option. There are other great dairy-free candies, and you can check out some of those brands here.
Are Snickers egg-free?
According to the ingredients lists, Snickers contains egg whites, making this a candy you'll want to avoid if you're also following an egg-free diet.
When it comes to enjoying Snickers on a gluten-free diet, your best option is to always review ingredients lists. You never know when a recipe will change, and since Mars doesn't include any gluten-free labels or certifications on their products, it's best to keep your eyes peeled before opening up a wrapper and digging in.
As with any candy or food on a gluten-free diet, do what's right for you based on your own needs and comfort level. I hope if you love Snickers and you follow a gluten-free diet, this post has answered some of your questions and given you some relief to enjoy a favorite candy.
f you loved this post, I hope that you'll share it with your friends on Facebook and pin it for future reference on Pinterest.
If you're looking for more info on your favorite candy brands, find out if they're gluten-free in these posts!