Find out if Baby Ruth candy is gluten-free, dairy-free, and vegan and how this candy fits into each of these diets.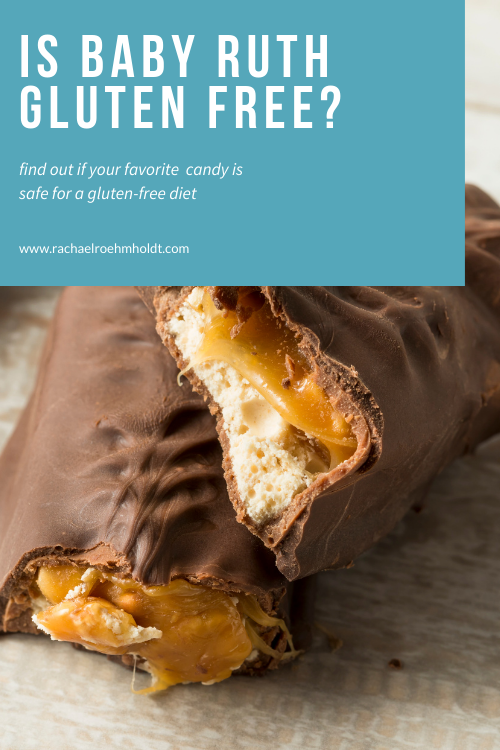 Note: I am a proud Amazon, Chomps, MunkPack, and Thrive Market affiliate and am happy to recommend their service and products to you. Please know that as an affiliate, I may receive a small commission on the products you purchase after clicking through my links. For more info, please see my disclosure policy here.
Baby Ruth candy bars are a delicious treat that are popular year round. This candy is made with nougat, peanuts, and caramel that's been coated in milk chocolate.
If you enjoy this candy bar and are wondering how it fits into your gluten-free diet, I've got you covered in today's post.
We're going to talk about who makes Baby Ruth, the ingredients of this candy bar, and find out if they are gluten-free. We'll also answer some questions about if Baby Ruth are dairy-free and vegan.
Let's get into it!
Ingredients of Baby Ruth
According to the Baby Ruth website, this candy bar is made with:
Sugar, dry roasted peanuts, corn syrup, hydrogenated vegetable oil (palm kernel, coconut, and soybean), nonfat milk, cocoa, high fructose corn syrup, less than 2% of glycerin, dairy product solids, dextrose, salt, soy lecithin, lactic acid esters, carrageenan.
There is a note at the bottom of the packaging that says "Contains Milk, Peanut, Soy" to help folks with food allergies and intolerances identify ingredients that might be problematic for their diets.
Read on: Are peanuts gluten-free?
Read on: Is corn syrup gluten-free?
Read on: Is soy lecithin gluten-free?
What is gluten?
Gluten is a protein found in most wheat products, and acts as the "glue" that helps to hold wheat, barley, kamut, spelt, farro, durum, bulgur, rye, and semolina together to maintain their shape.
Gluten is naturally occurring, and therefore is impossible to strip away from the grain. If a grain naturally has gluten in it, there's no way to make that food gluten-free.
Gluten can be found in candy as one of the main ingredients, especially in gummy candies, as wheat flour or wheat starch. You can also find it in flavorings, thickeners, or binders.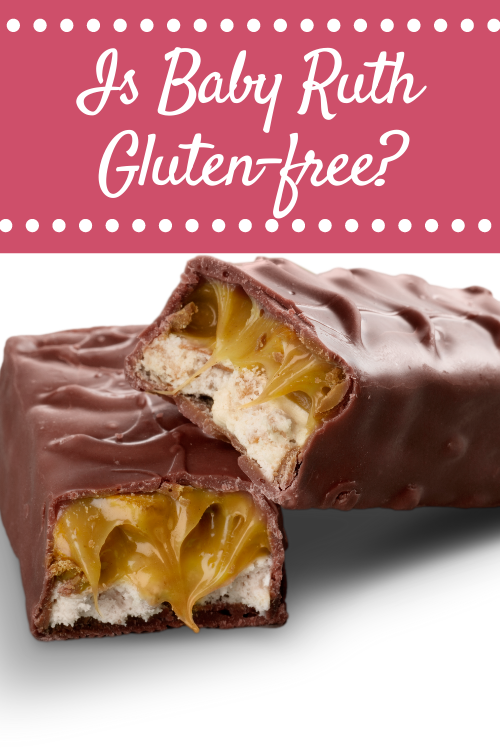 Are Baby Ruth gluten-free?
Although there aren't any obvious ingredients of gluten in the ingredients list of Baby Ruth, the brand does answer this question directly on their website.
"Are products gluten-free? No."
With such a direct answer, we can say for certain that there is some cross contamination going in in the manufacturing process and if you're sensitive to gluten, this is probably a good candy bar to avoid.
If you can eat foods with trace amounts of gluten, you may be able to eat this candy without issue, but you need to use caution and know your level of sensitivity before eating this treat.
Read on: Is caramel gluten-free?
Are Baby Ruth dairy-free?
Baby Ruth candy bars are not dairy-free, as they contain nonfat milk and dairy product solids. The brand is explicit in stating that there is dairy in this chocolate bar, so this will be a good candy to avoid if you're also following a dairy-free diet.
Are Baby Ruth vegan?
Since Baby Ruth candy contains dairy products, this chocolate bar is not vegan. If you follow a vegan diet, you might want to try Go Max Go Jokerz bars. These do contain gluten from malt powder made with barley malt, but are safe for vegans who can eat gluten.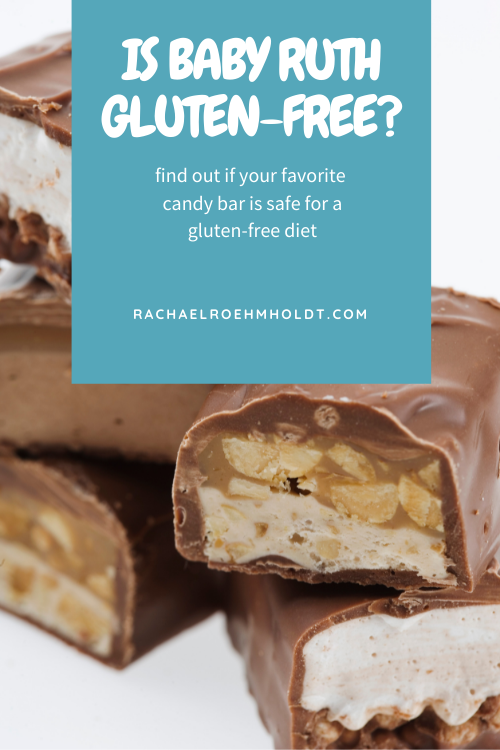 What Baby Ruth products are gluten-free?
Unfortunately, no Baby Ruth candy bars or products are gluten-free, as indicated by the company's website. The candy bars contain no gluten products in their ingredients lists, the company has made it clear that it is not free from cross contamination possibilities while being manufactured.
If you love Baby Ruth candy bars, I hope this post has been helpful for you to have all the information you need to determine whether or not to continue enjoying this candy. Baby Ruth products are not considered gluten-free, dairy-free, or vegan, so it's probably a good idea to choose another treat instead.
If you loved this post, I hope that you'll share it with your friends on Facebook and pin it for future reference on Pinterest.
Love this post? You might also want to check out these!
Find out if your favorite foods and ingredients contain gluten with these posts!