Find out if peanut m&m's are gluten-free, what they're made of, and what you need to know about this candy on a gluten-free diet.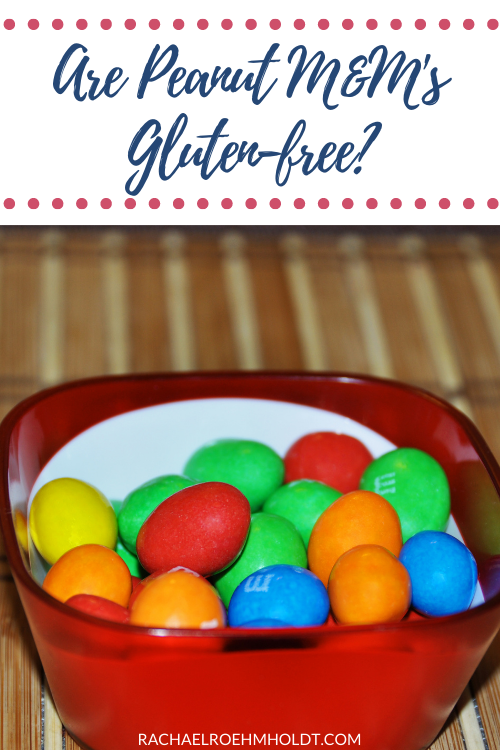 Note: I am a proud Amazon, Chomps, MunkPack, and Thrive Market affiliate and am happy to recommend their service and products to you. Please know that as an affiliate, I may receive a small commission on the products you purchase after clicking through my links. For more info, please see my disclosure policy here.
Are peanut m&m's your favorite candy? I don't know statistics on this, but I'd believe that they might be even more popular than original m&m's, at least among the adult crowd.
Chocolate and peanuts and sugar, yes please! If you know your m&m's, you know that this brand of candy has been putting out all new flavors for a few years now, but for a very long time, there were only two types of m&m's.
Original m&m's and peanut m&m's. The difference between the two is one single peanut inside each m&m – and ta da! It's a new product entirely.
This candy is popular at grocery stores, movie theaters, and especially around Halloween or other holidays that center around candy (Easter, Christmas… I guess almost all holidays can center around candy if you want them to).
If you follow a gluten-free diet, you know that even popping a couple chocolate candies in your mouth matters if you don't know what the ingredients are or how they're processed.
You have to know whether or not there is gluten to help you know if they will make you feel sick if you have a gluten intolerance or have Celiac's disease.
That's why in this post, we're going to dive into the topic of peanut m&m's. I've already discussed the original m&m's in a separate post, so this one is all about the ones with the peanut centers.
Find out what peanut m&m's are made of, if their different ingredients are safe for a gluten-free diet, and answer the question "are peanut m&m's gluten-free?" Hopefully by the end of this post, you'll have enough information to help you decide whether or not to keep them in your diet.
Let's talk peanut m&m's!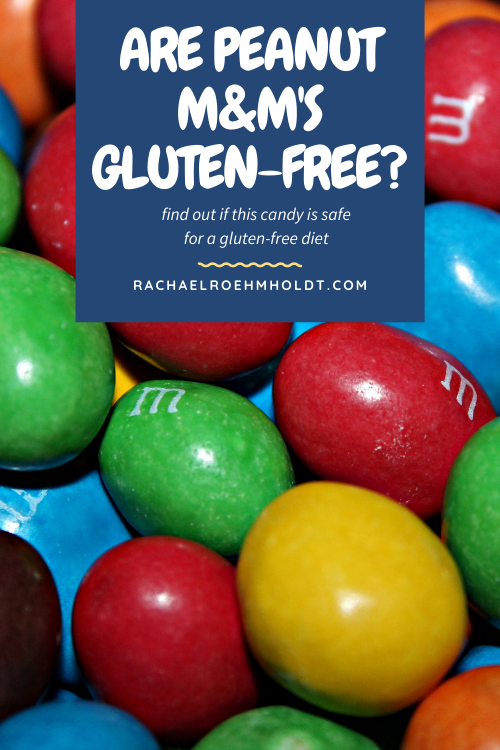 What are peanut m&m's made of?
The ingredients in peanut m&m's according to the M&M's website are:
"Milk chocolate (sugar, chocolate, skim milk, cocoa butter, lactose, milkfat, peanuts, soy lecithin, salt, artificial and natural flavors), sugar, peanuts, cornstarch, less than 1% – palm oil, corn syrup, dextrin, coloring (includes blue 1 lake, red 40, yellow 6, yellow 5, blue 1, red 40 lake, yellow 6 lake, yellow 5 lake, blue 2 lake, blue 2), carnauba wax, gum acacia."
Read on: Are peanuts gluten-free?
Read on: Is corn syrup gluten-free?
Read on: Is soy lecithin gluten-free?
What is gluten?
Gluten is a protein found in most wheat products, and acts as the "glue" that helps to hold wheat, barley, kamut, spelt, farro, durum, bulgur, rye, and semolina together to maintain their shape.
Gluten is naturally occurring, and therefore is impossible to strip away from the grain. If a grain naturally has gluten in it, there's no way to make that food gluten-free.
Gluten can be found in obvious ways, like "wheat flour" or in smaller hidden ways, under names like "malt, "malt extract," or "malt flavoring."
Read on: What is gluten in food?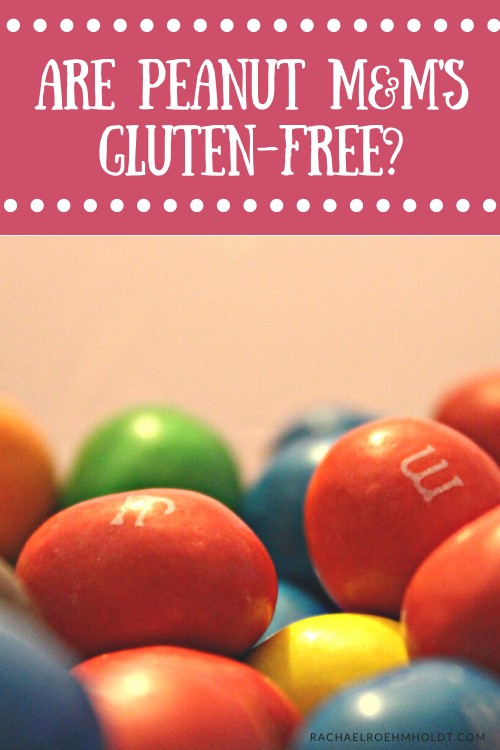 Is chocolate gluten-free?
Chocolate is generally considered to be gluten-free, as it mainly contains cocoa, dairy, sugar, and milk powder. When chocolate is plain, it's usually gluten-free, but chocolate that has other additions, like pretzels or cookies mixed in may not be.
Always review ingredients (and sub-ingredients) on ingredients lists for details as to what's inside a product before buying.
Read on: Is chocolate gluten-free?
Are peanuts gluten-free?
Nuts, including peanuts, are a naturally gluten-free food, especially when they are eaten plain – either roasted or raw.
However, just because they're naturally gluten-free doesn't mean that all the dishes or other ingredients that they are served with are. That's why it's important to review ingredients lists on every product before you purchase.
Read on: Are nuts gluten-free?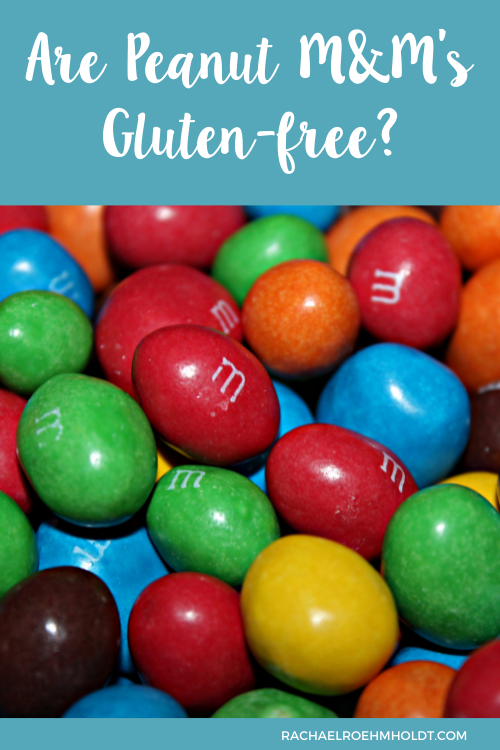 Are m&m's gluten-free?
M&m's are considered gluten-free, however the Mars brand (the makers of m&m's) do not make any gluten-free statements on their products.
Many flavors of m&m's do not contain gluten ingredients and are safe to enjoy if you have a food intolerance to gluten, but if you have an allergy, you may want to steer clear of this brand of candy.
Some flavors, like crispy m&m's and pretzel m&m's do contain gluten, so the potential for cross contamination with these ingredients and products may occur during manufacturing. If you're sensitive to gluten at the trace level, you might want to avoid this brand of candy.
Read on: Are m&m's gluten-free?
Read on: The Ultimate Gluten-free Candy List
Are peanut m&m's gluten-free?
Peanut m&m's do not have any gluten-containing ingredients and should be considered safe for a gluten-free diet.
The Mars company doesn't share any information on their processing related to gluten, so if you are extremely sensitive to gluten, you may want to be aware of a possibility for cross contamination.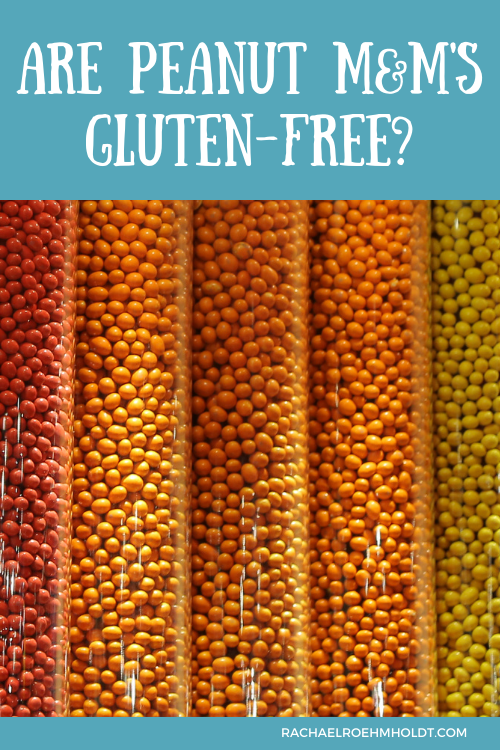 Are peanut m&m's dairy-free?
Peanut m&m's contain dairy in the form of milk chocolate. If you follow a gluten-free diet, you may want to choose a different candy that doesn't have dairy.
Unreal offers dairy-free dark chocolate peanut gems, which taste similar to peanut m&m's and you can enjoy with no worries on a gluten and dairy-free diet.
If peanut m&m's are your favorite treat, I hope this post has given you some information that's helpful for you to decide whether or not to keep them in your diet. Peanut m&m's contain no gluten ingredients, but they aren't labeled as gluten-free.
Use your best judgment based on what you know about your level of sensitivity to gluten to help you decide whether to not to continue eating them.
f you loved this post, I hope that you'll share it with your friends on Facebook and pin it for future reference on Pinterest.
If you're looking for more info on your favorite candy brands, find out if they're gluten-free in these posts!