Enjoy this comforting gluten-free tomato soup recipe that's also dairy-free, and comes together with just six ingredients.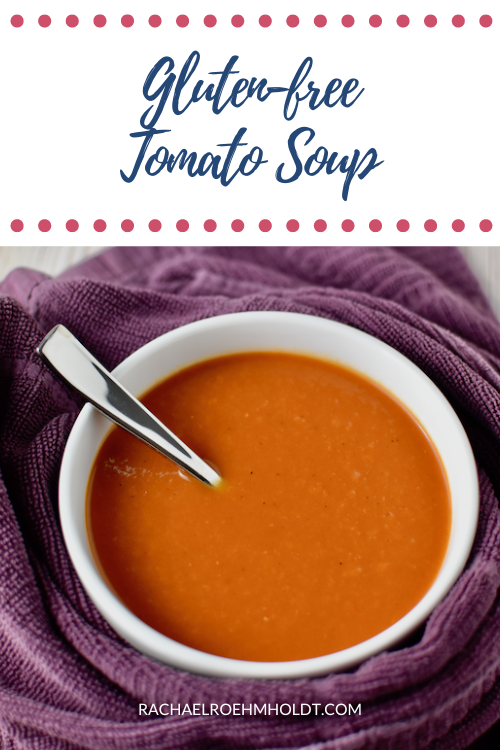 Note: I am a proud Amazon, Chomps, MunkPack, and Thrive Market affiliate and am happy to recommend their service and products to you. Please know that as an affiliate, I may receive a small commission on the products you purchase after clicking through my links. For more info, please see my disclosure policy here.
If you love a warm cup of soup on a cold day, you're not alone. Fall and winter are synonymous with "soup season" in my household.
Any type of soup or stew is on the table – beef stew, chicken and rice soup, stuffed pepper soup, and one of my favorites: tomato soup.
Growing up, tomato soup only came from a can. It wasn't until I was much older that I realized you could actually *make* tomato soup from scratch – and it was actually better than the canned stuff!
Though it's really easy to open up a can or a box of soup these days and the convenience can't be beat, there's really nothing better than a homemade tomato soup.
That's why I have a few different variations of this soup that I like to make. One variation has more ingredients and extra layers of flavor, while another adds rice or noodles for extra texture.
Other times, I like to make this soup more creamy by adding dairy-free milk like coconut or cashew milk for extra fat and flavor. Or add loads of fresh basil for a tomato-basil soup… yum!
If you're a fan of tomato soup and have been looking for a version where you don't have to worry about any added gluten or dairy, this recipe is for you.
This gluten-free tomato soup is made with lots of flavor from carrots, onions, and celery, plus some quick shortcuts from canned tomato sauce and chicken stock or broth. You're going to love it – let me walk you through the steps on how to make it.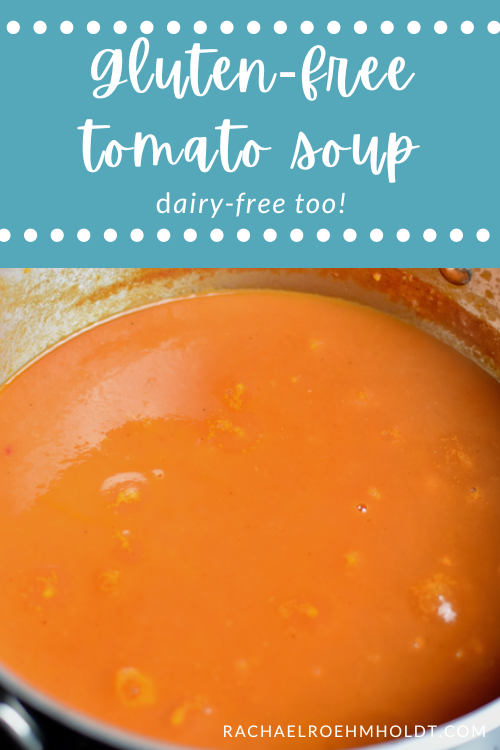 How to make tomato soup gluten-free
The easiest way to make tomato soup gluten-free is to simply add no gluten-containing ingredients to the pot.
In some tomato soups you buy from the store, you can find gluten in the form of flour or additives derived from barley or wheat.
Making soup at home is the most straightforward way to make sure your tomato soup is gluten-free. Plus it really doesn't take much time or too many ingredients!
How to make tomato soup dairy-free
To make tomato soup dairy-free, you'll want to be sure you don't use any butter or milk in your recipe. These two ingredients are what you'll find in many tomato soups that are packaged from the store – either canned or in boxes.
When you're making your tomato soup at home, use olive oil or vegan butter to saute your veggies in. This will take the place of butter in a traditional tomato soup recipe.
Some folks like to add milk, dairy, or even cheese to tomato soup in some recipes for added flavor, texture, and creaminess.
Keep these ingredients out of your soup and you'll have a super easy dairy-free tomato soup recipe.
This soup calls for no dairy ingredients, but if you want to take your tomato soup to the next level with some creaminess, opt for full fat canned coconut milk. You can also use cashew or oat milk for a thicker and creamy soup if you don't have coconut milk on hand.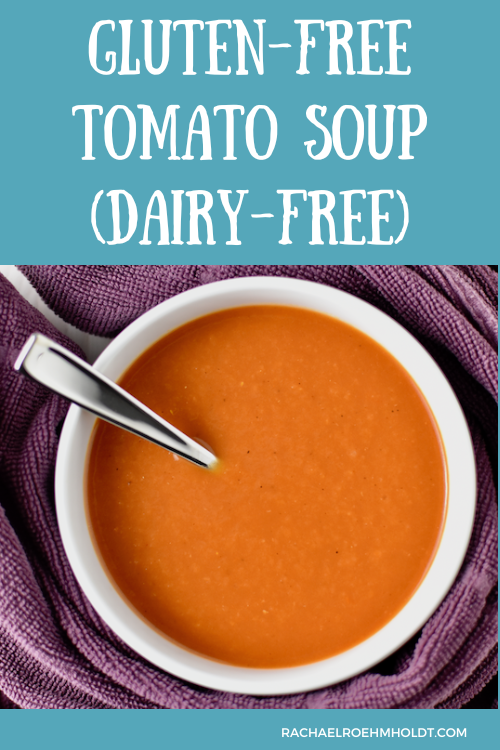 Ingredients for gluten-free tomato soup
You don't need too many ingredients for delicious gluten-free tomato soup. Here are the ingredients I use in my recipe.
Olive oil
I use olive oil for sauteing the vegetables in tomato soup instead of butter, which many folks use in their homemade soups.
Olive oil provides some healthy fat to the dish and makes sure the veggies don't stick to the pot when cooking.
Onion and carrots
This combination of aromatics lends a more layered flavor to this gluten-free tomato soup. I like adding more than just tomatoes to my tomato soup.
Not only does this soup have more than one flavor note, but there are some extra veggies in there too, making it a little healthier and more diverse in terms of nutrients.
Canned tomato sauce
Canned tomato sauce is how I get the tomato part into my gluten-free tomato soup. I choose to use canned tomato sauce, because so much of the work has already been done for you.
The chopping, peeling of skins, and reducing of liquid. Plus many canned tomato sauces are pre-seasoned with salt and sometimes sugar. This helps me by not having to add extra ingredients while cooking my soup.
If I don't have canned tomato sauce on hand, I've also used crushed tomatoes, diced tomatoes, and even frozen tomatoes that I have saved from my summer garden. In this case, you may have more liquid in your soup, but you can easily adjust that with how much stock or broth you add to the soup.
Chicken stock or broth
I love adding chicken stock or broth to my tomato soup for extra flavor. You can just as easily use vegetable broth or water here, but I really like how much flavor the chicken stock brings to the soup.
Make sure the chicken stock or broth you choose is gluten-free as some brands do contain gluten. I generally use the Kirkland brand from Costco.
Read on: 50 Gluten-free dairy-free soups, stews & chili recipes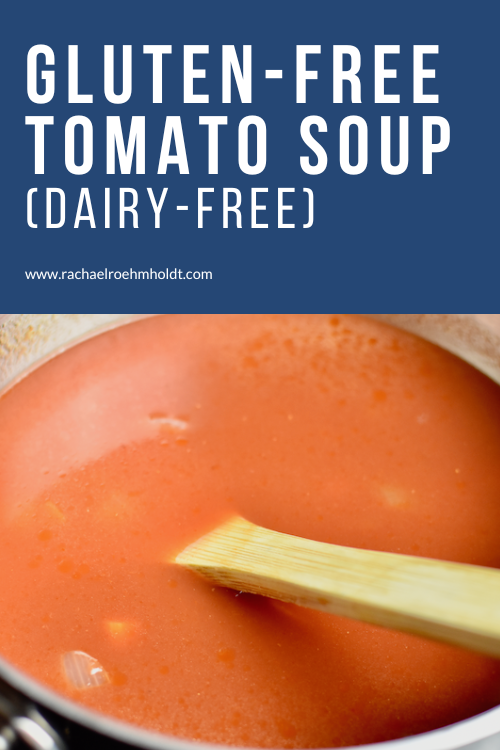 How to make gluten-free tomato soup
Making homemade gluten-free tomato soup couldn't be easier. Prep your vegetables ahead of time and get your ingredients out before cooking to make this a super simple soup to throw together – even on a busy weeknight.
Preheat a soup pot
Heat a large pot over medium heat on your stove. Add the olive oil to preheat.
Add the veggies
Next, add the chopped onions, carrots, and celery and saute, moving them around the pan, for about three to five minutes. The goal is for the veggies to soften and the onions to be translucent.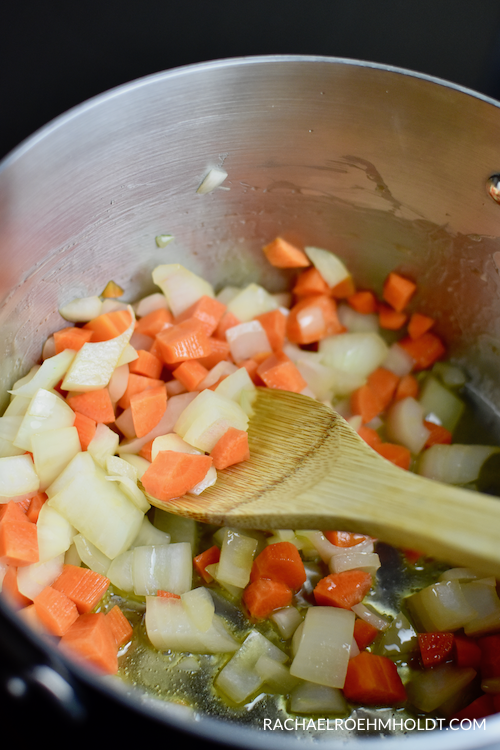 Add the tomato sauce and chicken stock
When the veggies are softened, add in the canned tomato sauce and chicken stock. Stir everything together, then let the soup come up to a simmer.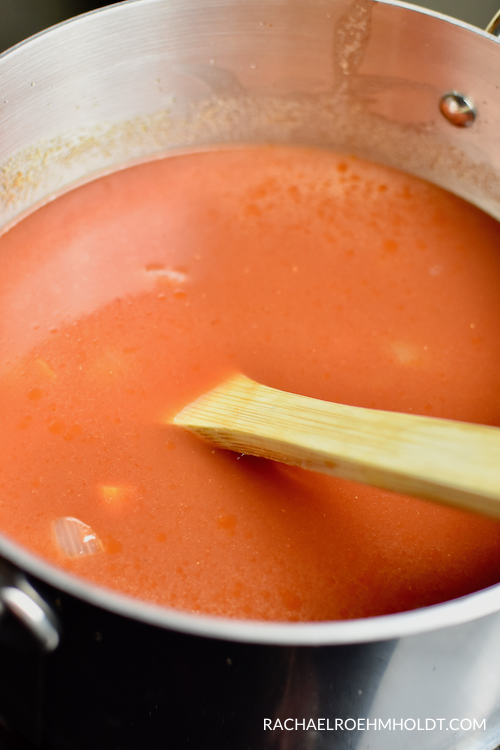 Reduce heat and adjust seasonings
Once at a simmer, reduce the heat to low and simmer for about 10 minutes. You can simmer for longer if you have more time before you're ready to serve, but 10 minutes is the minimum to combine and meld flavors together.
This is also the perfect opportunity to adjust seasonings as necessary. Since tomato sauce and chicken stock or broth often come with salt already added, make sure to taste test before adding any salt or pepper.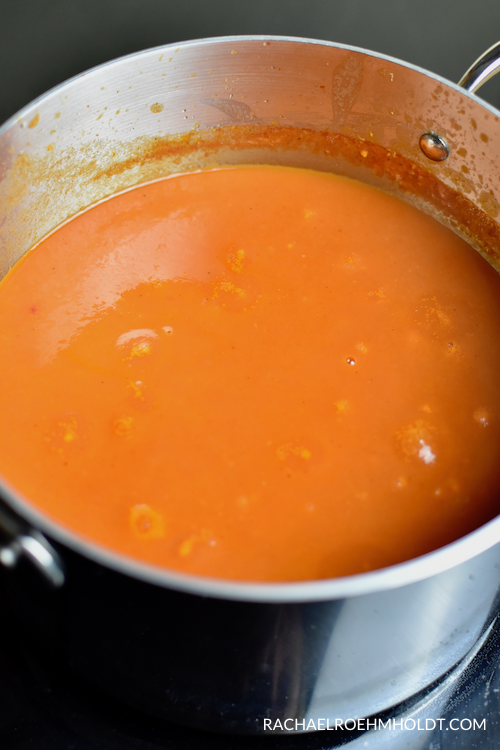 Puree the tomato soup to desired consistency
Once the gluten-free tomato soup has had time to simmer for a while and combine flavors, you'll want to puree the soup to your desired consistency.
It doesn't have to be completely smooth and totally pureed, but it can be if you want. Some folks like some texture to their soup, others prefer a smooth texture.
If you have an immersion blender, this is a great opportunity to use it. If you don't have one and have a blender or food processor, be VERY careful to transfer batches of the soup into the blender to puree then put back in the soup pot.
Repeat until the soup has reached the desired consistency.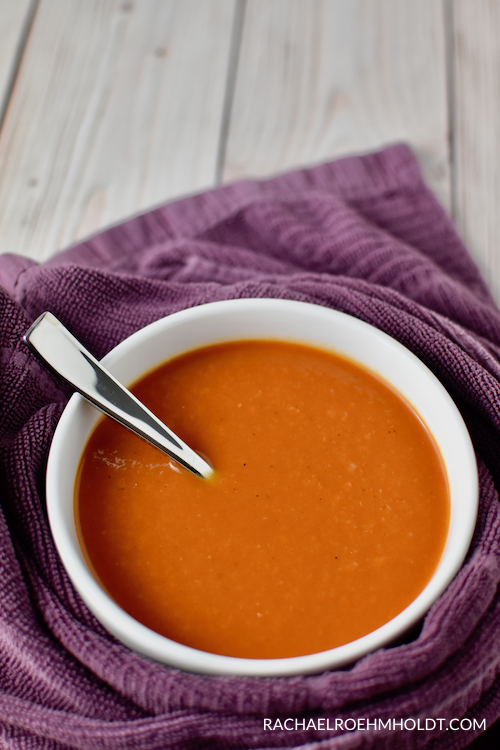 Divide into bowls and serve
When you're ready to serve your gluten-free tomato soup, divide among bowls and serve.
We like to make gluten-free grilled cheese (with dairy-free cheese) in my house, or gluten-free toast with vegan butter and garlic powder sprinkled on top.
How to store gluten-free tomato soup
This gluten-free tomato soup can be made ahead of time to use later on. Store in an airtight container in the fridge for three to five days.
This soup also freezes well if you want to prepare it now and reheat for an easy lunch or dinner at a later time.
Yield: 4 to 6 servings
Gluten-free Tomato Soup (Dairy-free)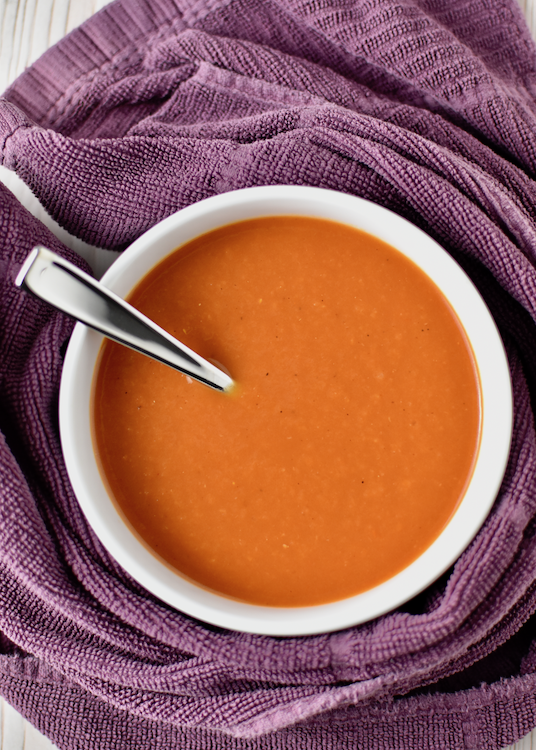 Enjoy this comforting gluten-free tomato soup recipe that's also dairy-free, vegan, and comes together with just six ingredients.
Ingredients
2 tbsp olive oil
1 onion, chopped
2 carrots, chopped
2 - 15 oz cans tomato sauce
1 - 32 oz container chicken stock
½ tsp salt (optional)
¼ tsp pepper
Instructions
In a large pot over medium-high heat, add the olive oil.
Add the chopped onions and carrots. Cook for about 3 to 5 minutes or until vegetables are softened.
Add in the tomato sauce and chicken stock. Stir, then bring everything to a simmer.
Reduce the heat to low and cook for about 10 minutes.
After the soup has had time to combine flavors, use an immersion blender or work in batches using a countertop blender to puree the soup to your desired consistency.
Divide among bowls and serve with your favorite sandwiches or bread.
Notes
To make this tomato soup creamy, add ½ to 1 cup of full fat coconut milk or other dairy-free milk before pureeing.
If you love tomato soup and are looking to avoid gluten and dairy this soup season, give this gluten-free tomato soup recipe a try and let me know what you think in the comments!
f you loved this post, I hope that you'll share it with your friends on Facebook and pin it for future reference on Pinterest.
Love this post? You might also want to check out more of my recipe roundups here!
Find some delicious gluten and dairy-free recipes in these popular recipe roundup posts!
Want more? Check out all my Gluten-free Dairy-free Recipes!