This dairy and gluten-free chocolate zucchini cake is moist, sweet, and super easy to make. Enjoy this chocolate zucchini cake in the summer – or any time of year you have extra zucchini on hand.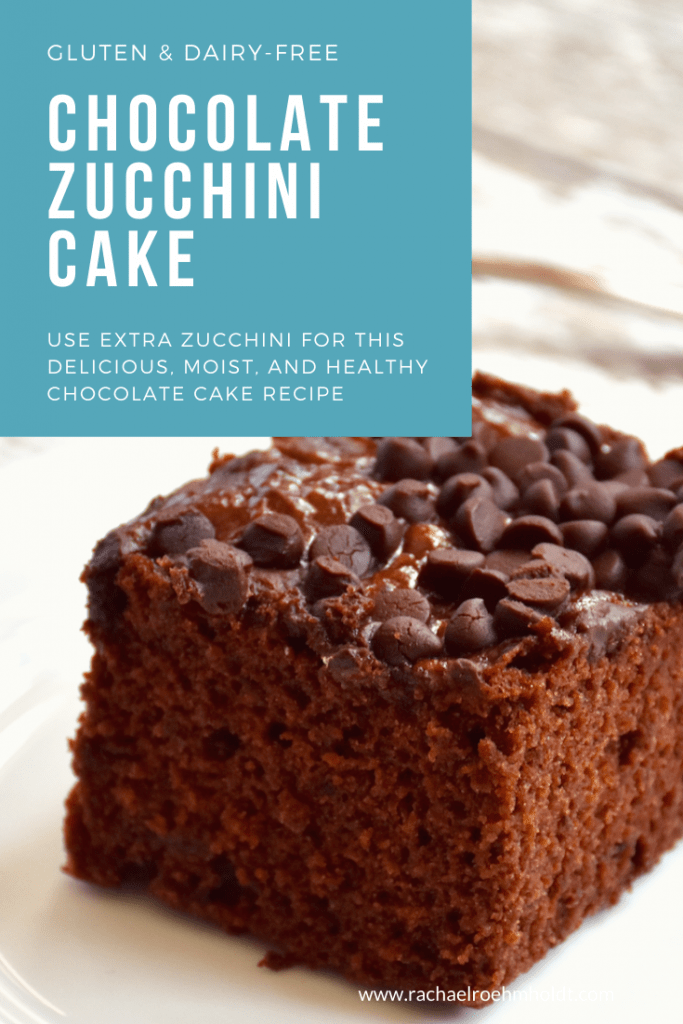 Note: I am a proud Amazon, Chomps, MunkPack, and Thrive Market affiliate and am happy to recommend their service and products to you. Please know that as an affiliate, I may receive a small commission on the products you purchase after clicking through my links. For more info, please see my disclosure policy here.
Chocolate zucchini cake is one of the recipes that I feel like immortalizes my childhood. When I was really small, my mom and grandpa planted a huge garden in our yard. One of the foods that always seemed to do well was zucchini. With a surplus of zucchini, we'd have zucchini bread and one of my favorites, chocolate zucchini cake pretty often throughout the summer months.
The version I'm making these days to make use of the extra zucchini every summer (and the frozen zucchini I stashed for later in the year, like now) isn't even close to the version she used to make. Hers was full of flour, sugar, eggs, and chocolate.
My chocolate zucchini cake is gluten-free, dairy-free, and even egg-free. But it's definitely delicious and isn't lacking for anything when you think of chocolate zucchini cake.
This gluten-free chocolate zucchini cake is chocolatey, moist, sweet, and has the perfect balance of zucchini and chocolate you'd look for in this type of dessert. It's great during the summer when zucchini is abundant, but also maybe even better as winter fades and I'm using up the last of the frozen zucchini from last summer.
If you like chocolate zucchini cake, you'll love this, because it's:
Gluten-free
Dairy-free
Egg-free
Chocolatey
Moist
Sweet
Super easy to make
A crowd pleaser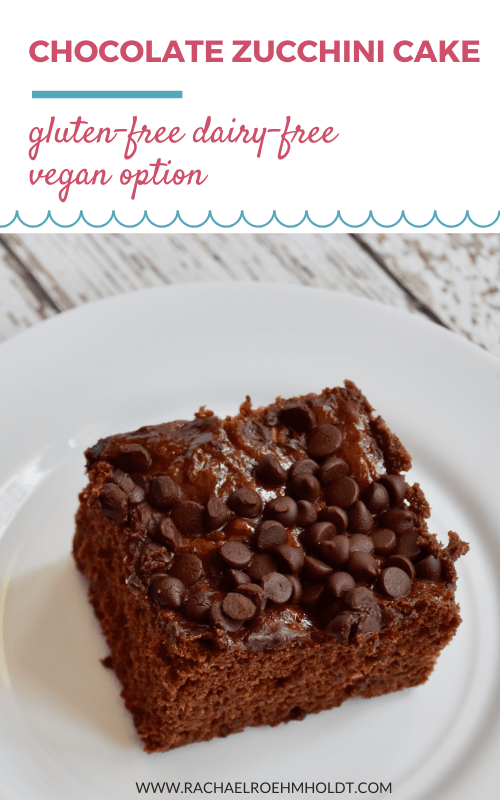 When it comes to making gluten-free chocolate zucchini cake, there are a few things to keep in mind related to choosing a gluten-free flour, dairy-free milk, and the details of how to handle the zucchini in this recipe.
Choosing a gluten-free flour
The gluten-free flour that you use may change how this cake comes out. Choose one that is a blend with xanthan gum included, or if you make your own gluten-free flour blend at home that includes xanthan gum. This ingredient is vital for the binding nature of your cake, so that it's not too crumbly.
I like to use my standby King Arthur Measure for Measure flour blend in most of my baking, and I used it for this recipe too.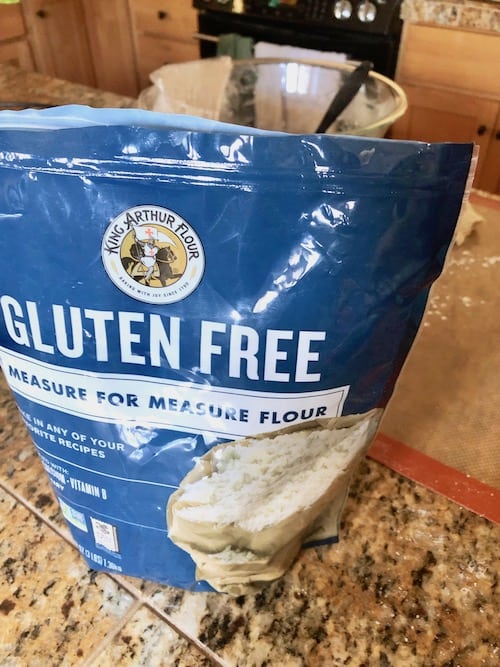 Making gluten-free chocolate zucchini cake egg-free
If you don't eat eggs like me, you can easily swap the eggs in this cake for flax eggs. Even if you do eat eggs, but just don't have any on hand when you go to make this cake, you can easily use flax eggs too.
To make a flax egg, you just combine 1 tbsp ground flax meal with 3 tbsp warm water and let sit for about 5 minutes, or until it has formed a gel consistency. For this recipe, you'll want to double that for two flax eggs. You'll want 2 tbsp ground flax meal and 6 tbsp warm water.
Read on: Gluten-free chocolate mug cake (dairy-free, egg-free)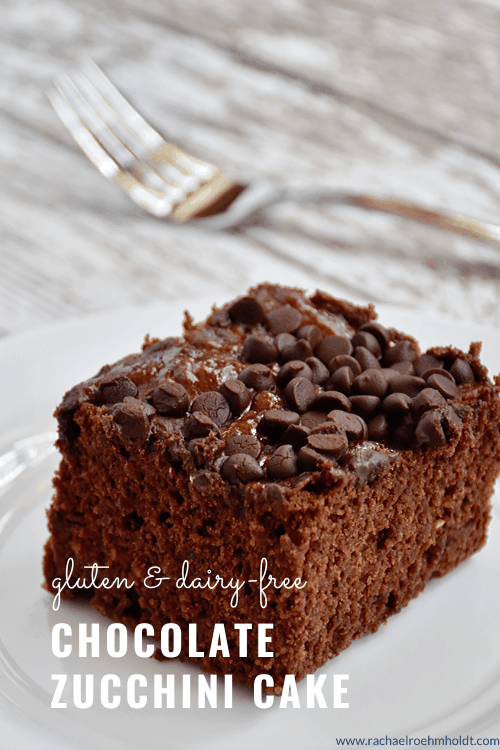 Choosing a dairy-free milk
You can use whatever dairy-free milk you like in this recipe. I tend to favor coconut milk in my baking, but you can easily swap this out for almond, rice, or cashew milk.
Do you peel zucchini for cake?
There's no need to peel the zucchini for this gluten-free chocolate zucchini cake. The zucchini will break down regardless of whether you peel it or not, so peeling isn't necessary for this recipe.
Do you squeeze liquid out of zucchini for chocolate zucchini cake?
You don't need to get the liquid out of the zucchini for this cake. Just shred it on a box grater or using a shredding attachment on a food processor, and use the zucchini as is. The added liquid from the zucchini will give the cake a really moist consistency.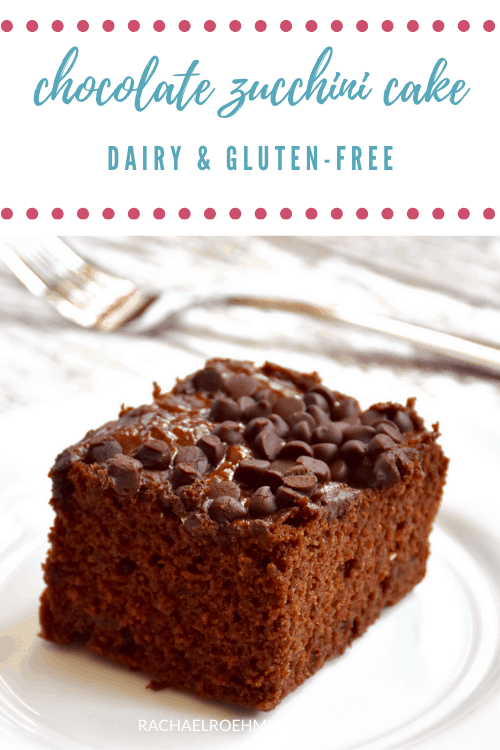 Frosting options for gluten-free chocolate zucchini cake
In place of frosting for chocolate zucchini cake, I feel like this cake is sweet enough as is and any sort of frosting usually overpowers this cake. Plus, I'm honestly just a really lazy baker and dirtying more dishes just doesn't appeal to me.
Instead of frosting, I just threw some dairy-free chocolate chips, about a cup but didn't get too precise in my measurements, on top and they baked right in to the top of the cake. This provided a little added sweetness on top, but without all the extra effort or sugar of a true frosting.
If you decided you wanted to add a frosting to this cake, you can make a recipe you love or use a store-bought dairy-free frosting.
Yield: 12 to 16 slices
Dairy and Gluten-free Chocolate Zucchini Cake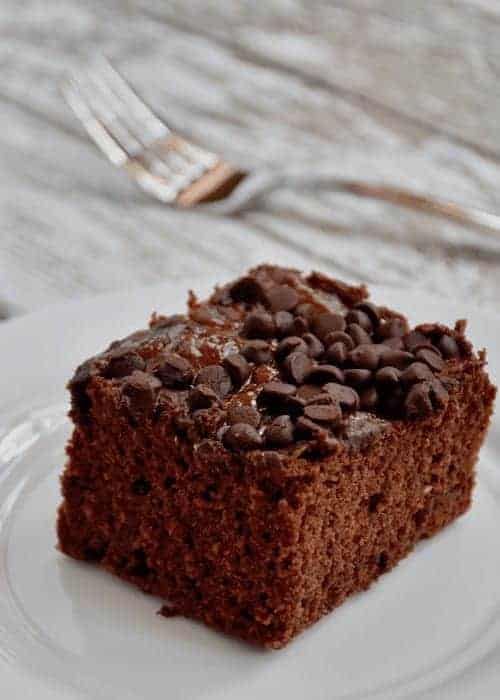 This dairy and gluten-free chocolate zucchini cake is moist, sweet, and super easy to make. Enjoy this chocolate zucchini cake in the summer - or any time of year you have extra zucchini on hand.
Additional Time
20 minutes
Total Time
1 hour
10 minutes
Ingredients
2 and 1/2 cups gluten-free flour
⅓ cup cocoa powder
¾ cup white sugar
¾ cup coconut sugar
1 tsp baking soda
1/2 tsp baking powder
1/2 tsp cinnamon
1/4 tsp salt
3/4 cup melted coconut oil or vegan butter
2 eggs or 2 flax eggs
1 tbsp vanilla
1/2 cup coconut milk
2 cups grated zucchini
1 cup dairy-free chocolate chips
Instructions
Preheat the oven to 350 degrees F. Spray a 9" by 13" glass baking dish with cooking spray. Set aside.
In a large bowl, combine the gluten-free flour, cocoa powder, white sugar, coconut sugar, baking soda, baking powder, cinnamon, and salt. Whisk to combine well.
Next, add the melted coconut oil, eggs or flax eggs, vanilla, and coconut milk. Whisk together until all ingredients are mixed in.
Fold the grated zucchini into the chocolate mixture, until fully incorporated.
Pour the cake mixture into the prepared baking dish. Top the cake with the dairy-free chocolate chips.
Transfer to the oven and bake for 35 to 40 minutes, or until a toothpick when inserted into the center of the cake comes out clean.
Allow to cool for at least 20 minutes, then cut into squares. I like to cut into 12 pieces, but you can make yours bigger or smaller depending on the crowd you're serving.
Notes
Make sure to fold the zucchini into the batter using a spatula. It's not too easy to get the zucchini out of a whisk when cleaning.
Allow the cake to cool for at least 20 minutes before cutting into it.
You can cut the slices as big or small as you'd like. I like to cut between 12 to 16, depending on how many guests we are serving.
Recommended Products
As an Amazon Associate and member of other affiliate programs, I earn from qualifying purchases.
I hope if you've been looking for a recipe to use up some extra zucchini that's been laying around your kitchen, that you'll give this delicious cake a try. With just a few ingredients, you can have a gluten-free dairy-free cake whipped up in no time.
If you loved this post, I hope that you'll share it with your friends on Facebook and pin it for future reference on Pinterest.
Looking for a few more dairy-free chocolate recipes? You'll love these posts!
Check out these gluten and dairy-free recipes and posts featuring chocolate.