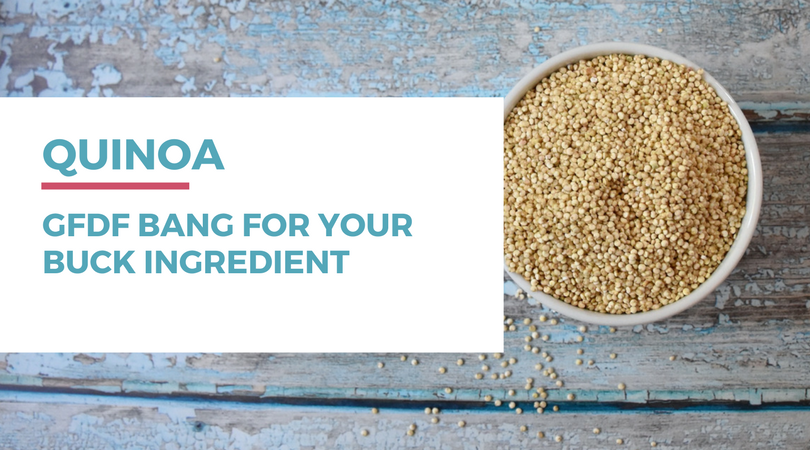 Note: I am a proud Amazon affiliate and am happy to recommend their service and products to you. Please know that as an affiliate, I may receive a small commission on the products you purchase after clicking through my links. For more info, please see my disclosure policyhere.
One the goals of my blog is to show you you can eat healthy nourishing meals that taste good on a gluten-free dairy-free diet without having to spend a ton of money at the store.
As I've been going through my GFDF journey, I've learned that there are some tips to sticking to a budget and eating well. A few weeks ago, I introduced the idea of "bang for your buck" ingredients that I've discovered and want to share with you. There are loads of ways to stretch a buck and still eat healthy, well-balanced meals, but finding nutrient-dense foods is by far one of my best strategies.
In my last "bang for your buck" ingredient post, I talked about beans. This time, we're going to talk about quinoa and the many health benefits and reasons that you should stock up on this ingredient when you're eating a gluten-free dairy-free diet.
Quinoa is naturally free of gluten and dairy, which instantly makes it a win in my book. But the fact that it's super versatile and packed with protein, vitamins and minerals takes it over the edge to being a worthwhile ingredient to have on hand and eat regularly.
If you've ever bought quinoa before, you know it isn't necessarily the cheapest ingredient out there. Compared to rice or other whole grains, it's actually a little on the pricey side. But when you factor in its versatility and health benefits, it's easy to see why it's a worthwhile buy.
In fact, here are just 10 ways to use quinoa in your gluten-free dairy-free cooking:
Alright, before you head out and buy quinoa – if you aren't already a quinoa lover…
There are a few important things you should know about this 'superfood' ingredient:
Quinoa is naturally gluten-free and dairy-free

It's an excellent quick-fix healthy ingredient for meal times, as it only takes about 15 minutes – or even one minute if you have an

Instant Pot

It comes from Peru and surprisingly comes from the chard and spinach family

There are

120 different species

of quinoa, but just

three (white, red, and black)

are the most popular and most likely to find in most grocery stores

One cup of quinoa offers 8 grams of protein, 3 grams of fat, 222 calories, plus is an excellent source of fiber, iron, and magnesium.

Quinoa has saponins coating it, which are released during the cooking process. With it's slightly bitter flavor, it's recommended to

rinse quinoa before cooking

and skim off the soapy foam that appears on the top of the surface during boiling.
>> Click here to get this "bang for your buck" ingredient over on Amazon.
Here's the most basic recipe for cooking quinoa – the one I use and follow at least twice a month when I make a big batch. You can scale this recipe up or down depending upon how much quinoa you're looking to make.
Basic Quinoa Recipe
Yields about 3 cups
Ingredients
1 cup uncooked

quinoa

, rinsed

2 cups water
Directions
In a large saucepan, add quinoa and water.

Bring to a boil over medium-high heat, skimming off any soapy foam that comes to the top.

Once to a boil, cover with a lid, reduce the heat to low and cook for 10 minutes.

After 10 minutes, remove from the heat, leaving the lid on for an additional 5 minutes.

Fluff with a fork, season as you wish, and enjoy!
Basic Instant Pot Quinoa Recipe
Yields about 3 cups
Ingredients
1 cup uncooked

quinoa

, rinsed

1 1/2 cups water
Directions
Add quinoa and water to Instant Pot.

Close and lock the lid. Set the Instant Pot to Pressure Cook with Normal Pressure on High for 1 minute.

Once the time is up, let the Instant Pot naturally release steam for 10 minutes, then do a quick release.

Fluff with a fork, season as you wish, and enjoy!
Quinoa is one extremely versatile, healthy, and tasty ingredient. While it's not necessarily one of the cheapest ingredients around, you'll most definitely get a big "bang for your buck" nutritionally speaking than if you were to go around and try to find all that's packed in this little super seed elsewhere. I encourage you to give quinoa a try if you haven't already. And if you already do love quinoa, consider trying out new ways to incorporate it into more of your meals for a healthy upgrade.
Get the FREE Gluten-free Dairy-free Shopping List
Get access to the most comprehensive - and healthy! - gluten-free dairy-free shopping list around!
Plus get 5 sample gluten-free dairy-free recipes!