Find out if tofu is safe for a gluten-free diet, plus get a list of gluten-free tofu brands to try.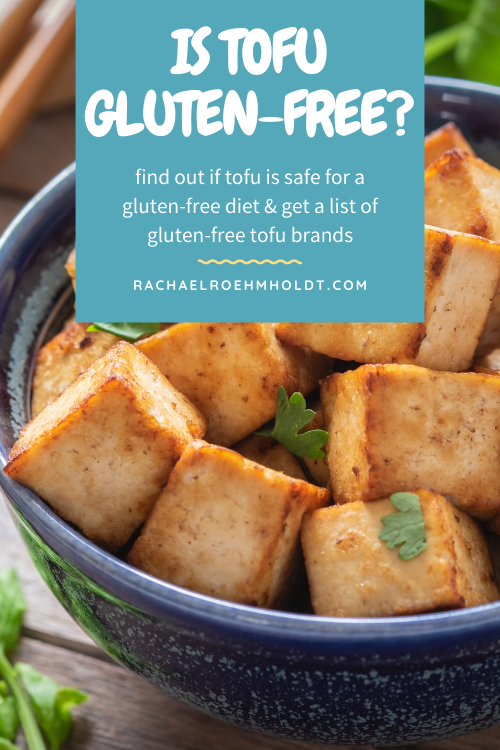 Note: I am a proud Amazon, Chomps, MunkPack, and Thrive Market affiliate and am happy to recommend their service and products to you. Please know that as an affiliate, I may receive a small commission on the products you purchase after clicking through my links. For more info, please see my disclosure policy here.
If you are looking for ways to cut down on animal protein in your diet, you may have been looking for what types of meatless options you can enjoy.
If you are also gluten intolerant or have a gluten allergy, you know that it's important to know the details of each and every food that you put in your body to avoid having a reaction.
Even meat-free protein sources aren't an exception to this rule. If it's a food that's been processed, you know the chances of the food containing gluten or coming into cross contact with gluten are possible, if not probable.
In this post, find out what tofu is, the types of tofu, and if tofu is gluten-free. Plus we'll go over where you need to look carefully for gluten in tofu products and we'll wrap up the post with a list of gluten-free tofu brands you can look for next time you're at the store.
What is tofu?
Tofu is a food that is made with soy milk to press the soy into a solid block. The process to make tofu is similar to cheesemaking, in that you boil the soy milk, add a coagulant like rice vinegar or lemon juice to form a cheese-like curd texture.
The soy is then transferred to press to remove more of the liquid and the solids are left behind. The more the soy is pressed and liquid is removed, the more firm the tofu.
Read on: Is soy gluten-free?
Read on: Is egg drop soup gluten-free?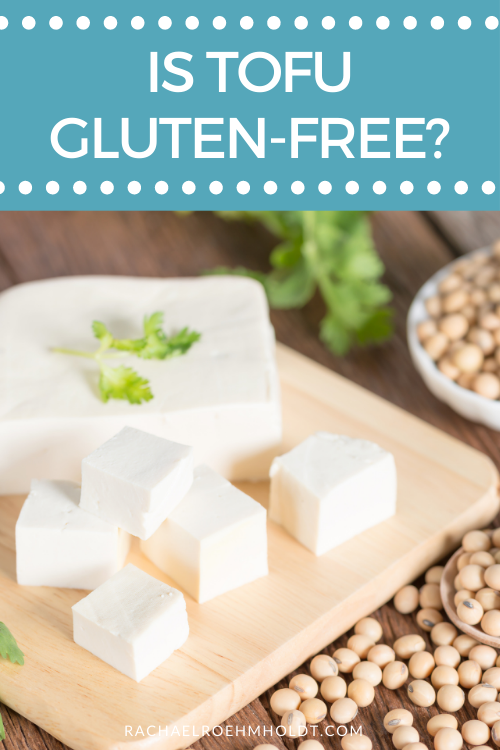 Types of tofu
Tofu comes in a variety of different types. Based on the amount of liquid that is pressed out of the tofu, you can get different types and textures of tofu. Each of these types of tofu is useful in different dishes. Let's go through each of them below.
Silken tofu
Silken tofu that has the highest water content among all types of tofu. Silken tofu has a creamy texture and makes for great sauces, puddings, desserts, and dips.
Soft tofu
Soft tofu has a little less liquid than silken tofu and is best used similarly to silken tofu, in sauces, puddings, desserts, vegan cream cheese, and dips.
Medium tofu
Medium tofu has less liquid than both silken tofu and soft tofu. It is best used in soups.
Firm tofu
Firm tofu is more solid than the previous tofu types, but still crumbles when added to some dishes. It's best used when fried or broken up and used as a substitute for ricotta cheese.
Extra firm tofu
This type of tofu is solid in texture and consistency and works well for slicing or frying. It holds up well when cooked and maintains its shape well.
Super firm tofu
Super firm tofu has been pressed to remove most of the liquid and is therefore the most solid in consistency compared to other types of tofu. Enjoy this sliced or cubed and stir-fried, deep fried, or pan-fried. It holds its shape well when used in most dishes.
What is gluten?
Gluten is a protein found in most wheat products, and acts as the "glue" that helps to hold wheat, barley, kamut, spelt, farro, durum, bulgur, rye, and semolina together to maintain their shape.
You can find gluten in whole grains, but also in many processed foods as well. If you purchase wheat bread, there will be gluten in it, because wheat by nature has gluten.
Many processed foods have hidden gluten in them in the form or gluten or wheat derivatives. These are also in the form of flavorings, binders to keep ingredients together, or other additives.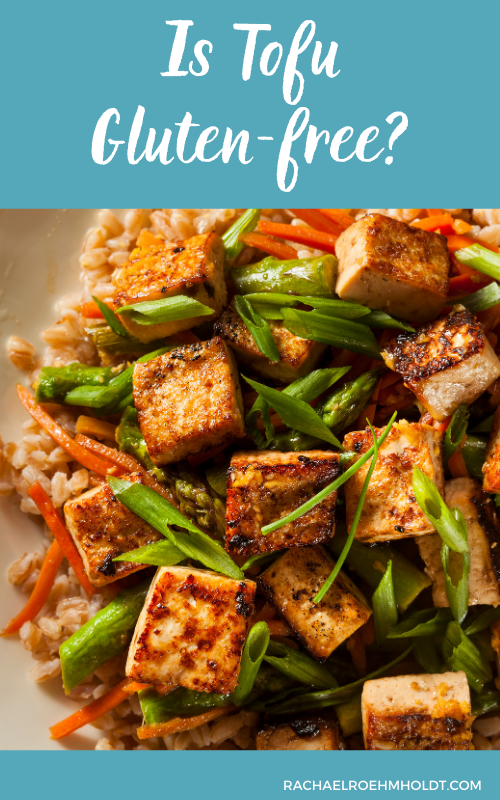 Is tofu gluten-free?
Tofu when plain and made with only soy milk is gluten-free. However, there are times you'll want to be aware of gluten in tofu products if you're following a gluten-free diet.
Tofu can be flavored with ingredients that contain gluten, like soy sauce or teriyaki sauce. Both of these ingredients contain wheat unless otherwise noted as gluten-free. Other sauces used in many Asian-inspired dishes can contain gluten as well, such as fish sauce and some rice wines.
You'll want to be aware of this and read ingredient lists before purchasing any tofu products if you try to stick with a gluten-free diet.
Read on: Is teriyaki sauce gluten-free?
Tofu and gluten
While plain tofu is gluten-free, be aware that even this can become cross contaminated with gluten sometimes.
If you are ordering a dish with tofu at a restaurant, know that the likelihood of cross contact with gluten ingredients is high if other gluten-containing foods and ingredients are served in the restaurant.
It's always helpful to talk with a server or do research before going to a restaurant to know what their stance is on cross contamination with gluten-containing foods in the kitchen.
Are tempeh and tofu the same thing?
Tempeh and tofu both are made using soy beans, but they are definitely different food products.
Tempeh is a fermented food that offers high protein and fiber content, along with great gut health benefits from the fermentation.
Tofu is also high in protein, but it is processed differently than tempeh. Tofu is made by soaking soybeans, crushing, then boiling them. It's made similarly to the way you'd make cheese, by separating the solids from the liquids. The liquid is removed to make soy milk, and the solids are used to be pressed into tofu.
Both are used as a vegetarian and vegan source of protein and as a replacement for meat in many recipes, but they are not one in the same.
Read on: Is tempeh gluten-free?
How to make sure tofu is gluten-free
To be sure that the tofu you buy or eat is gluten-free, you'll want to review the packaging before buying.
If tofu has a gluten-free label, you can feel safe that it is safe for your gluten-free diet. If there is no gluten-free label, you can review ingredients lists to determine if there are any hidden sources of gluten in the product.
If there is a name of gluten, you'll want to avoid it. If there aren't any gluten ingredients in the packaging, know that there may be the potential for gluten cross contamination from the manufacturer. With no gluten-free label, you'll need to make a decision based on your body and your knowledge of your tolerance for gluten in trace amounts or from cross contact.
Only you know what's right for your body, so do your research, seek out a gluten-free brand of tofu, and look for a gluten-free label to help you make your decisions about which product to buy a little easier.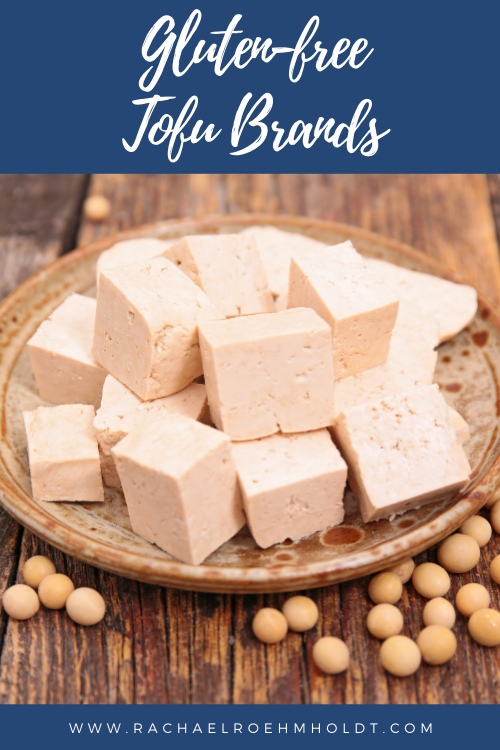 Gluten-free tofu brands
If you're searching for a brand of tofu that is safe for your gluten-free diet, you may want to try one of these options.
Azumaya Tofu
Azumaya Tofu offers gluten-free tofu products in firm, extra firm, lite extra fir, and silken textures. Look for a gluten-free label on their products.
Dragonfly Foods
Dragonfly Foods makes tofu in a variety of different textures and flavors, including organic smoked tofu, organic medium tofu, organic super firm tofu, and organic marinated tofu.
Their website states that all their products are gluten-free.
Hodo
Hodo Foods offers a variety of ready to cook and ready to eat tofu products. They are all gluten-free.
Ready to Cook gluten-free tofu products
Chermoula Moroccan tofu cubes
Spicy Harissa tofu cubes
Southern Barbecue tofu cubes
Organic firm tofu
Organic braised firm tofu
Organic yuba sheets
Ready to eat gluten-free tofu products
Spicy yuba noodles
Thai curry nuggets
Chinese 5 spice nuggets
Tofu veggie burger
Cajun burger
House Foods Tofu
House Foods offers gluten-free tofu products in their premium and organic lines. They have soft, medium firm, firm, extra firm, super firm, grilled super firm, and cubed super firm in both the premium and organic lines.
Mori-nu
Mori-nu brand has six options for their gluten-free tofu: soft, firm, extra firm, lite firm, organic, and nigari.
Nasoya Tofu
Nasoya brand has a number of different tofu products, including their plain tofu that comes in extra firm, firm, silken tofu, and super firm. They have other gluten-free products, like their "toss'ables" and superfood skillets.
Simple Truth
The Simple Truth brand is carried by most Kroger retailers and they offer both firm and extra firm tofu.
Soy Boy
Soy Boy brand has a few tofu options that are gluten-free, including organic tofu in both extra firm and firm, flavored baked tofu, and some tofu-based meat alternatives, like veggie bacon and "not dogs."
If you've been looking to find out if tofu is safe for your gluten-free diet, I hope this post has helped you get the answers you've been looking for.
Look for one of the brands listed above as a jumping off point next time you're at the store shopping for tofu and look for a gluten-free label before buying to be sure what you're buying is truly gluten-free.
f you loved this post, I hope that you'll share it with your friends on Facebook and pin it for future reference on Pinterest.
Love this post? You might also want to check out these!
Find out if your favorite foods and ingredients contain gluten with these posts!