Find out what malt is, how it's made, and if malt or malted barley are ingredients you can safely enjoy on a gluten-free diet.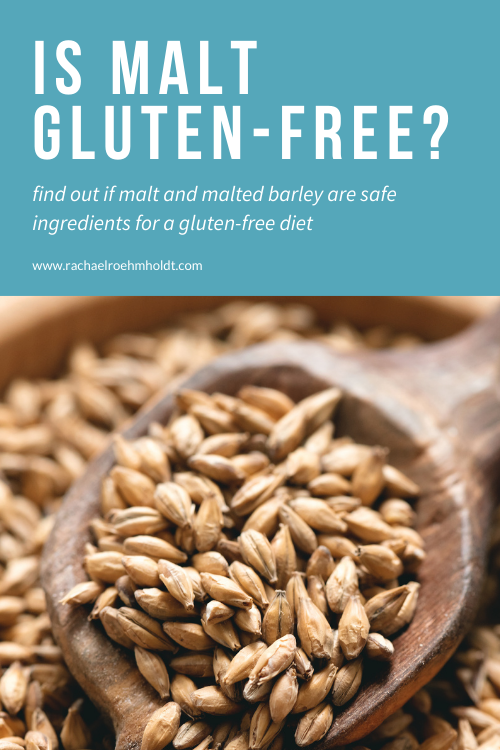 Note: I am a proud Amazon, Chomps, MunkPack, and Thrive Market affiliate and am happy to recommend their service and products to you. Please know that as an affiliate, I may receive a small commission on the products you purchase after clicking through my links. For more info, please see my disclosure policy here.
If you've been a beer drinker for any amount of time, picked up a "malt beverage," or even enjoyed a glass of malted milk as a kid, you have probably wondered what malt actually is.
You may have been scouring ingredients lists on packaged foods at the grocery store to see terms like "barley malt," "malted barley," or "barley malt extract" and wondered what any of these terms mean.
If you follow a gluten-free diet, you may be aware that barley is a grain that contains gluten, but what about barley malt or malted barley? Does that malt part of that word make it safe to enjoy?
In this post, we're going to talk about malt and all things malt-related. We'll discuss what malt is, what barley malt is, and if all malt comes from barley. We'll also talk about if malt is considered gluten-free, plus some other ingredients like barley malt extract or malt vinegar.
If you've been curious about malt in any form, this post will hopefully get you all your questions answered so you can safely avoid gluten in your diet.
What is malt?
Malting is a process where a grain gets soaked in water, germinates, then is dried out. Most commonly malted grains are used in beer and other alcoholic beverages.
Malted grains may also be used in making other foods, like malted milk, malt vinegar, and candies like malted milk balls.
Different types of cereal grains can be used for malting, but the most common is barley.
Read on: Is barley gluten-free?
What is barley malt?
Barley malt is the grain that many manufacturers use to make beer. Just like I described above, barley malt or malted barley is when barley grains have been soaked in water, then germinated to sprout.
Once the grains have sprouted, the sprouting process is stopped by heating the grains and drying them. Depending on the temperature that's used to dry the barley, a beer may turn out different in color and flavor.
A lower temperature used to make barley malt will produce a lighter colored beer, whereas a high temperature will make very dark beers like stouts and porters. Middle-range temperatures can make amber-colored beers and brown beers.
Is all malt made of barley?
Nope, you can have malt made from various different grains. Barley is the most common grain used, and the one you're most likely to find in ingredient lists, but it is possible to malt other types of grains.
Malted rice and corn and rice are also ingredients you may find on ingredient lists for different foods.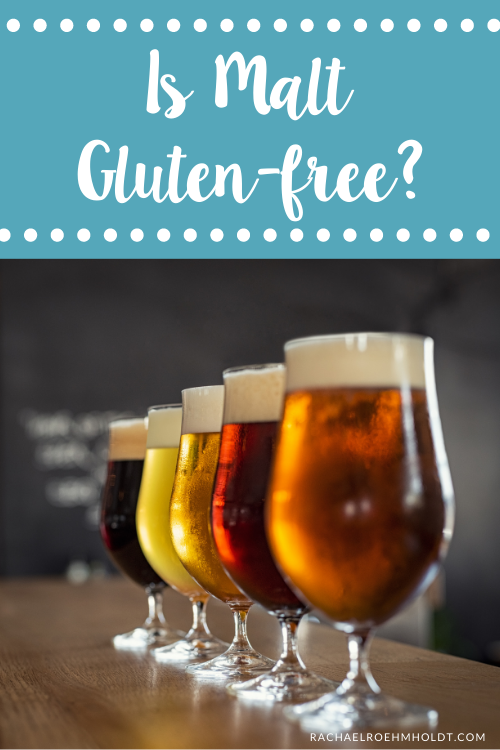 What is gluten?
Gluten is a protein found in most wheat products, and acts as the "glue" that helps to hold wheat, barley, kamut, spelt, farro, durum, bulgur, rye, and semolina together to maintain their shape.
Many processed foods have hidden gluten in them in the form of gluten or wheat derivatives. These are also in the form of flavorings, binders to keep ingredients together, or other additives.
There is no way to remove the gluten from a wheat product, as gluten is an integral part of wheat.
Is malt gluten-free?
Depending on the grain used, malt may or may not be gluten-free. If rice or corn is malted, this grain can be gluten-free if no other gluten-containing grains have come into contact with it during manufacturing.
If the grain is not stated in the ingredient list and only says "malt," you'll want to avoid that food. Malt when used generally will likely mean barley is used. Barley contains gluten and is not safe to enjoy on a gluten-free diet.
Is barley malt gluten-free?
Barley malt is not gluten-free, as barley contains gluten and is not removed unless the product has been distilled.
For example, barley malt used in beer contains gluten, but barley malt used in whiskey does not, because the drink has been distilled and the gluten proteins get removed during the distillation process.
If barley malt is listed in an ingredient list, you can always assume this product contains gluten and should be avoided on a gluten-free diet. As an example, malt beverages like Smirnoff Ice and Twisted Tea contain gluten.
Read on: Does beer have gluten?
Read on: Is whiskey gluten-free?
Read on: Is Twisted Tea gluten-free?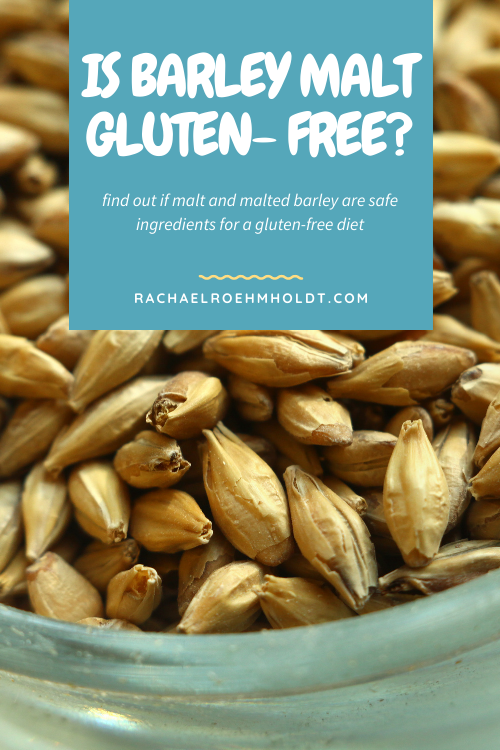 Is barley malt extract gluten-free?
Barley malt extract is a tricky ingredient, because although it says two terms that will give you a red flag for gluten – "barley" and "malt," barley malt extract very well can be considered gluten-free.
It's confusing, but I did a little research and found out this information on barley malt extract from Jessica's Gluten-free Kitchen:
"The level of gluten in barley malt extract & barley malt vinegar extract CAN be coeliac safe but you need to check. You can't tell whether the product is coeliac safe just by looking at the ingredients list. As a result, you need to do a little extra work."
That extra work comes in the form of two different tasks: reviewing the food packaging for a gluten-free label and a "may contain" warning if there's a possibility of cross contamination with gluten during manufacturing. And to contact the manufacturer if there's still no obvious answer if the product is gluten-free.
The idea is that if barley malt extract is used in such a small quantity in that food product and the amount is less than 20 parts per million, then the food can be labeled and considered gluten-free. If there's any doubt, those two extra steps of reviewing labels on the packaging or contacting the manufacturer will help you get the answers you need.
Is malt flavor gluten-free?
Malt flavor or malt extract is generally considered to contain gluten. Unless a product specifically states that the malt is derived from a gluten-free grain and there is a gluten-free label on the packaging, I'd err on the side of caution and assume that malt flavor contains gluten and should be avoided on a gluten-free diet.
Read on: Which whole grains are gluten-free?
Read on: Is malt flavor gluten-free?
Is malt vinegar gluten-free?
Malt vinegar is generally considered to contain gluten as it is not distilled, so the gluten from the barley is still present in this product. Most other vinegars are gluten-free, so swap this type out for another type of vinegar to make sure you're sticking with your gluten-free diet.
That said, among the gluten-free and Celiac community, thoughts around whether or not malt vinegar is truly gluten-free has been a bit controversial. Many folks say that the amount of gluten that's left in malt vinegar after the fermentation process is so little (less than 20ppm) that this could be considered safe for folks on a gluten-free diet.
My opinion is that you should do what you think is best for your body and what you know about how you can tolerate trace amounts of gluten. For me, even though I know my body can tolerate small amounts of gluten, I don't really like to take any chances.
Swapping out malt vinegar for another type of vinegar in my kitchen is easy and if I happen to find a food at the store with malt vinegar, there's likely other ingredients in that food that already contain gluten and I'll be avoiding it anyway.
Do what works best for you and use your best judgement based on how you know your body handles gluten reactions.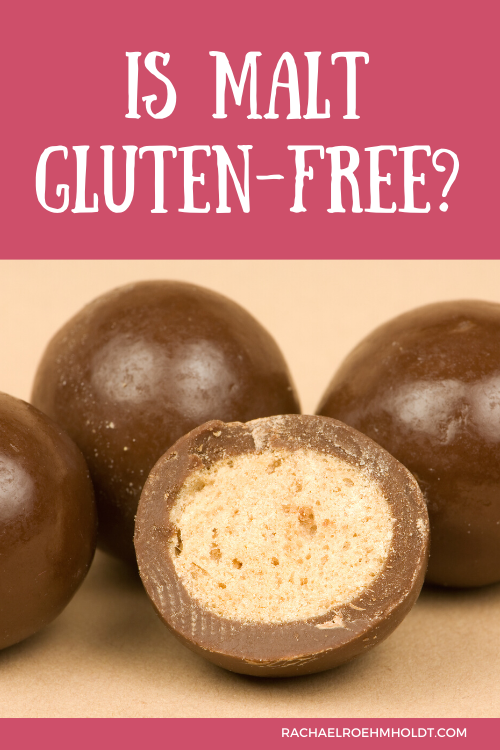 Is malted milk gluten-free?
Malted milk and malted milk powder contains malted barley and wheat flour, making this not a good option for folks on a gluten-free diet. This includes candies like malted milk balls, as well.
If you've been wondering how malt fits into a gluten-free diet, I hope this information helps you decipher ingredient lists next time you're shopping.
Most products with malt contain gluten, but it is possible for some products to be gluten-free with certain terms, like "barley malt extract" or malt vinegar if only a small amount is being used and less than 20ppm of gluten shows up in the final product.
It's a wise idea to follow up with the manufacturer for clarification on how much gluten is in a product, then make your decision from there.
f you loved this post, I hope that you'll share it with your friends on Facebook and pin it for future reference on Pinterest.
Love this post? You might also want to check out these!
Find out if your favorite foods and ingredients contain gluten with these posts!