Find out which brands of brownie mixes from the store are gluten-free and safe for a gluten-free diet.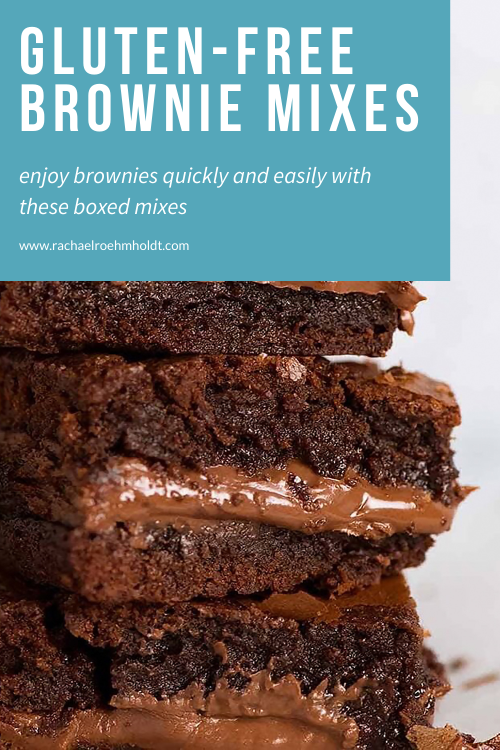 Note: I am a proud Amazon, Chomps, MunkPack, and Thrive Market affiliate and am happy to recommend their service and products to you. Please know that as an affiliate, I may receive a small commission on the products you purchase after clicking through my links. For more info, please see my disclosure policy here.
If you love brownies, you know that there are two ways you can make them: from scratch and from a boxed brownie mix.
Some circumstances call for a from scratch brownie while other times it's easier and quicker to have a boxed brownie mix on hand.
For many folks, making brownies from a box is no big deal. You can grab any boxed brownie mix and add some eggs, oil, and water – and voila! Brownies are done with very minimal thought or effort.
But if you're following a gluten-free diet like I am, you know that you have to look a little harder and be more diligent about which brownie boxed mix you pick up. You need to know which brands are safe – and to look closely at the ingredients before you buy.
Some major brands offer both a regular brownie mix and a gluten-free brownie mix, so you need to have a good look at the box and ingredients before you put it in your shopping cart.
While I love making brownies from scratch for my family, it can be nice to have a quick option on hand for when we have unexpected guests or if we want to celebrate something special spontaneously.
This post is all about wrapping up a list of gluten-free brownie mixes that you can find at the store or online to help you make quick and easy decisions at the grocery store.
Read on: Gluten-free Brownies (dairy-free, vegan) recipe
Where can I buy gluten-free brownie mix?
Many of these gluten-free brownie mixes can be found at the grocery store, but it will depend on where you shop and what your local store carries.
In this post, I've done my best to link up some online options so that you can click through to buy from Amazon or Thrive Market, my two go-to favorite places to buy gluten-free options online.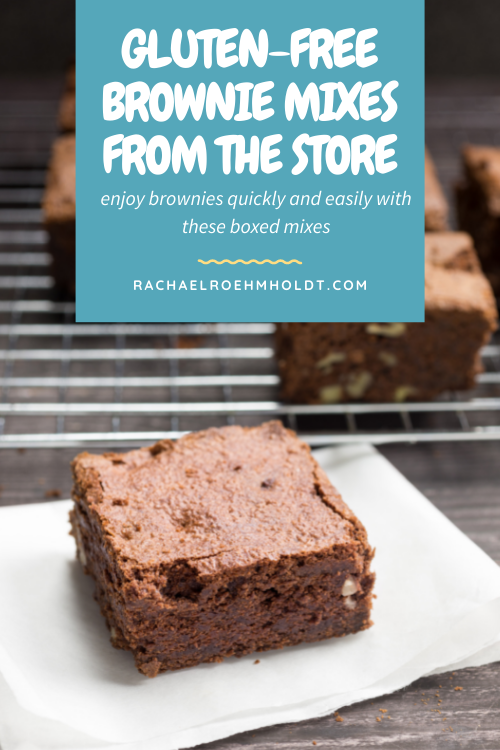 Which gluten-free brownie mix should I buy?
If you're looking for the answer as to which gluten-free brownie mix is the best, this isn't that post. I haven't tested each and every one of these brownie mixes so I won't vouch for them.
What I will say is that I tend to choose a brand and an option that I can be easily and locally. While the options I've listed here are all linked to online retailers, know that I mostly just buy what I can find at my local Fred Meyer (Kroger) or Sprouts store.
This usually works out to be the Bob's Red Mill, King Arthur, Krusteaz, and Simple Mills brands.
Are gluten-free brownie mixes dairy-free? Are gluten-free brownie mixes vegan?
It depends on the brand whether or not the gluten-free brownie mix contains dairy or have other animal products.
The options and brands I've listed in this post have both dairy, dairy-free, and vegan options. For the sake of simplicity, I've noted the dairy-free options with an asterisk in the list to help you narrow down your choices.
A surprising number of the brownie mixes I found are dairy-free, but remember that you'll still need to add ingredients to these mixes when you get them home.
While a mix may be dairy-free or vegan, the recipes on the boxes may call for milk or eggs. In this case, it might be worthwhile to substitute these for dairy-free and vegan options. If you do this though, you will likely have a different texture than what the intended box mix is created to produce.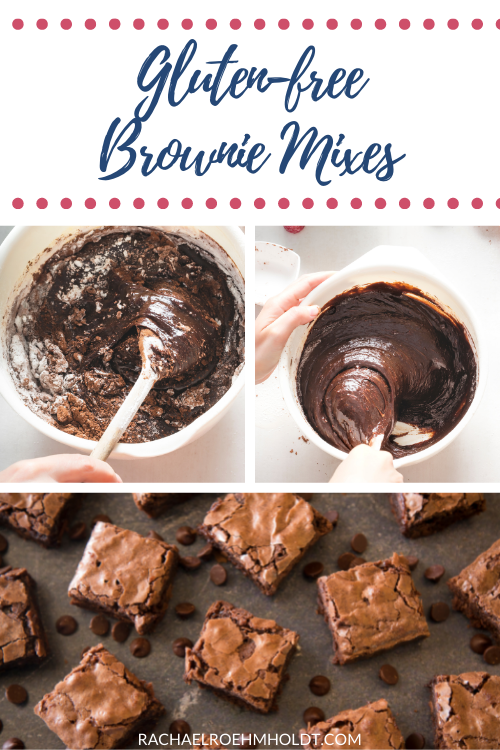 Gluten-free brownie mixes
Which brownie mixes are gluten-free? Let's go over some of the options I was able to round up from doing some searching online. You'll be able to find each of these by clicking through the links here and buying online, but it's a good idea to see which of these options you can find locally too.
The asterisks(*) marked in this list show that this brownie mix is dairy-free and safe for both a gluten and dairy-free diet.
If you love having a brownie mix on hand for those special desserts on the weekend or other special occasions, I hope this list has given you some options to search for at the store.
If you can't find these locally, I hope you'll look through a site like Thrive Market to stock up for your next baking session.
f you loved this post, I hope that you'll share it with your friends on Facebook and pin it for future reference on Pinterest.
Want more product recommendations for gluten and dairy-free foods? Check out these posts!