Find out what gluten and dairy-free items I've been buying from Thrive Market lately. Plus get a discount for your first order.
Note: I am a proud Amazon, Chomps, MunkPack, and Thrive Market affiliate and am happy to recommend their service and products to you. Please know that as an affiliate, I may receive a small commission on the products you purchase after clicking through my links. For more info, please see my disclosure policy here.
As you might know about me, I'm all about trying to find products that work for me and my gluten, dairy, and egg-free diet. While there's a lot of products (many more than there used to be!) at my local grocery stores, there are still some products that are easier for me to find online.
I've been using Thrive Market for a while now to get some of the products that I "fill in the gaps" of my diet. Or things that are just simply more expensive to buy in-store at my grocery store.
You might have seen me talk about my use of Thrive Market before. When I first started using this grocery delivery service, I did a full comparison of prices to see if it's worth it to pay for the membership. And I'll still tell you… it depends on the product, your store's prices, and local availability of items. Your mileage may vary.
For the sake of sharing something a little different, I thought it would be fun to share what I order from this service. Here's a list of products I've ordered from Thrive Market in the past year or so – and what I use them for.
My son takes these to school for lunches. My husband and I grab them in between meals sometimes for a little extra protein. We also pack these in the car and in our backpacks/purses for hikes or days out of the house.
We typically order the Chomplings, which are the half-sized beef sticks, but they also come in full sizes. Our favorite flavors are the original beef, Italian beef, and turkey sticks. What I love about them is that they're gluten-free, have 4 to 9 grams of protein per serving, no sugar, they're made with grass-fed meat that use no antibiotics or hormones. Plus, they taste really good!
There are a ton of different brands of gluten-free pasta on the market. My main go-to is from the Barilla brand. One week my store was out of all gluten-free pasta and I had a few things I needed to order from Thrive Market already. I decided to give their gluten-free pasta a try and my entire family was quite pleased with the taste and texture.
I don't buy Thrive Market gluten-free pasta exclusively, but I do when it's on sale and I can stock up. I like that their pasta is made of different ingredients too, so you're not eating all corn and brown rice pasta all the time.
Our favorites that we've ordered so far are their Organic Brown Rice Shells, Organic Rice & Amaranth Penne, Organic Red Lentil & Quinoa Fusilli, and Organic Super Grains Elbows.
Another brand of pasta that I've been buying through Thrive Market is their Banza pasta. What I love about this pasta is that it's made with chickpeas instead of just corn and brown rice flour. There's nothing wrong with that, but it's nice to mix things up once in a while and get a little extra protein from your pasta source when you have the option.
This is sold at my local grocery store and the prices are comparable at about $3.99 per box.
We've been toying around with the idea of cutting dairy back and out of my son's diet the past few months. We aren't all-in with the idea, but since he's such a big mac & cheese fan, we tried out a few options that he might enjoy.
Banza plant-based mac and cheese wasn't his favorite, but I actually didn't think it was too bad. If you don't expect a plant-based mac and cheese to taste like real cheese, you won't be disappointed, but it isn't a perfect one-for-one replacement.
I was introduced to Kevin's Natural Food products from Costco, where they sell refrigerated dinner kits with chicken and sauce. Our family's favorite was the Thai Coconut Chicken. My husband and I devour this meal every time we buy it, it's so good!
I've been so impressed by this brand – with flavors, the fact that they're gluten and dairy-free, lower sodium than other options, and not a ton of sugar. After doing a little looking around, I found out that Thrive Market sells four different options of sauces from Kevin's so we tried them all out. The sauces are great for putting on your own protein, like chicken, beef, or even garbanzo beans.
I have found this to be a really great option for a quick-dinner night if I forgot to defrost meat from the freezer or something. Thrive Market also sells their frozen food products as well as side dishes.
I use almond flour and King Arthur Gluten-free Measure for Measure flour in most of my baking. This measure-for-measure flour has comparable prices between my local store and Thrive Market, but it's more easily to get through Thrive Market. My store is often out of stock, which can be frustrating when I have plans to make something with that ingredient and can't find it.
I went on a little kick in the past few months of making chickpea omelets for breakfast and lunches. Since I don't eat eggs, I was trying out different options for how to replace them and still get the savory flavor or eggs and chickpea flour was just the ingredient I needed to make a great vegan omelet.
I wasn't able to find this locally at my grocery store the day I went looking for it, so I opted to buy it through Thrive Market since I already had a few things sitting in my cart to restock on.
While I generally use a measure for measure flour in most of my baking, I make my own gluten-free bread using a bread machine. It's something I haven't talked much about on my blog or newsletters, because I don't feel like I've really "mastered" it and I only really use one recipe from the booklet that came with the machine. Nothing fancy, just following directions.
This recipe calls for brown rice flour, so I stock up on this through Thrive Market when my local store is out of it.
Potato starch is another ingredient that goes into my gluten-free, dairy-free, egg-free bread using my bread machine. My grocery store seems like it doesn't restock its packaged gluten-free flours too frequently and they're out of this ingredient a lot, so I often buy it through Thrive Market.
I never bought electrolyte drinks or powders until about two years or so. I thought they were all hype and I never really worked my muscles hard enough to need them. However, I'd been experiencing some fatigue that was more than normal, my sister recommended trying to add electrolytes into my diet after her doctor recommended that to her.
I found a brand that I felt like was as healthy as possible and landed on Ultima. I've since bought directly from their website and through Thrive Market, but I like how quickly I can get this product through Thrive Market (usually about two days shipping).
We have the larger tubs of grape, lemonade, and watermelon. And I buy the single serve packets for when we're on-the-go or on vacation. This past winter, I even made a new warm drink with the lemonade flavor when I was sick with a cold that tasted so good and felt like it helped perk me up when I was feeling under the weather.
I've bought the Schar Honeygrams after writing a blog post about gluten-free graham crackers and learning that this brand is both gluten and dairy-free. Last summer, I kept these on hand for s'mores using our backyard fire pit, as well as bringing them to a friend's house when they had their summertime Firepit Fridays.
I've also used the ones that inevitably end up a little broken in the package to make either into a graham cracker pie crust or as a topping for dairy-free yogurt.
Most of the supplements I use I get through Amazon on a subscription basis. After doing a cost comparison, I switched to buying them through Thrive Market as they're about $2 cheaper than Amazon. And they don't carry them at the grocery store that I usually go to.
I use vitex berry to help balance my hormones and keep me from feeling like the Hulk for at least one week out of the year before my period comes.
I first bought these lollipops when my son's school had a stipulation around only bringing dye-free options when exchanging classroom Valentines. Since then, these have become our go-to lollipops and I can always rely on Thrive Market carrying them.
There are multiple flavors – all of which my son enjoys – and I feel better about giving him these versus other lollipops that are full of food dyes that are said to affect children's behavior.
These are essentially Skittles, but without the food dye. I tried these as a "free gift" when I was checking out through Thrive Market one time, but my family has since decided we prefer these over Skittles any day as they taste closer to real fruit.
This is another product I only tried as a "free gift" from Thrive Market, but found I really enjoyed them. They're similar to Cheetos Puffs but vegan. They come in a variety of flavors, but my favorite has been the Nacho Vibes.
If you're interested in trying out Thrive Market, it really has a ton of different options and I'd definitely recommend them as a supplemental place to shop for foods that work for your gluten and dairy-free diet.
I've never ordered something from them without getting it on my doorstep within two days. And I've tried out a number of different things over the couple years I've been subscribing to this service and have always been impressed with the fact that they seem to vet most products, making sure they're actually gluten-free or dairy-free when their labels claim to be.
If you aren't familiar with Thrive Market, they have amazing gluten and dairy-free foods, as well as supplements and probiotics.
You can check out all the great things I have to say about this service, AND get a 30% off your first order AND a free gift (up to $24 value) when you sign up for either their monthly or annual plan.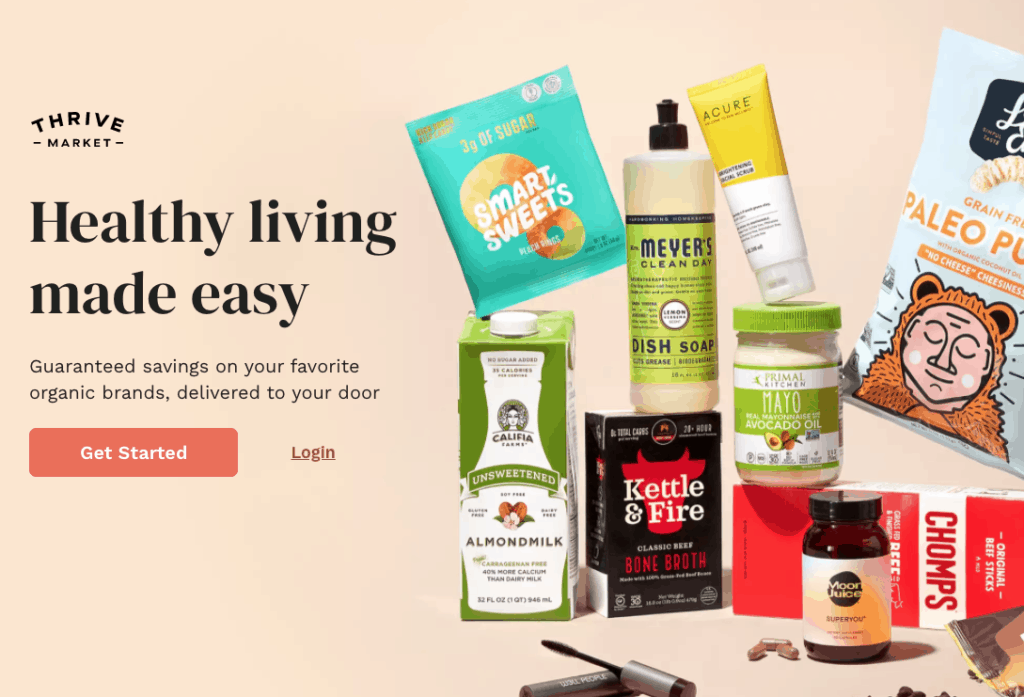 If you loved this post, I hope that you'll share it with your friends on Facebook and pin it for future reference on Pinterest.