Find out if flour tortillas are gluten-free, plus find out what brands of gluten-free flour tortillas you can shop for to use in all your favorite recipes.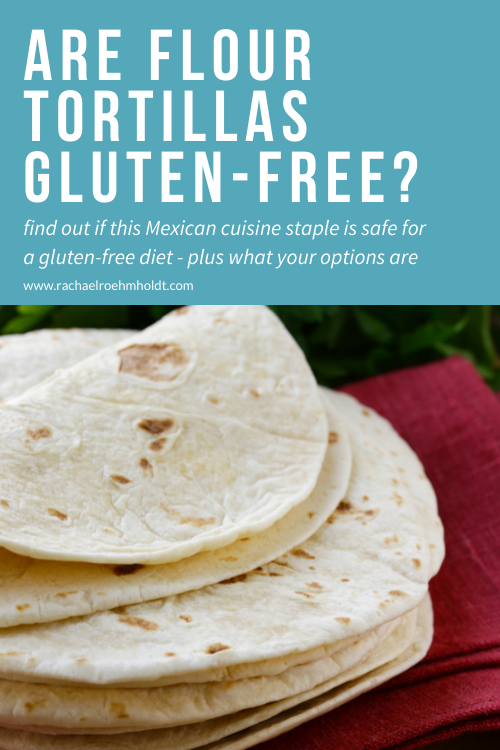 Note: I am a proud Amazon, Chomps, MunkPack, and Thrive Market affiliate and am happy to recommend their service and products to you. Please know that as an affiliate, I may receive a small commission on the products you purchase after clicking through my links. For more info, please see my disclosure policy here.
If you're a big Mexican food lover or just love the convenience of wrapping your favorite sandwich fillings in a tortilla for lunch, you're probably no stranger to flour tortillas.
This staple ingredient is used in so many popular Mexican dishes, like burritos and soft tacos, but can also be used for many other dishes as well.
A lot of people use flour tortillas for snacks, like wrapping bananas and peanut butter in them, or layering some deli meat and cheese in them and calling it a quick lunch option for kids. Flour tortillas are versatile and the perfect quick and easy option for wraps or quick meals.
If you're following a gluten-free diet, you might be aware that gluten can hide in some of the most unexpected places. While a lot of Mexican originating ingredients are gluten-free, it's important to know that not all of them are.
That's why we're digging into flour tortillas specifically here in this post. Let's learn about what flour tortillas are, what they're made from, and if they are safe for a gluten-free diet. We'll also talk about the difference between flour and corn tortillas, as well as review a list of brands of gluten-free flour tortillas you can look for at the store.
Before you pick up a package of flour tortillas or order something from a restaurant that uses them, be sure to read this post!
What are flour tortillas?
Flour tortillas are a type of tortilla that are used in Mexican cooking. They're similar to a flatbread and used as a wrap for many popular dishes, like tacos, burritos, quesadillas, flautas, and chimichangas.
Flour tortillas are made with a mixture of all purpose flour or wheat flour and lard, butter, or shortening traditionally. Store bought versions usually use vegetable shortening.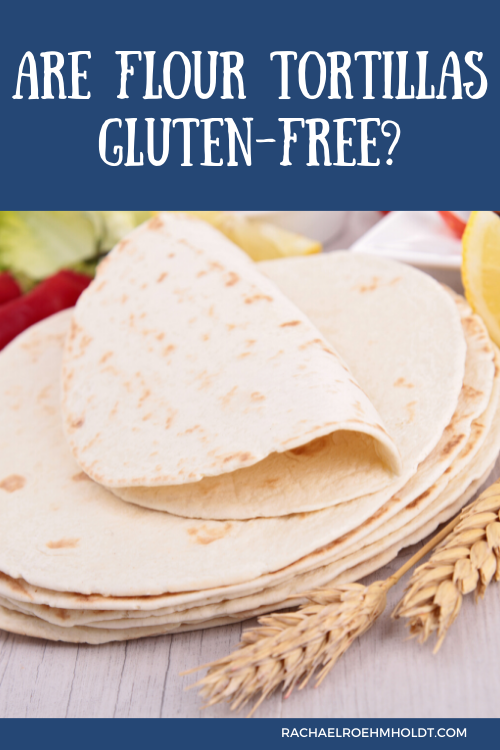 What are flour tortillas made from?
Depending on whether you use homemade or store bought flour tortillas, the ingredients will vary. However, I'm assuming that if you're reading this, you're most likely thinking about store bought options.
There are a number of different brands of flour tortillas on the market, so the ingredients may vary slightly from brand to brand. Mission and Guerrero are the brands I see most frequently at my grocery store, so let's look at these two options and see what their flour tortilla ingredients are.
Mission Soft Taco Flour Tortillas have the following ingredients:
"Enriched bleached flour (flour, niacin, reduced iron, thiamine mononitrate, riboflavin, folic acid), water, vegetable shortening (intereserified and hydrogenated soybean oils), contains 2% or less of: salt, sugar, baking soda, sodium acid pyrophosphate, distilled monoglycerides, fumaric acid, and calcium propionate and sorbic acid (to maintain freshness)."
Guerrero Soft Taco Flour Tortillas contain the following ingredients:
"Enriched bleached flour (wheat flour, niacin, reduced iron, thiamine mononitrate, riboflavin, folic acid), water, shortening and margarine blend (interesterified soybean oil, hydrogenated soybean and/or cottonseed oils, mono- and diglycerides, soy lecithin, artificial flavor, beta-carotene [color], vitamin a palmitate), contains 2% or less of: salt, yeast, molasses, sodium acid pyrophosphate, baking soda, fumaric acid, distilled monoglycerides, and calcium propionate and sorbic acid (to maintain freshness)."
What is flour made from?
Flour can be made by milling any type of grain. There are both gluten and gluten-free types of flours, depending on what grain is milled into flour.
When we hear the term "flour" without any other words in front of it, we can assume it is flour made from wheat. Enriched bleached flour and all-purpose flour are both made from wheat.
Most flour that's used in baking, unless otherwise noted, should be assumed to be made from wheat or other gluten grains.
What is gluten?
Gluten is a protein found in most wheat products, and acts as the "glue" that helps to hold wheat, barley, kamut, spelt, farro, durum, bulgur, rye, and semolina together to maintain their shape.
Gluten is naturally occurring, and therefore is impossible to strip away from the grain. If a grain naturally has gluten in it, there's no way to make that food gluten-free.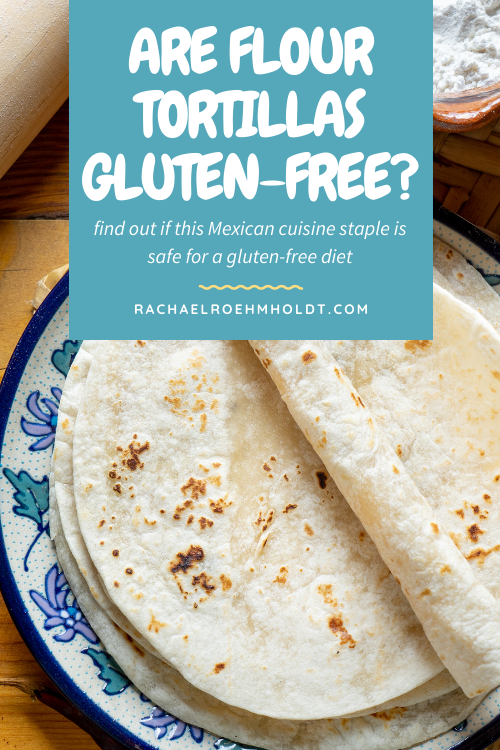 Are flour tortillas gluten-free?
Flour tortillas are not gluten-free unless otherwise noted on the label of the package. Most flour tortillas you buy in the international aisles of the grocery store contain gluten as they use enriched flour made from wheat flour.
You can be sure that the tortillas that you're eating are gluten-free if they're made using naturally gluten-free ingredients, like corn or a flour that is made from only gluten-free grains, like rice flour, tapioca or potato starch.
There are some gluten-free flour tortillas, but you'll want to look for these specifically. I've seen brown rice and cassava flour tortillas. Mission brand even carries a gluten-free flour tortilla option. Mission gluten-free flour tortillas are made with the main ingredients of modified food starch, rice flour, and vegetable shortening.
Read on: Gluten-free Mexican Food
Read on: Is flour gluten-free?
What is the difference between corn and flour tortillas?
Corn and flour tortillas differ in their main ingredients. Corn tortillas are made with masa harina corn flour, whereas flour tortillas are made using wheat flour.
Both use flour from whole grains, but one contains wheat (and therefore gluten) and the other corn.
Read on: Is corn flour gluten-free?
Read on: Do corn tortillas have gluten?
Are tortilla chips gluten-free?
Most tortilla chips made with corn are gluten-free and safe to enjoy on your gluten-free diet. I've dedicated a whole blog post to gluten-free tortilla chips so you can find some options and brands to look for at the grocery store.
Unfortunately, some tortilla chips do contain gluten, meaning you can't just grab a bag of chips off the shelf of the grocery store and assume they are gluten-free.
Some brands use both corn and wheat flour in their tortilla chip recipes, meaning they aren't safe for a gluten-free diet.
Be sure to look for a gluten-free label or review the ingredients list. You can also look for a note on the package that states the product has been produced in a gluten-free facility.
Be aware that cross contamination may occur if you find a brand of tortilla chips that have no gluten-containing ingredients, yet also don't have a gluten-free label on the package. Depending on your level of sensitivity to gluten, you may decide this is okay for you and your body – or you may not.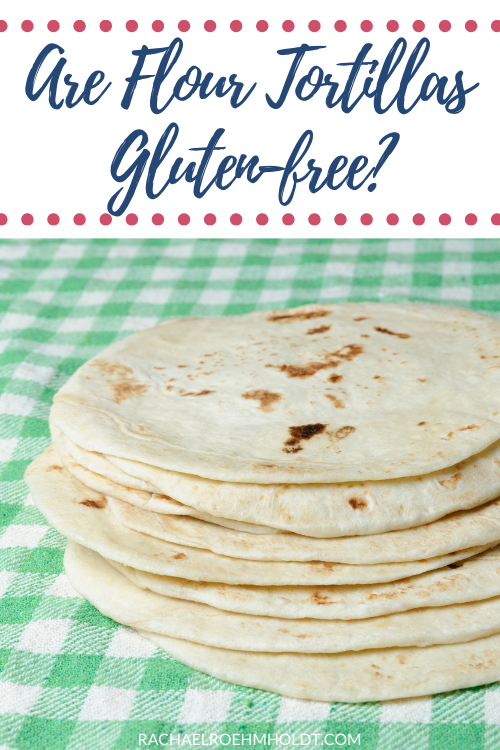 Gluten-free Flour Tortillas
If you're looking for a gluten-free flour tortilla option to add to your taco night or your favorite recipes that call for flour flour tortillas, these are some brands and options you can look for next time you're at the grocery store.
Note that most corn tortillas are gluten-free, so if you're willing to swap out your flour for corn, you may consider that as an option for replacing flour tortillas in your recipes.
Read on: Get a list of all different types of gluten-free tortillas
BFree
Gluten-free Tortilla Wraps
Food for Life
Brown Rice Tortillas
Exotic Black Rice Tortillas
La Tortilla Factory
Cauliflower Tortillas with Cassava Flour
Gluten-free Tortillas with Cassava Flour
Mikey's
Mikey's Cassava Flour Tortillas
Mikey's Cassava Flour Burritos
Chili Lime Tortillas
Super Greens Tortillas
Golden Turmeric Tortillas
Purple Power Tortillas
Sweet & Beets Tortillas
Mission
Gluten-free Original Tortilla Wraps
Gluten-free Spinach Herb Tortilla Wraps
Grain-free Tortilla Wraps made with Tapioca Flour
Almond Flour Tortillas
Cauliflower Tortillas
Rudi's
Gluten-free Plain Tortillas
Gluten-free Spinach Tortillast
Siete Tortillas
Grain-free Burrito Size Tortillas
Almond Flour Tortillas
Cassava & Coconut Tortillas
Chickpea Flour Tortillas
Cassava & Chia Tortillas
Read on: Gluten-free wraps
Read on: 25 Gluten and dairy-free Mexican casserole recipes
Read on: Are taco shells gluten-free?
If you've been looking to find out if you can enjoy your favorite Mexican dishes or other recipes that call for flour tortillas, I hope you found the information you've been looking for. Most flour tortillas contain gluten from the flour that is used in them, but there are some gluten-free tortilla options available.
It's important to look for a gluten-free label and read ingredient lists before purchasing to be sure there's no hidden gluten in that product. Pick up one of these gluten-free tortilla brands next time you're at the store and give them a try!
If you loved this post, I hope that you'll share it with your friends on Facebook and pin it for future reference on Pinterest.
Love this post? You might also want to check out these!
Find out if your favorite foods and ingredients contain gluten with these posts!