Find out what hops are, what they're used for, and if they are safe for a gluten-free diet. Plus find out if beer with hops contains gluten.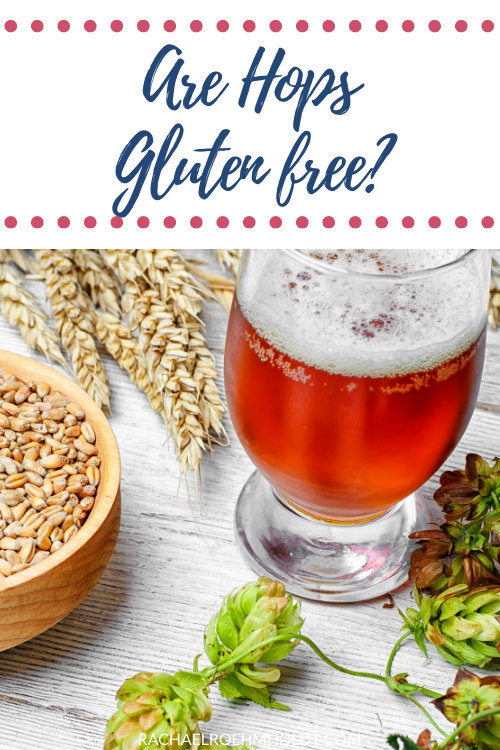 Note: I am a proud Amazon, Chomps, MunkPack, and Thrive Market affiliate and am happy to recommend their service and products to you. Please know that as an affiliate, I may receive a small commission on the products you purchase after clicking through my links. For more info, please see my disclosure policy here.
If you're working on getting started with a gluten-free diet, you may have realized that some of your favorite foods aren't on the table anymore – literally and figuratively. You may have also already learned that many beers and alcohol contain gluten too.
But what specific ingredients in beer make it so that it's not gluten-free? In this post, we're going to answer questions about hops, a common beer ingredient. We'll talk about what hops are, what they're used for, and find out if they are gluten-free.
Plus, we'll talk about if beer is gluten-free and if beer with hops is considered safe for a gluten-free diet. Of course, I'll also give you some options for what to drink on your gluten-free diet too.
What are hops?
Hope are dried flowers that are used in the process of beer making that provide bitterness, aroma, and flavor in beer. Inside each hop is lupulin, little yellow pods that contain resins and essential oils that offer those flavors and aromas that beer brewers are after in their perfect beer.
Interestingly, hops are the flowers of the Humulus lupulus plant, but this type of flower has two types – males and females. Only the female flowers are used in beer brewing.
What are hops used for?
Hops are used for the lupulin that is stored inside each hop flower pod. This lupulin is what beer makers and brewers are after to create unique flavors, aromas, and bitterness in their beers.
Craft brewers have been known to play with the different ways to use hops and extract essential oils with varying heat to create different flavors.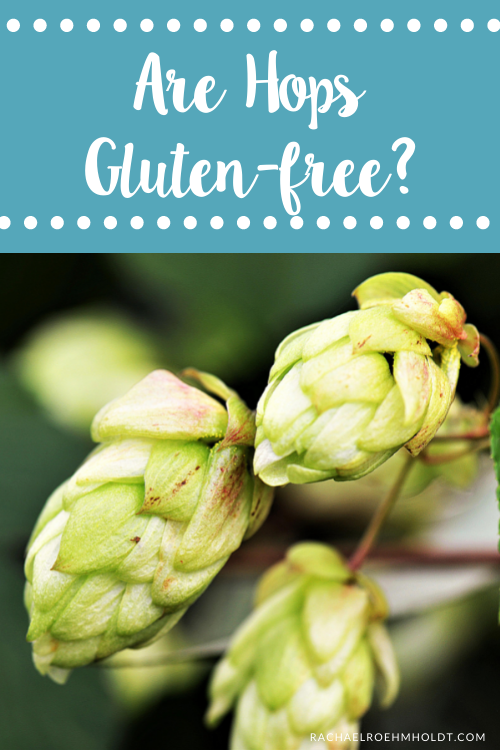 What is gluten?
Gluten is a protein found in most wheat products, and acts as the "glue" that helps to hold wheat, barley, kamut, spelt, farro, durum, bulgur, rye, and semolina together to maintain their shape.
Gluten is naturally occurring, and therefore is impossible to strip away from the grain. If a grain naturally has gluten in it, there's no way to make that food gluten-free.
Are hops gluten-free?
Hops are naturally gluten-free, as they are flowers from plants and are not related to any grains at all. Since gluten comes only from the wheat family of grains, we know that hops are considered gluten-free.
If you are wondering if you can drink beer with hops if you're on a gluten-free diet, know that the hops in the beer are gluten-free, but you'll want to be aware of other ingredients that are included.
Is beer gluten-free?
Most beer is not gluten-free as it is most commonly made with malted barley and sometimes wheat. Both barley and wheat are gluten-containing grains.
In the process of making beer, the gluten remains in the drink, as opposed to distilled drinks, such as whiskey that uses malted barley but the gluten is distilled out of the final product.
That said, there are some beer brands that make gluten-free beer using gluten-free grains, like sorghum, buckwheat, or rice. Click here to get a full list of gluten-free beer brands.
Read on: Does beer have gluten?
Read on: Is barley gluten-free? Is malt gluten-free?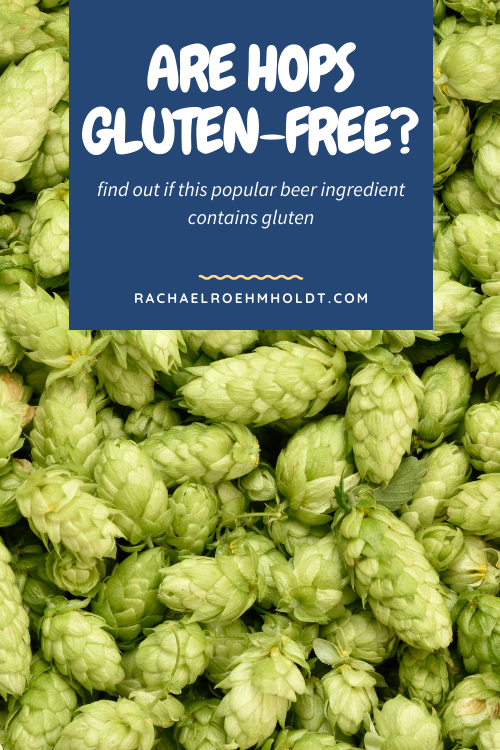 Is beer with hops gluten-free?
You may be wondering if the hops in beer are what make beer not safe for a gluten-free diet. However, it's not actually the hops at all. The barley, malted barley, or wheat that's used in beer brewing is what contains gluten.
If you were to find a beer that is made from gluten-free grains, like sorghum, rice, or buckwheat and it also has hops, it will be safe for you to enjoy assuming other ingredients in the beer do not contain gluten.
When it comes to beer, it's always a good idea to look for a gluten-free label before buying.
If you've been curious about hops and if they are safe to be in your favorite gluten-free beer or if hops themselves make a beer gluten-free, I hope this information has been helpful for you.
Hops are naturally gluten-free, however they are often paired with ingredients, like barley or malted barley in beer that are not gluten-free.
If you loved this post, I hope that you'll share it with your friends on Facebook and pin it for future reference on Pinterest.
Love this post? Check out more from the Gluten-free Alcohol Series.
Wondering which alcohol is safe for a gluten-free diet? Find out in the Gluten-free Alcohol series!