Find out if peanut butter is dairy, what it's made of, and if all peanut butter is safe for a dairy-free diet.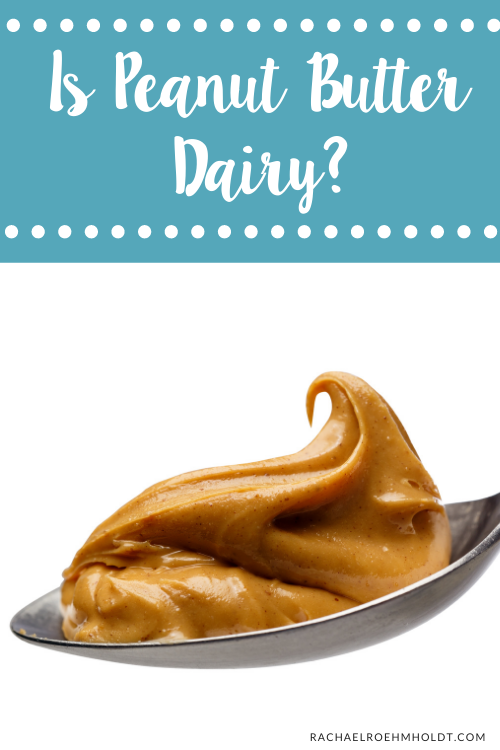 Note: I am a proud Amazon, Chomps, MunkPack, and Thrive Market affiliate and am happy to recommend their service and products to you. Please know that as an affiliate, I may receive a small commission on the products you purchase after clicking through my links. For more info, please see my disclosure policy here.
Do you love peanut butter and jelly sandwiches? Peanut butter cookies? Peanut sauce from Thai restaurants? Me too.
Peanut butter is an extremely popular food and for good reason. It's a super versatile ingredient that can be used in desserts, snack foods, quick and easy lunches, and can even be made to be a savory and delicious sauce for noodles or vegetables.
If you've ever wondered if peanut butter has dairy or if it's safe for a dairy-free diet, you're in the right place. We're diving into the topic of peanut butter and how it fits into this type of diet by answering some questions like: What is peanut butter made from? Is peanut butter dairy? And can you eat peanut butter if you're dairy-free?
If you're like me and are following a dairy-free diet for health reasons, you're probably dying to know the answer to whether or not you can keep this ingredient in your diet. So let's get to it!
What is peanut butter?
Peanut butter is a spread that's made from ground peanuts. This spread is used on sandwiches, crackers, toast, in cookies, and even in salad dressings or savory sauces like peanut sauce.
While it's not only found in the United States, peanut butter is a huge consumer of this ingredient.
People love peanut butter, because it's sweet, creamy (or crunchy), and full of protein and fats. Though it is not truly "butter" as you'd think of as a product made from cream and milk, peanut butter gets its name from its smooth consistency.
It's similar to other nut butters, like almond butter, cashew butter, and even sesame seed butter.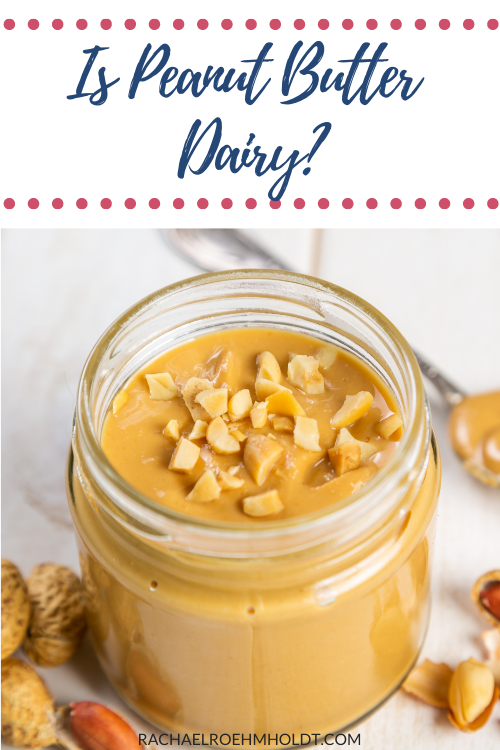 What is peanut butter made from?
Peanut butter in its most basic form is made from ground peanuts. You can find many different brands of peanut butter with just one single ingredient: peanuts. Or you can find peanut butter options that are made with extras that will change the flavor, texture, and add preservatives to make it a unique product.
Many manufacturers add oil, sugar or other sweeteners, or salt. Still others may add things like corn syrup, soy protein, and other preservatives to their peanut butters.
Though peanut butter can last for a little while at room temperature, many manufacturers add preservatives to keep them shelf stable for over a year. This makes some peanut butter great for emergency supplies, so you can stock up and be prepared for quite a while without having to replenish.
In my opinion, the best peanut butters come with the least amount of ingredients – usually just peanuts. These are closest to nature, and they have the smallest amount of potential for hidden gluten in them (if you are also following a gluten-free diet).
My favorite place to get peanut butter is in the grind-it-yourself machines at my local grocery store, but my next favorite is the organic peanut butter from Costco.
Read on: Are peanuts gluten-free?
Read on: Gluten-free peanut butter cookies
What is dairy?
Dairy is a general name for ANY food that is made from milk. Technically, this is any food made from cow's milk or goat's milk or sheep's milk. Any animal milk is dairy.
However, mostly when we're talking about dairy, we're talking about drinking cow's milk, because that's what is most popular here in the United States.
Is peanut butter dairy?
Because the name "peanut butter" has the word "butter" in it, you may assume that peanut butter contains dairy. However there's almost always no dairy in most peanut butters you'll find at the grocery store.
That said, if you buy flavored peanut butter, like those that come with chocolate swirls or chocolate added to it, these may contain dairy. It's never a bad idea to review ingredients lists of packaged and processed foods before buying to ensure there's nothing in the ingredients that contains dairy and might surprise you.
Read on: 20 gluten-free dairy-free peanut butter cookie recipes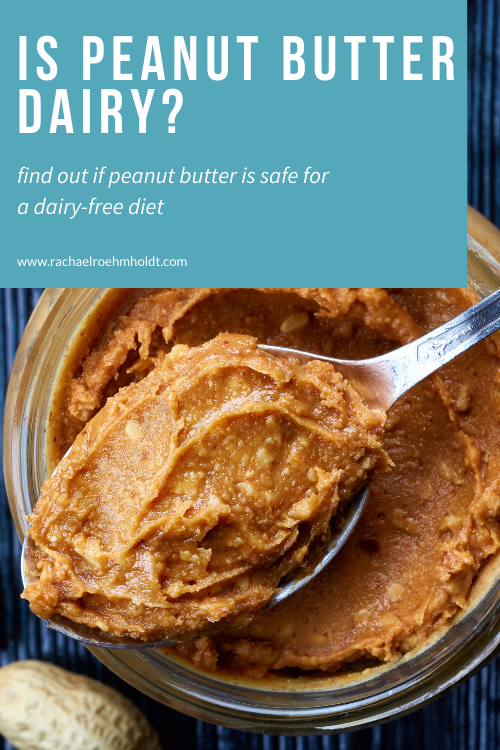 Can you eat peanut butter if you're dairy-free?
If you follow a dairy-free diet, you can safely enjoy most peanut butter without any cause for concern. Most peanut butter will have no added dairy, and since peanut butter is naturally dairy-free, you can feel okay about eating this food in your diet regularly.
If you eat a flavored peanut butter, like one with chocolate, you'll want to be aware of any added ingredients that may contain milk or other dairy products. Review ingredients to be sure before buying any brand of peanut butter off the shelf at the store.
Are all peanut butters dairy-free?
Of course like most anything, we can't say that 100% of all peanut butter everywhere is dairy-free, but the vast majority is.
Most peanut butter that is made with just one ingredient (peanuts) and no other additives will always be dairy-free. The peanut butters that have extra ingredients are always worth reviewing ingredients lists to make sure there's nothing hidden that may contain dairy.
If you're following a dairy-free diet, you can almost certainly enjoy most peanut butter without any need to pause and check on this ingredient.
Is peanut butter vegan?
Most peanut butter is vegan, however like a lot of other foods, it's not always.
Some brands and types of peanut butter contain animal products or share manufacturing equipment with other foods that do. Some brands use flavorings and sweeteners in their peanut butter that have honey, so this would be an ingredient to also look out for.
If you're on a vegan diet, review the ingredients lists for anything that stands out to you before purchasing.
Is peanut butter gluten-free?
Peanut butter is most commonly gluten-free. Like with everything else in this post, it depends on the brand and flavor.
The best option if you're trying to stick with a gluten-free diet is to choose a brand that has the least amount of ingredients as possible (like only peanuts or peanuts and oil). The more ingredients that are added to the peanut butter, the higher the chance of cross contamination and the inclusion of gluten somewhere along the processing line.
There are plenty of brands of peanut butter that are gluten-free, but as always do your due diligence in looking at ingredients lists and a gluten-free label if you're extremely sensitive to gluten or Celiac.
Read on: Is peanut butter gluten-free?
Read on: Gluten-free peanut butter brands
If you've been wondering if peanut butter has dairy and if it's safe for your dairy-free diet, I hope this post has helped you get the answers you've been looking for.
Most peanut butter does not contain dairy, so feel free to pick up your favorite brand at the store (look over the ingredients just in case!) and get back to making your favorite sandwiches and peanut butter cookies.
If you loved this post, I hope that you'll share it with your friends on Facebook and pin it for future reference on Pinterest.
Love this post? You might want to check these out!
Find out if your favorite foods and ingredients contain dairy with these posts!