Find out what Kettle Chips are, what flavors and varieties they come in, and whether or not they are safe for a gluten-free diet.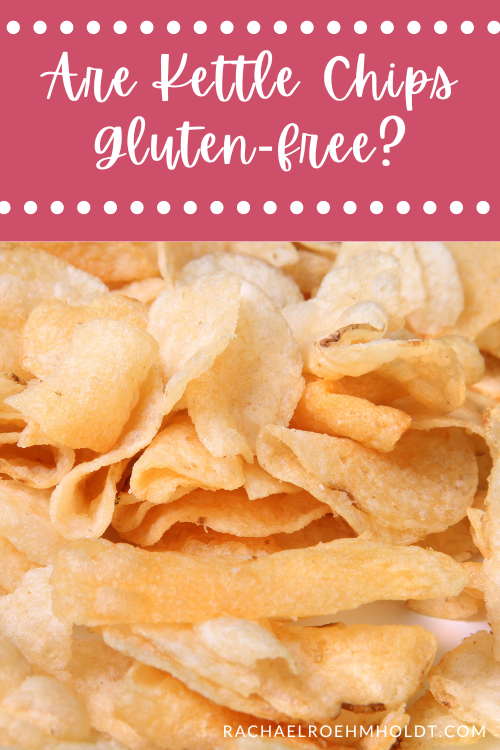 Note: I am a proud Amazon, Chomps, MunkPack, and Thrive Market affiliate and am happy to recommend their service and products to you. Please know that as an affiliate, I may receive a small commission on the products you purchase after clicking through my links. For more info, please see my disclosure policy here.
If you like to grab a bag of chips or two for a gathering or like to have them on hand for a quick side for easy lunches or warm weather dinners, you may have tried Kettle Chips.
Their labels are simple yet eye-catching so it's hard to miss them at the store. With big bold letters on colorful bags, it's easy to see why they're such a popular choice for people who love to snack.
If you're on a gluten-free diet or just getting started with one, you may have wondered if this specific brand is going to be a good snack option for you moving forward. This is the place you'll want to be if you have questions about Kettle Chips.
In this post, we're going to talk about what Kettle Chips are, what sets them apart from other brands of potato chips, and what flavors and varieties they come in.
We'll also talk about what ingredients are used in their recipes and find out if this brand is considered safe for folks on a gluten-free diet.
If you also avoid dairy in your diet, we'll answer that big question too – are Kettle Chips dairy-free?
If you love Kettle Chips, keep on reading!
What are Kettle Chips?
Kettle Chips are a brand name of potato chips that are popular for their big flavors, crunchy texture, and small batched cooking.
The term "kettle cooked" means they're cooked in small batches instead of like many other potato chip brands that are cooked using a "continuous frying" method while on a conveyor belt in a big assembly line.
Kettle Chips got its start in 1978 out of the back of a van, according to the brand's website. What a fun origin story of this very famous potato chips brand that it's come to be!
One thing that's interesting about Kettle Chips is their commitment to transparency and that they partner with specific farmers to make their potato chips. On their website, they currently feature six different farms where all their potatoes are sourced from.
You can even use their "Tater Tracker" to put in the code that's found on every single bag of Kettle Chips to find out which farm the potatoes in that particular bag came from. Pretty fun!
Finding Kettle Chips is pretty easy. You can buy them at most grocery stores and convenience stores all across the US. If you're looking for where you can get specific flavors, you can use their Where To Buy feature on the brand's website.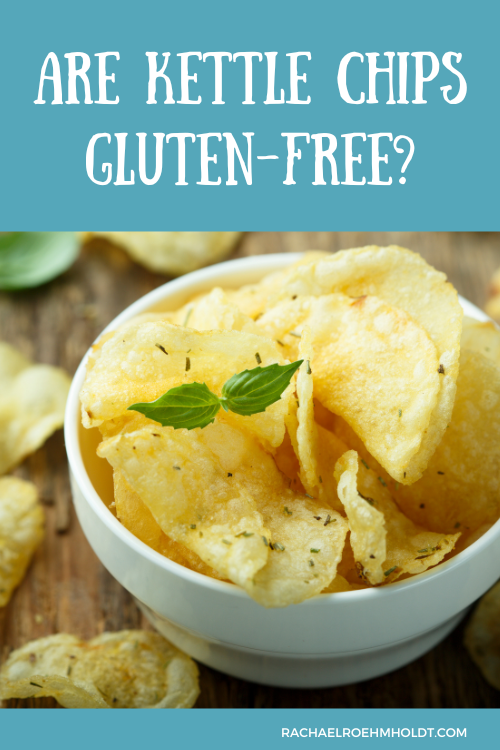 What flavors and varieties do Kettle Chips come in?
Kettle Chips come in quite a few different flavors as well as a few varieties. Here is their current product lineup:
Classic Flavors
Jalapeno
Honey Dijon
Farmstand Ranch
Bourbon BBQ
Backyard BBQ
Korean BBQ
Less Fat Sea Salt
New York Cheddar
Parmesan Garlic
Pepperoncini
Sea Salt
Sea Salt & Vinegar
Sour Cream & Onion
Unsalted
Krinkle Cut Flavors
Krinkle Cut Dill Pickle
Krinkle Cut Habenero Lime
Krinkle Cut Salt & Fresh Ground Pepper
Krinkle Cut Truffle & Sea Salt
Organic Flavors
Organic Country Style Barbecue
Organic Salt & Fresh Ground Pepper
Organic Sea Salt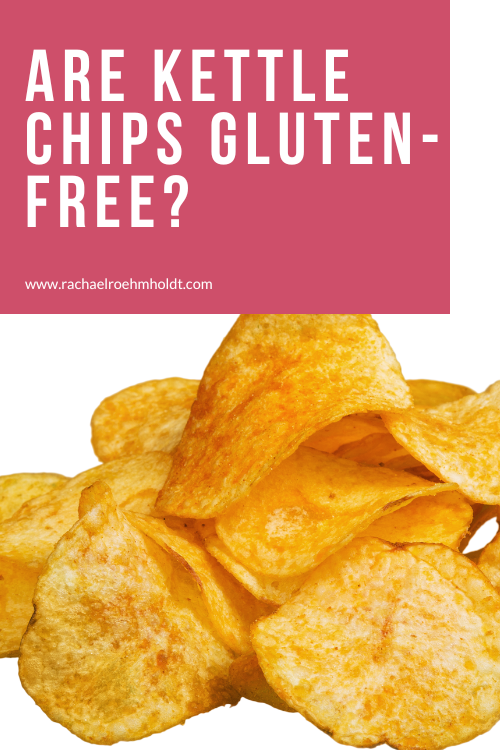 Ingredients in Kettle Chips
The ingredients in Kettle Chips will vary flavor to flavor, so let's go over a few different flavors to get an idea of what this brand uses in their potato chips.
Here is what you can expect to find in Kettle Brand Sea Salt Chips, according to the website:
"Potatoes, Safflower and or/Sunflower and/or Canola Oil, Sea Salt."
Their Backyard Barbecue flavor contains these ingredients:
"Potatoes, Safflower and/or Sunflower and/or Canola Oil, Organic Dried Cane Syrup, Sugar, Salt, Paprika, Onion Powder, Yeast Extract, Tomato Powder, Torula Yeast, Garlic Powder, Chili Pepper, Natural Flavor (including Smoke), Citric Acid."
The Kettle Brand Krinkle Cut Dill Pickle flavor has these ingredients:
"Potatoes, Safflower, And/or Sunflower, and/or Canola Oil, Maltodextrin, Salt, Garlic Powder, Vinegar, Sugar, Yeast Extract, Onion Powder, Natural Flavor, Spice, Citric Acid, Parsley."
What is gluten?
Gluten is a protein found in most wheat products, and acts as the "glue" that helps to hold wheat, barley, kamut, spelt, farro, durum, bulgur, rye, and semolina together to maintain their shape.
Gluten is naturally occurring, and therefore is impossible to strip away from the grain. If a grain naturally has gluten in it, there's no way to make that food gluten-free.
Gluten or other wheat derivatives are sometimes added to foods as a flavoring or binder.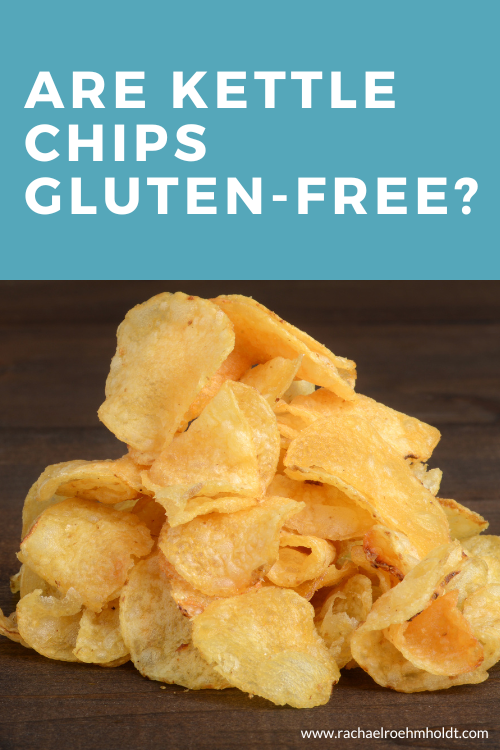 Are Kettle Chips gluten-free?
The Kettle Brand website confirms that "Kettle Brand® Potato Chips are gluten free and certified by the Gluten-Free Certification Organization (GFCO)."
You can also look for a certified gluten-free label on the bags you find at the store and find this on every package.
This is one brand you don't have to worry about when it comes to gluten – hurray! All flavors and varieties are gluten-free.
Read on: Are potato chips gluten-free?
Read on: Gluten-free chips
Are Kettle Chips dairy-free?
Some flavors of Kettle Chips contain dairy ingredients, like their Farmstand Ranch, New York Cheddar, Parmesan Garlic, and Sour Cream & Onion.
In the flavors that do not have dairy ingredients, this is what the Kettle Brand has to say about dairy in their potato chips.
"Our products are processed on equipment shared with ingredients that contain very small amounts of dairy. We thoroughly clean our lines after each flavor run, but there is a slight potential of cross contamination."
If you love Kettle Chips and have been wondering whether or not this brand is one you can continue to enjoy while following a gluten-free diet, I hope this information has been helpful for you.
f you loved this post, I hope that you'll share it with your friends on Facebook and pin it for future reference on Pinterest.
Love these snack ideas? You might also want to check out these posts!
Get tons of snack ideas from this list of gluten and dairy-free posts all about snacks!