Find out what eel sauce is, what it's made from, used for, and if it's safe for your gluten-free diet. Take the guesswork out next time you buy sushi!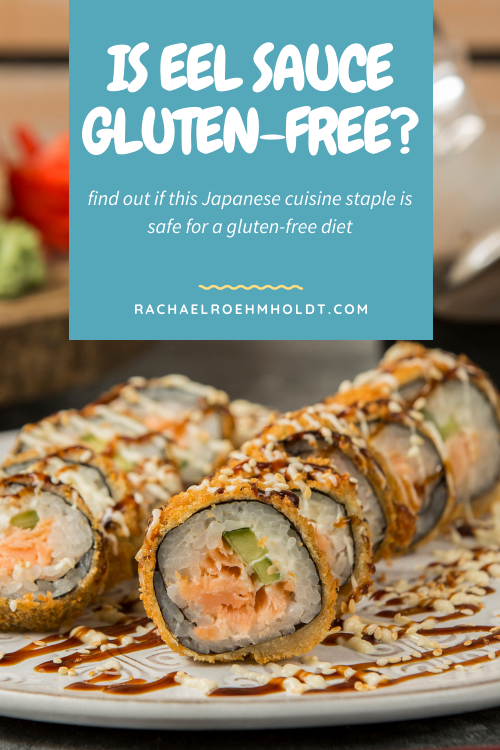 Note: I am a proud Amazon, Chomps, MunkPack, and Thrive Market affiliate and am happy to recommend their service and products to you. Please know that as an affiliate, I may receive a small commission on the products you purchase after clicking through my links. For more info, please see my disclosure policy here.
If you've been to a sushi restaurant or Japanese restaurant lately, you may have seen dishes served with "eel sauce." At first hearing that name, you might be like me and think it sounds gross. A sauce made from eel?! Ehh, I'm not sure about that.
Once we learn a little more about this condiment and why it's so beloved in Japanese cuisine, we can see why it's worth it to know that there's more than what it sounds like.
In this post, we're going to put your mind at ease when it comes to your gluten-free diet and enjoying eel sauce.
Next time you're at a sushi restaurant or picking up sushi for takeout, or even at a Japanese restaurant that uses eel sauce as a condiment to flavor a dish, you can feel confident knowing what you're ordering.
Find out what eel sauce is and what it's made from (it might surprise you!) in this post. We'll also talk about what eel sauce is used for and what you need to know about where gluten might be hiding in this flavorful condiment.
Plus I'll share some tips on when to order eel sauce at a restaurant and when you'll want to skip it.
Let's talk about eel sauce!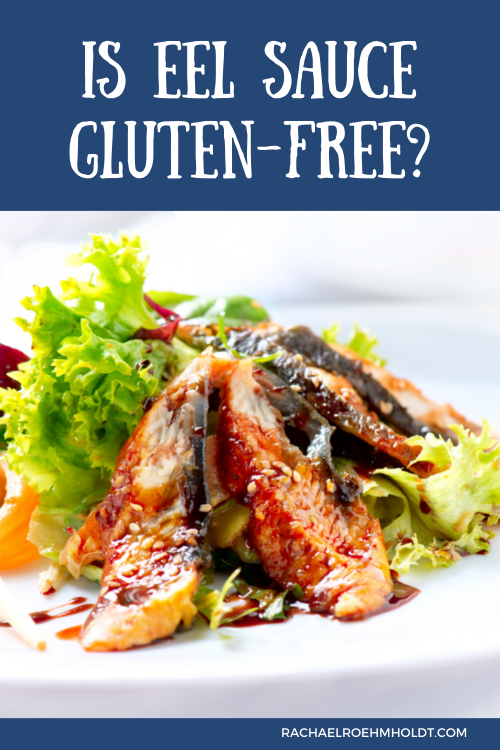 What is eel sauce? Is there eel in eel sauce?
Eel sauce is a type of sauce or condiment used in Japanese cuisine. It's a sweet, savory, and umami sauce that's brown in color and used for grilled eel dishes.
Though the name "eel sauce" makes many people think that it's made from eels, it's actually a sauce that's used to flavor eel dishes. It can also be used for flavoring other dishes that call for salty and sweet, like other grilled proteins like chicken or fish.
One of the most popular places you'll find eel sauce in the US is served with sushi. It's often drizzled over rolls as a finishing sauce.
Read on: Is sushi gluten-free? What to order, what to avoid
What is eel sauce made from?
Don't worry – eel sauce is not made from eels. It's actually made from sake, mirin, sugar, and soy sauce that is reduced down to a thicker consistency.
Though folks may tell you it has a fishy taste, it's actually sweet and savory with umami flavors.
Read on: Is soy sauce gluten-free?
Read on: Is sake gluten-free?
Read on: Is mirin gluten-free?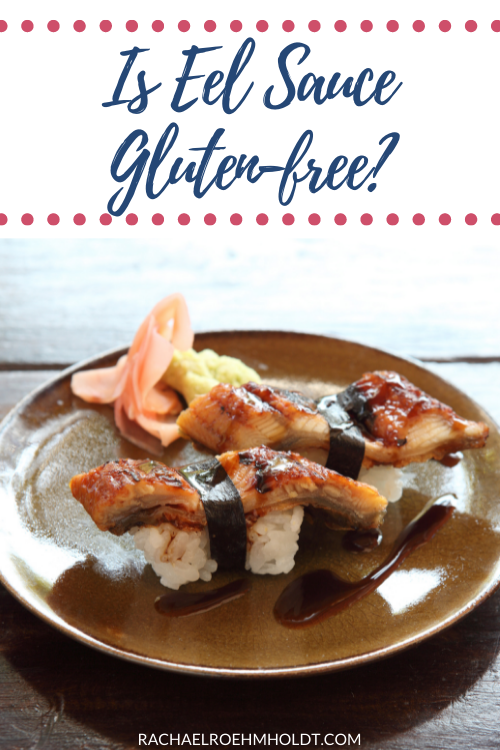 What is eel sauce used for?
Eel sauce is used to flavor grilled eel and sushi rolls. Eel sauce is often used as a drizzle on sushi rolls or can be served on the side to drip or drizzle it yourself.
Eel Sauce can also be used to add depth to other grilled dishes like chicken, fish, tofu, meat,or mushrooms. I've seen eel sauce used in tuna poke bowls.
You don't have to use this ingredient in a way you've seen it used before either. Get creative by using it on a salad, seasoning rice, or as a popcorn topper.
What is gluten?
Gluten is a protein found in most wheat products, and acts as the "glue" that helps to hold wheat, barley, kamut, spelt, farro, durum, bulgur, rye, and semolina together to maintain their shape.
Gluten is naturally occurring, and therefore is impossible to strip away from the grain. If a grain naturally has gluten in it, there's no way to make that food gluten-free.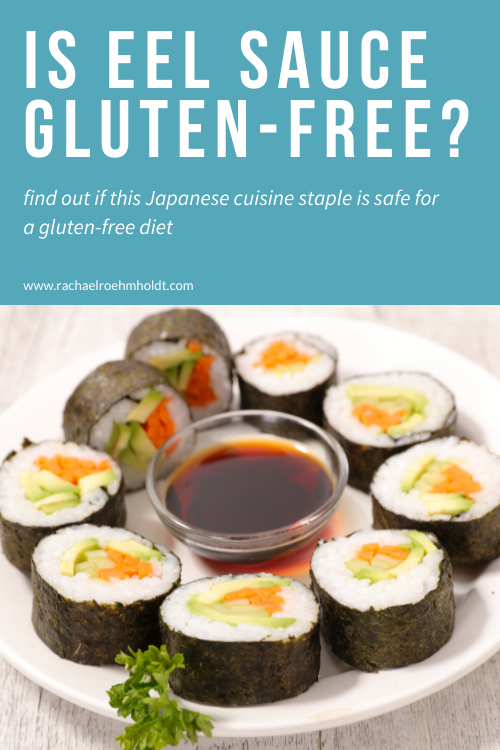 Is eel sauce gluten-free?
Eel sauce may or may not be gluten-free, because one of the main ingredients, soy sauce, can contain gluten. The other ingredients, sake, mirin, and sugar are all naturally gluten-free, but you'll want to know which type of soy sauce is used in eel sauce if you're at a restaurant.
Traditional Chinese soy sauce contains wheat, whereas Japanese soy sauce called tamari does not. While the two taste almost identical in flavor, tamari soy sauce will be safe for a gluten-free diet while Chinese soy sauce will not be.
If you are at a sushi or Japanese restaurant, you may want to ask what type of soy sauce is used in their eel sauce before ordering. If it is not tamari, you'll likely want to skip ordering this sauce at a restaurant.
That said, you can easily make your own eel sauce at home using the four main ingredients. Use a gluten-free Japanese tamari soy sauce to ensure all ingredients are gluten-free and you have a great addition to some homemade sushi or a huge punch of flavor from adding eel sauce to your grilled chicken or fish recipes.
Read on: Top 5 gluten-free soy sauce brands
Read on: Is tamari gluten-free?
Read on: Gluten and dairy-free diet: 4 restaurant tips
If you're interested in some other common Japanese ingredients and how they fit into a gluten-free diet, you might want to check out some of these posts.
If you love sushi or have been wondering if eel sauce can be enjoyed on a gluten-free diet, it's best to know what the source of the soy sauce is. Don't be afraid to enjoy this sauce, but only when you know the ingredients.
If you can't confirm the ingredients, you may want to try your hand at making your own version at home and bringing it with you to a restaurant or even making your own sushi and sauces at home.
If you loved this post, I hope that you'll share it with your friends on Facebook and pin it for future reference on Pinterest.
Love this post? You might also want to check out these!
Find out if your favorite foods and ingredients contain gluten with these posts!