Find out what wasabi is made of and if this popular Japanese condiment is safe for a gluten-free diet. Plus some gluten-free wasabi brands.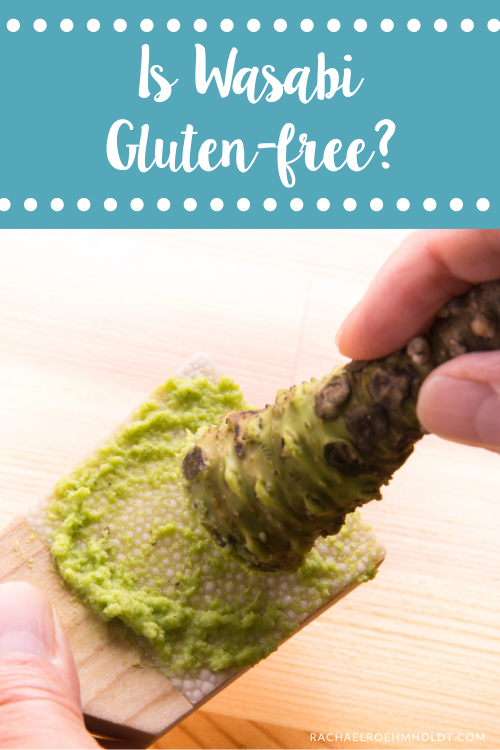 If you love sushi, poke bowls, or Japanese food, you're probably no stranger to wasabi. This green paste packs a punch and can be found on the side of many sushi rolls and other dishes at many Japanese restaurants worldwide.
If you follow a gluten-free diet, you know that gluten can hide just about anywhere – condiments included! In this post, we're taking a good look at wasabi and what you may have not known about this popular green paste.
Find out what wasabi is, what it's made from, how to spot the difference between a real and imitation wasabi, and find out if this ingredient is safe for your gluten-free diet.
We'll wrap this post up with a list of some brands that carry at least one gluten-free wasabi paste, powder, sauce, or spread in their product lineup to help you make an easy and informed decision next time you're at the store or chatting with a server at a sushi restaurant.
Let's get into wasabi!
Read on: Is sushi gluten-free? What to order, what to avoid
What is wasabi?
Wasabi is a condiment in the form of a light green paste that's served with sushi most commonly. It's what we know of as wasabi anyway, but oftentimes wasabi that we get at restaurants and at grocery stores isn't true wasabi.
So what is wasabi? It's the ground up rhizomes (kind of like a root) of a Wasabia japonica plant. It's spicy hot in flavor and has a brightness that you can taste. It's a strong flavor so a little goes a long way in dishes that you add it to.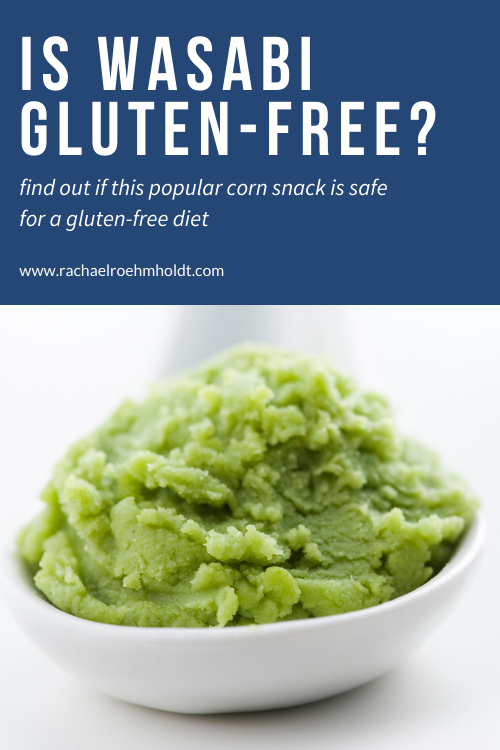 What is wasabi made from?
True wasabi is made from the rhizomes of a Wasabia japonica plant, but most restaurants and stores sell a fake version of wasabi that's made with horseradish, radishes and sometimes mustard. These spicy flavors offer a good imitation of wasabi, but they aren't a true wasabi.
It's said that an imitation or fake wasabi is too strong in flavor and will overpower the flavor of the fish that's used in sushi or poke bowls.
What is gluten?
Gluten is a protein found in most wheat products, and acts as the "glue" that helps to hold wheat, barley, kamut, spelt, farro, durum, bulgur, rye, and semolina together to maintain their shape.
Gluten is naturally occurring, and therefore is impossible to strip away from the grain. If a grain naturally has gluten in it, there's no way to make that food gluten-free.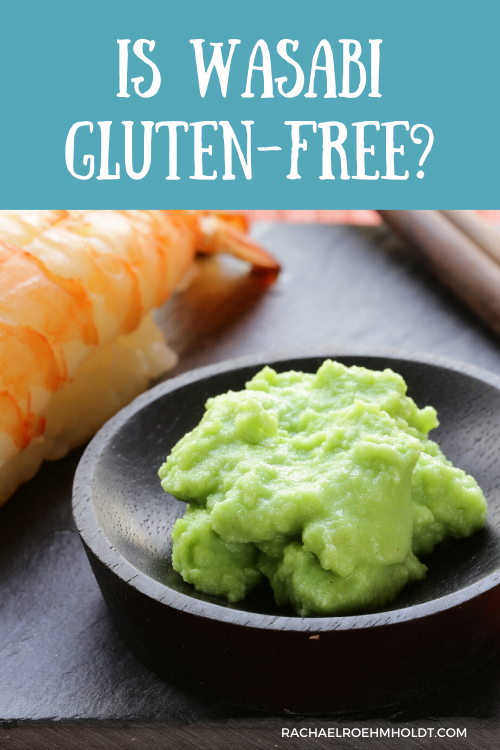 Is wasabi gluten-free?
Real wasabi is naturally gluten-free, because it isn't made with any gluten containing grains or ingredients. Fake or imitation wasabi may or may not be gluten-free, depending on the ingredients used and the quality of those ingredients.
To help you identify a real versus fake wasabi, you can see what the texture is like. A real wasabi is served freshly grated, whereas a fake or imitation wasabi is more creamy and pasty.
Imitation wasabi may not be gluten-free, because some brands have wheat starch in their ingredients to thicken the consistency of the wasabi. Others may use cornstarch or another starch.
It's most common for restaurants to serve imitation wasabi instead of fresh wasabi, so it's important for you to know what's being served on your gluten-free diet. If you are at a restaurant, you may want to ask to have a server or chef review the ingredients for you and help you identify if the ingredients contain wheat or other gluten ingredients.
If you make your own sushi at home or other Japanese dishes, it's a good idea to review the ingredients of a wasabi that you purchase from the store to help you know if it is gluten-free or not.
One of my little secrets is that I carry around a copy of my GFDF Take Along Cards so that I always have a point of reference when I can sneak a peek at the ingredient list of a food.
>> Get your copy of the GFDF Take-Along Cards to make this easy on you.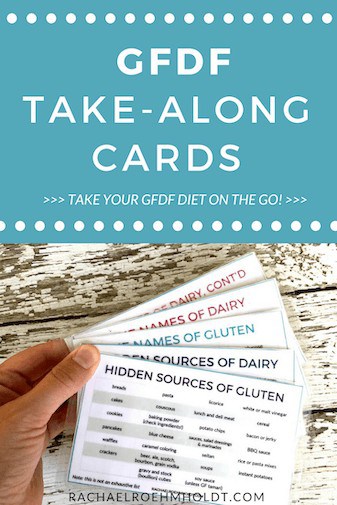 Read on: Is cornstarch gluten-free?
Brands of gluten-free wasabi
If you're looking to buy a wasabi that's safe for your gluten-free diet, you may want to consider some of these brands as they contain no gluten-containing ingredients. This list includes wasabi pastes, sauces, powders, and spreads.
Note that not all products from each of these brands may be gluten-free, but they do have some options that are. Be sure to check ingredient lists every time before you buy as manufacturers can change ingredients at any time.
S&B
Eden Foods
J-basket
Kikkoman
Kinjirushi
Pacific Farms
Sau-Sea
SBIC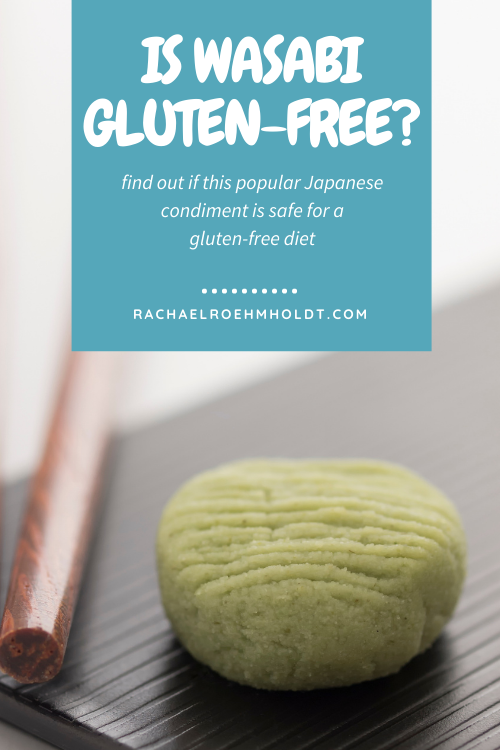 If you're interested in some other common Japanese ingredients and how they fit into a gluten-free diet, you might want to check out some of these posts.
If you love sushi, poke bowls, or other Japanese food and have been wondering whether or not wasabi is a food you can continue to eat with your favorite dishes, I hope this post has cleared up some of the confusion around this ingredient.
While real wasabi is naturally gluten-free, most restaurants and stores don't carry this ingredient.
If you loved this post, I hope that you'll share it with your friends on Facebook and pin it for future reference on Pinterest.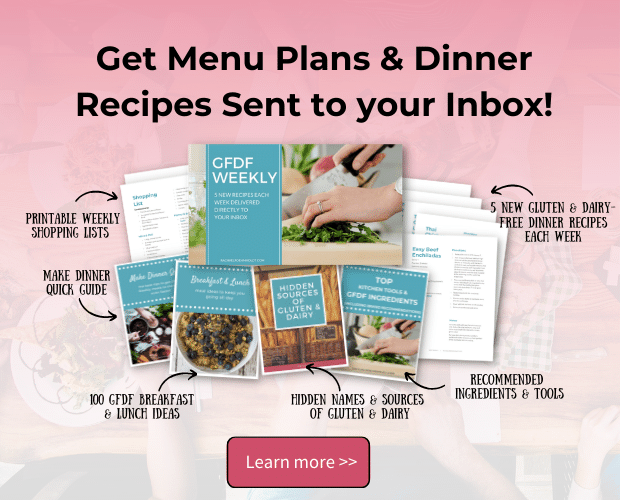 Love this post? You might also want to check out these!
Find out if your favorite foods and ingredients contain gluten with these posts!