Find out if tempura is gluten-free, what it's made from, the difference between panko, and what your gluten-free tempura options are.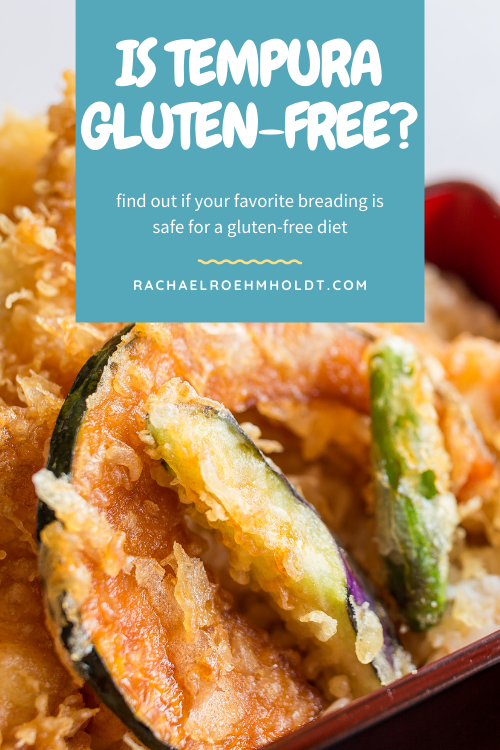 Note: I am a proud Amazon, Chomps, MunkPack, and Thrive Market affiliate and am happy to recommend their service and products to you. Please know that as an affiliate, I may receive a small commission on the products you purchase after clicking through my links. For more info, please see my disclosure policy here.
If you love deep fried food, sushi, or Japanese food, you probably are familiar with tempura. Tempura battered food can be found in many restaurants and even in the frozen food aisle at many grocery stores.
Tempura batter crisps up like a dream and gives a ton of crunchy texture to whatever food it is that you coat it in after deep frying.
If you follow a gluten-free diet or are just getting started with one, you may be wondering how tempura foods fit into this lifestyle. Can you eat them? What are the ingredients in tempura?
Find out in this post what tempura is, what it's made of, and if it's gluten-free. Plus we'll discuss the differences between tempura and panko, what tempura flakes are, and what some gluten-free tempura options are.
If tempura has been on your mind lately, discover how it can fit into your gluten-free diet here in this post!
What is tempura?
Tempura is a type of Japanese dish where foods like seafood, vegetables, or sushi get dipped in a batter, then deep fried. Tempura vegetables and shrimp are very popular dishes at sushi and Japanese restaurants.
Tempura adds a breading to the ingredients that's fried, yet the texture is light and crispy.
What is tempura made of?
Tempura batter is made with flour, egg, and water. These basic ingredients are combined to create a light and crispy batter that's delicious on shrimp, seafood, chicken, sushi, and vegetables.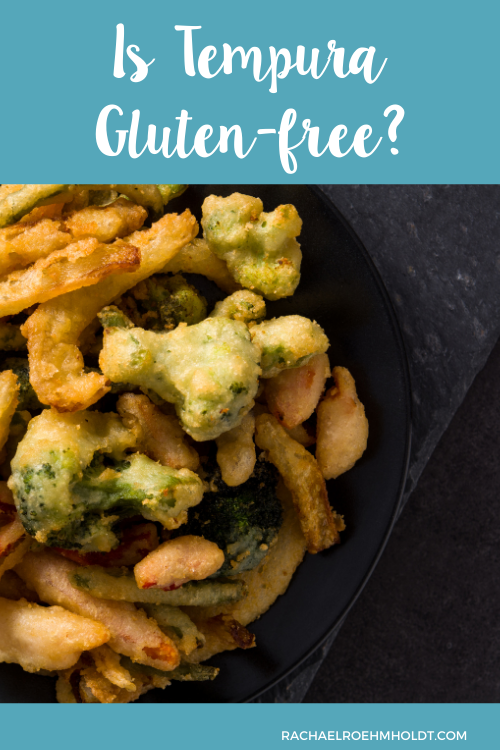 What is gluten?
Gluten is a protein found in most wheat products, and acts as the "glue" that helps to hold wheat, barley, kamut, spelt, farro, durum, bulgur, rye, and semolina together to maintain their shape.
Gluten is naturally occurring, and therefore is impossible to strip away from the grain. If a grain naturally has gluten in it, there's no way to make that food gluten-free.
Is tempura gluten-free?
Since tempura is made with all purpose flour, this food is not gluten-free. All purpose flour is made from wheat, making this not a good choice for a gluten-free diet.
Is tempura dairy-free?
Tempura contains no dairy ingredients and is considered safe for a dairy-free diet.
What is tempura used for?
Tempura is used as a breading for fried seafood, chicken, and vegetables. You can also tempura fry ingredients for sushi and use tempura flakes to add extra texture to sushi or other dishes.
Read on: Is sushi gluten-free?
Is tempura the same as panko?
Tempura and panko seem similar, but they are quite different. Tempura is the batter that's used to make a crispy coating on fried seafood or vegetables. Whereas panko is a type of breadcrumb that's used as a breading for some dishes.
While tempura is the batter, panko are the crumbs leftover from a special type of bread.
Read more about panko here: Is panko gluten-free?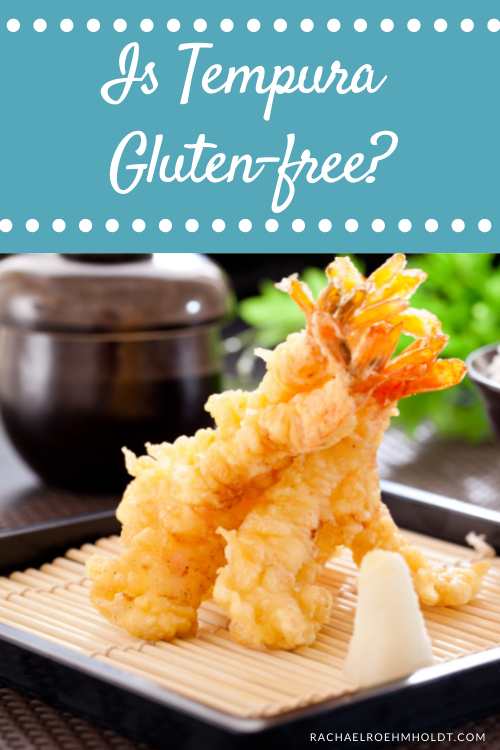 What are tempura flakes?
Tempura flakes are the bits of tempura that are leftover from making other tempura dishes. These are generally broken down and can be used as a breading for other dishes or used on top of sushi or as a garnish.
Are there any gluten-free tempura options?
It's possible to find restaurants with gluten-free tempura, but it's not too common. If you do find a restaurant with this option, make sure that there is a dedicated gluten-free fryer so there's no potential for cross contamination with other ingredients with regular all purpose flour.
If you love tempura and can't fathom a world where you can't enjoy food that's been fried with it, a great option for you is to make your own at home.
Try one of these gluten-free tempura recipes to dip whatever your heart desires in it before frying and getting that light, crispy breading.
If you're interested in some other common Japanese ingredients and how they fit into a gluten-free diet, you might want to check out some of these posts.
If you enjoy tempura fried foods, I hope this post has been helpful to you getting the answers you need to decide on whether this food should stay in your diet. Most tempura contains gluten, but if you make it yourself at home with a gluten-free flour, you can still enjoy this ingredient any time you like.
If you loved this post, I hope that you'll share it with your friends on Facebook and pin it for future reference on Pinterest.
Love this post? You might also want to check out these!
Find out if your favorite foods and ingredients contain gluten with these posts!