Find out what Heinz ketchup is made from, if it's gluten-free, and what varieties are safe for your gluten-free diet.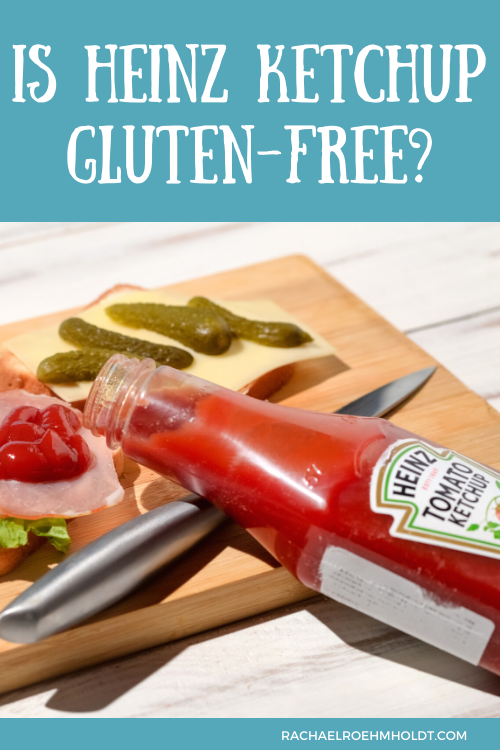 If you've recently made the switch to a gluten-free diet and are just looking around at all the different foods that could potentially contain gluten and are simply overwhelmed, you're not alone!
Ketchup is a popular condiment that's used on fries, eggs, hamburgers, hot dogs, meatloaf and really anything you get an itch to put it on! But with a new awareness of gluten in your food, you may have wondered if your favorite Heinz ketchup is gluten-free.
In this post, we're going to talk about this specific brand of ketchup, and find out what Heinz ketchup is, what it's made from, and answer your questions about how it fits into a gluten-free diet.
Let's talk Heinz!
What is Heinz ketchup?
Heinz ketchup is a brand of ketchup produced by the Kraft Heinz company. Heinz is a major producer of condiments in the U.S. and in other countries, they also make canned foods like beans and soups.
Heinz ketchup was first sold in 1896 and is the most popular ketchup you'll find on grocery store shelves and in restaurants in both Europe and the U.S.
Heinz ketchup has long been distributed in their signature glass bottles and is said to tap the 57 logo on the side of the product to move the ketchup through the top of the bottle. This ketchup also comes in plastic bottles, as was introduced in the early 2000's.
Heinz Tomato Ketchup is their best-selling ketchup, but it also comes in other varieties, like their health and wellness line and flavored options.
You can now find organic ketchup that contains real sugar instead of high fructose corn syrup, ketchup with no artificial sweeteners, the Simply tomato ketchup which has less ingredients, a no salt added variety, and a no sugar added variety. They also have a tomato ketchup that is only sweetened with honey.
The other tomato ketchup flavors that Heinz offers are hot and spicy with tabasco pepper sauce, ketchup blended with real jalapeno, and sriracha tomato ketchup.
Read on: Is Sriracha gluten-free?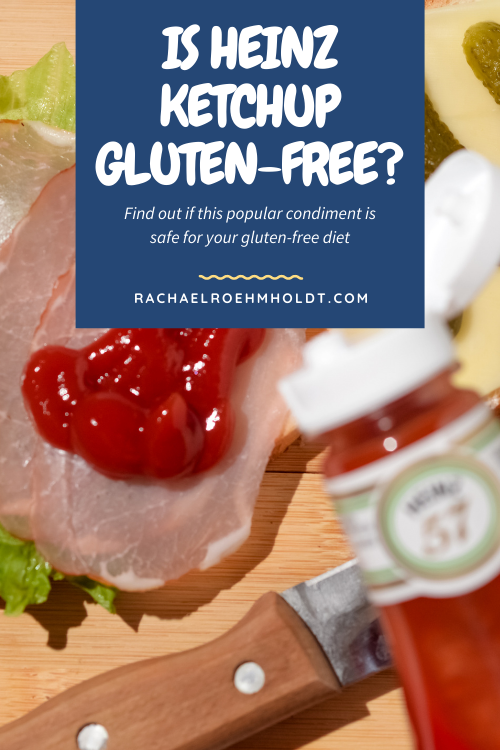 What is gluten?
Gluten is a protein found in most wheat products, and acts as the "glue" that helps to hold wheat, barley, kamut, spelt, farro, durum, bulgur, rye, and semolina together to maintain their shape.
You can find gluten in whole grains, but also in many processed foods as well. If you purchase wheat bread, there will be gluten in it, because wheat by nature has gluten.
Many processed foods have hidden gluten in them in the form of gluten or wheat derivatives. These are also in the form of flavorings, binders to keep ingredients together, or other additives.
Heinz ketchup ingredients
According to the Heinz website, their best-selling original tomato ketchup contains the following ingredients:
" Tomato concentrate from red ripe tomatoes, distilled vinegar, high fructose corn syrup, corn syrup, salt, spice, onion powder, and natural flavoring."
Read on: Gluten-free hot dogs
Read on: Gluten-free meatloaf
Is Heinz ketchup gluten-free?
Heinz ketchup does not label any of their products with gluten-free labels on them. While I was not able to find any gluten-free labels, I found other websites that confirm that this brand of ketchup is gluten-free to the 20ppm level.
According to Gluten-free Heroes, "Heinz's ketchup line is considered gluten-free to 20 ppm. According to Heinz, the distilled vinegar they use for their ketchup is derived from corn, not other gluten-containing sources."
If you follow a gluten-free diet, this brand is considered safe to enjoy.
Read on: Are hot dogs gluten-free?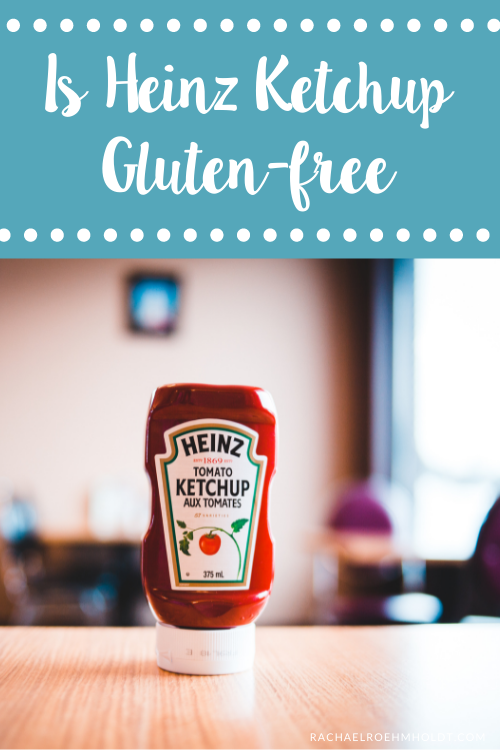 Is all ketchup gluten-free?
Most ketchup brands use naturally gluten-free ingredients and are safe for a gluten-free diet.
However, if you like to do your due diligence, you'll want to look for a brand with a clear gluten-free label and gluten statement.
Read on: Is ketchup gluten-free?
Other gluten-free condiments
In addition to ketchup, you might be wondering about other condiments and if they contain gluten. I've written an entire post dedicated to gluten-free condiments that you might be interested in.
You might also want to learn more from some of these other popular posts:
If you've been wondering if your favorite brand of ketchup is gluten-free, you can feel confident that Heinz ketchup is safe for your gluten-free diet. Choose their original flavor or try one of their lower sugar, no salt, or veggie varieties.
f you loved this post, I hope that you'll share it with your friends on Facebook and pin it for future reference on Pinterest.
Love this post? You might also want to check out these!
Find out if your favorite foods and ingredients contain gluten with these posts!