Find out if Klondike Bars are gluten-free, what flavors and varieties they come in, and what ingredients are used in this popular ice cream bar.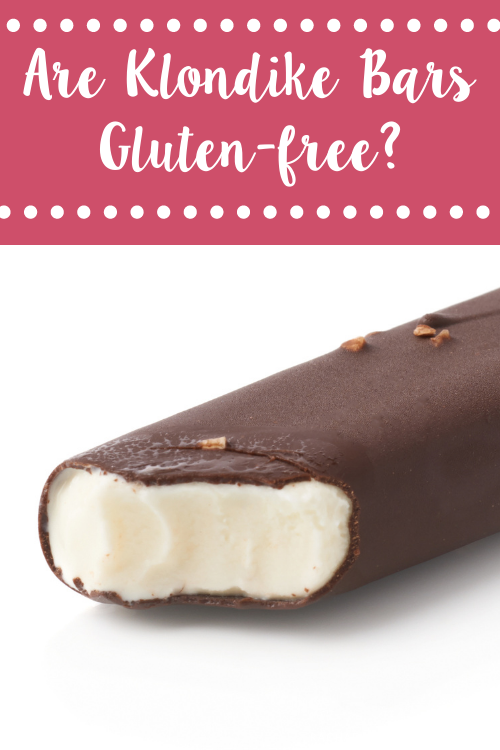 Note: I am a proud Amazon, Chomps, MunkPack, and Thrive Market affiliate and am happy to recommend their service and products to you. Please know that as an affiliate, I may receive a small commission on the products you purchase after clicking through my links. For more info, please see my disclosure policy here.
If you ever heard the jingle "what would you dooo for a Klondike Bar?" I know you're familiar with this frozen treat. This popular ice cream bar seems simple and straightforward, especially their original flavor – vanilla ice cream with a chocolate shell around it. It's no surprise that with its simplicity that people love them.
Looking at this brand a little closer while researching this post, I learned that they offered a lot more products than just the simple vanilla ice cream bar. In fact, Klondike has a full product line for bars, cones, shakes and ice cream sandwiches.
If you love Klondike Bars and have been wondering if this brand is safe for your gluten-free diet, I hope this post helps you out today. We're going to talk about what Klondike Bars are, the different flavors and varieties they come in, and go over some of the ingredients lists of some of their top products.
We'll talk about what gluten is and where it hides in some foods, and answer the question you're here for: Are Klondike Bars gluten-free?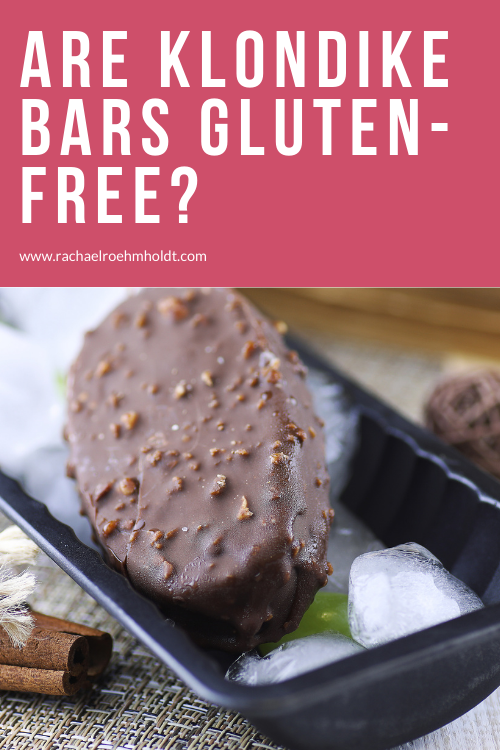 What are Klondike Bars?
Klondike is a popular frozen treat brand that comes in bars, sandwiches, cones, and even shakes. Klondike Bars are the ice cream bar that the company first introduced in 1922.
Their original Klondike Bar is a square of vanilla ice cream that's dipped in a chocolate coating. This is one of the brand's most popular products even today. However, Klondike has gone on to expand their product offerings with flavors of Klondike bars, different types and flavors of ice cream cones, and even their famous Choco Tacos.
If you've ever seen an ice cream truck drive by, you've probably heard of the Choco Taco. This was always a huge draw for the kids in my neighborhood when the ice cream truck drove by.
Klondike Bars don't only have vanilla ice cream and a chocolate coating anymore either. You can find different flavored ice cream in the bars, and crispy bits in the chocolate coating.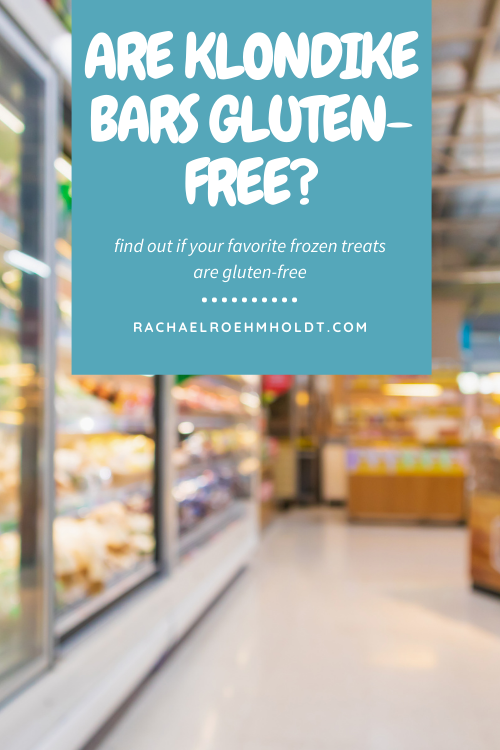 What flavors do Klondike Bars come in?
Klondike Bars come in a variety of flavors and options. Here is the current lineup of Klondike Bars according to the brand's website. They have five main product lines that they sell: bars, cones, shakes, sandwiches, tacos, and minis.
Bars
Original Vanilla Bar
Krunch Bar
Mint Chocolate Chip Bar
Heath Bar
Double Chocolate Bar
Reese's Bar
Dark Chocolate Bar
No Sugar Added Vanilla Bar
No Sugar Added Krunch Bar
Cookies & Creme Bar
Cones
Coocoo for Caramel & Vanilla Caramel Classic Cones
Cookies 'N Cream & Nuts For Vanilla Cones
Nuts For Vanilla Cones
Reese's Chocolate & Reese's Peanut Butter Cones
Cookies 'N Cream Cones
Double Down Chocolate & Classic Chocolate Cones
Unicorn Dreamin' & Vanilla Chillin' Cones
Nuts for Vanilla & Classic Chocolate Cones
Shakes
Sit Back & Strawberry Shake
Wind Down & CHocolate Shake
Chill Out & Chocolate Shake
Sandwiches
Classic Vanilla Sandwich
Cookies & Creme Sandwich
Mrs. Fields Chocolate Chip Cookie Sandwich
Taco
Minis
Original Vanilla Mini Bar
Reese's Mini Bar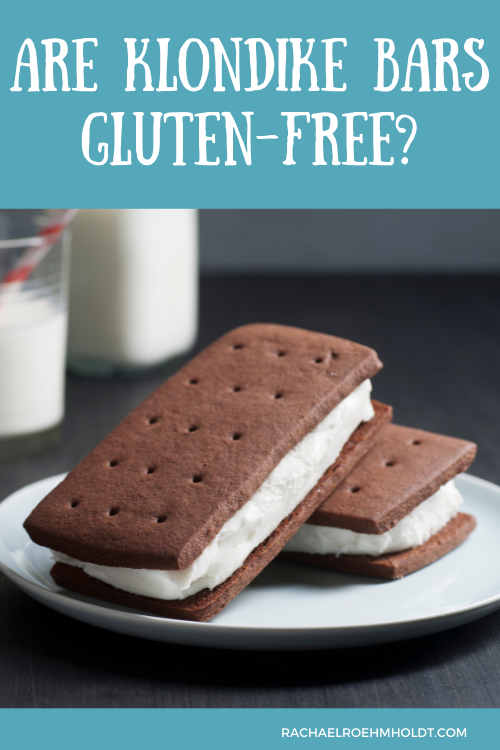 What are Klondike Bars made from?
If we're talking only about the bars from Klondike, let's take a look at their popular original vanilla Klondike Bar to get a sense for what ingredients are used in this frozen treat.
Ingredients in original Klondike Bars
Though the ingredients will vary in the different varieties and flavors of Klondike bars, their most popular bestseller is their Original vanilla bar.
According to the Klondike bar website, these are the ingredients in their original recipe:
"Nonfat milk, sugar, coconut oil, corn syrup, cream, corn syrup solids, whey, chocolate liquor processed with alkali, milk, soybean oil, cocoa processed with alkali, mono and diglycerides, locust bean gum, guar gum, natural and artificial flavor, soy lecithin, carrageenan, salt, caramel color, vitamin A palmitate."
What is gluten?
Gluten is a protein found in most wheat products, and acts as the "glue" that helps to hold wheat, barley, kamut, spelt, farro, durum, bulgur, rye, and semolina together to maintain their shape.
Gluten is naturally occurring, and therefore is impossible to strip away from the grain. If a grain naturally has gluten in it, there's no way to make that food gluten-free.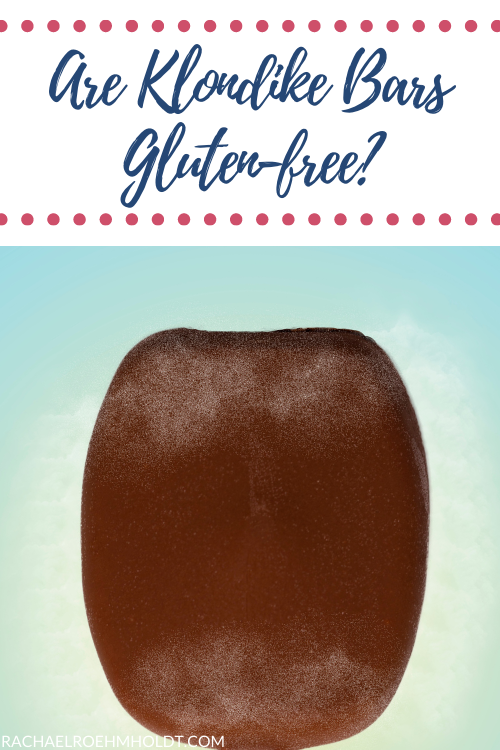 Is ice cream gluten-free?
A lot of ice cream is gluten-free when it is made using dairy or dairy-free ingredients and no additional gluten ingredients.
For the most part, you'll find gluten in ice cream where there have been mix-ins added in, like cookie pieces, graham crackers, cookie dough, or brownie bites. You might also find gluten hidden in additives, starches, or other flavorings.
Ice cream on its own as a single flavor is almost always gluten-free. Those with multiple flavors, you'll want to look a little more closely at.
It never hurts to look at ingredients lists and check for a gluten-free label if it's available. Look for hidden sources of gluten in the ingredients so that you can avoid any ice cream with hidden gluten.
Read on: Is ice cream gluten-free?
Are Klondike Bars gluten-free?
According to the Klondike website, "Nope. Klondike products are not gluten-free. We do not operate allergen-free manufacturing sites, however we do have allergen management programs in all our facilities. The intent of these programs is to avoid unintentional cross-contamination of allergens between products."
They go on to say "Our product labels adhere to the FDA's strict regulations regarding declaration of ingredients and allergens. We do not use the terms "Natural" or "Artificial Flavorings" to hide the existence of any allergens. Recipes can change. We strongly recommend that allergic consumers refer to ingredient declarations EVERY TIME they purchase processed foods."
If you follow a gluten-free diet, you will probably want to steer clear of this brand of ice cream bar as they are very explicit in that most of their products do contain gluten ingredients.
If you are unconcerned about gluten and cross contamination, you might feel risky by choosing a flavor of Klondike Bar that has no obvious gluten ingredients. Again, this is kind of an "at your own risk" scenario, as the brand makes it obvious that they don't take any precautions to keep the gluten ingredients separate on their manufacturing lines.
Read on: Dairy-free ice cream bars
If you enjoy Klondike Bars, know that this brand of ice cream isn't going to be a good choice for your gluten-free diet. While there isn't necessarily gluten ingredients in all their products, the brand makes it known that you can anticipate gluten in all their different products and flavors.
There are many other ice cream flavors and ice cream bars that are gluten-free, so keep your eyes peeled for gluten-free labels on other products in the frozen treats aisle at the grocery store.
If you loved this post, I hope that you'll share it with your friends on Facebook and pin it for future reference on Pinterest.
Love this post? You might want to check out these!
Find recipes and inspiration for sticking with your gluten and dairy-free diet throughout the summer months!