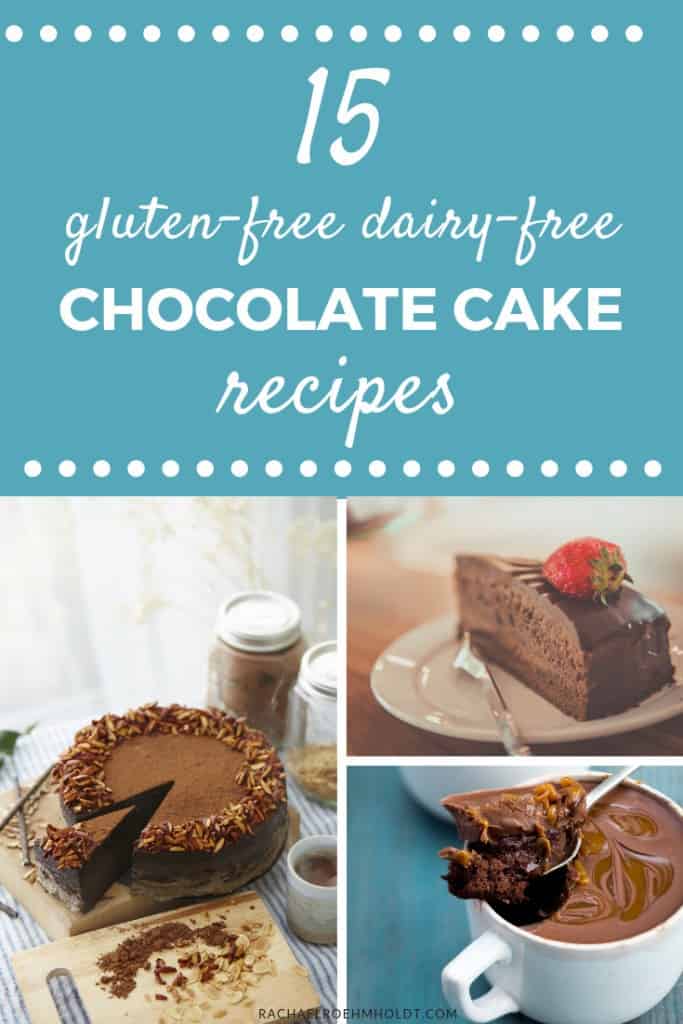 Do you love chocolate cake, but haven't found any great gluten-free dairy-free chocolate cake recipes? Check out these 15 gluten-free dairy-free 5-ingredient or less chocolate cake recipes, including: chocolate layer cake, crazy cake, paleo chocolate cake, and more!
Note: I am a proud Amazon, Chomps, MunkPack, and Thrive Market affiliate and am happy to recommend their service and products to you. Please know that as an affiliate, I may receive a small commission on the products you purchase after clicking through my links. For more info, please see my disclosure policy here.
Are you a chocolate cake lover like I am? In my time being gluten-free and dairy-free, I've often found myself turning down the invite for a slice of cake whenever I'm at a get-together or celebration with family and friends.
I've often felt like I had to go without, because the main ingredients for most cake recipes are EVERYTHING my body can't tolerate well…
Flour, butter, eggs, sugar… all these things in one big piece of cake makes me want to scream "YES, GIVE ME ALL THE CAKE!!"
Of course, when my common sense kicks in, I realize very quickly that I'd rather say "no" to the cake than feel terrible for at least a week while I detox from a bunch of foods that make my body feel sick and like it's having a battle with itself.
You may have a few questions about gluten-free chocolate cake… so let's answer a few of them now.
Is there gluten in cake?
Unfortunately for us cake lovers, yes, there is gluten in traditional cake recipes. However, by swapping out all-purpose flour for a gluten-free flour blend, you can easily make just about any cake gluten-free.
You can also use naturally gluten-free flours, like almond flour or coconut flour as called for in many recipes to enjoy a gluten-free cake.
Read on: Is coconut flour gluten-free?
Is flourless cake gluten-free?
Flourless cakes can sometimes be gluten-free, and other times are not. Depending on what the other ingredients are in a flourless cake will give you your answer.
Looking at an ingredient list will help you determine if a cake is gluten-free or if there are hidden sources of gluten and you'll want to avoid it.
I know that with so many birthdays and celebrations throughout the year, it's nice to have a concise list of recipes to reference when you need them – and that's exactly why I put this recipe roundup of gluten-free dairy-free chocolate cakes together.
So if you bake chocolate cake for birthdays, anniversaries, Valentine's Day, graduation parties, or even just on a random Wednesday night – I hope you find this list of 15 gluten-free dairy-free chocolate cake recipes useful.
This list includes some basic classic chocolate cakes like chocolate cake with chocolate ganache, paleo chocolate cake, allergy-friendly chocolate cake (without eggs), and many of these cakes even have a healthy twist to them so you can feel good about indulging.
Many of them are very low in sugar, the only sugar being in the dairy-free chocolate chips – which is great not only for your blood sugar, but for your gut too.
You'll want to make sure that you have some of these ingredients on hand for whipping up a gluten-free dairy-free chocolate cake whenever you need one for a get-together or celebration (many you probably already have in your pantry anyway!):
The one thing I will say about gluten-free and dairy-free cakes in my experience is that they don't really last long… both in the sense that you'll want to eat them up quickly AND for the fact that they don't really hold their shape, consistency, or texture for more than a couple of days.
With that in mind, you might want to have a couple pieces… you know, so none goes to waste.
Most of these recipes don't call for any fancy recipes, in fact I've done my best to try to choose gluten-free chocolate cake without xanthan gum, since I know plenty of folks like to keep their baking as simple as possible.
Most of the recipes call for all-purpose gluten-free flour blends that already include this as an ingredient.
My favorite gluten-free all-purpose blend is King Arthur gluten-free flour. To use it, you can replace any recipe that calls for all-purpose flour using a 1:1 ratio, which makes it really easy to make substitutions.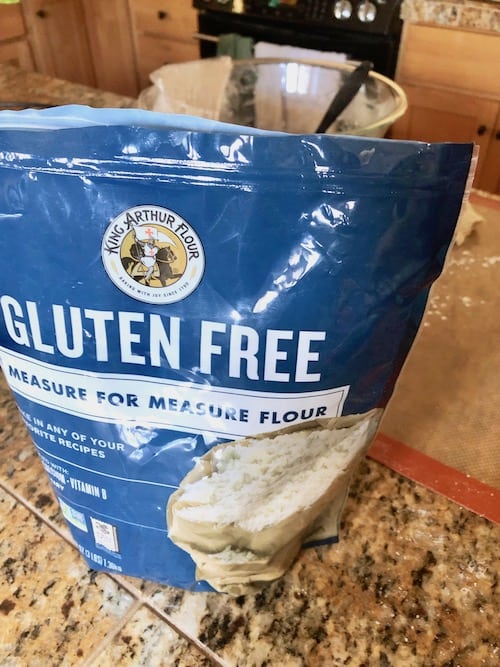 Get King Arthur gluten-free measure for measure flour on Amazon here.
Of course, if you aren't a fan of baking from scratch or simply don't have the time, be sure to check out the 5 best gluten-free dairy-free cake mixes.
I hope you enjoy this roundup of delicious chocolate cakes and be sure to leave a comment and let me know if you've tried any of them, and if you've found any new favorites!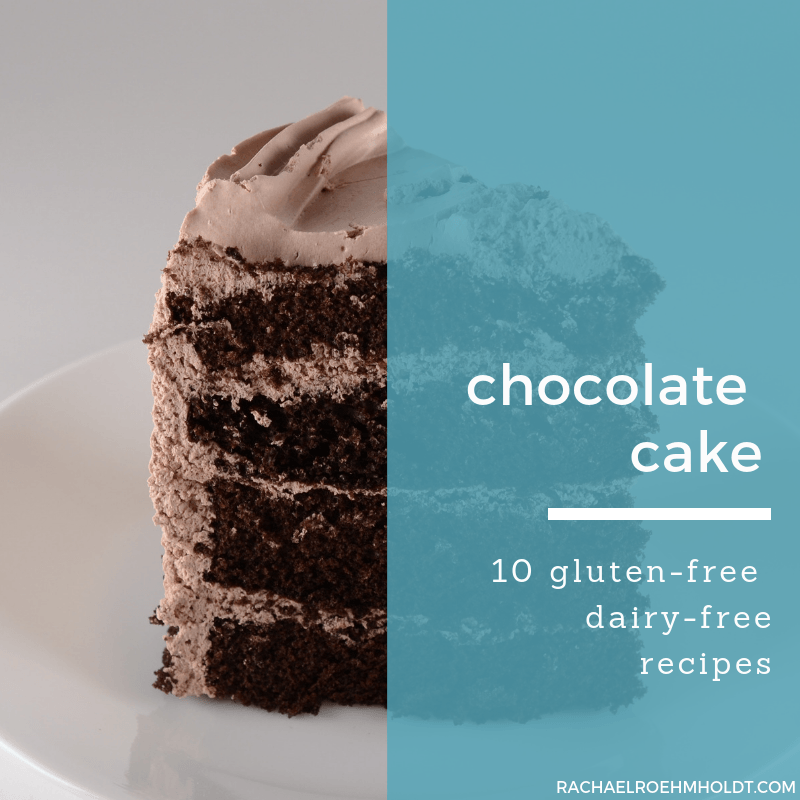 15 Gluten-free Dairy-free Chocolate Cake Recipes
This chocolate layer cake with chocolate ganache looks amazing, and is gluten-free, dairy-free, and refined sugar-free. What could be better!
Made with almond flour, cocoa powder, baking soda, salt, eggs, maple syrup, water, and vanilla – this one only takes a few ingredients to make this tasty treat.
This allergy-friendly chocolate cake has no gluten, eggs, or dairy which makes it a win all around.
If you think adding vinegar to a cake seems weird, not to worry, it's just there to help the cake rise and you won't taste any vinegar at all.
This adorable cake can be made in two ways – a higher cake with 4 layers or a standard two-layer cake.
This recipe has coconut flour and pumpkin, so even if it seems a little different – you know it's going to be healthier than your standard chocolate cake.
I don't know about you, but I could always use another reason to love eating cake.
This tasty paleo chocolate cake is gluten-free and dairy-free, has two delicious layers or chocolate cake and a dairy-free sweetened condensed milk and raw cacao powder chocolate ganache.
You're going to love this one!
When someone can promise me chocolate cake without eggs, butter, sugar, or bowls, I can get on board with that quickly!
Just be sure to use gluten-free flour blend instead of all-purpose flour to ensure its 100% gluten-free and dairy-free.
If you love the combination of chocolate and mint, you're going to love these gluten-free and vegan mint chocolate chip cupcakes.
A delicious gluten-free dairy-free chocolate cake is the base and dairy-free mint chocolate chip buttercream is the frosting.
These look so delicious – and I know my husband who loves mint chocolate chip ice cream will love these!
Read on: 25 Gluten-free cupcake recipes
This flourless chocolate cake has shown up on my Pinterest feed for months – and it's about time I shared it with you.
This super chocolatey cake is fudgy, gluten-free, dairy-free, and easy to whip up any night of the week.
Sometimes you just need a single serving cake to cap off your day. This mug cake comes together with just a handful of ingredients, one minute of prep (adding ingredients and stirring them together), plus another minute or two in the microwave – and voila!
A quick and easy chocolate cake for any busy night that you need a celebration. This is a recipe that I keep coming back to over and over again!
If you love cake, but are a little more lazy like I am – this paleo chocolate sheet cake is for you!
This recipe is made with coconut flour, coconut sugar, cocoa powder, coconut oil, eggs, baking soda, baking powder, sea salt, and coconut milk.
Even the frosting is simple – with just 3 ingredients (canned coconut milk, chocolate chips, and sea salt).
I know many of you who read my blog also follow the Low FODMAP diet, so this one's for you! Just be sure to swap out the butter for vegan butter.
This beautiful gluten-free dairy-free and vegan cake is topped with ombre chocolate roses.
I don't know that I could really make anything look as gorgeous as this cake, but just by following the recipe, I'm pretty sure I could make it taste just as good.
This recipe spotlights Enjoy Life flour blend, which is allergy-friendly all around.
Chocolate and hazelnut? You don't have to convince me any further, I'm in.
But the fact that this cake is not only gluten-free, dairy-free, and only needs one bowl really seals the deal.
Give this one a try if you love moist chocolate cake and crunchy hazelnuts.
This go-to recipe for chocolate crazy cake is amazing, because it doesn't need any eggs, milk, butter, bowls, or mixers. Say what?
Yep, this recipe uses the reaction between baking soda and vinegar to give it its fluffiness, and the moisture comes in from the oil. Easy peasy.
Okay, so cookie dough is one of my favorite ice cream flavors ever. Seeing this cookie dough brownie cake that is gluten-free and dairy-free had my mouth watering instantly.
This recipe highlights Enjoy Life Foods, one of my favorite brands for gluten-free and dairy-free baking mixes and chocolate.
Remember those little Hostess cupcakes you used to be able to buy when you were a kid (are they still around these days?)?
This homemade version is a take on that – and even better, it's gluten-free, dairy-free, and free from the top 8 most common allergens. Score!
Looking for a few more dairy-free chocolate recipes? You'll love these posts!
Check out these gluten and dairy-free recipes and posts featuring chocolate.
If you're a big fan of my recipe roundups, be sure to pin this for later on Pinterest or share it with your friends on Facebook.