Find out if triple sec is gluten-free, what other brands of orange liqueur are gluten-free, and answer some common questions about this delicious drink.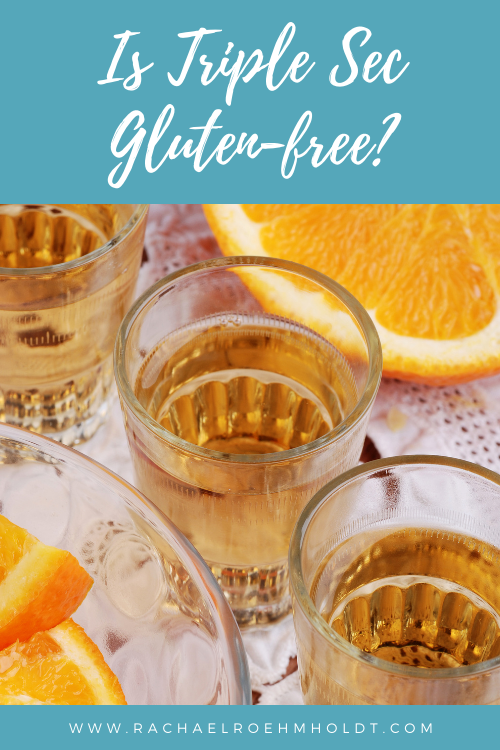 Note: I am a proud Amazon, Chomps, MunkPack, and Thrive Market affiliate and am happy to recommend their service and products to you. Please know that as an affiliate, I may receive a small commission on the products you purchase after clicking through my links. For more info, please see my disclosure policy here.
If you mix up margaritas, cosmopolitans, or other orange flavored cocktails, you know how delicious triple sec is for lending a bright citrus flavor to your drinks. It's not often enjoyed on its own, but makes its way as a sidekick or supporting element to many popular drinks.
Some types of alcohol contain gluten, so you'll want to be sure that each and every time you buy a brand or type of alcohol, that it's safe for you and your diet.
This post is all about triple sec orange flavored liqueur, and we're going to dive into the details of this drink, and answer the question "is triple sec gluten-free?"
This post is part of the Gluten-free Alcohol Series, where we're going to discuss different types of alcoholic drinks and how they fit into a gluten-free diet.
In this post, we're going to find out what this famous orange liqueur is made of, if it's gluten-free, what brands are gluten-free, and answer some common questions related to this popular drink.
What is triple sec made from?
Triple sec is made by infusing alcohol with dried bitter and sweet orange peels in the distillation process. The result is a sweet and citrusy liqueur that brings a bright flavor to many cocktails.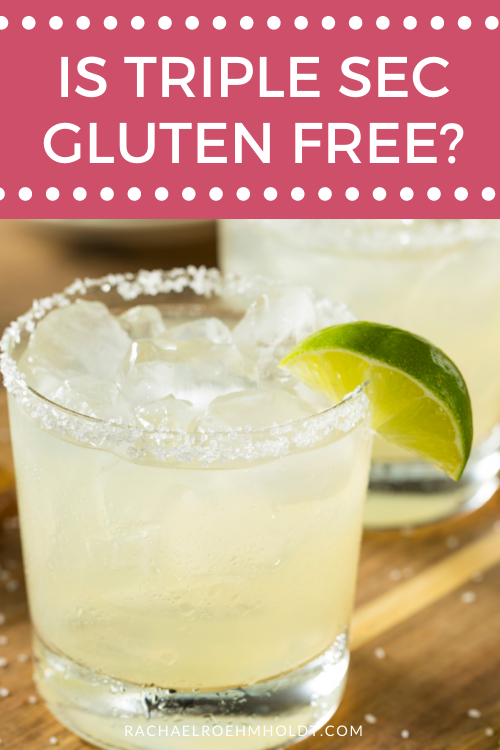 Is Triple Sec orange liqueur gluten-free?
According to The Spruce Eats, triple sec uses a "neutral grain spirit (similar to vodka), rum, or brandy."
Knowing that the alcohol used in triple sec is distilled and no other gluten-containing ingredients are added to the liqueur, we can confidently say that triple sec is gluten-free.
Read on: Which liqueurs are gluten-free?
Read on: Which alcohol is gluten-free? The ultimate guide
What is the difference between triple sec and Cointreau?
Both triple sec and Cointreau are orange flavored liqueurs, so what's the difference between them?
Cointreau is a brand name and a type of triple sec. It has a strong, smooth flavor that is more complex than triple sec. It can be used in all the same recipes as triple sec for its orange flavor.
Triple sec is named for the type of alcohol that it is, a dry distilled orange liqueur. Triple sec is generally less expensive and less complex in flavor, and works great in any recipe that calls for orange liqueur.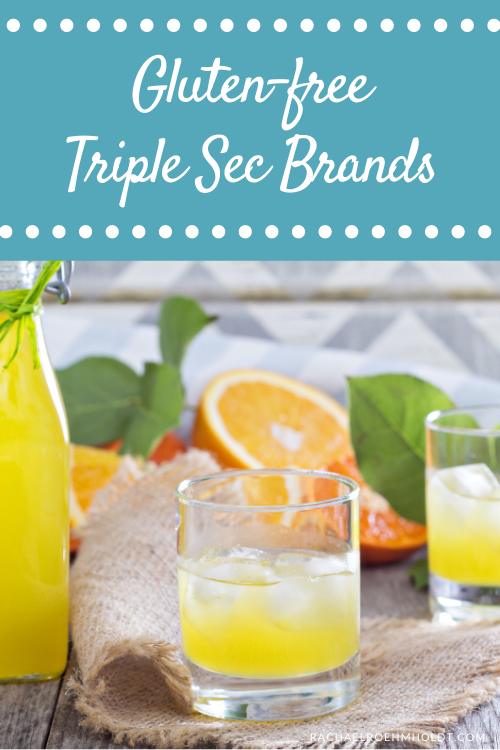 Gluten-free Triple Sec Brands
Since we know that most triple sec is gluten-free, just about any bottle you pick up will be safe for your gluten-free diet.
Here are some brands of triple sec in a range of prices that you can feel okay drinking while still avoiding gluten. Note that this isn't an exhaustive list and there are other brands that are also gluten-free.
Adnams Triple Sec
Allen's Triple Sec
Arrow Triple Sec
Bols Triple Sec
Boulaine Triple Sec
Charles Tegnier Triple Sec
Cheshire Triple Sec
Combier Triple Sec
Coulsons Triple Sec Liqueur
Deauville Triple Sec
Doc Well's Triple Sec
Drillaud Triple Sec
DuBouchet Triple Sec
Edmond Briottet Curacao Triple Sec
Giffard Curacao Triple Sec
Giffard Parfait Triple Sec
Hiram Walker Triple Sec
Iseo Triple Sec
Juarez Triple Sec
Lejay Triple Sec
Leroux Triple Sec
Llord's Triple Sec
Luxardo Triple Sec
Marie Brizard Triple Sec
Meagher's Triple Sec
Merlet Triple Sec
Mr. Boston Triple Sec
Mr. Stacks Triple Sec
Paisley & Sage Triple Sec
Pepe Lopez
Short Path Distillery Triple Sec
Stirrings Triple Sec
Torada Triple Sec
Vita Divine Triple Sec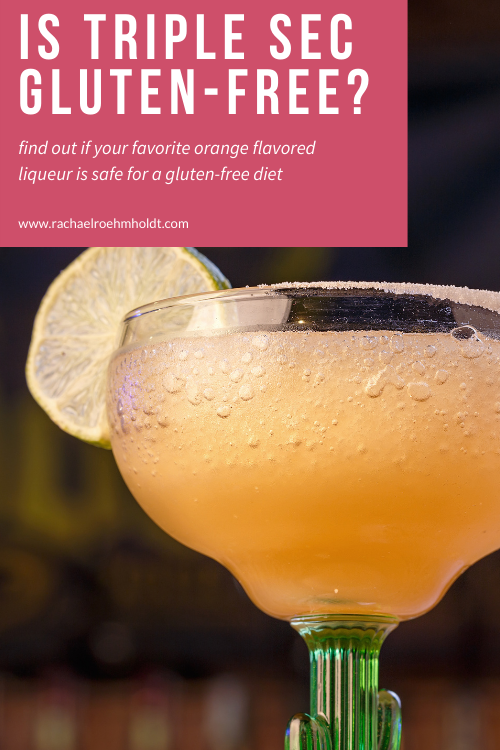 Are my favorite brands of Triple Sec gluten free?
There a number of popular brands of triple sec available. Find out if your favorite brand is safe for your gluten-free diet.
Is Dekuyper triple sec gluten-free?
Dekuyper doesn't make any gluten-free statements, and in this (totally outdated) blog post they say their triple sec is produced from the fermentation and distillation of wheat. To be on the safe side, you will want to skip this brand and find one that has a firm gluten-free claim.
Is Drillaud triple sec gluten-free?
Drillaud triple sec is considered gluten-free like most other triple sec brands, because it is made with distilled alcohol and no gluten-containing ingredients.
Is Hiram Walker triple sec gluten-free?
According to the Hiram Walker website, there is no gluten in any of the Hiram Walker products, including their triple sec.
Is Meagher's triple sec gluten-free?
I wasn't able to find any statement from Meagher's if there is any gluten in their products, but like other triple sec liqueurs, it is made with distilled alcohol and no gluten-containing ingredients. This brand is safe for a gluten-free diet.
If you've been mixing up cocktails and wondering if triple sec is safe to continue using in your favorite drinks, I hope this recipe has given you all the information you need to make an informed decision.
Triple sec is generally considered to be gluten-free among the gluten-free and celiac community, so you can feel okay enjoying this in your favorite cocktails moving forward.
If you loved this post, I hope that you'll share it with your friends on Facebook and pin it for future reference on Pinterest.
Love this post? Check out more from the Gluten-free Alcohol Series.
Wondering which alcohol is safe for a gluten-free diet? Find out in the Gluten-free Alcohol series!