Find out what Tabasco sauce is, what ingredients are in this condiment, and if it's safe for folks on a gluten-free diet.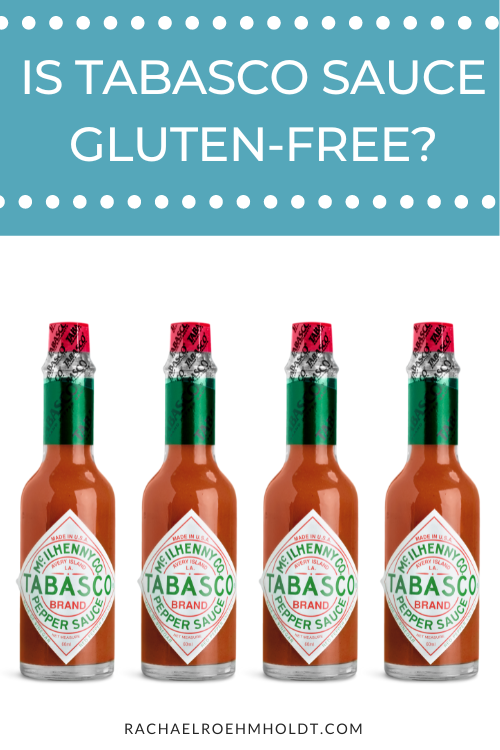 Note: I am a proud Amazon, Chomps, MunkPack, and Thrive Market affiliate and am happy to recommend their service and products to you. Please know that as an affiliate, I may receive a small commission on the products you purchase after clicking through my links. For more info, please see my disclosure policy here.
If you love adding a little heat to your favorite foods, you're probably no stranger to Tabasco sauce. This popular condiment can be found on the tables of so many restaurants and has a huge following of raving fans. It's no wonder people love it – it's extremely versatile!
You can add it to just about anything and you'll instantly get a boost in flavor and a kick of heat. So whether you love Tabasco sauce on your breakfast foods, in your favorite chili recipe, or to top your taco, I've got you covered in today's post.
If you're following a gluten-free diet or just getting started with one, you've probably been dying to know if this product is safe for you to continue enjoying.
We'll go over everything you need to know about Tabasco sauce, including what it is, what it's used for, what ingredients are in this hot sauce, and of course answer the big question: "is Tabasco sauce gluten-free?"
Finally, we'll wrap this post up with one Tabasco alternative you might want to keep in mind if you have celiac disease or are just super sensitive to gluten. Let's get into it!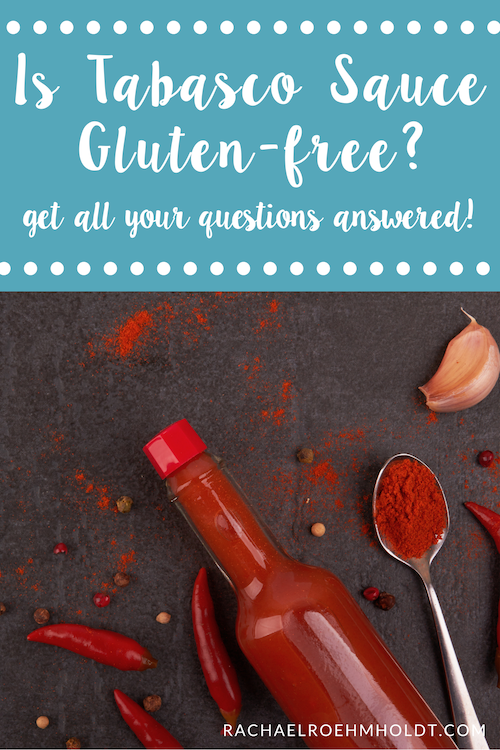 What is Tabasco sauce?
Tabasco sauce is a brand of hot sauce that's known for its spice and tangy flavor. Many folks love to add this condiment to all kinds of dishes, like chicken wings, pizza, chili, burgers, and even breakfast egg dishes.
This sauce is produced by the McIlhenny Company and is made by mashing peppers with salt, then aging them over a few year process. The company uses white oak barrels to age their hot sauce, which lends added flavor to the final product.
You can find Tabasco sauce in a few different varieties. According to their website, here are the Tabasco brand products you can find in their lineup currently:
From these, the most popular that you'll find at restaurants and sold in small and large quantities at grocery stores is their original Red Pepper Sauce.
I don't think you can go much of anywhere without seeing this as a condiment on tables at restaurants or a condiment bar at a fast food place.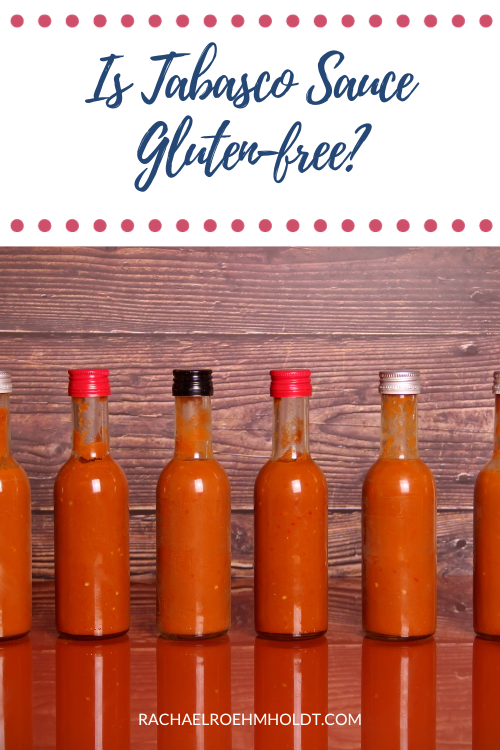 What is Tabasco sauce used for?
Many people love to use Tabasco sauce to add heat or spiciness to their favorite dishes. It's said to be zero calories, so it's an easy way to add spice to your favorite foods. There's also a tangy flavor that comes with using Tabasco sauce in your recipes or as a condiment on your favorite dishes.
If you've been wondering what you can use Tabasco sauce for, here are some of the more popular things to use it on and in:
Soups
Stews
Chili
Gumbo
Seafood
Pizza
Burgers (can be used both on burgers and in burger patties)
Marinades for meat, poultry, or seafood
Eggs (scrambled, omelets, quiches or frittatas)
Bloody Mary drinks or other cocktails
Mexican cuisine
Salads and salad dressings
Dips for chips or charcuterie
Stir-fries
Homemade condiments, like mayonnaise or ketchup
What ingredients are in Tabasco sauce?
Since most folks associate Tabasco sauce with their Original Tabasco Pepper Sauce, let's go over what ingredients are used in this classic pepper sauce.
According to the Tabasco website, here are the ingredients in Tabasco Brand Original Red Sauce: "fully aged red peppers, salt from Avery Island, Louisiana, and high-quality distilled vinegar." Yep, that's it – very straightforward product with simple ingredients.
This hot sauce is said to have a Scoville Heat Unit rating of 2500 to 5000, which measures capsaicin giving the chili peppers their moderate heat level.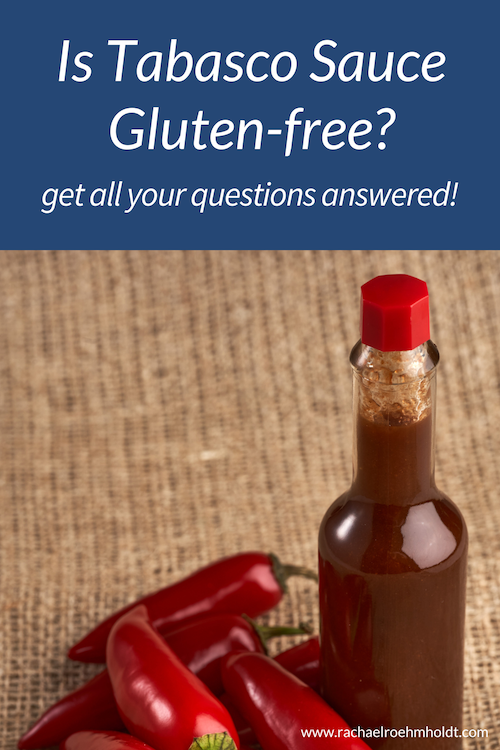 What is gluten?
Gluten is a protein found in most wheat products, and acts as the "glue" that helps to hold wheat, barley, kamut, spelt, farro, durum, bulgur, rye, and semolina together to maintain their shape. You can create a malt from any of these grains.
Gluten is naturally occurring, and therefore is impossible to strip away from the grain. If a grain naturally has gluten in it, there's no way to make that food gluten-free.
Is Tabasco sauce gluten-free?
The Tabasco website shows on their product pages that this versatile sauce is "considered gluten-free according to the definitions set forth by the FDA."
That means that there is less than 20 ppm of gluten in this product and should be safe for folks who have gluten sensitivities.
Many folks with celiac disease have issues with white vinegar or distilled vinegar, so if you've been advised by your doctor to avoid this ingredient on your diet, you may want to avoid this brand even though they say that their products use gluten-free ingredients. Without a certified gluten-free label, you're really just taking their word for it.
Use your best judgment and do what feels right to you based on what you know about how your body handles even trace amounts of gluten.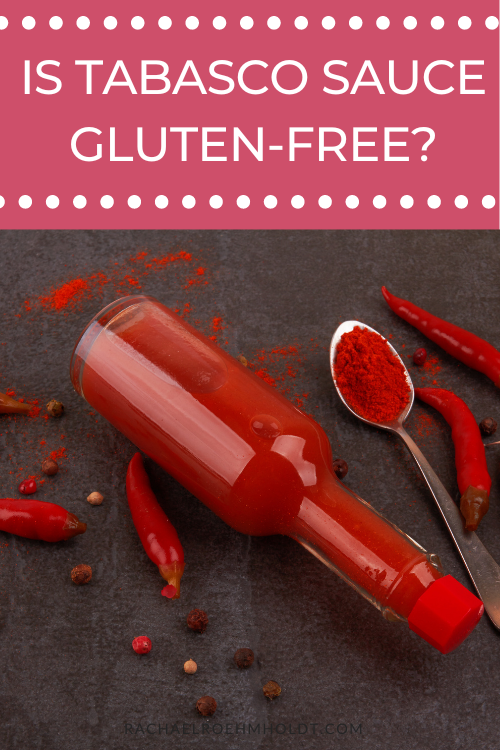 Is Tabasco sauce dairy-free?
There are no dairy ingredients in any of the Tabasco brand pepper sauce options, so this is considered a safe choice if you're following a gluten-free diet.
Gluten-free hot sauce brands
If you're uncomfortable with the fact that Tabasco has a gluten-free claim, but no certified gluten-free label, you might want to try Organicville Sky Valley Sriracha Sauce. It is the only brand of hot sauce I was able to find that offers a certified gluten-free label.
Other gluten-free condiments
Wondering about how other condiments fare in the gluten-free world? Here are some other posts you might want to check out!
Love this post? You might also want to check out these!
Find out if your favorite foods and ingredients contain gluten with these posts!