Find out what Pepsi is, what it's made from, and if it's safe for a gluten-free diet. Plus which flavors are gluten-free.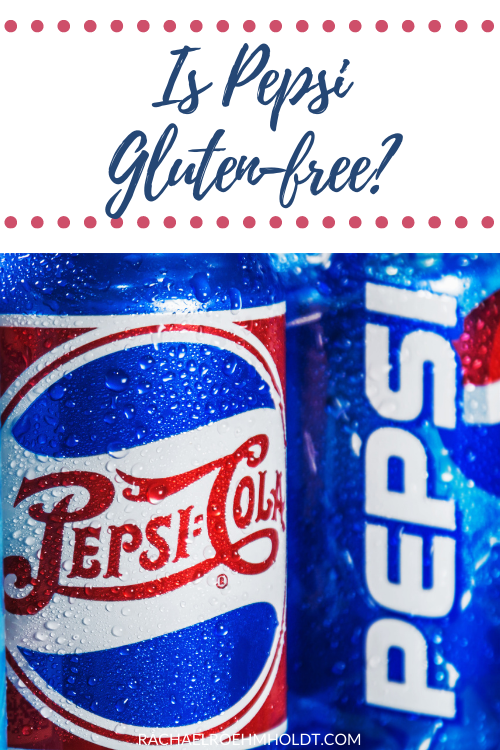 Note: I am a proud Amazon, Chomps, MunkPack, and Thrive Market affiliate and am happy to recommend their service and products to you. Please know that as an affiliate, I may receive a small commission on the products you purchase after clicking through my links. For more info, please see my disclosure policy here.
If you enjoy Pepsi on a hot day or like to grab this sweet drink whenever you're out at a restaurant, you may have wondered if this soda is safe for your gluten-free diet. If you're just getting started with taking gluten out of your diet, you may have already found out that gluten can hide all over in our food and even drinks.
In this blog post, we're going to learn a bit more about Pepsi. We're going to talk about Pepsi and find out what it's made from, and if this drink is considered safe for folks who are just starting out or sticking with a gluten-free diet.
If you love Pepsi, keep reading!
What is Pepsi?
Pepsi is a type of soda or soft drink that's carbonated with a unique cola flavor. It was first created in 1893 as "Brad's Drink," later being renamed to Pepsi-Cola, and then again to Pepsi in the early 1960's.
According to an article on The Street, Pepsi is a cola that has a citrus, lemony flavor that is sweet and strong initially. This brand also has a number of varieties and flavors, like Diet Pepsi, Pepsi Wild Cherry, and some zero sugar, real sugar, and caffeine free options.
The parent company of Pepsi, PepsiCo, also makes other well known sodas and drinks, like Gatorade, Tropicana, 7 Up, Kevita, Propel, Sobe, Sierra Mist, and Bubly.
This soda is well known to be served at many restaurants, fast food restaurants, and bottled at grocery stores and convenience stores all around the U.S. and worldwide.
What is Pepsi made from?
There are a number of different options from Pepsi, but the most popular is their original Pepsi Cola. Here is what the ingredients in their base recipe of Pepsi contains:
"Carbonated water, high fructose corn syrup, caramel color, sugar, phosphoric acid, caffeine, citric acid, natural flavor."
Other varieties of Pepsi may contain other ingredients, like sugar substitutes, additional flavorings, or no caffeine but this is the base recipe for most of Pepsi's products.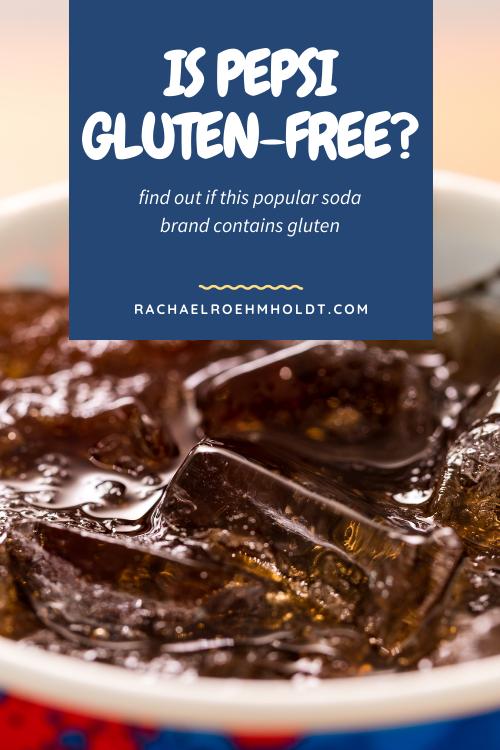 What is gluten?
Gluten is a protein found in most wheat products, and acts as the "glue" that helps to hold wheat, barley, kamut, spelt, farro, durum, bulgur, rye, and semolina together to maintain their shape.
Gluten is naturally occurring, and therefore is impossible to strip away from the grain. If a grain naturally has gluten in it, there's no way to make that food gluten-free.
Is soda gluten-free?
The most common brands and flavors of soda that you're likely to find in stores and restaurants in the United States (and North America as a whole) are gluten-free.
This is because the ingredients that are added to soda and soft drinks do not contain any ingredients from gluten-containing grains.
As indicated by Healthline, generic or store-brand varieties of popular sodas could potentially contain gluten as they use a different set of ingredients than the major soda manufacturers like Coca-Cola, Pepsi, and Dr Pepper.
Read on: Is soda gluten-free?
Is Pepsi gluten-free?
Yes! According to the Pepsi website, most of their products contain no gluten ingredients. Here are the words directly from their site:
"While our company does not currently make gluten-free label claims, with the exception of 1893 Original Cola none of the ingredients in our products are derived from grains or flours that have been linked to malabsorption syndrome associated with gluten sensitivity."
This means that their 1893 varieties of Pepsi contain gluten, so you'll want to avoid this option, but otherwise all other flavors and varieties of Pepsi are generally considered safe for a gluten-free diet.
Read on: Is Coke gluten-free?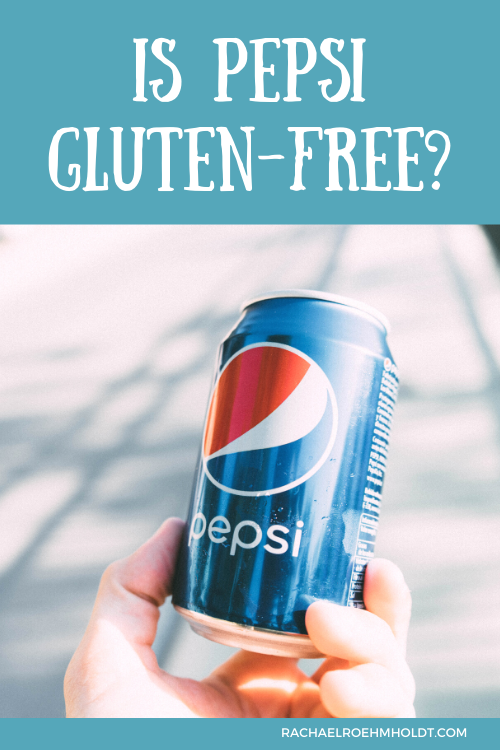 What flavors of Pepsi are gluten-free?
Most of Pepsi's flavors and varieties contain no gluten ingredients and can generally be safe to enjoy on a gluten-free diet. Look for one of these flavors next time you're shopping for soda and know that you'll be okay to stick with your gluten-free diet with these options:
Pepsi
Pepsi Zero Sugar
Diet Pepsi
Pepsi Mango
Pepsi Zero Sugar Mango
Pepsi Wild Cherry
Diet Pepsi Wild Cherry
Pepsi Zero Sugar Wild Cherry
Pepsi Real Sugar
Pepsi Caffeine Free
Diet Pepsi Caffeine Free
If you enjoy a can of Pepsi every now and then, I hope this post has helped you determine that it's a safe choice for your gluten-free diet. While this soda is loaded with sugar, it's probably not the best idea to drink it regularly for the health of your overall body and teeth. But if it's your favorite soda, there's no reason to avoid it while living a gluten-free lifestyle.
If you loved this post, I hope that you'll share it with your friends on Facebook and pin it for future reference on Pinterest.
Love this post? You might also want to check out these!
Find out if your favorite foods and ingredients contain gluten with these posts!