Is cornmeal gluten-free? Find out if this popular whole grain product is safe for your gluten-free diet, plus if different types of cornmeal are gluten-free.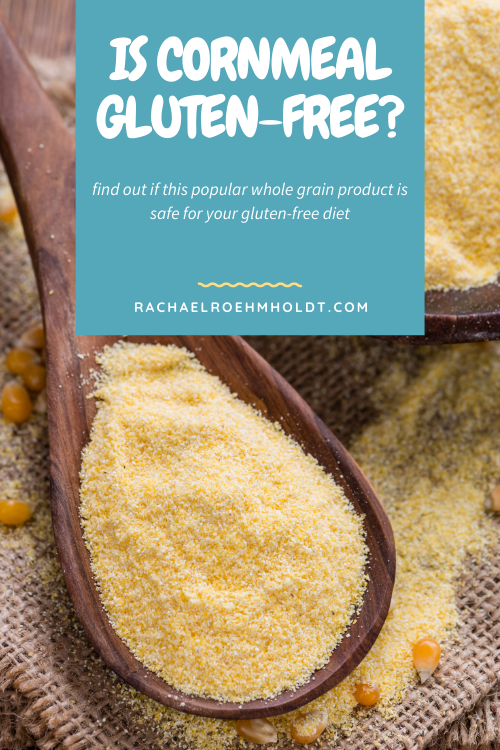 Note: I am a proud Amazon, Chomps, MunkPack, and Thrive Market affiliate and am happy to recommend their service and products to you. Please know that as an affiliate, I may receive a small commission on the products you purchase after clicking through my links. For more info, please see my disclosure policy here.
Have you found yourself standing in the aisle of the grocery store lately wondering what ingredients are gluten-free? Or have you been looking through your old favorite recipes and realizing that now on a gluten-free diet that your recipes might need a full makeover?
This has been my reality for years. I still look back on some favorite recipes today trying to find ways to bring them into my current life.
If you've been a fan of cornbread or other foods that contain cornmeal, you may have tried to figure out how you can still enjoy them on a gluten-free diet.
In this post, I hope to help ease your fears about cornmeal and get you the answers you need about this ingredient and how to make it work in your gluten-free diet.
We're going to talk about what cornmeal is and get to the bottom of whether this food is gluten-free. We'll also discuss corn and other corn products that are similar (and sometimes mixed up with) cornmeal to help you understand your options when it comes to substitutions.
What is cornmeal?
Cornmeal is made from corn that has been ground to make a coarse flour. You can find cornmeal in varying textures for different uses.
Cornmeal is used in many different recipes, like cornbread, grits, polenta, griddle cakes, cornmeal muffins, and even some cornmeal cakes.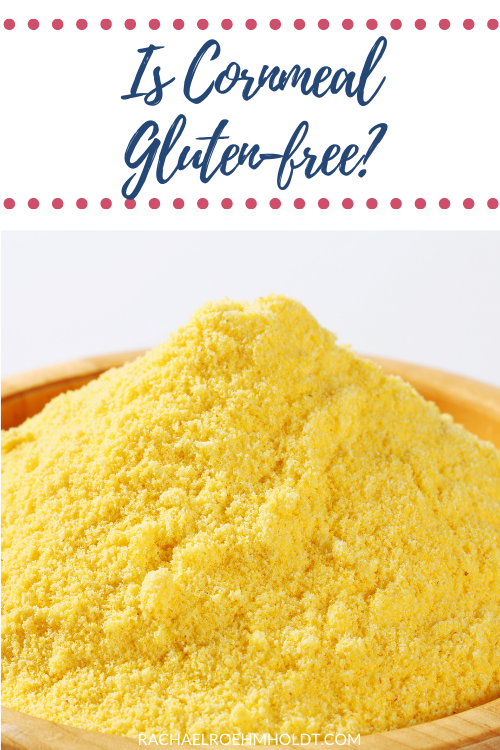 What is gluten?
Gluten is a protein found in most wheat products, and acts as the "glue" that helps to hold wheat, barley, kamut, spelt, farro, durum, bulgur, rye, and semolina together to maintain their shape.
Gluten is naturally occurring, and therefore is impossible to strip away from the grain. If a grain naturally has gluten in it, there's no way to make that food gluten-free.
Is corn gluten-free?
While many whole grains contain gluten, corn does not. In its natural form straight from the cob, it is always gluten-free.
There are some cases where you'll want to be careful, however. While corn itself is naturally gluten-free, corn that comes with a sauce or is mixed into a processed food product, like canned soup, may contain gluten.
You'll want to be diligent about checking ingredient lists if you buy anything except for fresh corn from the produce department of your grocery store.
Corn products, like cornmeal, polenta, or grits need to be processed on equipment that isn't shared with other gluten containing grains in order for it to be considered gluten-free.
Read on: Is corn gluten-free?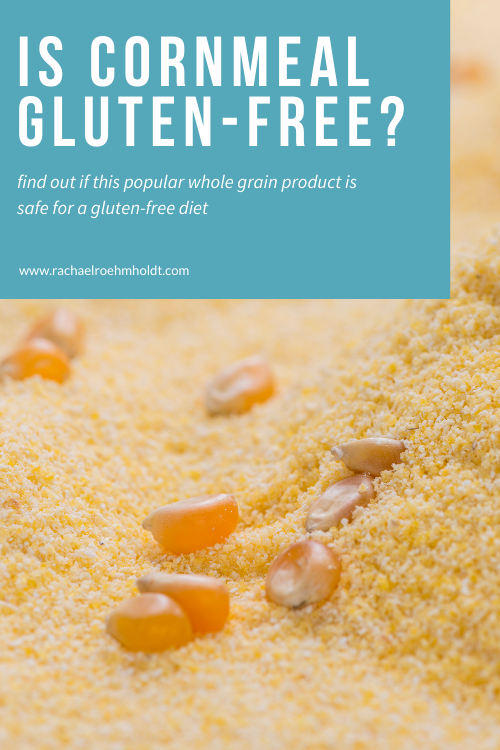 Is cornmeal gluten-free?
Cornmeal is gluten-free, as long as it has not had any cross contact with other grains during the manufacturing process. Many times cornmeal is processed on the same machinery as wheat or other gluten grains, like barley or rye grains.
It's important to know how the cornmeal is processed and what the conditions are, because gluten grains are miniscule and easy to move throughout a facility and stay on machines if they haven't been cleaned properly between processing.
The best way to ensure the cornmeal you are using is gluten-free is to look for a package of cornmeal that has a gluten-free label on it. Or look for a note on the package that says it was processed on a dedicated gluten-free line and facility.
Is polenta gluten-free?
Polenta is made from cornmeal, making this a naturally gluten-free food. As mentioned before, look for a package with a gluten-free label to ensure that cross contamination with other gluten-containing grains is avoided.
Brands like Bob's Red Mill and Ancient Harvest are trusted gluten-free polenta brands.
Read on: Is polenta gluten-free?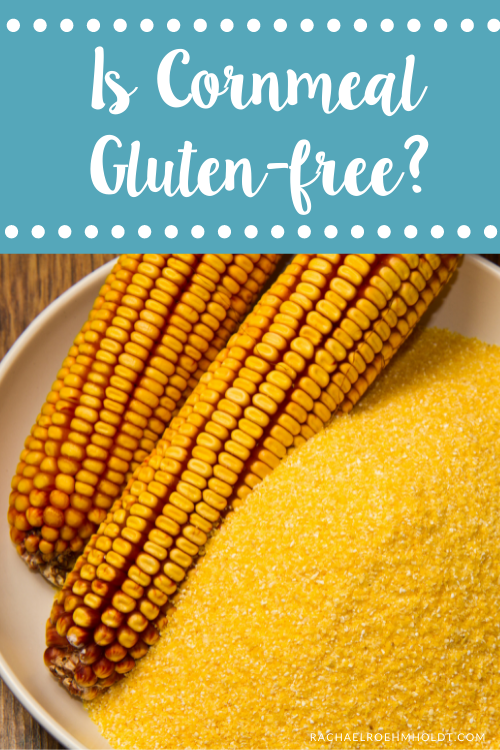 Are grits gluten-free?
Grits, or coarse cornmeal, are considered gluten-free. However, you'll want to look for that gluten-free label to ensure no cross contamination has taken place during harvesting or processing.
It's important to keep in mind that while grits contain no gluten, other ingredients that are added to a recipe will also need to be gluten-free in order to keep it that way.
For example, if you enjoy grits with gravy, be sure there is no flour in the gravy as this contains gluten. Make your own gluten-free gravy at home to go with your grits.
Read on: Are grits gluten-free?
Is cornbread gluten-free?
Cornbread is traditionally not gluten-free as it contains all-purpose flour or wheat flour. However, the easiest way to make it gluten-free is to substitute the all-purpose flour for a gluten-free flour blend that works as a "measure for measure" option.
Get my gluten-free cornbread recipe that's also dairy-free here!
Read on: 5 best gluten-free flour blends
Read on: Is cornbread gluten-free?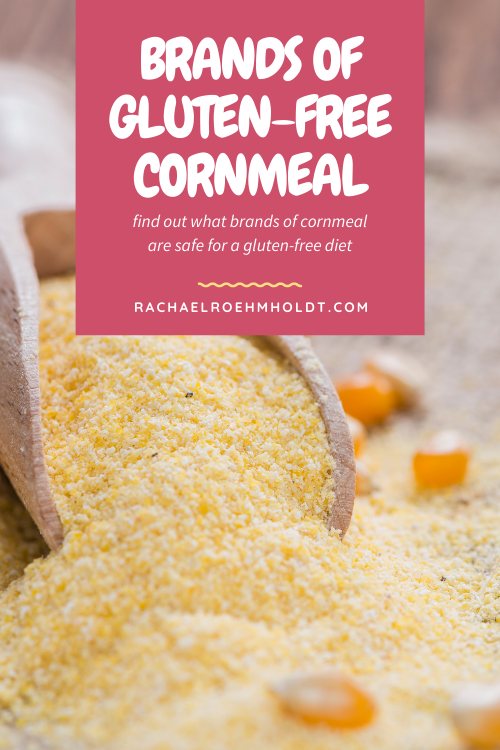 Brands of gluten-free cornmeal
Look for one of these brands of gluten-free cornmeal next time you're shopping. These options have gluten-free labels, meaning there is less than 20ppm of gluten in the package.
Are my favorite brands of cornmeal gluten-free?
Find out if these popular brands of cornmeal contain gluten and if you should use them on your gluten-free diet.
Is Albers cornmeal gluten-free?
According to the packaging on the Albers yellow cornmeal box, there is a note under the ingredients list that states "made on equipment that processes milk, wheat, soy and egg."
If you are avoiding gluten and are sensitive to even trace amounts, you'll want to find a different brand that doesn't share manufacturing equipment with any gluten grains like wheat.
Is Aunt Jemima cornmeal gluten-free?
Though there is no gluten listed on the packaging, there also isn't a gluten-free label or a note about where it is processed. I'd steer clear of this brand on a gluten-free diet.
Is Martha White cornmeal gluten-free?
Martha White cornmeal has a note on their packaging that their cornmeal "may contain milk and wheat." Avoid this brand of cornmeal if you're sticking with a gluten-free diet.
Is Quaker yellow cornmeal gluten-free?
Though there are no gluten-containing ingredients in the ingredient list of Quaker yellow cornmeal, there also is not a gluten-free label or a note sharing where their cornmeal is processed. If you are sensitive to gluten at the trace level, avoid this brand and look for one that is processed on a dedicated gluten-free line.
If some of your favorite recipes include cornmeal, you don't need to worry much on your gluten-free diet. There are brands that carry certified gluten-free cornmeal that you can safely enjoy without any worry of cross contamination to use your recipes.
If you loved this post, I hope that you'll share it with your friends on Facebook and pin it for future reference on Pinterest.
Love this post? You might also want to check out these!
Find out if your favorite foods and ingredients contain gluten with these posts!