Find out if butter is gluten-free, what it's made of, and what you need to know about cross contamination when it comes to butter.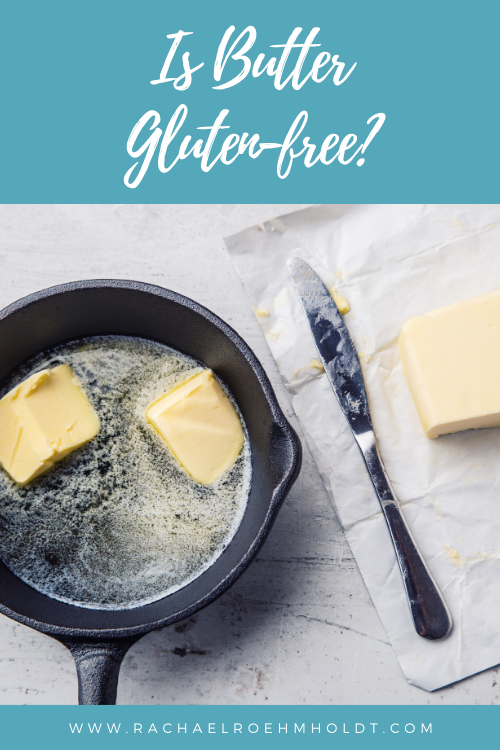 Note: I am a proud Amazon, Chomps, MunkPack, and Thrive Market affiliate and am happy to recommend their service and products to you. Please know that as an affiliate, I may receive a small commission on the products you purchase after clicking through my links. For more info, please see my disclosure policy here.
Butter is an extremely popular ingredient in the American diet. It can be used as an ingredient for baked goods, like cookies, pies, and cakes or in savory dishes that get a creamy finish with a pat of butter.
Many restaurants use butter as a finishing ingredient to give a dish a glossy sheen and an extra creamy, buttery flavor. Butter can be found home cooked meals, restaurants, and even packaged foods you find at the grocery store.
But if you follow a gluten-free diet or are just getting started with one, you may be wondering if this ingredient is something you'll want to keep around. Is butter okay for gluten intolerant folks or those with a gluten allergy?
In this post, find out what butter is, what it's made from, if butter is gluten-free, and what you need to know about butter and cross contamination with gluten. We'll wrap this post up talking about what to eat if you are following both a gluten and dairy-free diet.
What is butter?
Butter is a creamy spreadable fat that comes from cow's milk. It is used in many cooking and baking recipes, as well as used as a condiment for bread, rolls, or mashed potatoes.
This ingredient is extremely popular in the American diet, and can be found in recipes for breakfast, lunch, and dinner in restaurants and home kitchens alike.
What is butter made from?
Butter is made up of milk or cream, generally from cow's milk but can be made from other animal milk, and churned until the butterfat separates from the buttermilk. The butterfat is what we know of as butter.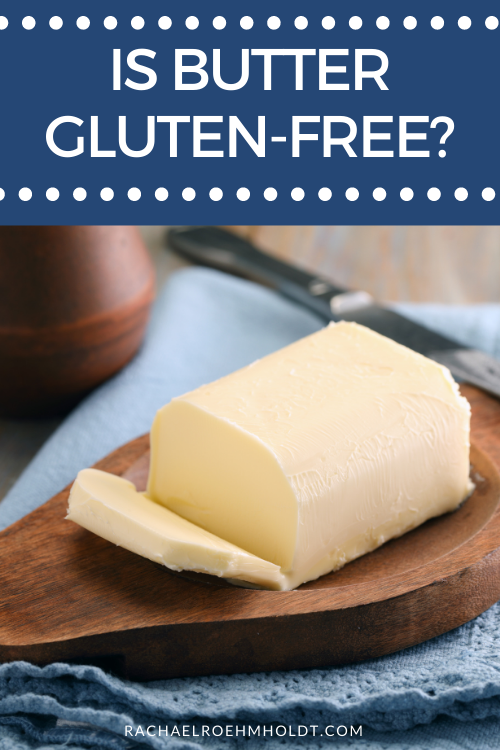 What is gluten?
Gluten is a protein found in most wheat products, and acts as the "glue" that helps to hold wheat, barley, kamut, spelt, farro, durum, bulgur, rye, and semolina together to maintain their shape.
Gluten is naturally occurring, and therefore is impossible to strip away from the grain. If a grain naturally has gluten in it, there's no way to make that food gluten-free.
Gluten can also be found in many processed foods, either in the form of wheat or derivatives of a gluten-containing grain. That's why it's important to do your research before purchasing any food when you follow a gluten-free diet.
You have to do your due diligence researching to be sure you aren't consuming gluten inadvertently.
Is butter gluten-free?
Butter is made from cow's milk and later salt may be added. These both are naturally gluten-free foods, making this a naturally gluten-free ingredient.
You can safely enjoy butter and most butter substitutes on a gluten-free diet, however there are a few things to keep in mind.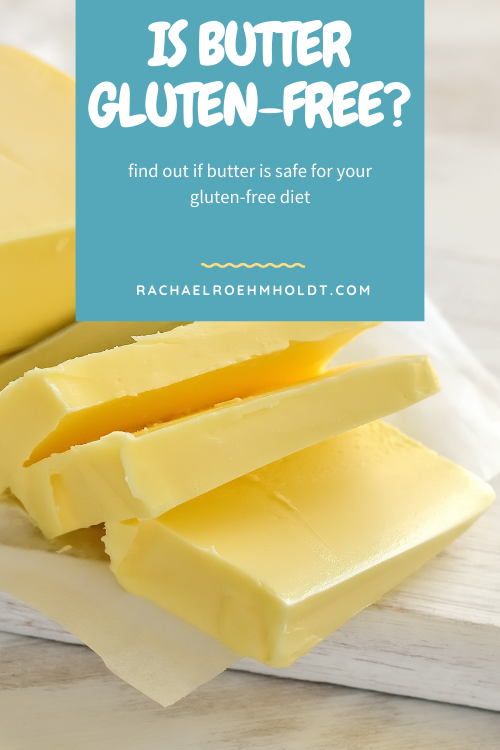 Butter and gluten
While butter is naturally gluten-free, you'll want to be careful of cross contamination with gluten. This isn't the typical cross contamination that we normally talk about with gluten. This isn't from the manufacturing process or the facility it comes from.
The kind of cross contamination I'm talking about is from what you do at home in your own kitchen. For example, if you're the only one in your household who follows a gluten-free diet, you know you need to keep many of your foods separate from those that contain gluten.
But what about other family members? Will "double dipping" from the same butter container cause you to get sick?
It's a good idea if you are extremely sensitive to gluten to have your own butter dish and container that is labeled for just those who are gluten-free in the house. This will help others in your family keep from contaminating the gluten-free butter dish through dipping a knife back into the container.
It might seem like overkill, but if you are extremely sensitive to even trace amounts of gluten, you're going to want to go to the extra effort to ensure that you don't get sick from bread crumbs left over in a butter container.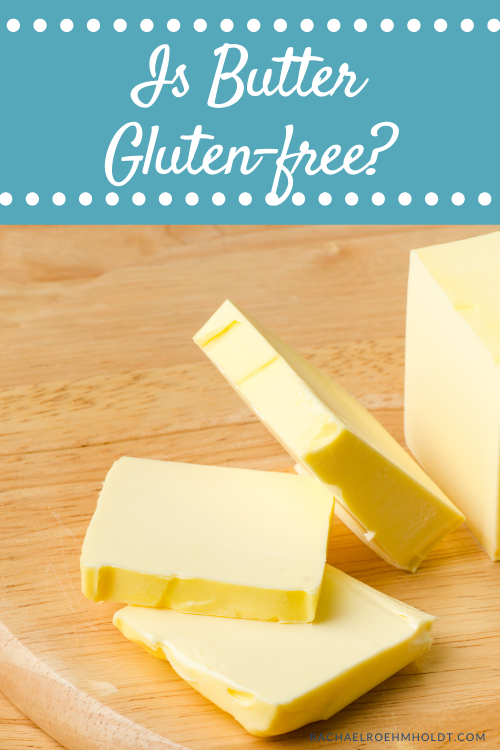 Is butter dairy-free?
Since butter is made from cow's milk or cream (or other animal milk or cream), it is considered a dairy product. A food is considered to be a dairy product when it is made from anything that comes from an animal, including milk.
Butter is not dairy-free and should not be eaten on a dairy-free diet.
Read on: Dairy-free Butter and Butter Substitutes
Gluten and dairy-free butter substitutes
If you're looking to avoid both gluten and dairy in your diet, butter is an ingredient that you'll want to avoid. There are a few gluten-free and dairy-free options that will work for you.
Try dairy-free butter, vegan butter, and vegan margarines in your cooking and baking. Some great brands to check out are: Earth Balance Buttery Spread, Forager Dairy-free Buttery Spread, and Miyoko's Vegan Butter.
Plant butter, shortening, coconut oil, olive oil, and avocado oil can all be used interchangeably with butter in many recipes.
For more information on butter substitutions for gluten and dairy-free diets, read this post: Dairy-free Butter and Butter Substitutes
If you love butter and are getting started with a gluten-free diet or have been at it for a while, I hope that this post has helped you get the answers you need to make an informed decision about whether to include in your diet.
Butter is naturally gluten-free, but not dairy-free. If you avoid both gluten and dairy, you'll want to find another option, such as vegan butter or coconut oil for your cooking and baking.
If you loved this post, I hope that you'll share it with your friends on Facebook and pin it for future reference on Pinterest.
Love this post? You might also want to check out these!
Find out if your favorite foods and ingredients contain gluten with these posts!