Find out what gluten-free snacks work well for a road trip – all are also dairy-free! Get a list of ideas and brands to pack for your next car ride.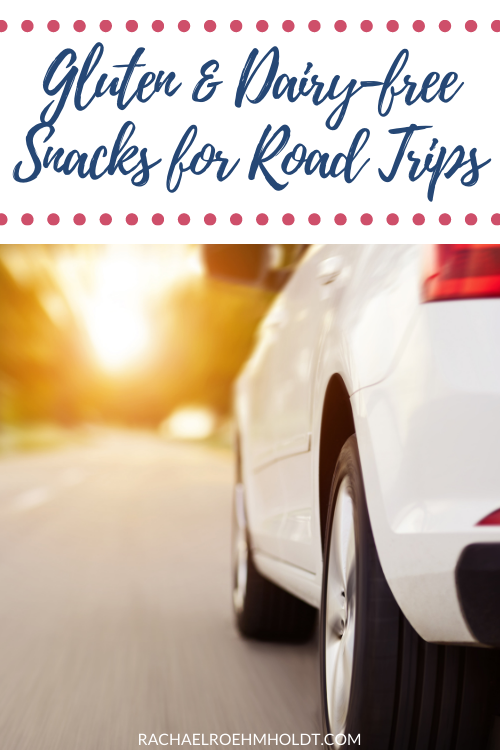 Note: I am a proud Amazon, Chomps, Munkpack, and Thrive Market affiliate and am happy to recommend their service and products to you. Please know that as an affiliate, I may receive a small commission on the products you purchase after clicking through my links. For more info, please see my disclosure policy here.
If you're planning a road trip or vacation that requires some amount of driving soon, you may have been thinking about what kinds of snacks are worth packing in the car. If you're like me, the food almost always feels like the most important part of any trip and it's what I think about immediately after we decide on when and where we're going.
Being on a gluten-free diet doesn't mean you have to go without car snacks, so I thought it would be a fun idea to share with you some of the things my family packs for long car rides and road trips. We obviously don't pack all of these every time, but we work off this list to help us make decisions about what to bring.
The criteria for what makes our list of favorite gluten-free road trip snacks are:
Must be gluten-free
Must be dairy-free
Doesn't need refrigeration
Comes prepackaged or can easily be packaged in containers from home
Doesn't leave behind spills, too many crumbs, or leaves the car smelly
Doesn't produce a ton of trash
At least some semblance of nutritional value in the snack
Not all of these criteria are met with each and every snack, but we aim to hit as many as possible when choosing snacks to take with us in the car.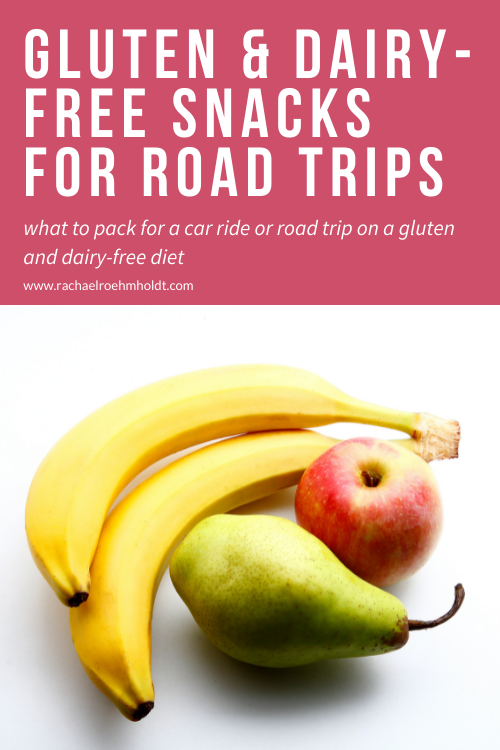 Fresh fruit
The fresh fruit I like to pack in the car is generally anything that can be eaten straight from the fruit itself and trash is minimal and can be saved for the next rest stop or destination.
These are our favorites to bring along in the car: apples, oranges, bananas, and berries of all kinds. If you know you or your kids will only eat fruit that's been cut up, then take a bit of time before hitting the road to do this. The best fruit you bring along is fruit you'll actually eat!
Read on: What foods are naturally gluten and dairy-free?
Vegetable sticks or other easy to eat veggies
Another good car snack option for anyone – even those not on a gluten and dairy-free diet are raw veggie sticks or easy to eat vegetables, like mushrooms and snap peas.
Cut up some carrots, celery, or bell peppers into strips and pack them in a storage container for the car. Mushrooms or snap peas are great too, because they don't require any extra chopping and can be eaten whole without any trash left behind.
Beef jerky or Chomps sticks
For a protein option on car rides and long road trips, another good gluten and dairy-free idea is to pack beef jerky or another type of meat stick. There are a few gluten-free brands of jerky, like Krave or Perky Jerky you might want to try out.
My family also loves Chomps sticks for car trips. These come in a number of different flavors and they offer beef, turkey, and venison meat options. These are gluten-free, dairy-free, non-GMO, and have no added sugars. My son is a big fan of their mini-sized Chomplings and likes to pack them for a snack at school too.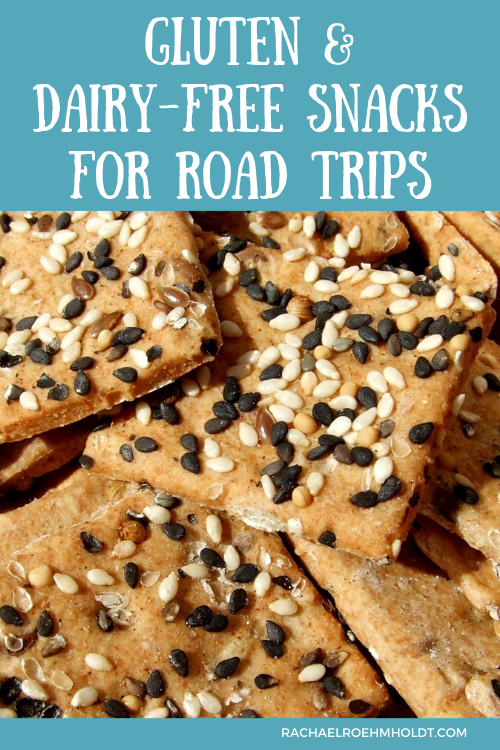 Gluten-free crackers or pretzels
Gluten-free crackers are also a good choice for car rides, because they require no refrigeration and can be easily stashed in the car. We like these brands in our house: Simple Mills, Mary's Gone Crackers, and Van's.
Gluten-free pretzels make for good snacking any time, but can also be added to your car for a road trip. Choose from Glutino, Snyder's, and Trader Joe's.
Read on: Are pretzels gluten-free?
Read on: Gluten-free pretzels
Read on: Gluten-free pretzel rods & sticks
Read on: The best gluten-free crackers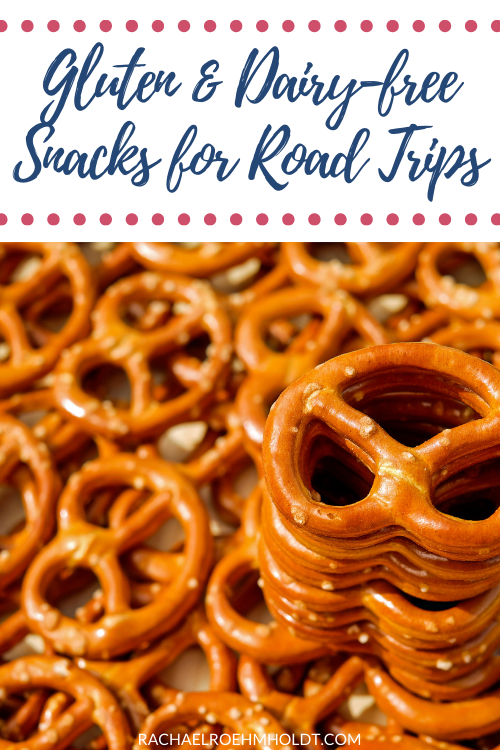 Homemade snack mix, like Chex mix or trail mix
If you're one for packing along something a little different on your car trip, try making up your own Chex mix or trail mix.
Chex mix is easy to make at home since the store-bought option contains wheat Chex and gluten. Whip up a batch at home for your car ride with some corn Chex, rice Chex, gluten-free pretzels, nuts, and a few seasonings. You can portion it into plastic bags or storage containers for easy access while on the road.
Trail mix is another snack mix you might want to take on your gluten and dairy-free car trip. The best part of making a homemade trail mix is that you get to choose what goes in it and can control the ingredients.
I can't think of one trail mix where I was leaving at least one ingredient behind, because it wasn't my favorite. Choose your favorite, nuts, seeds, gluten-free pretzels or cereal, and maybe even dairy-free chocolate chips.
Read on: Gluten and dairy-free Chex mix
Read on: Gluten-free cereal
Read on: Dairy-free chocolate chips
Fruit leather or fruit snacks
Fruit leather is an easy packable option for car rides since it's naturally gluten and dairy-free. You can buy it at the store or make your own at home using a dehydrator or oven at a low temperature.
If you have kids, you might opt to bring along some fruit snacks for their little fingers. Note that while most are dairy-free, not all fruit snacks are gluten-free, so it's a good idea to review ingredients lists before buying. Some gluten-free options include Annie's, Welch's, and Mott's.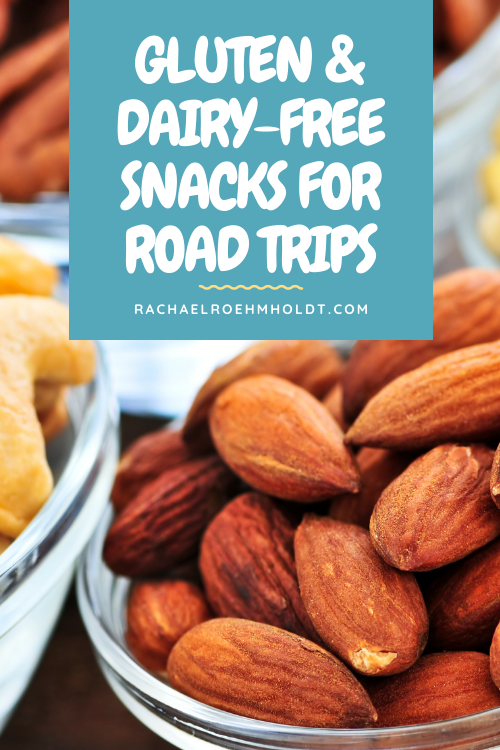 Nuts
Plain nuts make a great car ride snack. Raw or roasted, all plain nuts are gluten and dairy-free!
The great thing about nuts is that they don't need refrigeration and are easy to grab a handful of whenever you need a snack. Peanuts, almonds, cashews, pistachios, and walnuts will all make great additions to your road trip snack bag.
Just be sure if you're buying nuts from the store that you choose plain options and not a flavored variety (like honey mustard, smokehouse, or spicy options), as these may contain added gluten or dairy. If you do choose flavored nuts, be sure to review ingredients lists before buying.
Read on: Are nuts gluten-free?
Snack bars, protein bars, or fruit and nut bars
Snack bars are a necessity when my family travels, because they're so convenient to keep in the car or take on our adventures when we get to our destination.
You can make your own snack bars at home, but I prefer store-bought options for car rides, because they're individually packaged making for less mess and less effort when someone wants a snack.
There are a number of great snack bars that are both gluten and dairy-free. Larabars, KIND bars, MunkPack bars, and RX bars are all good options. Not all bars under these brands are gluten and dairy-free, so be sure to read ingredient lists before purchasing. Read this post for 5 great gluten and dairy-free snack bar recommendations.
Read on: Gluten-free protein bars
Read on: Are Clif bars gluten-free?
Applesauce or fruit pouches
If you have little ones in your car (or you just enjoy these), applesauce or fruit pouches are an easy way to get some fruit into your diet without much effort at all. The ones with the twist top make it easy to access and even little fingers can often do this on their own.
You can find these in different flavors too, like apple-banana, apple-strawberry, and even some with carrots and veggies in them, like apple-carrot-mango.
Find some applesauce and fruit pouch options on Amazon and Thrive Market.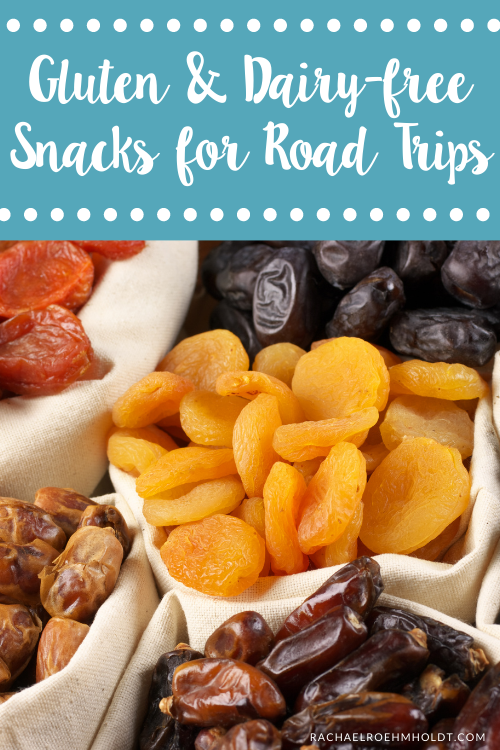 Dried or freeze-dried fruit
Dried fruit, like raisins, dates, and plums can work well for car trips. You can enjoy them plain or add them to a homemade snack mix like we talked about earlier in the post.
Another fruit option my family likes to take on trips is freeze-dried fruit, like strawberries, raspberries, and bananas. I've found some really delicious ones from Trader Joe's that my whole family enjoys.
Read on: Are raisins gluten-free?
PB & J sandwiches
PB&J sandwiches are considered a staple for a reason. Packing sandwiches in the car or supplies to make sandwiches at a rest stop is a good option for when you know you'll be in the car during a meal time.
Choose gluten and dairy-free bread to make sure your sandwiches work for your diet. Both peanut butter and jelly are generally considered always safe for a gluten-free diet, so you can feel good about this option as long as you have the right bread.
If jam or jelly isn't your favorite thing, opt for honey to make peanut butter and honey sandwiches instead.
Read on: Is peanut butter gluten-free?
Read on: Is honey gluten-free?
Read on: 7 Best gluten and dairy-free bread brands
Homemade muffins or cookies
Since it's not always possible to find gluten and dairy-free muffins or cookies from stores, it's a good idea to make your own at home to pack for your road trip and car ride.
Muffins pack well and if made with gluten and dairy-free ingredients are perfect on this diet. Kids love them, so this might be a great option when you're traveling with little hikers too.
Find a few recipes to try in my gluten and dairy-free muffin recipe roundup. Or go with my family's favorite – these gluten-free banana muffins with chocolate chips.
There are some gluten and dairy-free cookies you can buy from the store, or you can opt to make your own, knowing you can control the ingredients in them. A few great options for car rides are gluten-free chocolate chip cookies, gluten-free sugar cookies, and gluten-free peanut butter cookies. All of these are also dairy-free and vegan.
I hope if you have a long car ride or road trip coming up that these ideas will help inspire you to pack options that work well for your gluten and dairy-free diet.
There's no right or wrong snack options to choose for your road trip, but be sure to choose things that are easy to access, easy to clean up, and ones that don't need any refrigeration if you don't plan to pack a cooler.
If you have more travel coming up, you may want to check out these posts as well:
If you loved this post, I hope that you'll share it with your friends on Facebook and pin it for future reference on Pinterest.
Love these snack ideas? You might also want to check out these posts!
Get tons of snack ideas from this list of gluten and dairy-free posts all about snacks!