Find out what almonds are used for, what gluten is, and if this ingredient and snack option is safe for a gluten-free diet.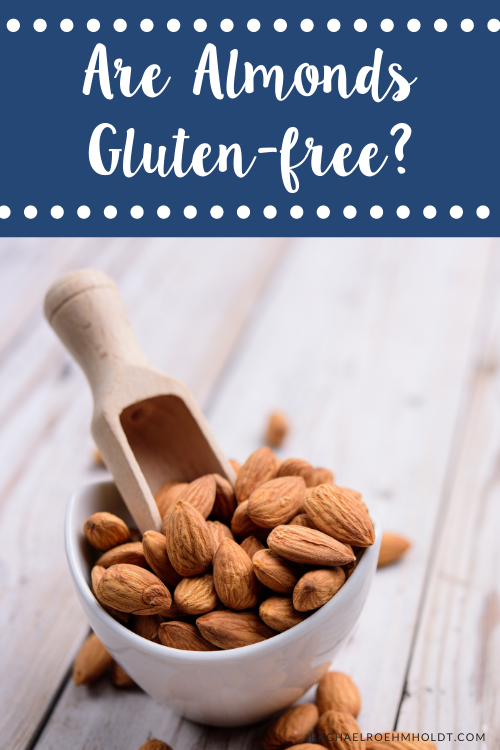 If you enjoy eating almonds as a snack or using them in a variety of ways in your cooking and baking, you may have wondered if this food is gluten-free. After all, if they're raw or roasted, there should be no additional ingredients in them.
In my household, almond flour, almond milk, and raw almonds are consumed almost daily. I love almond milk in my coffee and morning oatmeal or cereal, almond flour in my favorite gluten-free chocolate chip cookies, and raw almonds are eaten as a snack by the handful.
If you are following a gluten-free diet, this post will help you determine if this food is safe for you to enjoy regularly. We're going to talk about what almonds are, what many folks use them for, the different almond products you can find to cook or bake with, and of course answer the question "are almonds gluten-free?"
If you've been wondering if almonds can be incorporated into your gluten-free diet, read on!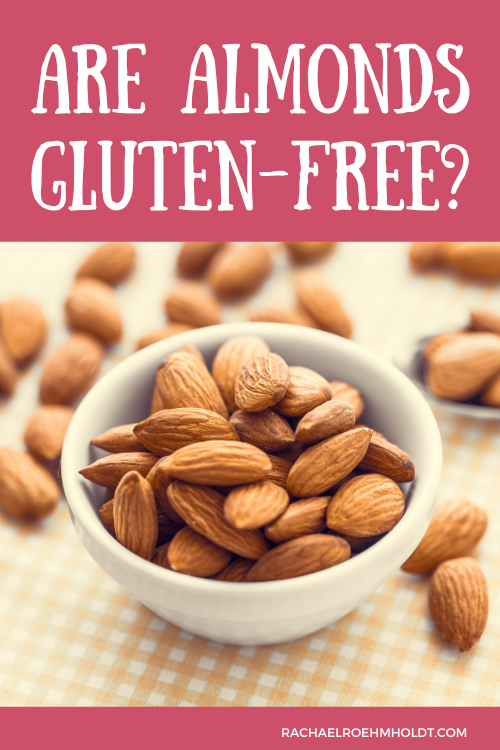 What are almonds?
Almonds are a type of nut that are very popular as they taste great and provide a great source of fiber and healthy fats. They're delicious on their own or mixed into recipes, making them a popular snack and ingredient in many dishes.
Almonds are a great snack raw or roasted. You can even find roasted and flavored almonds at many grocery stores in a variety of flavors, like smoked, chocolate, honey roasted, barbecue, and salt and vinegar, among others.
You can add slivered almonds to cookies and desserts, or use almond flour to make cookies or cake. Many folks like to add them to trail mix or even granola recipes. Chopped almonds are a great addition to yogurt bowls and as toppings for ice cream or other desserts as well.
Many folks love almonds, because they are high in unsaturated fat which help fill you up but don't raise your cholesterol. They also are a good source of vitamin E and magnesium, which help prevent heart disease, lower the risk of Alzheimer's disease, and help manage blood sugar.
If you're looking for a filling and healthy ingredient, consider adding more almonds into your diet regularly.
What is gluten?
Gluten is a protein found in most wheat products, and acts as the "glue" that helps to hold wheat, barley, kamut, spelt, farro, durum, bulgur, rye, and semolina together to maintain their shape.
Many processed foods have hidden gluten in them in the form of gluten or wheat derivatives. These are also in the form of flavorings, binders to keep ingredients together, or other additives.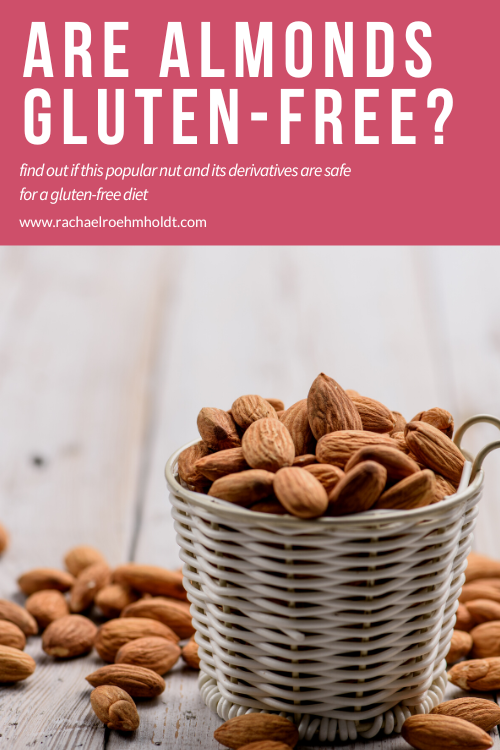 Are almonds gluten-free?
Almonds are naturally gluten-free as they don't have any gluten-containing grains in them.
The only time you would need to be worried about almonds not being gluten-free are if they are flavored or seasoned.
Almonds that are plain and bought raw or roasted are almost always safe for a gluten-free diet.
The one thing that you want to be aware of when it comes to almonds and a gluten-free diet will depend on your level of sensitivity to gluten. You may want to look for a product that is labeled as "gluten-free" to ensure there isn't a risk of cross contamination during processing.
If you're trying to avoid gluten due to an allergy or sensitivity, you may also consider avoiding buying almond flour or almonds from the bulk bins at your grocery store. Bulk bins are a notorious place for cross-contamination with gluten, so in this case it's best to buy packaged products that have a gluten-free label on the package to know for certain that it is safe for a gluten-free diet.
Read on: Are nuts gluten-free?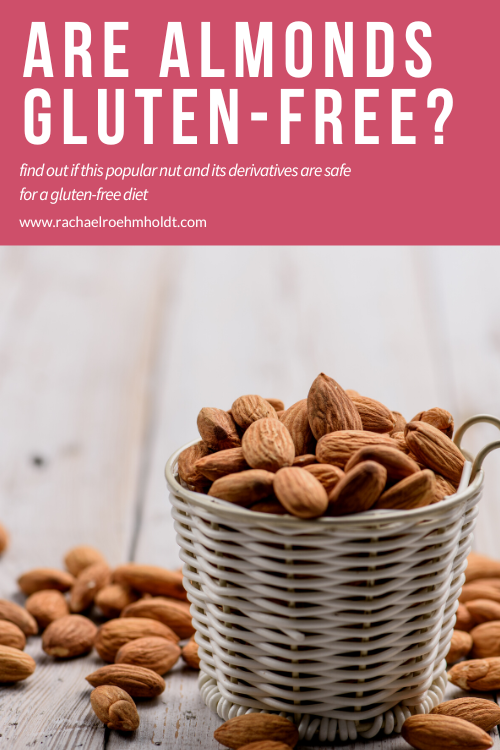 Is almond flour gluten-free?
Almond flour is naturally gluten-free, and you can feel confident using this ingredient in your baking for all your gluten free recipes. Be sure other ingredients you use in your recipe are gluten-free as well.
If you are extremely sensitive to gluten even with trace amounts, you may consider buying an almond flour that has a gluten-free label on the packaging to ensure that there has been no cross-contamination in the facility where the almond flour was processed.
Read on: Is almond flour gluten-free?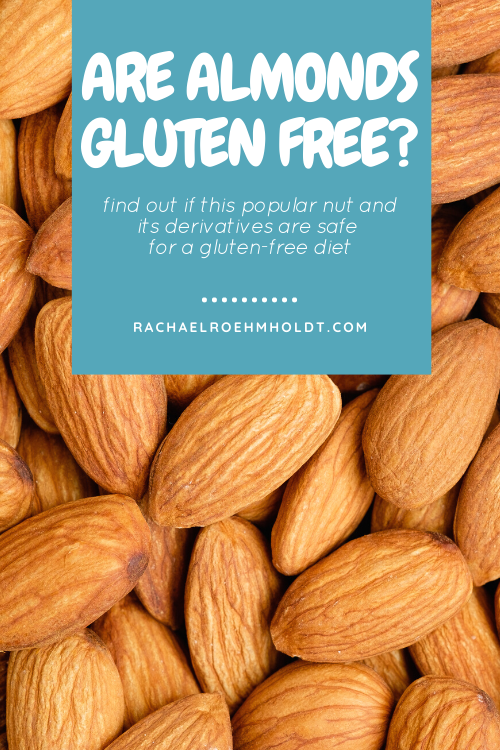 Is almond milk gluten-free?
Almond milk is almost always gluten-free as almonds are a naturally gluten-free food. Assuming the only other ingredients in the almond milk you're drinking are water and preservatives, it should be safe for your gluten-free diet.
You can always look for a gluten-free label if you're not certain if the brand you're choosing is a good option for you.
Or you may choose to break out your blender and make your own almond milk by soaking some almonds overnight in water, rinsing in the morning, and blending with fresh water. It couldn't be simpler to have a gluten-free almond milk just with raw almonds and a blender.
Read on: Is almond milk gluten-free?
If almonds are a favorite snack or ingredient you like to use in your cooking and baking often, you can feel relieved to know that they are generally a safe ingredient for folks on a gluten-free diet.
If you are particularly sensitive to gluten, opt to buy almonds in a package over bulk bins and look for a gluten-free label if that helps you feel confident these are safe for your diet.
f you loved this post, I hope that you'll share it with your friends on Facebook and pin it for future reference on Pinterest.
Love this post? You might also want to check out these!
Find out if your favorite foods and ingredients contain gluten with these posts!