Enjoy this recipe roundup of 25 gluten-free dairy-free Easter recipes, including breakfast, appetizer, main dishes, side dishes, and desserts!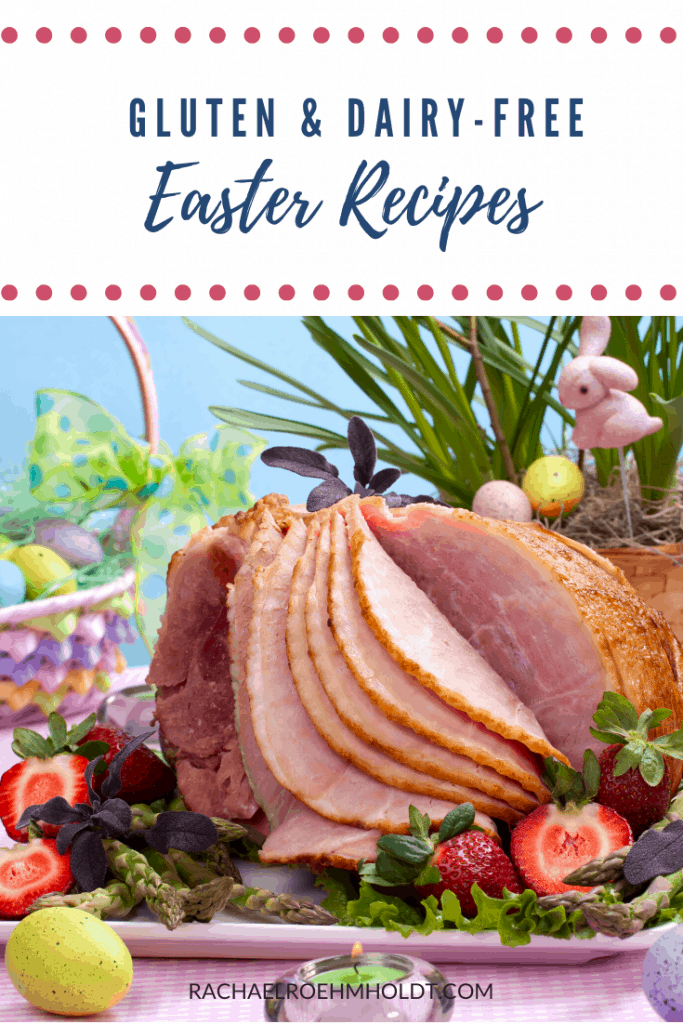 Note: I am a proud Amazon, Chomps, MunkPack, and Thrive Market affiliate and am happy to recommend their service and products to you. Please know that as an affiliate, I may receive a small commission on the products you purchase after clicking through my links. For more info, please see my disclosure policy here.
Most years, my family gets together with my mom and stepdad, along with his family, to celebrate Easter. Every since I was little, my mom treats Easter like it's a second Thanksgiving.
We eat turkey, mashed potatoes, and even sometimes cranberry sauce if it's hosted at my parent's house. And while I love Thanksgiving, I don't always love having the exact same meal twice a year.
One of the best parts about Easter is that you can enjoy completely different foods than you can in the middle of Fall. Spring is a time for lightened up food, enjoying those first few veggies of the year, and knowing that more sunshine is on it's way soon.
Easter foods to me are eggs, carrots, peas, finger foods, ham, asparagus, and lemon desserts. Of course, Easter foods might look different to you.
Which is why I've rounded up 25 delicious recipes that would be perfect for an Easter get-together. Whether it's Easter brunch, lunch, or dinner – you'll find something delicious in this roundup.
Everything in this post is both gluten-free and dairy-free, so you can mix and match different ideas to make a perfect-to-you Easter menu.
I hope you find some inspiration from this post to create a delicious gluten-free dairy-free Easter meal that's just right for your family and how you like to spend this time.
And as a side note, I know of course, that not everyone celebrates Easter. In my household, Easter is about family, making memories, and spending time together.
For my extended family, the larger meaning of Easter is the focus of the day. I know that we can all share love and be together. You can use these recipes as inspiration for a lovely spring get-together menu if you don't celebrate Easter.
Do what you love and enjoy who you're with.
Here are the 25 gluten-free dairy-free Easter recipes!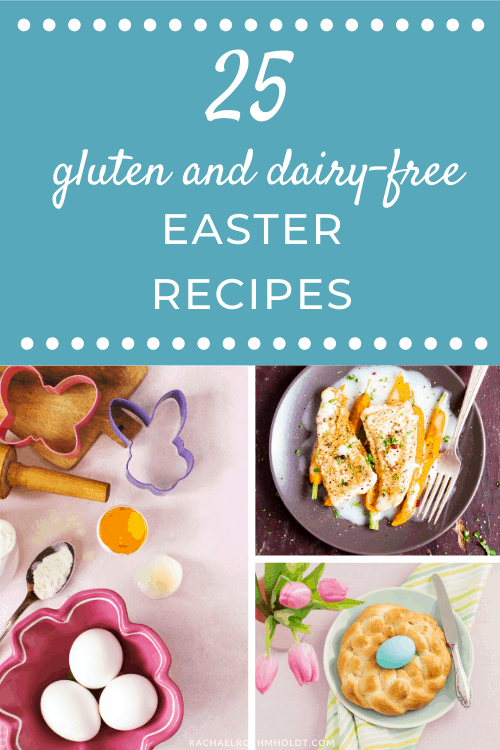 Gluten-free Dairy-free Easter Breakfast Recipes
If you like to have a special Easter breakfast, try some of these gluten and dairy-free breakfast options.
Banana bread, carrot zucchini muffins, a colorful smoothie, oatmeal, and turkey sausage breakfast casserole recipes will help you make this a special breakfast.
This gluten-free banana bread is both dairy-free and vegan friendly. This would be a great addition to any Easter brunch menu, a snack later in the day, or even a great hostess gift if you're visiting someone else's home.
This recipe is super easy, uses one bowl, and is a real crowd-pleaser!
These carrot zucchini muffins make the most of getting your veggies in early in the day! Enjoy these delicious gluten and dairy-free muffins on Easter morning for brunch or as a snack.
This raspberry mango sunrise smoothie looks as good as it is good for you! With the layering of colors and flavors from frozen mangoes and raspberries, plus a little banana and orange juice… this one will be everyone's favorite on the table!
This healthy carrot cake oatmeal is a healthy breakfast take on a favorite springtime dessert. Enjoy this oatmeal dish that's loaded with oats, carrots, chia seeds, and yummy spices for your Easter breakfast.
This easy turkey sausage breakfast casserole recipe is made with ingredients you probably already have on hand and only 10 minutes of prep time.
It's naturally gluten and dairy-free, and is perfect for any weekend, holiday, or family get together.
Read on for more gluten-free dairy-free breakfast casserole recipes.
Read on for 25 dairy and gluten-free brunch recipes.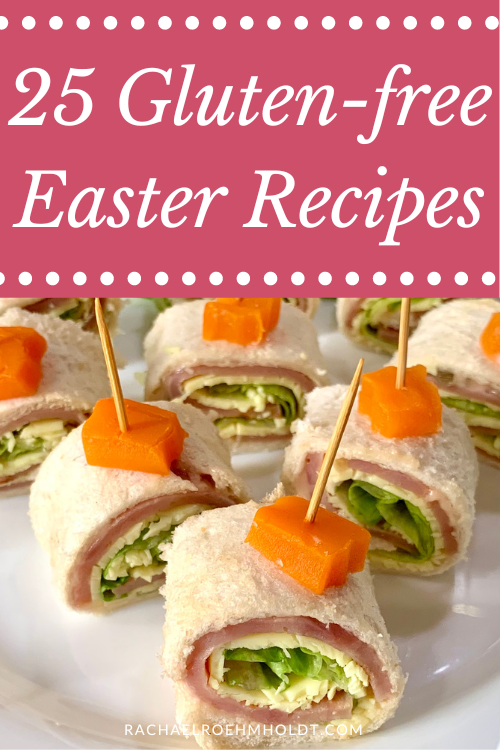 Gluten-free Dairy-free Easter Appetizer Recipes
For a few bites before a big Easter meal, you might want to try some of these gluten-free Easter appetizer recipes. Varying in the amount of effort you put in, you can enjoy some easy tortilla pinwheels or hummus and crudités or put in a little more work with quinoa fritters and a homemade aioli.
These quinoa fritters are a great appetizer if you have folks over to your house before a big meal is served.
They're made with quinoa, eggs, carrots, onion, and some herbs. The aioli comes together with soaked almonds or cashews, garlic, dijon mustard, and lemon juice.
I love tortilla pinwheels as an appetizer, because they're so easy to put together!
These are great for serving at an Easter dinner or get together, because they use corn tortillas (naturally gluten-free), sliced deli meat (make sure yours is gluten-free), taco seasoning and avocados.
You can easily swap out the taco seasoning for another flavor, like ranch dressing or just salt and pepper if you like too!
Get my gluten-free taco seasoning recipe.
Read on: Gluten-free Tortillas: Types, Gluten-free Options, and Brands
Hummus is one of those foods that is so good for you and yet so easy to make! I love finding new recipes that take a spin on the traditional hummus that I usually make or buy at the store.
This artichoke hummus adds a whole can of artichoke hearts, making the most of this spring veggie. Enjoy this hummus with gluten-free crackers or crudités (cut fresh veggies).
Read on: Is hummus gluten-free?
Snack boards look super impressive but are insanely easy to put together. With just a few dips, some sliced (gluten-free) salami or deli meat, some fresh fruit and veggies, and nuts – you can have a delicious spread that serves a lot of folks for not a lot of money this Easter.
I'm not sure why but I always think of Easter when I think of deviled eggs. This recipe uses avocado mayo, is gluten-free, and dairy-free. Perfect for your Easter gathering!
Read on: Get more gluten and dairy-free appetizers!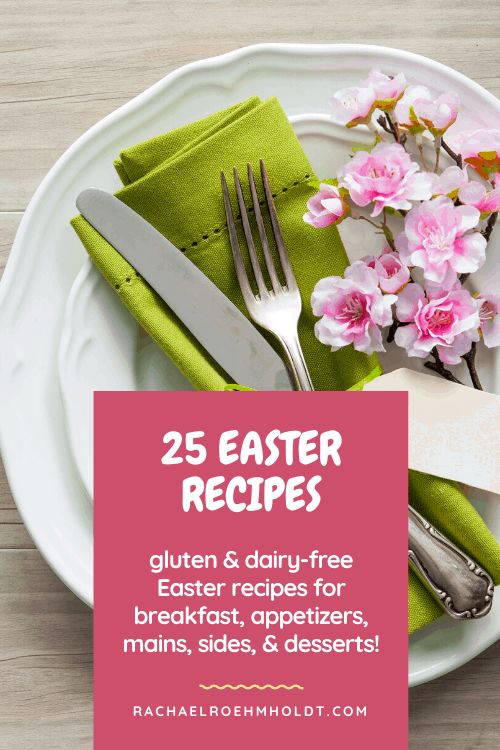 Gluten-free Dairy-free Easter Main Dish Recipes
For a main dish for your Easter meal, try one of these breakfast casserole, ham, or a delicious chicken dish recipes.
This ham recipe is awesome, because even if you're serving a crowd, dinner can be in the crock pot working for you while you're prepping other dishes or socializing. I love a recipe that's set it and forget it!
I know many folks enjoy Easter brunch, which is why I've included a link to my 25 gluten and dairy-free breakfast casserole recipe roundup post.
If you're looking for something to serve your family or a crowd, this post will be great for you!
This recipe couldn't be easier with just 5 ingredients and a crock pot. Enjoy this as a dinner main dish – and hope you have leftovers for sandwiches later in the week! This recipe looks delicious!
If ham isn't your thing for Easter, enjoy something even more simple, like this roasted chicken. This recipe even includes some delicious spring veggies, so you can get your main dish and sides done at the same time!
For something a little different, try this delicious pasta recipe for your Easter dinner. It's gluten-free with brown rice noodles, and dairy-free from a homemade vegan alfredo sauce. It looks divine!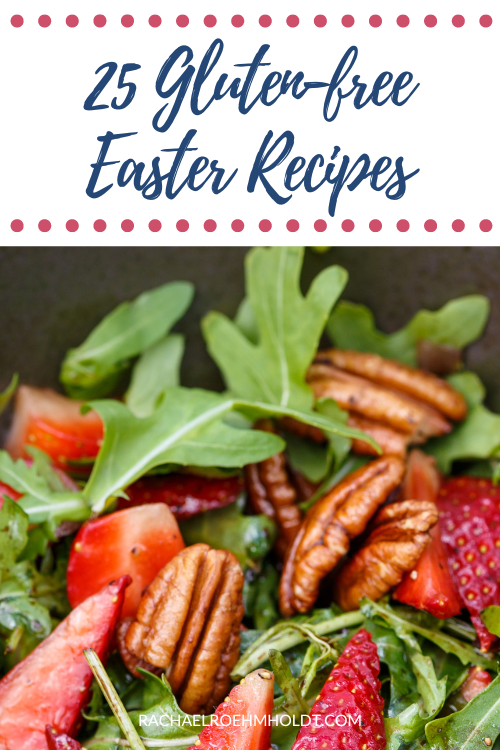 Gluten-free Dairy-free Easter Side Dish Recipes
Side dishes are a fun place to add some seasonal flavors. Try one of these gluten-free and dairy-free recipes, like maple glazed carrots, strawberry spinach salad, asparagus, or rainbow slaw.
This maple glazed carrot recipe couldn't be easier. With some fresh carrots, cumin, mustard, maple syrup, and Italian parsley, this recipe comes together quickly in the oven.
The recipe calls for ghee, but you can also use vegan butter or coconut oil instead to make it dairy-free.
This salad recipe is perfect for spring with loads of fresh ingredients, like baby spinach and strawberries. Enjoy this homemade balsamic dressing that is both gluten and dairy-free, too!
I love veggie recipes that are simple enough to let the flavors of the vegetables come through, and this asparagus recipe does just that! This 15 minutes recipe uses one pound of asparagus and a homemade sauce that really highlights the flavors of the asparagus.
Rainbow slaw is a great side dish for your Easter brunch or dinner, because it's full of fresh veggies and loads of color. Enjoy this crunchy slaw with a homemade balsamic vinegar dressing.
If you can't have an Easter dinner without potatoes, here's a delicious mashed potato recipe just for you. This easy recipe is creamy from vegan butter and completely gluten and dairy-free.
Read on: 25 Gluten-free side dishes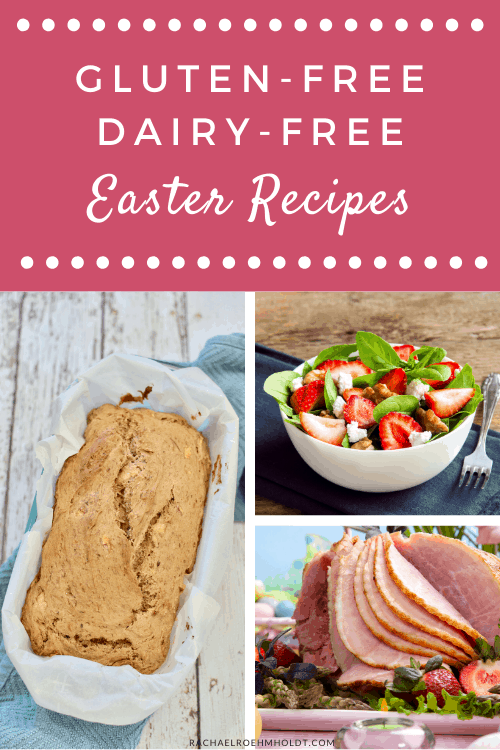 Gluten-free Dairy-free Easter Dessert Recipes
Wrap up a tasty Easter meal with a great dessert recipe. Try one of these Easter-inspired recipes, like lemon cake, carrot cake, fruit tart, lemon bars, and thumbprint cookies.
This gluten-free dairy-free lemon cake looks divine – and perfect for an Easter get together. I love lemon-flavored anything in the spring and this cake looks like it would be a real crowd-pleaser!
If you love carrot cake, this vegan and gluten-free dessert is a great alternative to an old classic. And bonus points – you can feel good about eating your veggies while still eating dessert!
This Fresh Fruit Tart has an almond flour crust, a delicious egg, coconut milk and banana pastry cream center, and topped with fresh fruit of all colors and flavors. A perfect colorful addition to your Easter table.
These gluten-free lemon bars use a yummy gluten-free shortcake base and a dairy-free lemon topping. A perfect replacement to your favorite classic lemon bar recipe to serve for Easter.
These gluten-free thumbprint cookies are made with my almond flour sugar cookie recipe as a base and a bit of delicious jam right on top.
Choose whatever flavor of jam you like – strawberry, raspberry, peach, marmalade – the options are endless! Enjoy these thumbprint cookies on a dairy-free or vegan diet too.
Read on: 25 Gluten-free Easter dessert recipes
I hope if you're entertaining for Easter, bringing a dish to someone else's home, or simply hosting a spring-inspired get-together, that these recipes will help get your juices flowing on a menu that would be just right for you.
Enjoy your time with whoever you're with, and hopefully have some delicious food too!
Love this post? You might also want to check out these!
Find recipes and inspiration for sticking with your gluten and dairy-free diet throughout the spring months!