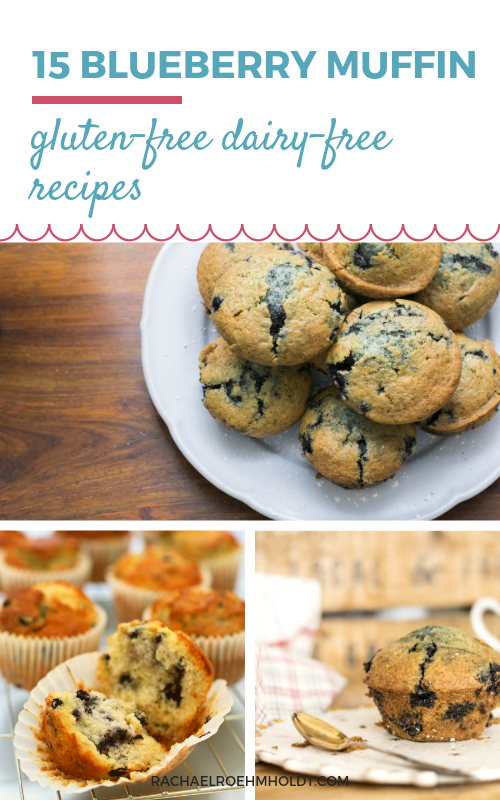 When it comes to breakfast, one of the easiest things to have on hand are muffins. They travel well, they don't need refrigeration, and are perfectly portioned for you.
But when you eat a gluten-free dairy-free diet, finding muffins at the store can be almost impossible. Which is why I've rounded up 15 delicious gluten-free dairy-free blueberry muffins for you in this post.
If you want to enjoy healthy blueberry muffins that suit your gluten and dairy-free diet, you'll need to make them at home.
Frankly, I don't know why I make them more often. Because as I was rounding these recipes up, I realized that most take less than 25 minutes.
If I can't set aside 25 minutes to get ahead for breakfasts for the week, then I don't know what I'm doing with my life.
One thing that you might be thinking is… well, aren't blueberry muffins often full of sugar and carbs – and all kinds of slightly unhealthy things that might wind up sitting on my hips more than filling my belly for more than an hour?
And the answer is… it depends on the recipe you use! When I was finding these recipes, I made it my mission to seek out some very healthy options so that you don't have to worry about carb loading at breakfast time.
In this gluten-free dairy-free blueberry muffin recipe roundup, you'll find vegan blueberry muffins (great if you're egg-free too), lemon blueberry muffins, paleo options that maximize almond flour and coconut flour for some serious nutrient-density.
Read on: Is coconut flour gluten-free?
I even found an AIP (autoimmune paleo) option for those of you who follow my blog that are on a bit more strict diet on your health journey right now.
So pick up some frozen – or fresh – blueberries from the store next time you're out and stock up on some of these ingredients for your pantry, so you can make up a batch of gluten-free dairy-free blueberry muffins any time you want to get ahead for breakfast (or snacks!) during the week:
Top 10 Ingredients for Gluten-free Dairy-free Blueberry Muffins:
You'll also want to think about storing them properly for maximum freshness. I use these plastic sealable containers with the writing surface on top to make sure they last for a few days.
You could also plan to make a double – or even triple batch – and individually wrap the muffins in plastic wrap and stick them in freezer bags to go in the freezer.
All you'd need to do is take it out of the freezer and plastic wrap, and pop it on a plate and into the microwave for about 30 seconds. You'll have a nice warm muffin ready for you!
Of course, if you're on the go, just take it out of the freezer the night before, pop it in the fridge, and it will be defrosted and ready for you to take in the car or wherever you head off to in the morning. Easy peasy!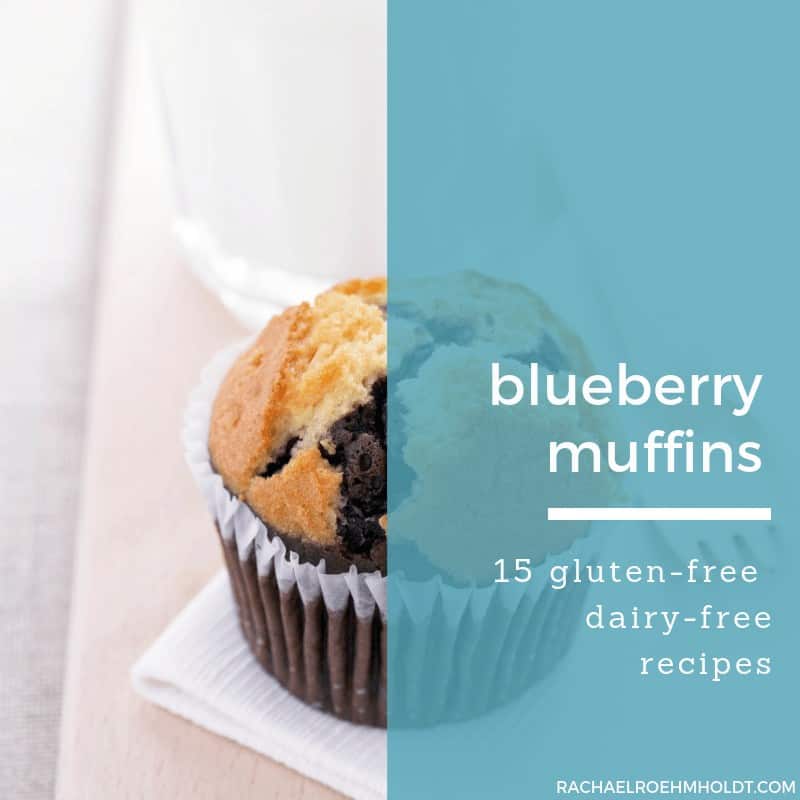 These blueberry muffins are gluten-free, dairy-free, and egg-free too! You can use either fresh or frozen blueberries and these babies bake up in just under 20 minutes.
This blueberry muffin recipe gives a classic a twist with the addition of lemon. They are made using almond and coconut flour, so you know they're nutrient dense.
These blueberry muffins are an awesome gluten-free dairy-free variation on a boxed classic you might buy at the store.
With just a little more work than using a box mix, this recipe makes up 14 good-sized muffins. Plus, they're great for freezing – so you can make a batch to eat some – and freeze the rest for later.
This awesome gluten-free vegan blueberry muffin recipe is perfect if you don't love doing dishes and like to wing it in the kitchen.
You only need one bowl for all the ingredients AND you can choose which type of non-dairy milk, oil, and liquid sweetener you want to use. Super versatile!
This recipe calls for a sugar substitute called Whey Low, which you'll probably want to avoid if you're dairy-free.
But the rest of the recipe looks awesome – made from gluten-free flour, egg, coconut oil, almond milk, salt, baking powder, and blueberries – you won't need many ingredients to make this one even if you don't have a fully stocked kitchen.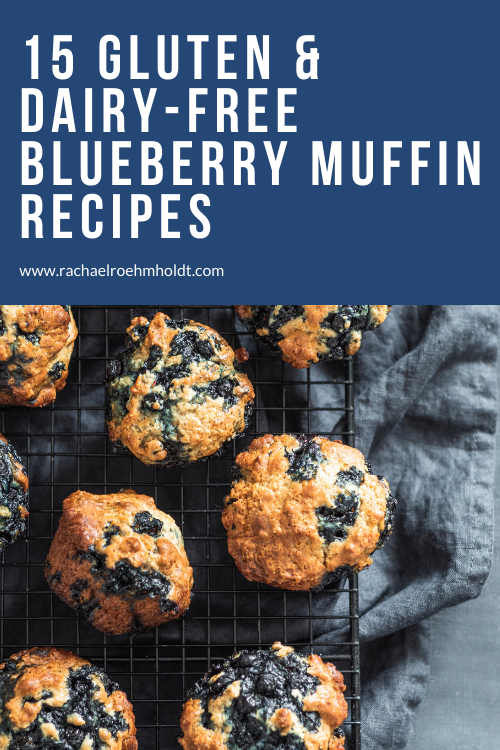 I know many folks who follow my blog follow the AIP (autoimmune protocol) diet – and while I don't, this one's for you!
This super healthy recipe yields 3 blueberry muffins, but will be so worth it to know you can enjoy one of your favorite comfort foods while following this diet that suits your healthy lifestyle.
This clean eating blueberry muffin recipe is unique in the amount of baking powder it calls for – 4 whopping teaspoons!
It seems like a lot, but it seems to be the secret in keeping them moist and fluffy instead of dense and mushy like you often see in gluten-free baking.
These blueberry and walnut muffins are a variation on this classic muffin that I've never seen before.
This recipe is loaded with healthy fats, natural sugars, and ingredients you can pronounce. The recipe yields 8 sized normal muffins or 4 mega sized muffins.
These paleo blueberry muffins are made with three types of coconut – coconut flour, coconut oil, and coconut milk. But they don't taste overwhelmingly of coconut – only yummy blueberry goodness!
This gluten-free dairy-free blueberry muffin recipe is made with a homemade all-purpose gluten-free flour blend, but you can very likely swap this out for any 1:1 style gluten-free flour mix found at the store.
Just be sure your store-bought blend doesn't have xanthan gum included, otherwise nix this from the recipe when you make this one at home.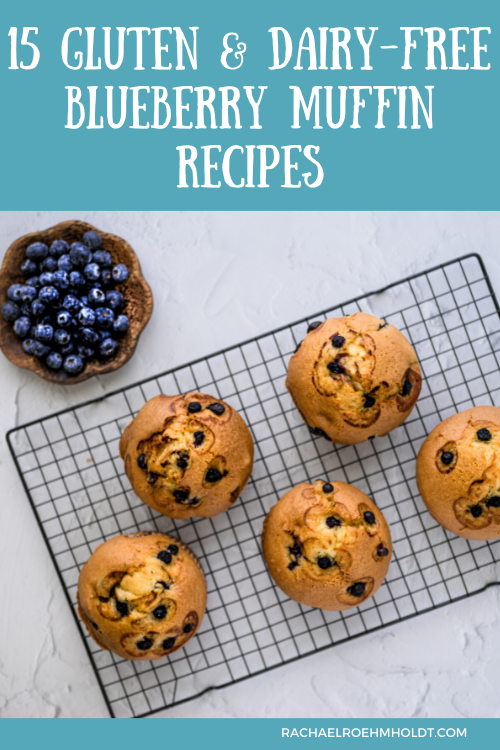 I found this flourless blueberry oat muffin to be intriguing in that instead of blending rolled oats to make oat flour, this recipe creator actually simply soaked the oats overnight in almond milk to get the oats to soften a bit.
Once in a more soggy state, the remaining ingredients are added, then baked up to create a true" flourless muffin. This one is going on my "to try" list if only because I'm curious if they actually set up when made this way.
These blueberry muffins are made using gluten-free flour blend, but what makes them unique is the non-dairy yogurt.
The use of the yogurt ensures that you get a moist muffin and some added flavor. Enjoy these plain or with a little non-dairy butter on top.
With just 7 ingredients, these blueberry muffins are easy to put together, these gluten-free and dairy-free blueberry muffins look perfect for breakfast, snacks, and even dessert.
Plus with the added protein and fiber from the almond flour, you can feel good about eating more than one.
This paleo blueberry muffin recipe makes 6 muffins, but is packed with healthy ingredients like almond flour, coconut milk, coconut oil, eggs, and blueberries.
Enjoy these tasty muffins whether you're gluten-free and dairy-free or follow a strict paleo diet.
These moist blueberry oatmeal muffins are a gluten-free dairy-free take on an old classic. They swapped out all-purpose flour for gluten-free all-purpose flour and oats, then swapped regular milk for almond milk and made this a breakfast even us GFDF can love to enjoy.
With just a few minutes and a few ingredients on hand, you can make a delicious batch of gluten-free dairy-free blueberry muffins any day of the week.
I highly recommend setting aside some time on the weekend to make a batch – or two – to get ahead for the week for breakfasts or snacks. Kids love these for healthy after school snacks too!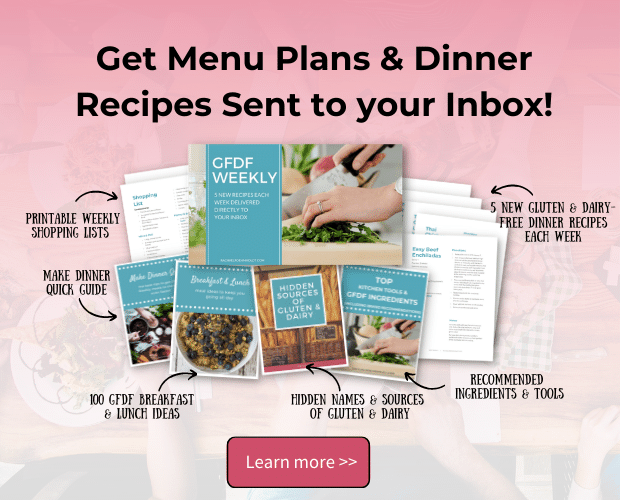 Love this post? Be sure to check out some of my other great breakfast posts!
Not sure what to make for breakfast on a gluten and dairy-free diet? These posts will give you loads of ideas!
If you're a big fan of my recipe roundups, be sure to pin this for later on Pinterest or share it with your friends on Facebook.