Get 25 delicious gluten-free Easter dessert recipes – all are dairy-free too! Choose from Easter cakes, cookies, tarts, dessert bars, and easy recipes.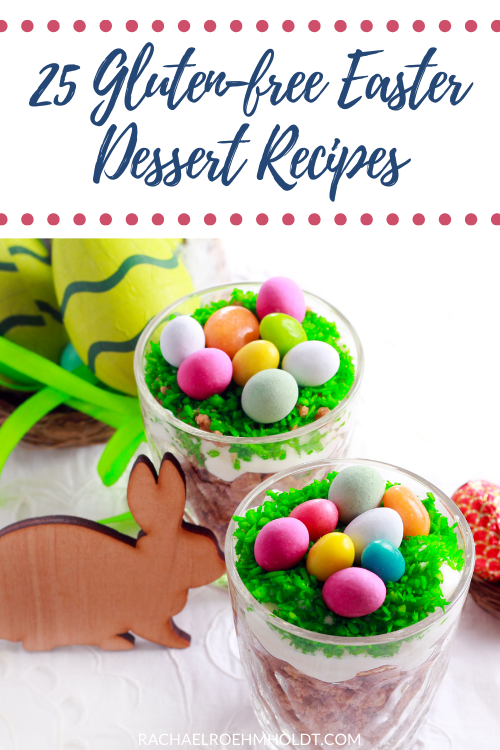 Note: I am a proud Amazon, Chomps, MunkPack, and Thrive Market affiliate and am happy to recommend their service and products to you. Please know that as an affiliate, I may receive a small commission on the products you purchase after clicking through my links. For more info, please see my disclosure policy here.
If you are looking for something to bring to your family's Easter gathering or are hosting a dinner at your home, you may be looking for a few dessert options to cap off your meal with. Following a gluten-free diet or dairy-free diet doesn't always sound fun, especially when it comes to choosing desserts for holidays.
In this post, I want to share with you some delicious gluten-free Easter dessert recipes that won't have you missing the gluten for one minute. All the recipes I've included in this roundup are also dairy-free and many are egg-free and vegan as well!
My favorite Easter recipes are those that celebrate the spring season of lighter, brighter, and fruit flavors, so that's what I've included in this roundup.
Choose from gluten-free Easter cakes, cookies, tarts, dessert bars, and recipes that are extremely easy to make – but are perfectly festive for the occasion.
Read on: 25 Gluten-free dairy-free spring recipes
Read on: The best dairy-free icing brands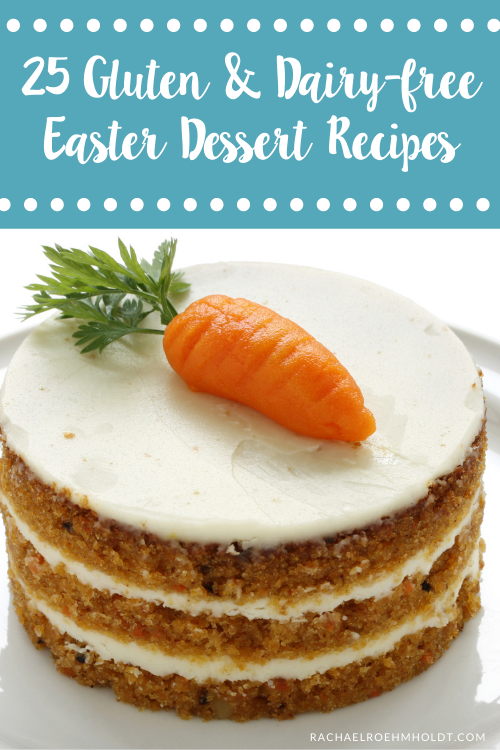 Gluten-free Easter Cake Recipes
If you love a cake for after your Easter dinner, try one of these gluten-free lemon, carrot, and strawberry cakes that highlight some of the best flavors of the season.
This gluten-free dairy-free lemon cake looks divine – and perfect for an Easter get together. I love lemon-flavored anything in the spring and this cake looks like it would be a real crowd-pleaser!
If you love carrot cake, this vegan and gluten-free dessert is a great alternative to an old classic. And bonus points – you can feel good about eating your veggies while still eating dessert!
This gluten-free dairy-free paleo carrot cake is a healthier version of your tried-and-true carrot cake. This recipe has no grains, no butter, no refined sugar, and uses coconut and cashews for the "cream cheese" frosting.
Read on: 25 Dairy-free frosting recipes
Read on: 25 gluten-free sugar-free desserts
If you love strawberries, this gluten-free vegan strawberry cake is for you. Instead of strawberry jam or artificial flavoring, this recipe is made with fresh strawberry puree. This cake bakes up a beautiful pink color and if you want even more pink, you can add some natural beetroot powder for extra coloring.
If you love cake and hate messes, this one will be right up your alley. Just one bowl and you get a moist, fluffy, vanilla cake that is super easy to throw together.
Better yet, it's gluten-free and dairy-free so you can feel good digging into it! Top with a creative Easter-inspired theme, like green icing for grass and some jelly beans or Peeps to make it festive for Easter.
Read on: 101 Gluten-free dairy-free cake recipes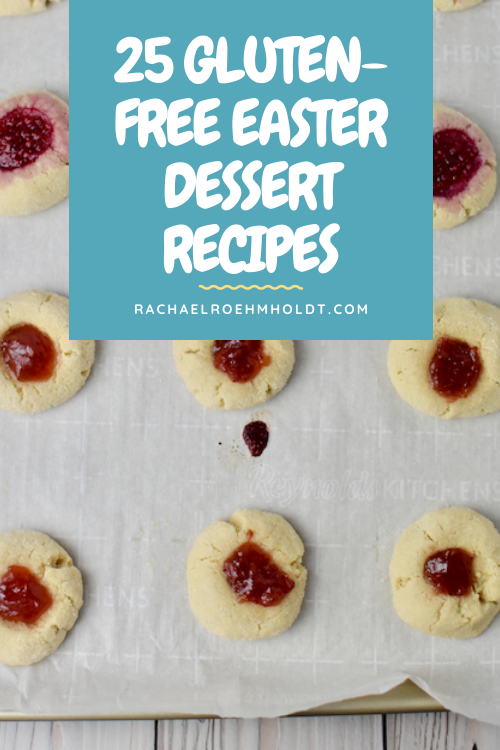 Gluten-free Easter Cookies Recipes
Cookies are an easy dessert choice for any holiday and Easter is no different. Try one of these thumbprint, lemon, oatmeal, and sugar cookie recipes – all are gluten and dairy-free!
These gluten-free thumbprint cookies are made with my almond flour sugar cookie recipe as a base and a bit of delicious jam right on top.
Choose whatever flavor of jam you like – strawberry, raspberry, peach, marmalade – the options are endless! Enjoy these thumbprint cookies on a dairy-free or vegan diet too.
These lemon and coconut soft cookies are vegan and paleo, meaning they're gluten-free and dairy-free too.
These are made with cashews, coconut, maple syrup, coconut oil, baking soda, lemon zest, and lemon juice. The bright flavor of these cookies are perfect for an Easter dessert.
These gluten-free oatmeal cookies are also dairy-free, egg-free, and vegan! Though they're not exactly Easter-inspired, they're a great staple cookie recipe that everyone will love!
This gluten-free sugar cookie recipe is made with almond flour, is light, fluffy, and perfectly sweet. You can enjoy them plain or frost them with a pastel colored frosting for a fun Easter twist. Enjoy these sugar cookies on a dairy-free or vegan diet too!
Read on: 101 Gluten-free dairy-free cookie recipes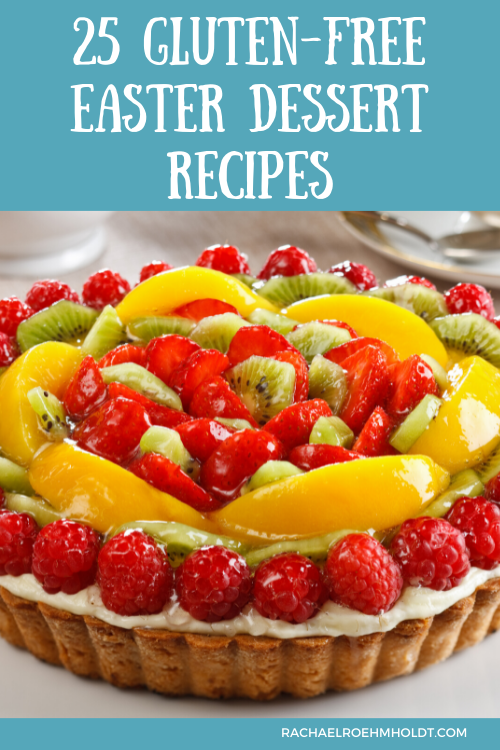 Gluten-free Easter Tart Dessert Recipes
Tarts seem like the perfect choice for an Easter dessert option. A thin crust loaded with a flavorful filling and piled high with fresh berries seems perfect for this spring holiday. Try these berry, lemon, and banana filled tarts.
This Fresh Fruit Tart has an almond flour crust, a delicious egg, coconut milk and banana pastry cream center, and topped with fresh fruit of all colors and flavors. A perfect colorful addition to your Easter table.
Enjoy this vegan lemon tart that's made with an almond, oat, and walnut crust. It can be topped with coconut cream and fresh berries for a tasty Easter dessert!
If you like single serving desserts, you'll love these mini berry tarts. The crust is made of coconut flour, coconut oil, maple syrup, and salt.
The filling is made out of coconut cream, maple syrup, vanilla extract. The gluten-free and vegan tarts are topped with fresh berries – perfect for an Easter dessert!
This vegan and gluten-free lemon tart will bring a brightness to the end of your Easter meal. The filling is made with coconut milk, lemon, vanilla, maple syrup, arrowroot powder, and a tea bag. Yes, tea helps give flavor to this tart!
This fruit tart is both gluten-free and vegan and has no crust. It uses raspberries and a filling made out of almond flour, sugar, tapioca starch, baking powder, salt, vegan butter, dairy-free milk, vanilla extract, and almond extract.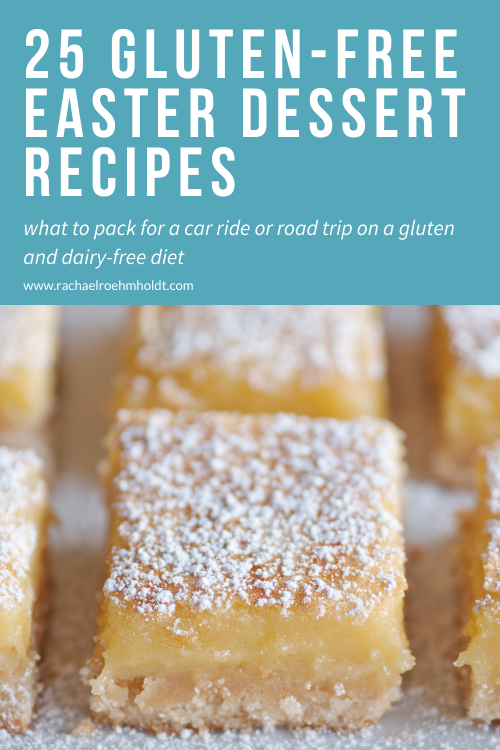 Gluten-free Easter Dessert Bars Recipes
Easter is a great time to break out the lemon bars. They're bright and perfectly sunny like spring. But if you're not in the mood for lemon, try sugar cookie bars, chocolate peanut butter bars, or strawberry oatmeal bars.
These gluten-free lemon bars use a yummy gluten-free shortcake base and a dairy-free lemon topping. A perfect replacement to your favorite classic lemon bar recipe to serve for Easter.
Vegan gluten-free sugar cookie bars are so cute and can easily be made Easter-inspired with the right colored sprinkles.
Make a batch of sugar cookies and bake in one flat layer, then top with a vegan frosting, and some pastel sprinkles for a delicious Easter dessert to share.
I grew up eating my grandma's chocolate peanut butter bars, but unfortunately hers are full of ingredients I can't eat. This recipe is a perfect swap for that as it uses oat flour for the base layer. Try this tasty treat for your next big Easter meal with family!
These vegan lemon bars are also gluten-free and made with gluten-free flour. They are full of lemon flavor from lemon juice and a little extra coloring from turmeric will make these the most brilliant yellow color – no artificial coloring here!
Try these strawberry oatmeal bars for another fruit-inspired dessert for Easter. These are healthy and loaded with gluten-free oats, almond flour, bananas, maple syrup, coconut milk, and baking powder.
Gluten-free Easy Easter Dessert Recipes
Sometimes dessert is an afterthought, but it doesn't mean that it has to be any less delicious. Try one of these easy-to-make recipes, like gluten-free Rice Krispie treats, blueberry cobbler, chocolate pudding, and banana cream pie cake.
Enjoy these gluten-free rice krispie treats for Easter this year! Make them plain, frost them with some pastel colored frosting, or cut them into bunny or chick shapes to make them special for the holiday.
I love recipes that require very little effort out of me. This easy gluten-free berry crisp fits the bill.
Not only is it gluten-free and dairy-free, but there are only five steps to the whole recipe – except for turning on your oven. I'm all over this one for the spring and summer months!
With fresh or frozen berries, maple syrup, cornstarch, fresh lemon juice, gluten-free rolled oats, almond flour, brown sugar, salt, and vegan butter, you can have a quick and tasty fruit dessert that's easy to prep and easy to clean up!
If you love homemade chocolate pudding and have to stay away from the dairy, this delicious recipe may just become your new go-to twist on an old favorite.
This recipe is only 5 ingredients and comes together with just a little bit of time in the kitchen. For Easter, you can make little nests for birds with gluten-free pretzels and jelly beans in individual serving dishes.
These no bake coconut cookies are quick to throw together and are loaded with healthy ingredients like shredded coconut, coconut oil, stevia, vanilla, and salt. You can even make them your own by getting creative with the toppings!
If you love banana cream pie, you'll love this banana cream pie CAKE! It's basically banana cream pie with a gluten-free cake base – yum!
It's easy to see how you can enjoy some of your old favorite dessert recipes just by getting creative with some ingredient swaps.
If you've been looking for a dairy-free or gluten-free Easter dessert option, I hope these have inspired you! Try any of these for your next Easter gathering and wow your family and make the most of these seasonal flavors.
If you loved this post, I hope that you'll share it with your friends on Facebook and pin it for future reference on Pinterest.
Love this post? You might also want to check out more of my recipe roundups here!
Find some delicious gluten and dairy-free recipes in these popular recipe roundup posts!
Want more? Check out all my Gluten-free Dairy-free Recipes!