Wondering if white chocolate is safe for your gluten-free diet? Find out when white chocolate is gluten-free and when it isn't.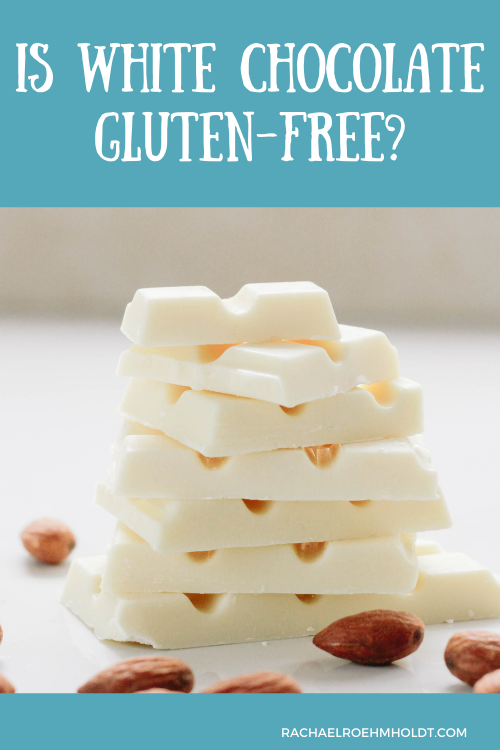 Note: I am a proud Amazon, Chomps, MunkPack, and Thrive Market affiliate and am happy to recommend their service and products to you. Please know that as an affiliate, I may receive a small commission on the products you purchase after clicking through my links. For more info, please see my disclosure policy here.
Do you love white chocolate desserts, candies, or mixed into your favorite cookies or bars? I grew up choosing white chocolate over any dark chocolate any time I had the chance.
White chocolate macadamia nut cookies? Yes please. Brownies with white chocolate chips mixed into the batter? Yum.
It's creamy, sweet, and versatile just like most other chocolate varieties. If you love the vanilla flavor and texture of chocolate but not the deep rich flavor of cocoa, white chocolate is probably one of your favorites too.
If you're trying to navigate getting into making gluten-free desserts or getting started with a gluten-free diet and wondering what types of treats are safe for you, this post about white chocolate is for you.
In this post, we're going to talk about what white chocolate is, what it's made out of, and of course answer the question "Is white chocolate gluten-free?"
We'll also go over another important point – when white chocolate is NOT gluten-free to help you make informed decisions when choosing candies and treats from the store.
Plus I'll give you some examples of some brands and types of candy that contain gluten so you can steer clear of them.
Let's start with the basics – what white chocolate is and what it's made out of, so we can be on the same page throughout the rest of the post.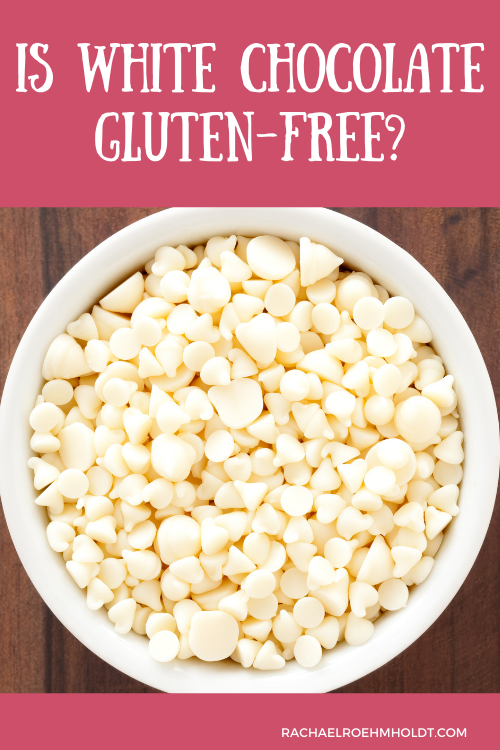 What is white chocolate?
White chocolate is a variety of chocolate candy that tastes like vanilla and milk versus chocolate. It has the same texture as other types of chocolate but isn't brown in color or chocolatey in flavor. In fact, white chocolate has an ivory color, not like other types of chocolate at all.
In fact, many folks feel like white chocolate being considered a type of chocolate is crazy, because there is no cocoa or cacao in the candy.
Others feel like any candy that has the texture of candy and functions the same way as other chocolate in baking and candy making can call this candy whatever they want.
No matter the side of the fence you're on with this naming debate, people love white chocolate for using in their baking, fruit dipping, and adding flavor to their favorite desserts.
White chocolate can be used as a powder, liquid, bars, or chocolate chips to add to a recipe.
What is white chocolate made out of?
White chocolate is most commonly made with sugar, cocoa butter, milk products, and vanilla.
While most white chocolate is made with these ingredients, you can find brands that have made white chocolate without any dairy or milk ingredients at all. These are great for folks on a dairy-free diet or people who have multiple food allergies or intolerances.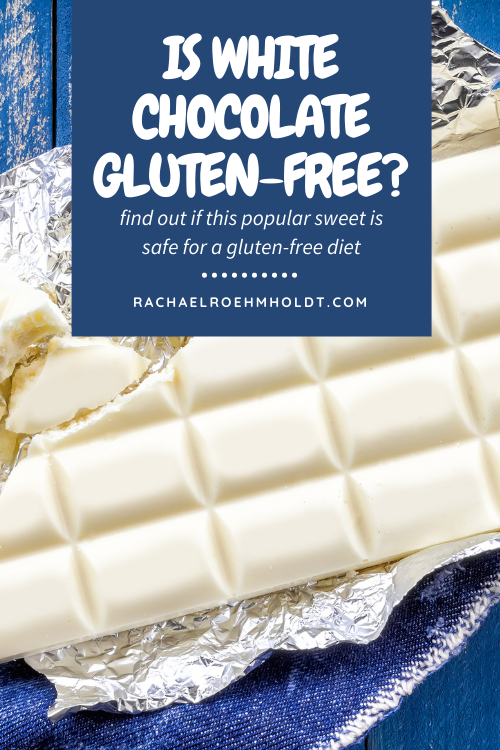 What is gluten?
Gluten is a protein found in most wheat products, and acts as the "glue" that helps to hold wheat, barley, kamut, spelt, farro, durum, bulgur, rye, and semolina together to maintain their shape.
Many processed foods have hidden gluten in them in the form of gluten or wheat derivatives. These come in the form of flavorings, binders to keep ingredients together, or other additives.
It's also used in barley, malted products, and even crispy rice cereals.
Read on: What is gluten?
Is white chocolate gluten-free?
White chocolate is generally considered to be gluten-free as long as it is plain white chocolate.
Depending on the area where the white chocolate is manufactured and the ingredients used, there may be a possibility of cross contamination with gluten. More often than not, white chocolate does not contain gluten ingredients.
That said, not all white chocolate is gluten-free, which is why it's important to talk about those specific instances.
Read on: Is chocolate gluten-free?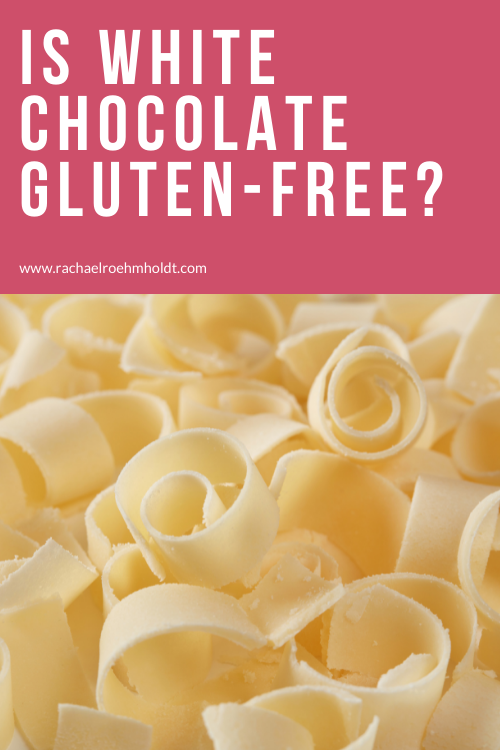 When is white chocolate NOT gluten-free?
White chocolate may not be gluten-free in candies that have additional ingredients, usually in the form of an added texture. Crispy cereal, pretzels, or cookie crumbs or bits added into a white chocolate candy can all add gluten.
Crispy cereal often contains wheat or barley malt, which contains gluten. Pretzels and cookie crumbs contain wheat flour in most candies that have these ingredients.
Other places you may need to think about where white chocolate isn't gluten-free is when white chocolate is in a dessert surrounded by gluten ingredients.
This may be obvious, but it's worth stating that even if the white chocolate in a cookie is gluten-free, the surrounding cookie dough very likely isn't. Therefore, you'd want to avoid this cookie if gluten-free ingredients weren't used.
The same goes for brownies, cakes, and other desserts. If all-purpose flour or other gluten ingredients are used in a dessert, then you'll want to steer clear of that dessert entirely, even if the white chocolate itself doesn't contain gluten.
Another thing to keep in mind when it comes to white chocolate and gluten is the equipment and facilities that the candy was processed on and in.
If you are particularly sensitive to gluten, you will want to look for a label that indicates that the product was manufactured in a gluten-free facility.
Read on: Gluten-free brownies (dairy-free, vegan)
Read on: Gluten-free chocolate chip cookies (dairy-free, vegan)
Are white chocolate chips gluten-free?
Not all brands of white chocolate are gluten-free, but there are a number of them that are. A few that are gluten-free AND dairy-free are: Baker's Choice, Chocolate Emporium, Great Value Organic, Moo Free, Nestle Toll House Allergen-Free, and Pascha Organics.
Read on: Dairy-free white chocolate chips
Read on: Dairy-free white chocolate brands & recipes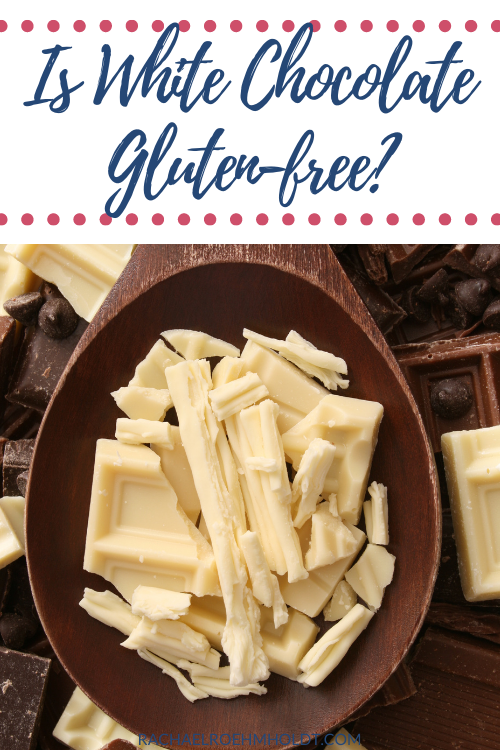 How to find out if white chocolate is gluten-free
The best and easiest way to find out if the white chocolate you plan to eat is gluten-free is to look at ingredients lists. Search for hidden names of gluten and know that if you find one from the list, it is not safe to enjoy on your gluten-free diet.
Look for these names of gluten in chocolate:
Wheat
Barley
Rye
Spelt
Bran
Flour
Modified food starch
Natural flavors
Farina
Durum
Semolina
Glucose
Barley enzymes
Maltodextrin
Oats*
*Note: oats are naturally gluten-free, but often come into cross contact with gluten grains on machines, making it important to avoid them or look for certified gluten-free oats if you're gluten intolerant or allergic to gluten.
Read on: Is oatmeal gluten-free?
Read on: Is maltodextrin gluten-free?
Read on: Is modified food starch gluten-free?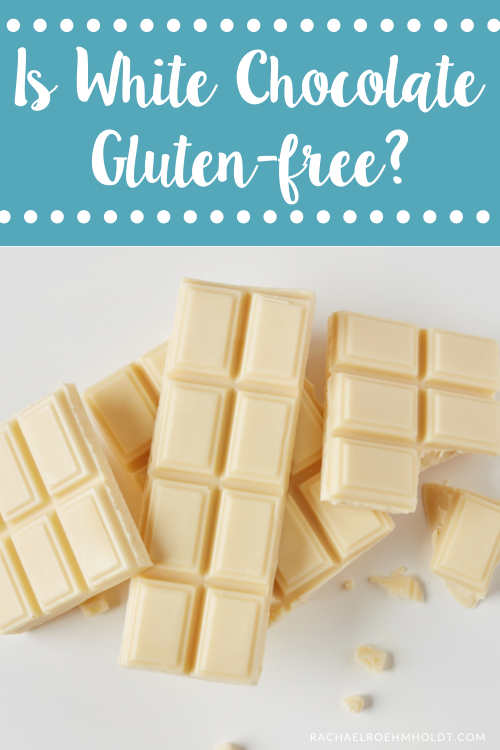 White chocolate that contains gluten
While it's impossible to list all the white chocolate candies that contain gluten, I think it would be useful to share a few examples of white chocolate with gluten with you, so you have an idea of what to look for.
Nestle Crunch White chocolate bars, contains barley malt
Hershey's Cookies 'N' Creme Bars, contains wheat flour
Nestle White Kit Kat, contains wheat flour
M&M's White Chocolate Pretzel Snowballs, contains wheat
Twix White Chocolate Bars, contains glucose syrup and wheat flour
With just these few examples, you can see that some of these white chocolate candies that have gluten are those with added texture, like cookie crumbs, crispy cereal, and pretzels. 
Read on: Are Hershey bars gluten-free?
It's not a rule that if there's something crunchy in a chocolate bar that contains gluten, however it is a reason to pause and check the ingredients first.
If you love white chocolate and have been wondering if this type of candy can be enjoyed while staying away from gluten in your diet, I hope this post has given you the answers to some of these questions. A lot of white chocolate is gluten-free, but there are a handful of brands and options that aren't.
Do your due diligence when purchasing to review ingredients lists and look for any names of gluten to help you make informed decisions about what white chocolate candies and chocolate chips you'll buy.
If you loved this post, I hope that you'll share it with your friends on Facebook and pin it for future reference on Pinterest.
Looking for a few more dairy-free chocolate recipes? You'll love these posts!
Check out these gluten and dairy-free recipes and posts featuring chocolate.