Find out what Hershey Bars are made of, what flavors and varieties they come in, and if this candy bar is safe for a gluten-free diet.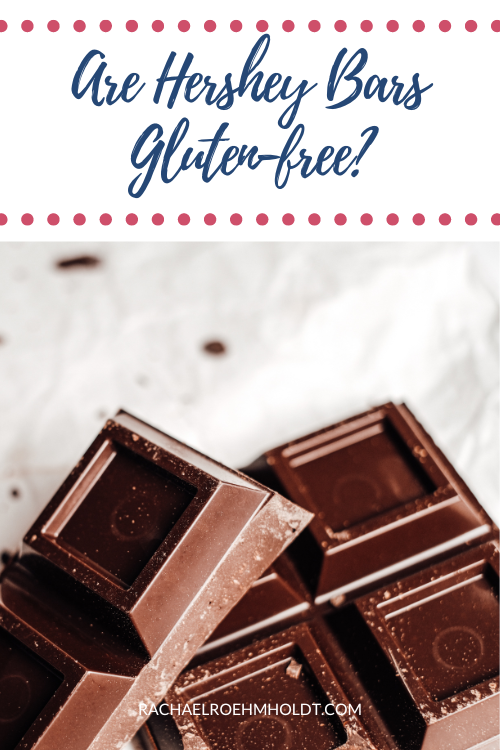 Note: I am a proud Amazon, Chomps, MunkPack, and Thrive Market affiliate and am happy to recommend their service and products to you. Please know that as an affiliate, I may receive a small commission on the products you purchase after clicking through my links. For more info, please see my disclosure policy here.
Do you love using Hershey bars in s'mores, picking one up as a treat for your kids at the checkout line, or using them in some of your favorite dessert recipes?
If you're just getting started with a gluten-free diet or are just now looking for answers about whether or not this candy contains gluten, you may have wondered about the ever-popular Hershey Bars.
Find out in this post what Hershey Bars are, what flavors and varieties they come in, the main ingredients in this candy bar, and if they are considered gluten-free.
Plus find out what Hershey's official statement on gluten-free labeling is, as well as if Hershey's Kisses are gluten-free.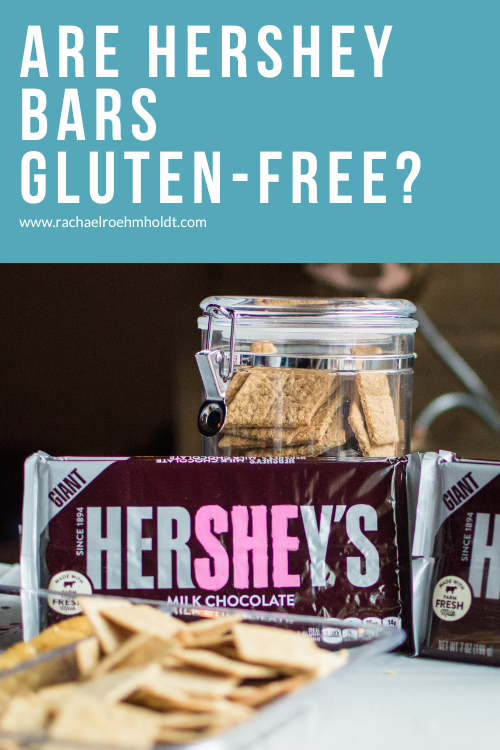 What are Hershey Bars?
The Hershey Bar is a name brand chocolate bar that was introduced by the Hershey Company in 1900 in the United States. It's by far the most popular brand of chocolate you can find in the US still today.
Hershey's got its start with milk chocolate bars, and has since gone on to add multiple different offerings to their product lineup.
Hershey Bars can now be found in milk chocolate, dark chocolate, bars with almonds, white chocolate bars, and more.
While Hershey Bars are extremely popular year round, you'll see more of them around the holiday season, ranging from Halloween to Christmas. They're also popular in the summer and fall when s'mores are being marketed at grocery stores.
You can find boxes of Hershey chocolate bars or single bars at grocery stores, convenience stores, movie theaters, and even vending machines.
What flavors and varieties do Hershey Bars come in?
Hershey's offers a number of different varieties of their famous chocolate bars. Here are some of the most popular ones you'll find at grocery stores today.
Hershey's Milk Chocolate Candy Bars
Hershey's Dark Chocolate Candy Bars
Hershey's Milk Chocolate with Almonds Candy Bars
Hershey's Cookies and Creme Bars
Hershey's Symphony Candy Bars
Hershey's Sugar Cookie Candy Bars
Hershey's Zero Sugar Chocolate Candy Bars
Hershey's Golden Almond Candy Bars
Hershey's Special Dark Chocolate Candy Bars
Hershey's Extra Dark Candy Bars
Hershey's Nuggets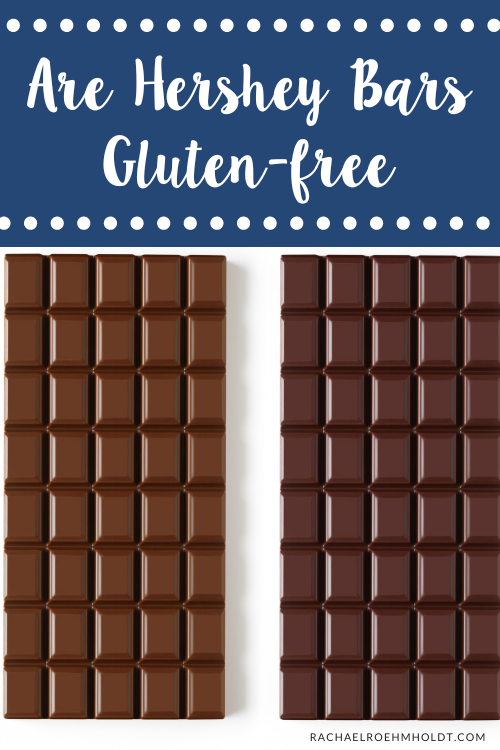 What is gluten?
Gluten is a protein found in most wheat products, and acts as the "glue" that helps to hold wheat, barley, kamut, spelt, farro, durum, bulgur, rye, and semolina together to maintain their shape.
You can find gluten in whole grains, but also in many processed foods as well. If you purchase wheat bread, there will be gluten in it, because wheat by nature has gluten.
Many processed foods, including candy, have hidden gluten in them in the form of gluten or wheat derivatives. These are used as flavorings, binders to keep ingredients together, or other additives.
Hershey Bars ingredients
The ingredients you'll find in the most popular type of Hershey's bar, their milk chocolate bar as indicated on the Hershey's website are:
"Milk chocolate (cane sugar, milk, chocolate, cocoa butter, milk fat, lecithin, natural flavor), PGPR (emulsifier)"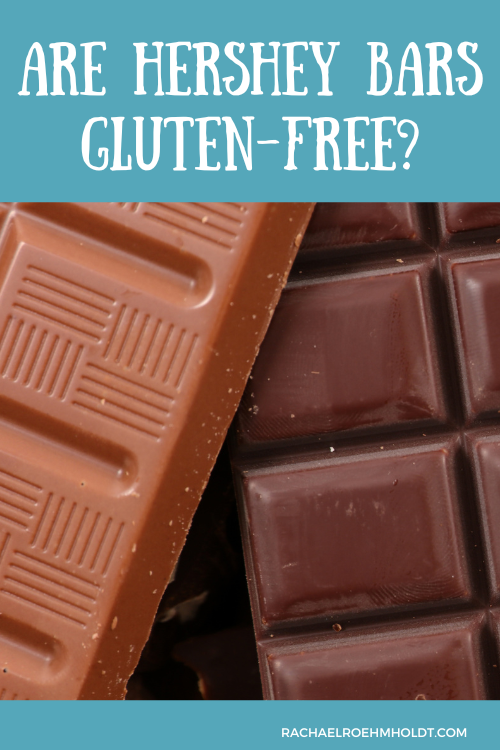 Are Hershey Bars gluten-free?
According to the Hershey's website, "Hershey's milk chocolate bars are gluten-free."
They don't go into details about their other chocolate bars and the status of gluten in them. Knowing this, I'd be sure to check ingredients lists on all other varieties of Hershey's bars.
The candy bar that definitely has gluten after reviewing my list is Hershey's Cookies n' Creme. This bar contains wheat and has an allergen note on the packaging as well to alert you to this.
Read on: Is chocolate gluten-free?
Read on: Is white chocolate gluten-free?
Official gluten-free allergen statement from the Hershey Company
The official gluten-free allergen statement from the Hershey Company, maker of Hershey's bars says:
"The best way to determine if our products contain a gluten ingredient is to read our product label. This label includes an accurate, current listing of the ingredients in our products.
Because, on occasion, the list of ingredients can change, we strongly encourage you to check the ingredient label on the package each time before you make a purchase."
The Hershey's Company also has call-outs of allergens in their ingredients lists. You can see an example of this on their website.
Their packaging will have a "Contains" note under the ingredients stating the top allergens in the product. For example, "Contains: Wheat" will help you know if the product contains wheat or gluten.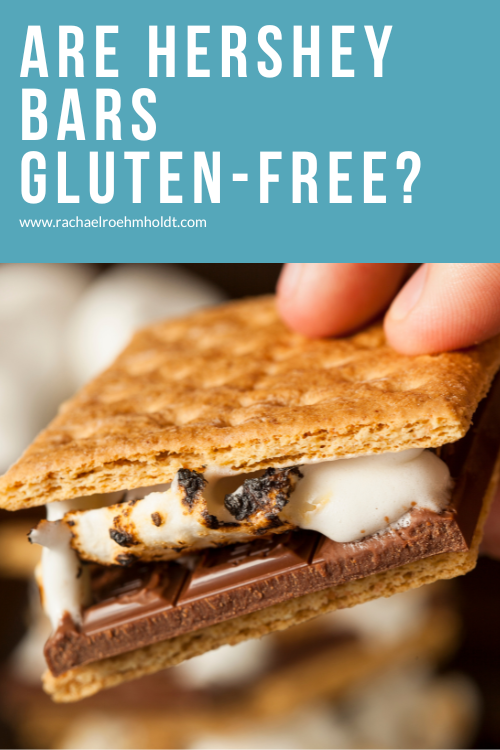 Are Hershey Bars dairy-free?
Unfortunately, all Hershey Bars contain dairy in the form of milk, whey, and other milk derivatives. This includes their dark chocolate bars as well.
If you're following a dairy-free diet in addition to avoiding gluten, you'll want to find another candy bar that contains no dairy ingredients.
Are Hershey Kisses gluten-free?
Many flavors and varieties of Hershey Kisses are gluten-free, but not all of them. Be aware that some flavors do contain wheat flour, so you'll want to double check the ingredients lists or review the list below for options that are gluten-free.
The best way to know if a candy is gluten-free is by reviewing the ingredients list or looking for a gluten-free label before buying or eating.
For a list of gluten-free Hershey Kisses products, you'll want to read this post: Are Hershey Kisses gluten-free?
If you love Hershey Bars and are just getting started with a gluten-free diet or have been at it for a while and want to know how this candy fits in, I hope this information has been helpful for you.
The traditional milk chocolate Hershey Bars are gluten-free and safe for a gluten-free diet, but no other bars are called out by the Hershey Company as for certain gluten-free.
Do your due diligence before purchasing other Hershey products by reviewing the labels on the packaging every time.
For more gluten-free candy options, check out the Ultimate Gluten-free Candy List.
If you loved this post, I hope that you'll share it with your friends on Facebook and pin it for future reference on Pinterest.
If you're looking for more info on your favorite candy brands, find out if they're gluten-free in these posts!